Are you in a rush? No problem! Here is our best affordable watercolor brushes pick:
Sale
Artify 26 Pcs Paint Brushes Art Set
WIDE RANGING SIZES IN FLAT AND ROUND - Our collection of brushes offer a variety of sizes to choose from both Flat and Round. Whether you're applying minor details or large strokes, our brushes are versatile enough to handle any task.
NATURAL AND SYNTHETIC HAIRS - Each type of brush is made from different hairs including Hog, Pony & Traditional Nylon. Our natural hairs are extremely elastic and durable enough to withstand multiple washes, along with being resistant to fraying, flaring and falling out after extended use. This means they'll continue to maintain their shape and produce perfect lines every time.
Having A Good Brush Is Important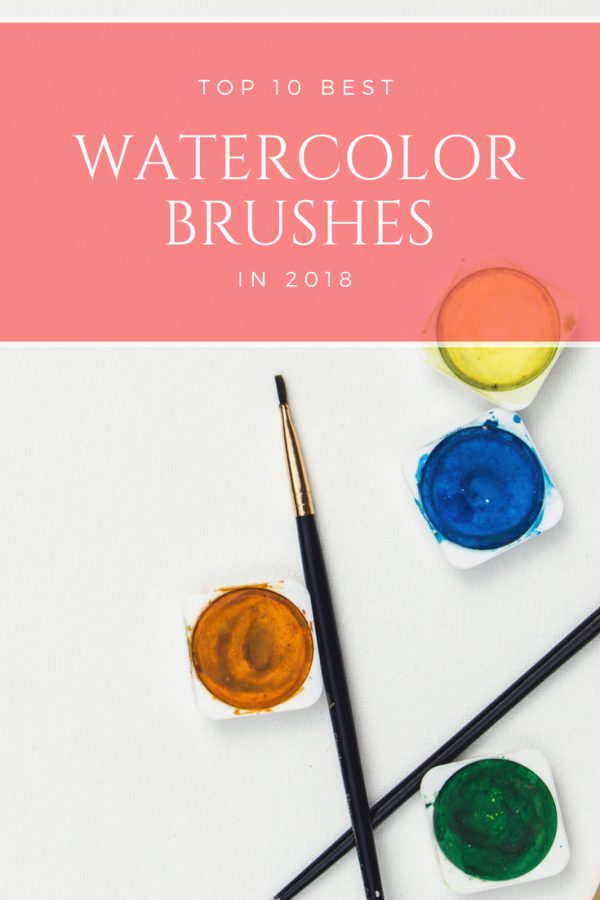 If you are (or want to become) a watercolor artist, no matter how big your experience is, you will need a good, solid watercolor brush, or better yet – a set of them.
A good brush is a key to great art. It is the thing that's in charge of the lines and shapes you draw and is a conductor between your hand and paper.
A set of brushes is a useful thing, because different brushes make different types of strokes, from thin to really thick, and it helps you embody all of your ideas easier. However, if one brush is versatile enough for you, than that's all you need.
But it definitely has to be a good one!
Tastes in brushes usually vary, and different people want their artwork to look in their own unique way and therefore search for different properties in their art supplies. However,  there are some common truths on how brushes work and which of them are the most suitable for certain materials (because of their particular qualities).
But how do you avoid getting lost in all the variety of brushes that can be found almost anywhere in the modern world, and find out exactly what you need?
We'll help you!
Types Of Brushes For Watercolor Painting
First of all, watercolor brushes (like all other brushes) vary in the materials they are made of, which means: pay attention to its hair.
Hair type defines the brushes' performance, lifespan, cost and resilience. A brush should be able to hold a pretty nice amount of water or paint inside of it, spread water or paint smoothly and continuously and keep its shape well.
Watercolor brushes can be made of natural or synthetic bristles, and, among them all, the very best and the most expensive is sable fiber. Despite that, I would say that other materials, that are cheaper, can be equally good and will do a wonderful job.
The most popular brushes are made from squirrel, goat, ox or hog bristle, and non-natural brushes have synthetic fibers on them. There also are combinations of natural and synthetic bristle, that absorbed the advantages of both hair types.
The next important things you should pay attention to are shape and size.
Brushes can be round, flat, wash and oval – all for different uses:
Round brushes are considered the most versatile because they can make both thin and thick strokes.
Flat brushes can also be used for both, but it will be a little harder to perform. They are the best when applied for backgrounds in hard, severe strokes.
Wash brushes have a similar use, but they are regularly much bigger and are the best for covering large areas.
Oval brushes have huge heads and are suitable for applying lots of paint and blending.
And their size, obviously, defines how much liquid it can hold and how thick or thin the strokes will be. Thinner brushes are used for small details, and thicker ones – for bigger paintings or backgrounds.
Now, when you have an idea of what you might face and want for yourself, let's look through several examples of affordable, yet very good watercolor brushes!
10 Best Affordable Watercolor Brushes
9 Pieces Set of Round Pointed Tip Brushes by Amagic
Since round brushes are believed to be the most versatile, this set can satisfy all of your artistic needs, no matter if you are a beginner or a professional artist.
This particular set features nine round synthetic, absorbent and springy brushes of various sizes: 0, 2, 4, 6, 8, 10, 12, 14, 16. This will give you lots of opportunities to paint everything from smallest details to large backgrounds.
Their handles are designed ergonomically, are a perfect combination of balance and comfort, and durable hair won't loosen or fall apart anytime soon.
Creative Mark Polar-Flo 700B Watercolor Brush Set
These three amazing synthetic wash brushes have great quality and are absolutely perfect for watercolor works of any level of difficulty.
They are very beautifully designed as well: their handles are transparent, and the bristles are absolutely white (at the beginning). Because they are white in color, you will be able to quickly realize how well they are cleaned, so unwashed pigments won't ruin your work.
Their bristles are very durable, keep fine, exact points, and also hold water and paint very well.
This set has ¼", ½" and 1" brushes.
Adi's Art Pro Paint Brushes Set
You're going to instantly love this set the exact second you'll hold it in your hands.
No matter if you're an amateur or a pro, this high-quality nylon brush set features different shapes and sizes to cover all your possible needs.
Non-shedding handpicked synthetic hair will serve you well for a very long time, keep the shape of the brush intact and make your watercolor strokes professionally smooth and colorful.
These brushes also have very nice design and comfortable ergonomic handles.
Escoda Reserva 1212 Round Pointed Size 6
Despite being not so extremely cheap, this one brush is still very affordable. And due to its versatile shape, size and high quality it can replace a whole set of brushes alone.
It's made of male Kolinsky sable, which makes it perfect for watercolor painting, holds its shape well and has a very fine point to make your drawings amazingly detailed if you need to.
Its handle has a very comfortable shape and is made of birch wood. Also, its ferrule technology ensures that the brush will never fall apart and each hair is locked securely.
Artify 26 Pieces Paint Brushes Art Set
Not sure what exactly do you need and want to try different styles? This set is perfect for you!
It features 26 brushes made of both natural (pony and hog) and synthetic bristles, in various sizes, flat and round ones. This will give you a lot of room for experimentation and help you fulfill every artistic plan of yours.
The brushes are stored in a convenient canvas wrap, so you will never lose them around your workplace. They are springy, durable, high-quality, versatile and resistant to fraying or falling apart.
Bristle Pointed Round Brush 6 Pieces Set by Golden Maple
This set is another great option, perfect for watercolor and very versatile in its use.
All the brushes are made of high-quality shed-proof natural hog bristle, that will hold a lot of water or paint very well.
Overall, there are six round brushes of different sizes: 2, 4, 6, 8, 10 and 12. And with their help, you can draw everything that comes to your mind.
Their long handles, made out of birch tree, will give you a pleasant feeling of comfort in your hands.
Finest Detail Paint Brush Set by Golden Mapl
If you are really into small details – this set will be a perfect buy for you.
It features six thin, fine brushes made of high-quality weasel hair, in different sizes from 1 to 6.
Their secure ferrules ensure that no hair will fall out or wobble. And their perfectly balanced short handles, that makes this set easy and comfortable to use, are made of well-polished birch wood.
The brushes will keep their shape perfectly, and their round shape gives you a lot of opportunities to express yourself.
Transon Round Watercolor Detail Paint Brushes
This professional brush set is made of goat hair mixed with high-grade nylon for the best performance, durability and resilience.
These brushes hold water and/or paint inside of them very well and make smooth solid strokes.
The set features eight versatile round brushes in different sizes from 0 to 7, which makes them perfect for any type of watercolor work and any experience level artists.
What makes them extremely sturdy and outstanding is a combination of their qualitative no-wobble ferrules, well-balanced wooden handles and good quality springy hair.
ZEM BRUSH Kolinsky Pure Sable Artist Brush Set
This set offers you three brushes in size 2, 4 and 6, that are perfect for watercolor.
Their bristle is premium Kolinsky sable, which makes them durable and soft, and they can hold a lot of liquid. Seamless nickel ferrules ensure that no hair will fall out or loosen. Short wooden handles would give you perfect balance and control over all of your strokes. And thin brush points will let you draw the tiniest details.
With these brushes you are going to draw absolutely flawless lines and backgrounds!
Angelduck Paintbrushes 9 Pack
Consisting of birch wood handles, high-quality copper ferrules and durable synthetic hair, these brushes will provide you a with a great watercolor performance.
This particular set has nine round brushes that come in sizes 0, 2, 4, 6, 8, 10, 12, 14, 16 to give you a great variety of possible strokes, lines and techniques.
They are easily cleaned, feel good to hold in your hand and are suitable for both beginners and professionals of any age because of their versatility.
Last Advice
No matter how detailed the descriptions in online stores can be, it's still best to choose the "perfect" brush for yourself from your own experience, so please don't be afraid to experiment with different shapes, sizes and materials.
"Affordable" doesn't mean bad in many people's experience, and there's nothing wrong in trying one of the best affordable watercolor brushes (high-quality ones, of course!) to figure out what you like most.
Some people prefer synthetic brushes for watercolor over natural ones, other people think otherwise, so always remember, that it's all very subjective and the only person you should listen in things like choosing your art supplies is you.
So listen to your heart and make the best choices for you!
---
---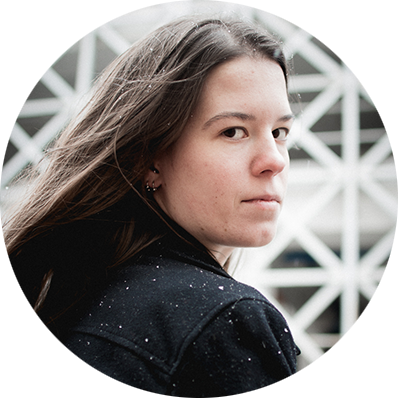 Author: Anna Martsynkevich
Anna is an artist, poet and musician who lives in Minsk, Belarus. She loves food, cats, gigs and esoteric stuff. She posts the things she does on Instagram and sometimes appears on FB.
---
---