Does affordable always mean bad quality? No.
And here are 12 best cheap drawing tablets and their reviews to prove it:
A good drawing tablet is essential for every digital artist.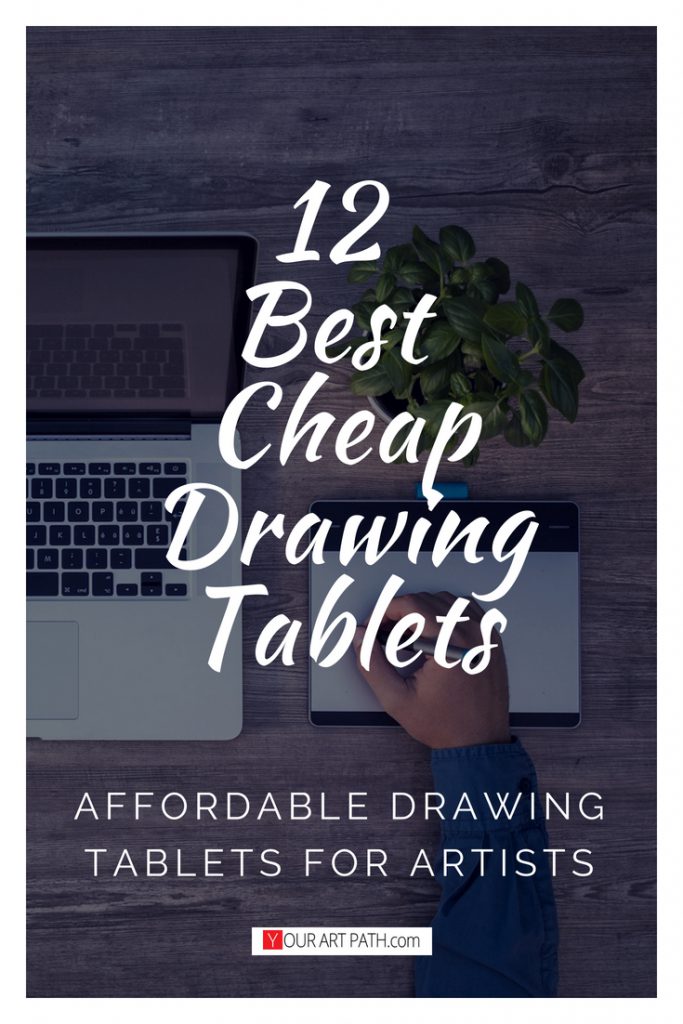 No matter what your experience level is or what kind of work you are using your tablet for, a poor quality tablet is only going to make things worse.
It will slow down your work process, annoy the hell out of you, make you doubt yourself. And you will have to redo the same easiest things over and over again and potentially still get an unsatisfactory result.
Sounds terrifying, doesn't it?
It's a well-known thing that children often give up on drawing or using certain materials because adults don't care to provide them with good and high-quality supplies, which affects their arts and their skills in a bad way.
People think that you need high-quality materials and instruments only if you are an experienced professional, and beginners can learn with worse materials.
But the question is: how can you get better if you can't even draw anything decent because of bad materials?
The same thing can be said about any art supply and person of any age or experience level.
You have to always be careful about the quality of things you use, no matter if it's a high-tech device like a tablet or just an eraser.
You should never limit yourself and think that you don't deserve high-quality supplies yet.
But what should you do if you are unable to or don't want to spend a lot of money on a fancy graphics tablet?
Lots of people actually think that this is some really fancy purchase and you have to be a worldwide famous artist with a huge salary to afford a good tablet.
Do not worry, my fellow artist, because low price absolutely does not equal poor quality!
And this list of some very decent drawing tablets is about to prove that point.
If you thought that only really expensive graphics tablets can be good, prepare to change your beliefs right now.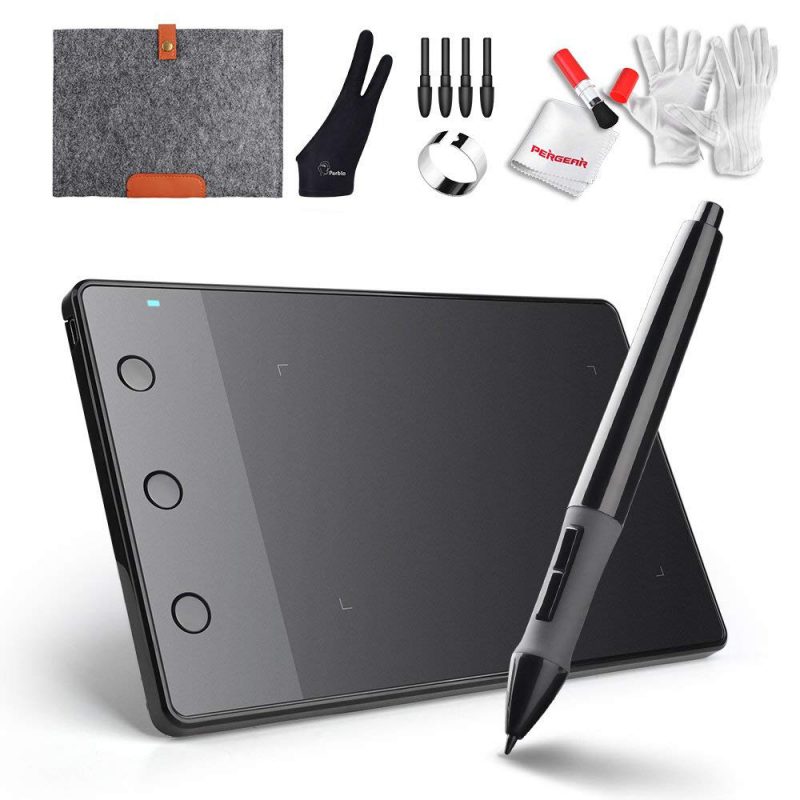 This lovely little tablet would comfortably fit in your hand like a usual large cell phone.
Someone might find that even more comfortable than placing it onto some surface (as it's usually done with digital tablets).
It can feel like you're taking notes or sketching on a regular paper notebook.
It is powered by a USB cord, that is plugged into the side of the tablet so that your hands wouldn't reach it too often while drawing. That lowers the possibility of unplugging it by accident and extends the lifetime of the wire.
Its design also features three customizable ExpressKeys to optimize your working process.
The tablet is easily compatible with major graphics applications and saves a lot of your time that you could spend on looking for the drivers and ways to install them.
The stylus requires only one AAA battery that lasts for a long time, has 2048 levels of pressure sensitivity, and has that one sweet on and off button on its top, just like on regular pens, that feels so good to click on.
It has a function of pen scrolling, which means you can press the middle button on the pen and use it to scroll documents and pages. If that isn't convenient, then I don't know what is!
Check Out The Price Of This Tablet On AMAZON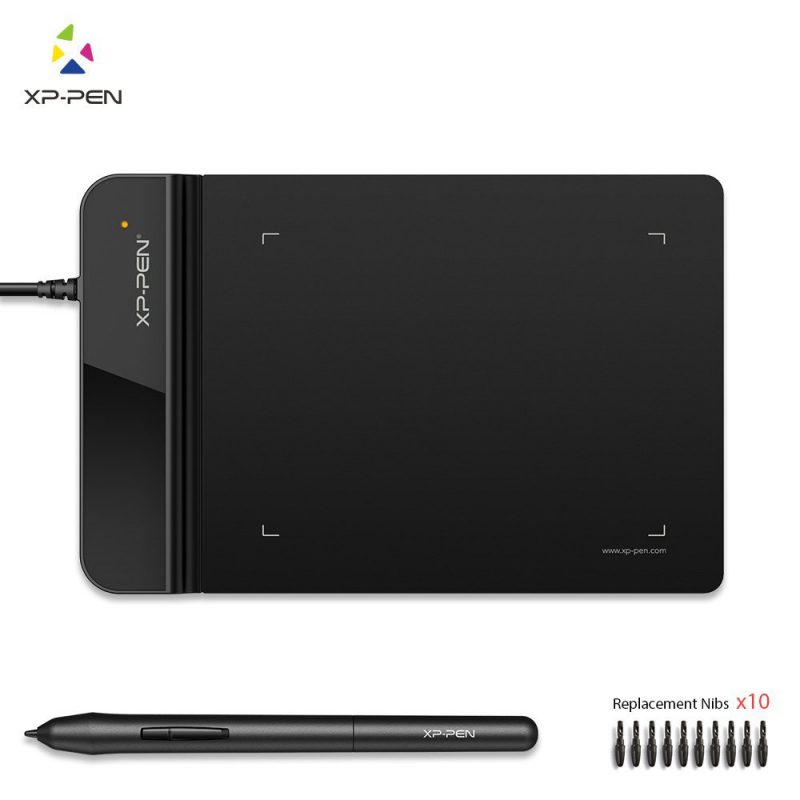 Equally good for both beginners and professionals, this small tablet is suitable for all types of work: painting, sketching, drawing, retouching, electronic signatures and more.
One of the most remarkable thing that catches the eye first is probably its thickness – or should I say thinness? It's only 2 mm thick in its working zone, which makes it as slim as lots of primary level drawing tablets. And its compact size (the working zone is 4 x 3 inches) lets you carry it around easily, almost as easy as you would carry a regular sketchbook.
Another great thing about its design is that it's suitable for both right-handed and left-handed users, or maybe even ambidextrous ones.
Its battery-free passive stylus is environmentally friendly and very convenient because it requires no charging at all and can be used anytime at any place. It can be instantly switched between drawing and erasing mode in a single click, which I find very convenient.
The tablet's report rate was increased compared to earlier models, which means your lines will be smoother, softer and more realistic. It has 8192 pressure sensitivity levels, giving you absolute control over the thickness and darkness of your lines and strokes, making it feel like "physical" drawing.
Check Out The Price Of This Tablet On AMAZON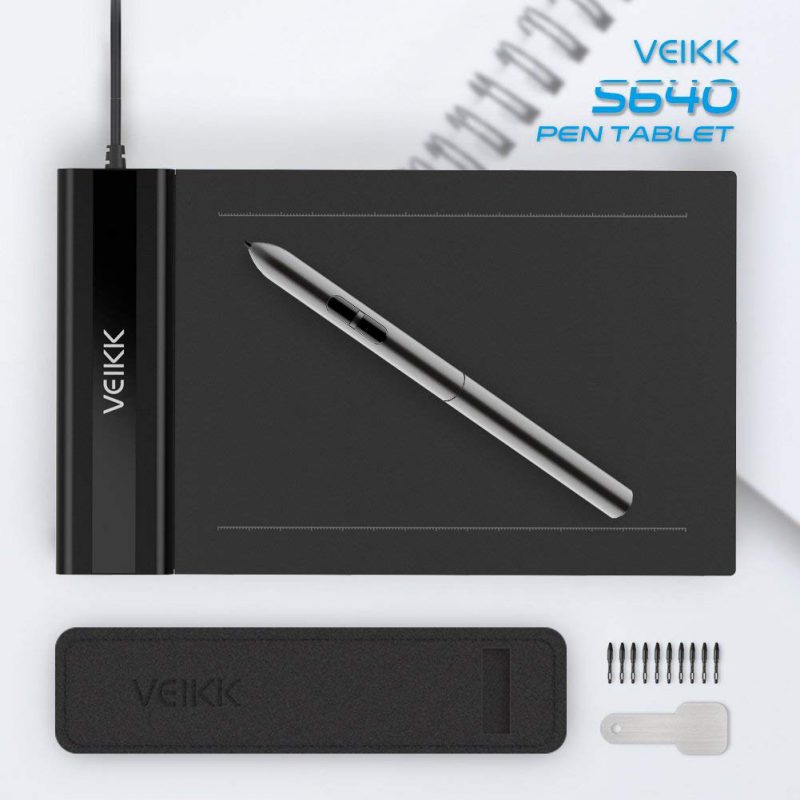 A very slim and light model, that is easy to balance on your lap, to carry around and put it anywhere, even on the messiest desks. It saves your space and still gives you enough drawing area size to express yourself – the size of its active area is 6 x 4 inches.
It can be a perfect mouse replacement and is suitable for inking, sketching, drawing, sculpturing, editing and many other things. No matter if you use your right or left hand – it's equally comfortable for any option.
The working surface of this digital tablet has measures on its sides to make your working process easier. The stylus is battery-free, perfect for long hours of uninterrupted working (which isn't really good for your health!).
It has a minimalistic and slim design, feels comfortable to hold in your hand. Also, you get to customize the functions of two buttons on the stylus yourself.
8192 levels of pressure sensitivity allow you to express every idea just the way you see it in your head, with no limitations.
The tablet supports USB, but you don't have to plug it inside the tablet itself, because it doesn't unplug at all. That makes it even easier to use, because you can't accidentally pull it out with your hand or when you tilt the tablet.
Check Out The Price Of This Tablet On AMAZON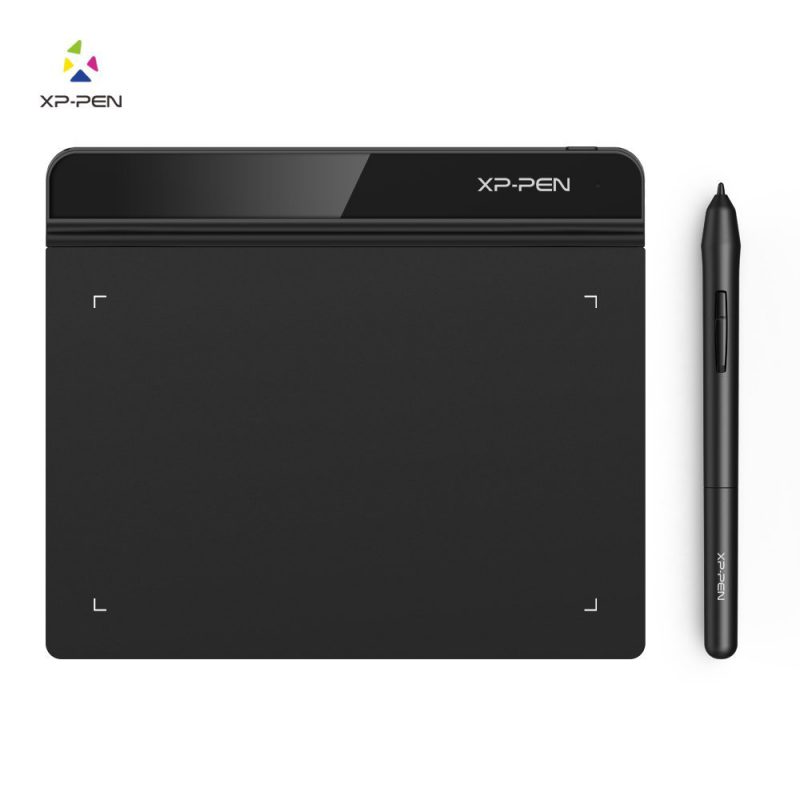 A larger drawing area, that is provided by this digital tablet, is exactly what you need if you feel limited by the smaller tablets and want to have some more space for self-expression.
It has a size of 6 x 4 inches, which is still pretty compact to save up space on your desk, and big enough to work comfortably.
It has a nice, minimalistic and slim design, very thin in the working area and a little thicker on the top of it where the USB cord is plugged. That makes it easily suitable for left-handed artists, and you don't even have to turn it over. You can set it for right or left-hand mode through very easy access.
The stylus is battery-free, light and easy to hold, with a quick switch between drawing and erasing mode, which saves you time and makes your working process much more efficient.
It has 8192 pressure sensitivity levels for smooth and good-looking lines.
Another interesting thing is that this tablet comes together with twenty replacement nibs for the stylus at once (instead of a regular pack of ten or less) so that you can have more fun with it for a longer amount of time before you would have to buy more.
Check Out The Price Of This Tablet On AMAZON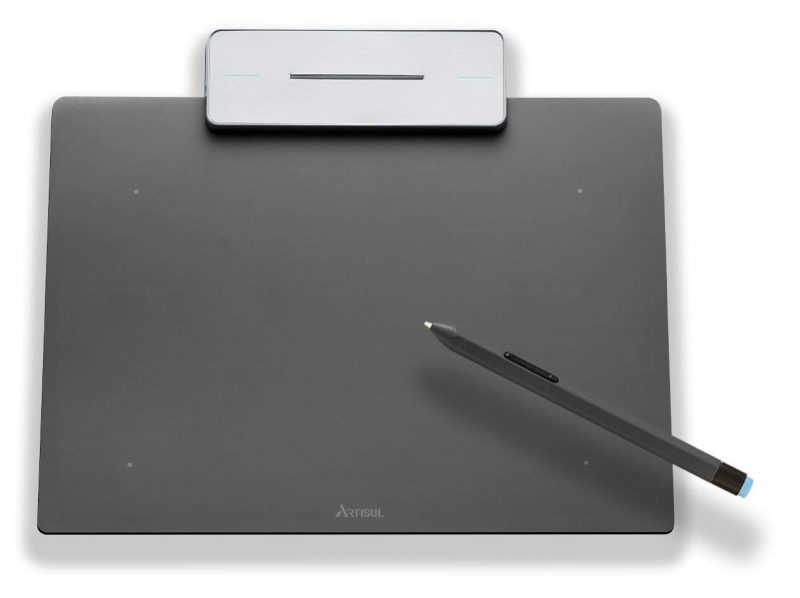 Artisul is another great brand that produces high-quality digital drawing tablets, including low-budget ones.
This particular tablet is a small, slim and compact with a very attractive and stylish design. It's a functional alternative to your trackpad or mouse controller, and also is perfectly suitable for artistic work like sketching, drawing, designing, retouching – whatever your heart desires.
Four customizable ExpressKeys for your most preferred shortcuts are located on its top, "separate" part above the drawing surface, which for some people might not be extremely convenient to press during the working process, but makes the tablet more compact and unique.
It also gives your wrist more space for moving, which leads to better control over the drawing process, and your hand will get less tired than it could be.
The stylus is designed to look like a wooden pencil, has 2048 levels of pressure sensitivity, and – which is kind of fun and very convenient – a fully functional and pressure-sensitive eraser on its other end (that also has 2048 levels of sensitivity).
So if you're very used to regular pencils, don't let that stop you from enjoying digital drawing. The stylus, as well as the tablet itself, are perfectly suitable for using them with any hand.
Check Out The Price Of This Tablet On AMAZON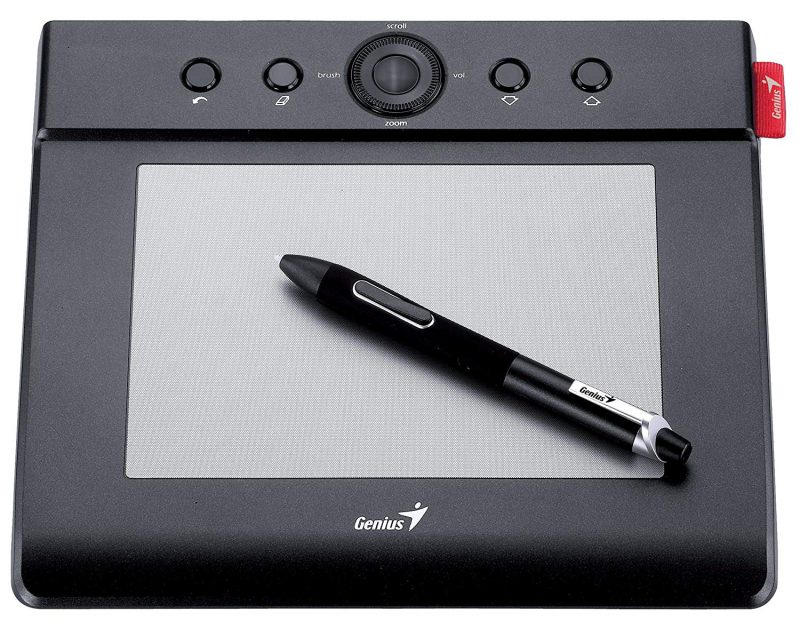 This graphics tablet's design can almost give you some retro vibes.
Its top section, that is located above the working surface, features four shortcut buttons and a rolling pad that gives you control over your brush settings, volume level, and also allows you to easily zoom and scroll.
The keys are not customizable, but they are already responsible for every useful function you might need: undoing, erasing, jumping to a next and previous page.
The working space has the size of 6 x 4 inches, which is pretty much enough to put your ideas to life. You will be able to do any kind of work with this digital tablet: from sketching to painting full-size paintings with extremely high accuracy.
The stylus is cordless, battery-free, light and nice to hold in your hand. It looks almost like a real pen, which adds some more points to the whole retro vibe effect, and can be attached to the side of the tablet with a small clip, for easy storage and easy carrying ( +always keeps the pen within your reach).
A great solution for those who are familiar with the problem of being unable to find the stylus. It also allows you to create realistic lines like you would with a real pen.
Check Out The Price Of This Tablet On AMAZON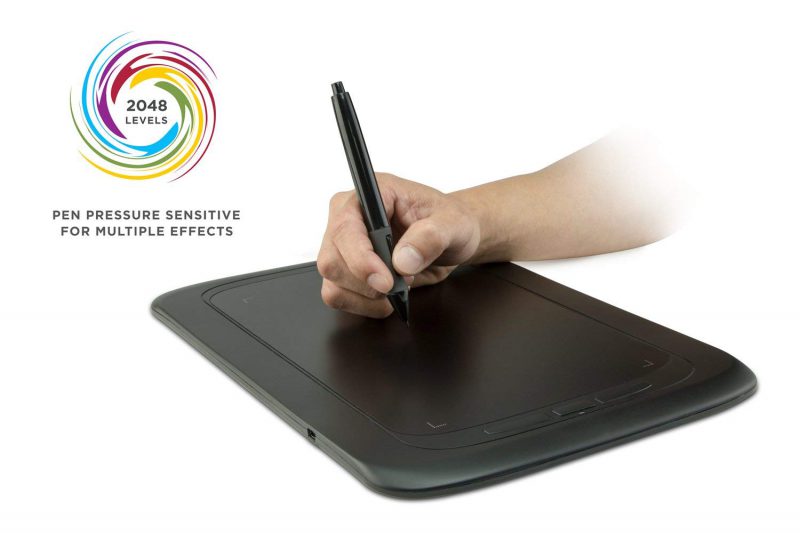 If you have ever heard about graphics tablets, that means you've surely heard about Huion. And here is another product from them, that will give you nice quality for a very attractive price.
This model provides a smooth well-known feeling of real pen on paper, and its report rate will never slow you down or make your lines look unrealistic and discontinuous.
It suits well for all types of digital drawing, for editing, design, writing and signing. The size of this tablet's working area is 9 x 6 inches, and despite the not very tiny size of it, the design still turns out to be slim, ergonomic and compact.
It has no sharp edges and feels very comfortable under your hands. The three customizable shortcut buttons are located on the panel alongside the drawing surface, and that is very convenient for you to use them any time without interrupting your working process.
The stylus uses one AAA battery, that lasts for long, and has 2048 levels of pressure sensitivity. The tablet works from a regular USB cord, and that means you can easily use it anywhere and plug it into your laptop, power bank or just a usual power socket as well.
Check Out The Price Of This Tablet On AMAZON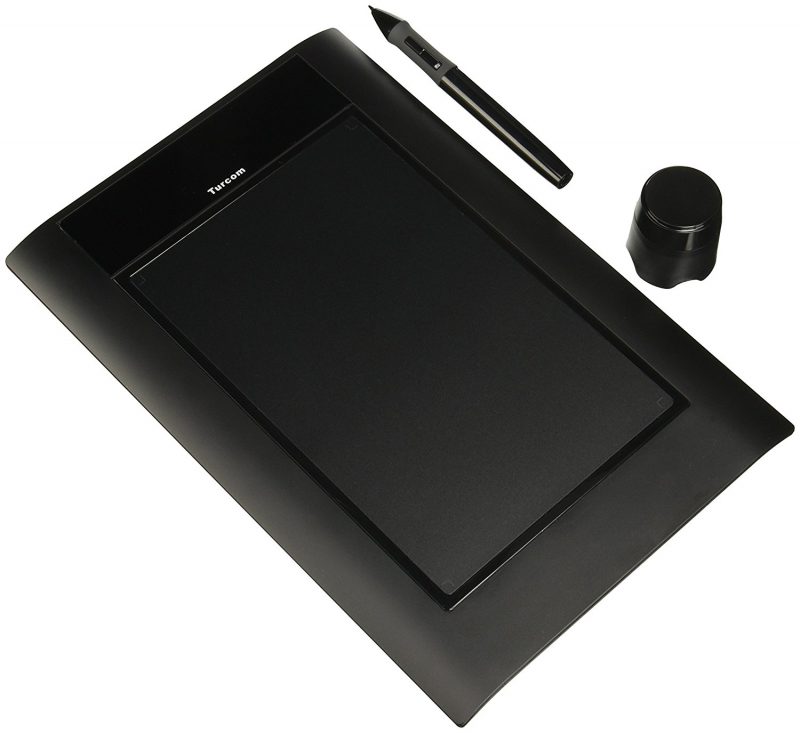 Functional and qualitative digital tablet with a smooth and pleasant surface that will help you achieve a great outcome of your work no matter who you are: a beginner or a professional experienced artist.
Its 8 x 5 inches' active area will allow you to cover all the necessary sizes of drawings without any problem, even if you prefer longer strokes. Thanks to its size and slim design, the tablet will fit on your desk (or any other surface) perfectly, and also can be ideally placed inside any desk drawer, fitting there completely.
The tablet's wireless pen, despite needing the AAA battery inside of it, is still very light and comfortable, gives you a balanced weight and perfect control over what your hand creates.
It has the pressure sensitivity level of 2048 and a couple of convenient buttons for quick and easy switching between its modes. The drawing area itself has 1024 pressure sensitivity levels, and in cooperation, these two items will give you an incredible result.
It also works great with vector drawings and illustrations, that require flat coloring.
The tablet's drivers are installed easily, it has absolutely no problems with connecting to either Windows or Mac and is perfectly compatible with any drawing software.
Check Out The Price Of This Tablet On AMAZON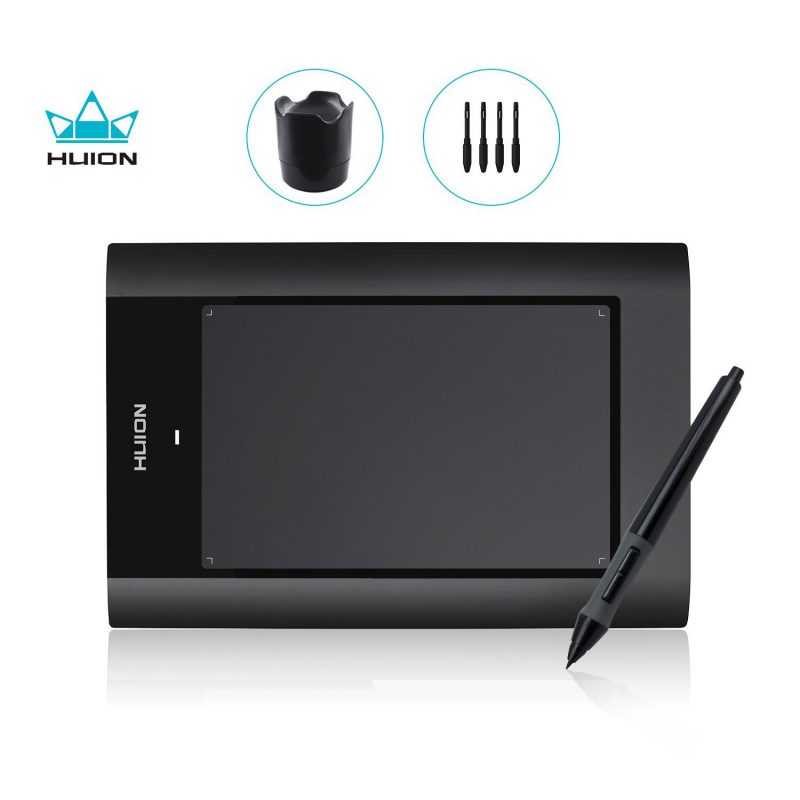 This is another great and compact option for those who don't like small tablets and want them to be a little bigger.
The working area of this digital drawing tablet has the size of 8 x 5 inches, and the whole size of the tablet itself is only 310 x 205 mm. Which absolutely wouldn't take a lot of space, no matter where you decide to put it.
The surface feels very nice to draw on, not harsh and not grainy at all. The report rate of the drawing area is 220 RPS. That allows smooth and consistent input recognition and makes your lines soft, realistic and pleasantly flowing.
Another feature that allows that outcome are its 2048 pressure sensitivity levels for precise pressure control.
The stylus requires a battery to work, but the battery can be easily replaced, and you won't need to wait until the pen charges while being unable to work, as it happens with some styluses.
Overall, the design of this graphics tablet is attractively minimalistic, non-slippery and ergonomic. You have enough space to move your hand freely without getting too tired of uncomfortable positioning, and the USB wire plugs into it in a very convenient place.
Check Out The Price Of This Tablet On AMAZON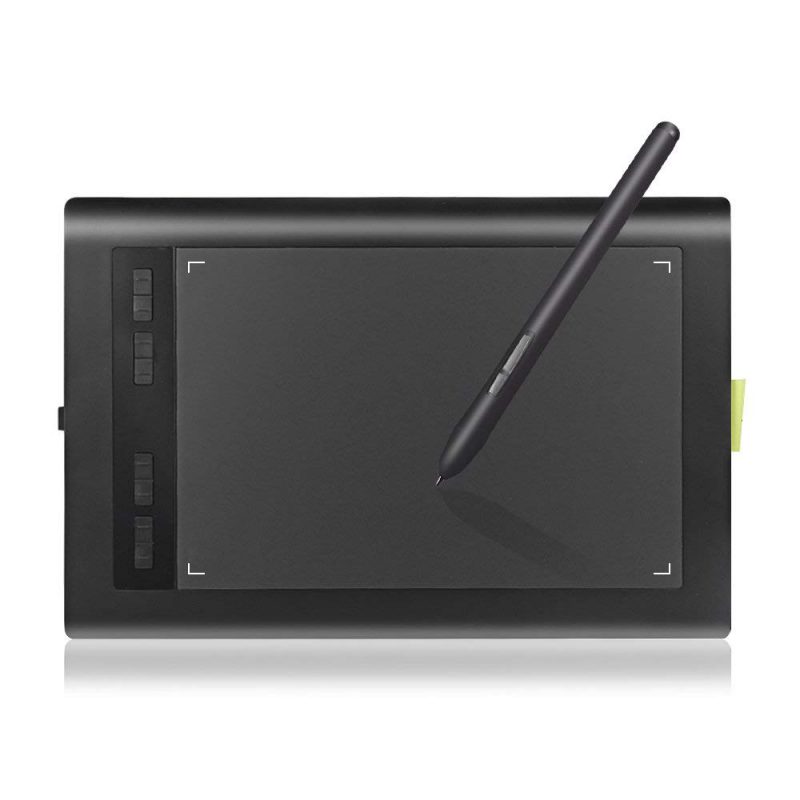 The Acepen graphics tablet features a high-quality 10 x 6 inches working surface, suitable for your every current and possible need.
It has eight easily customizable ExpressKeys to make your drawing process as efficient as possible. They are located in a pretty convenient place, allowing you to use them without interrupting your work. That saves you a lot of time and nerves. And satisfied artists produce much better results.
The tablet can also be rotated so that left-handed artists can also use it without problems.
Its passive eco-friendly stylus for this tablet has great tracking speed, two conveniently placed buttons to switch between modes, looks really good, has a very ergonomic design, and feels great in your hand due to its shape and surface material.
It has 2048 levels of pressure sensitivity to let you perfectly control thickness and transparency of your lines, pressing and tilting the stylus, like you would do with real pencils, making your sketches and drawings look realistic and good. Even the slightest strokes will be perfectly captured.
The tablet is compatible with all major graphics software, and can be also used for designing, handwriting, photo editing and much more.
Check Out The Price Of This Tablet On AMAZON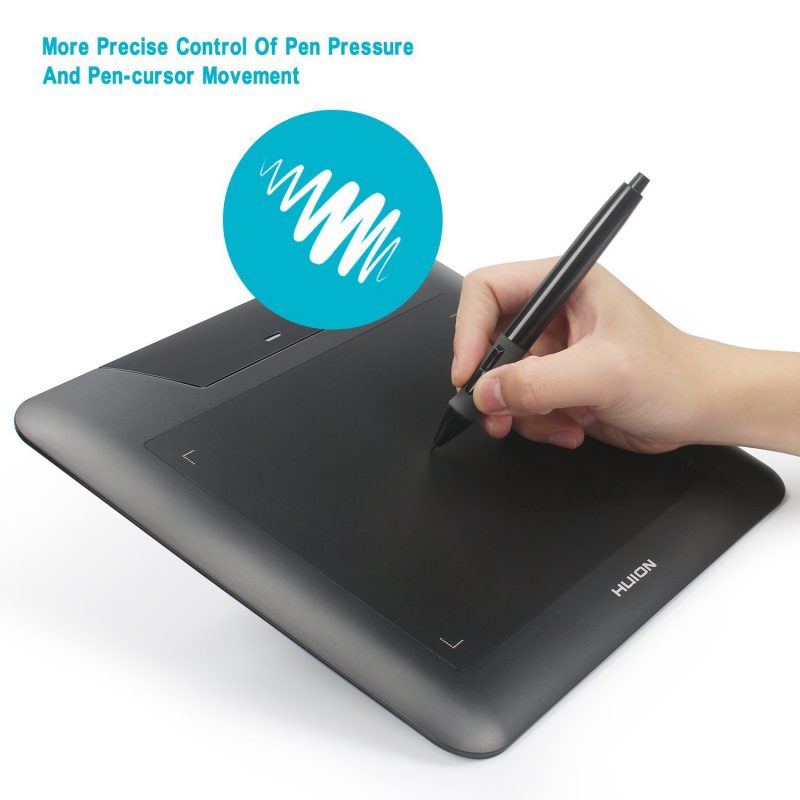 Another great low-budget and decent-quality model by Huion, suitable for both those who are just starting to draw and those who have experience.
It's designed to look almost like a perfect square, which is a little unusual for digital tablets (but still convenient!) and catches the eye.
This graphics tablet's working surface has the size of 8 x 6 inches, which is pretty common for tablets and is not too small.
Its surface has some really nice texture, which feels great to touch and to draw on. It might require some extra scratch protection, but only to make it even more durable to work with for a long time and to easily carry around with no worries.
The tablet is powered by USB. And the cord that is included in the package is pretty conveniently long, so you can organize your working space the way you like with no restrictions.
Its stylus has 2048 pressure sensitivity levels to give you a good variety of line weights, still, even the lightest touches would be perfectly tracked with no lags, and their results would be clearly visible. It requires one AAA battery inside of it, that lasts for a really long time and is probably much more convenient than chargeable pens.
Check Out The Price Of This Tablet On AMAZON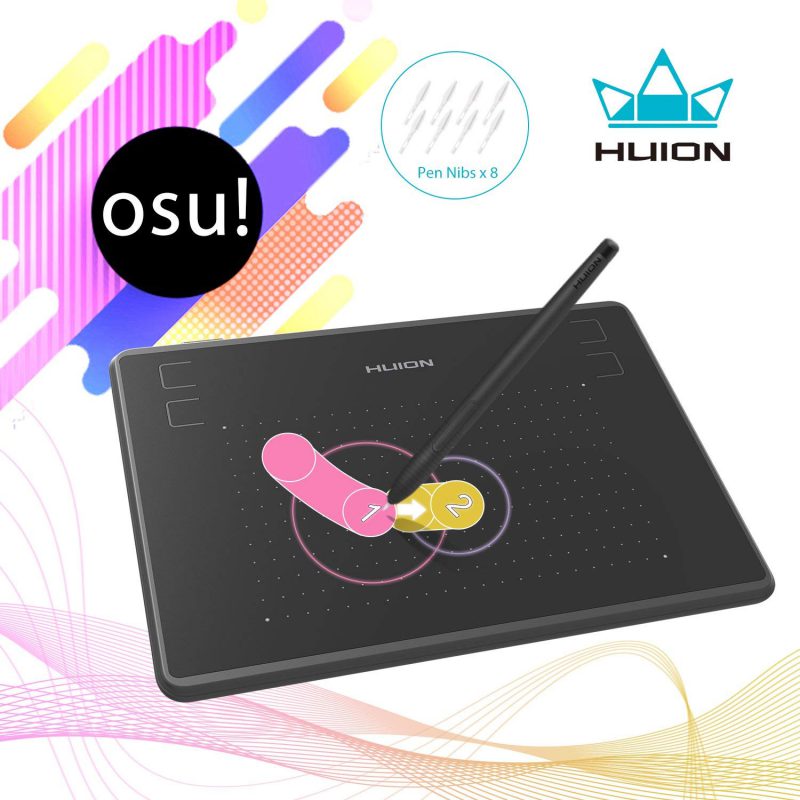 The compact measurements of this digital tablet make it easy to take with you anywhere and to find a place for it in your working area. It also reduces the range of your wrist's movements, therefore not making your hand tired.
The tablet is also very low weight – almost as light as a regular modern cell phone. This model is suitable for everything and is installed and used easily.
Its design provides nice and pleasantly-looking dotted surface of the working area, giving you more control over what you're doing and making the process much easier.
The tablet's "body" overall looks very nice, and even the fact that it's a little thicker than many other tablets absolutely doesn't make it worse and feels like a well-fitting part of the design.
Four customizable shortcut keys are located ergonomically so that you can easily reach them while working.
The stylus is battery-free, easy to use and has a couple buttons for switching between drawing and erasing in a moment (or even customizing to give them responsibility for the options of your own choice – whatever you like). It feels very light and nice to hold and work with.
4096 levels of pen pressure sensitivity, high report rate and resolution will guarantee you accurate and responsible performance and richer graphics.
Check Out The Price Of This Tablet On AMAZON
As far as you can see, the price doesn't define the quality at all.
And sometimes, as it happens with lots of electronics, prices can get too high because of a famous brand name. But we are here not to judge the industry, we are here to enjoy the most out of our artistic lives, and if it requires buying ourselves a high-quality digital tablet – why not?
If I could pick only one from this list, it would be the Huion H420, as I find it meets most of my personal needs. But feel free to explore all of these other cool options and pick the best one for you!
Now you know for sure that you won't have to spend a fortune to get yourself a decent instrument that can transfer your lines to digital format, and do it beautifully and smoothly.
[optin-cat id="2063″]
---
---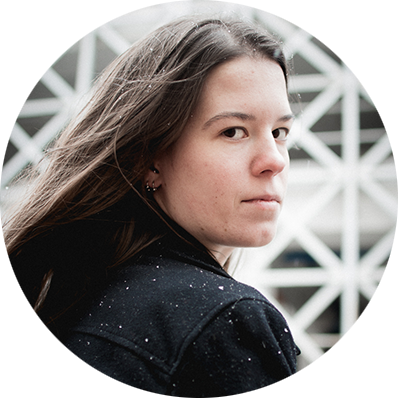 Author: Hanna Martsynkevich
Anna is an artist, poet and musician who lives in Minsk, Belarus. She loves food, cats, gigs and esoteric stuff. She posts the things she does on Instagram and sometimes appears on FB.
---
---