Are you in a rush? No problem! Here is our best pick:
Sale
A lightbox is a translucent surface illuminated from behind, and artists use them in many different ways:
Lightboxes for artists help to transfer and trace your drawings from one sheet of paper to another,  redrawing your work on a different kind of paper or changing some details during the transfer. (Or even tracing over someone's portrait to capture all the details right and then make a caricature out of it, sounds like fun right?)
Lightboxes are also used when one needs multiple copies of the same drawing with just a tiny adjustment on each of them, like when making animation. You have probably stumbled upon some documentaries about, for example, Disney studios on TV when you were a kid. Haven't that labor-consuming, but a truly magical world of animation ever mesmerized you? If so, you do know that lightboxes took a big part in making this happen!
Copying other artist's work in order to better understand the shape language and the composition techniques they used.
When I was a child and wanted to trace my drawing, I had to place both papers on my window glass during the daytime and try to do this in a vertical position, which was very uncomfortable. Now the technology has come pretty far, and not only professional animators in the studios can afford to have a lightbox of their own!
There is a variety of options nowadays, from cheap to expensive, from very simple to complicated with a lot of features. No matter what you need a lightbox for, you are a beginner or a pro, there already is an ideal option just for you.
This article can introduce you to some of the models that currently exist on the market, and hopefully, help you find your perfect one!
What features should you pay attention to?
The size of the lightbox, its weight, brightness and possibility to adjust it, the type of power it works from (such as USB or DC, whichever suits you more), and, of course, the comfort level that it can give you.
You might want a smaller lightbox that is easier to carry around and rotate, or a large and bright one – it's all up to your preferences! And we will try to provide you some examples of how different they can be.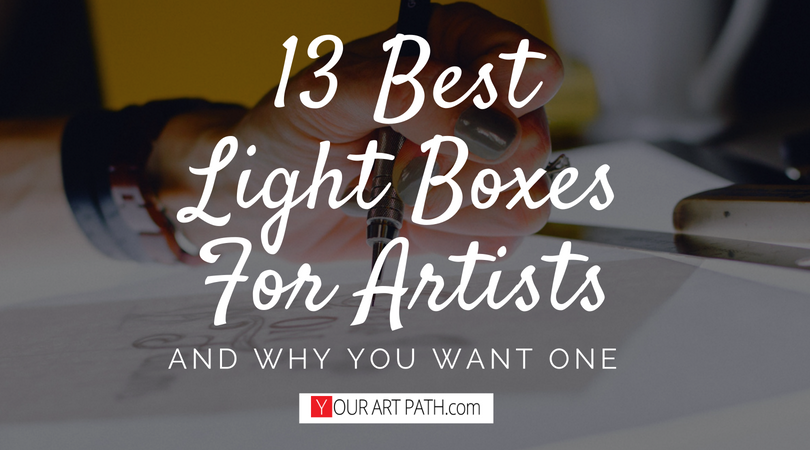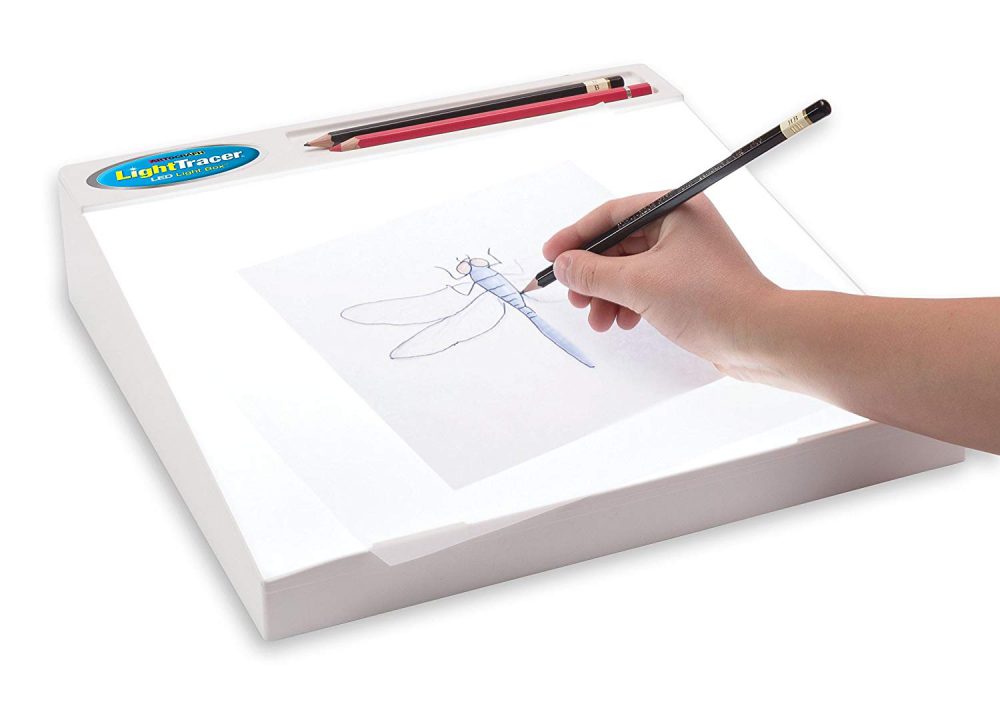 If you spend a lot of time drawing at the desk, you probably know how uncomfortable it can feel when the working surface is absolutely flat and horizontal.
Moreover, it might be pretty bad for your spine and hands.
This model's absolute advantage is its shape and the way the surface is positioned. You don't need to buy any extra stands – it's perfect just the way it is.
The shape might give you a nostalgic vibe of a retro school desk.
It also has a built-in storage tray for pencils, pens or other supplies you draw with, it works with a power adapter. Its surface is comfortable and feels nice and cool even after a few hours of using it.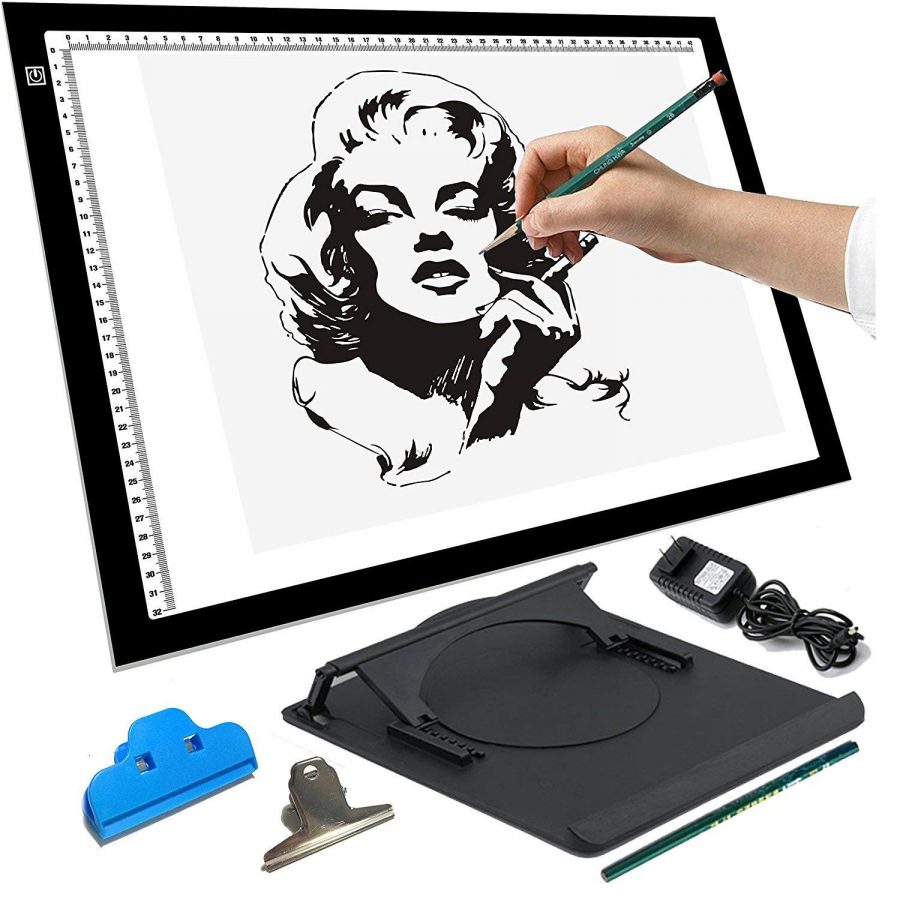 Despite the A4 size, this lightbox is slim and light, yet durable, which makes it pretty easy to carry around.
The working surface has three different brightness levels that are very easily adjusted with the help of just one button, and there are also measurements on its sides for you to easily scale your work.
Do you know that feeling when you turn on your phone screen in the darkness and it's too bright so you have to squint? This won't happen when you turn on this lightbox, because it remembers the last brightness level you used, and you won't need to adjust it every time.
This model is suitable for absolutely every activity you could imagine a lightbox be involved in, and has a long lifespan, so you will have plenty of time to explore them all.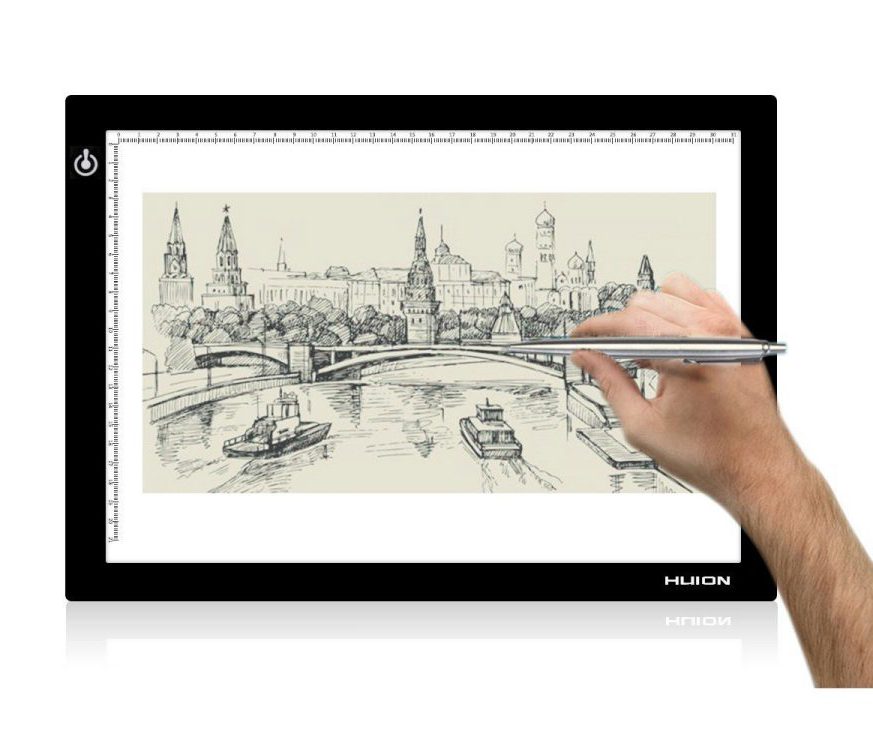 Huion is probably the most famous company that makes lightboxes for artists, which means they really know a thing or two about their customers' demands.
This guy is controlled by a touch-sensitive button to set the ideal brightness, it's lightweight and it works from a USB power source. That is convenient if you work away from home, because you can use it with your laptop or power bank, and you still can plug it into a power socket if it's possible.
It features an advanced eyesight-protection technology, which means your eyes will not get sore after working for a long time and it won't affect your health.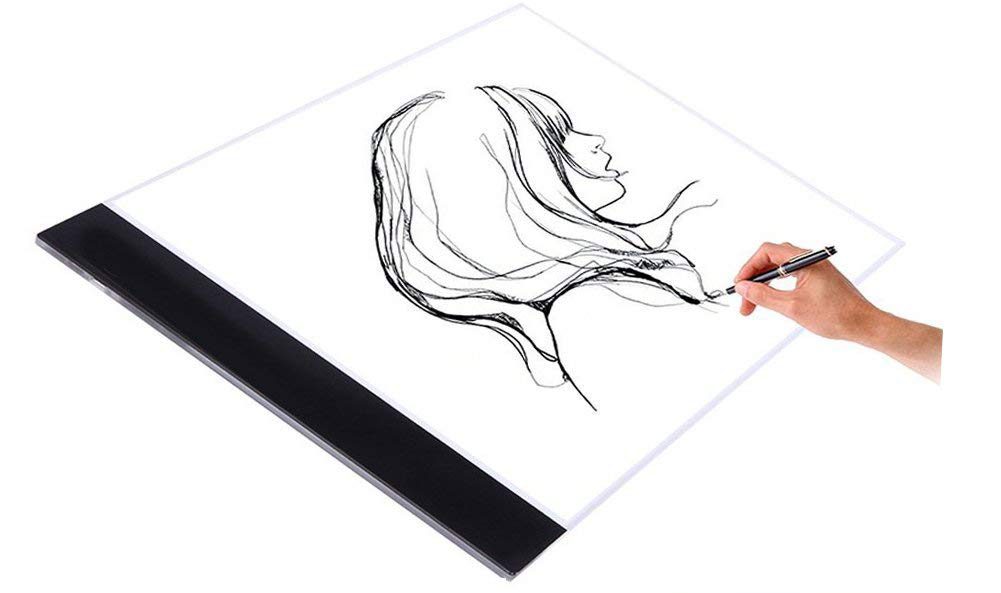 This one is a pretty affordable option, and the low price totally isn't making it worse.
It has all the properties a decent lightbox should have. Its LED lights are bright and let you see through even the thickest types of paper, its tracing surface is made of organic glass, which makes it smooth and strong, so you won't be afraid to break it if you want to carry it with you anywhere. Other things that make it easy to carry around are its compact size and the light weight.
A good choice for the beginners, just make sure you are located close enough to a power socket.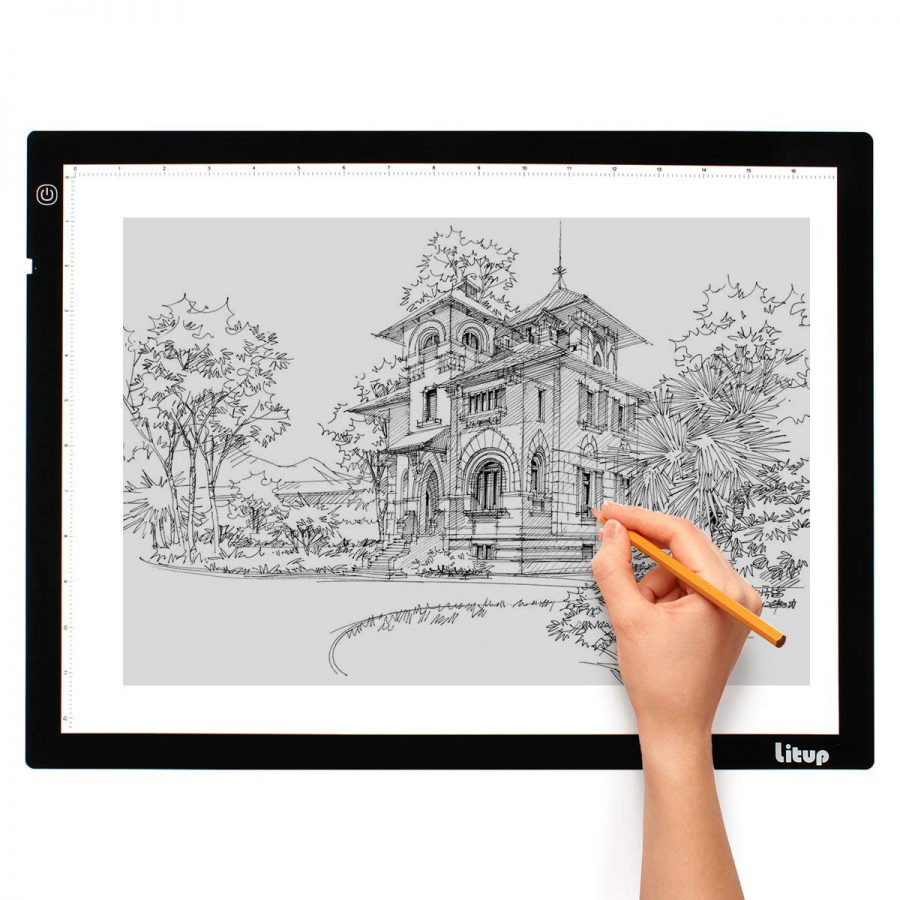 This A3-sized model is perfect for those who prefer a bigger working area for large drawings. It has measurements on the edges of the working area (in inches), and you can set its brightness high enough to be perfect for every activity you do: tattoo tracing, sketching, calligraphy, animation or anything else.
Its weight is a little over 1.5 kg, which can be a little uncomfortable if you want to take it with you on a journey or just need to carry it around a lot, but this is a nice weight for such a big lightbox.
The flicker-free lamps will work for 50.000 hours, which is more than five and a half years of working in a row without any break. With all these amazing features just don't over-exhaust yourself, please! 😉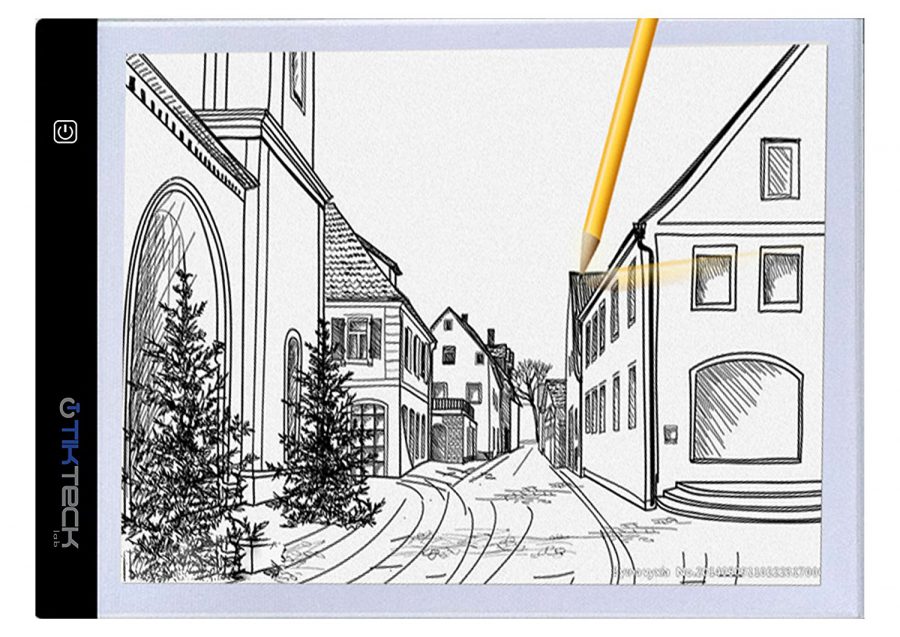 Flicker-free and eco-friendly LED light with adjustable brightness can shine through several pieces of paper at once.
This lightbox's technology, unfortunately, makes it impossible to use with viewing x-rays and photo negatives, but it's perfect for other artistic uses.
Low price and high durability make it a very good choice for beginners, for kids and for people who can't or don't want to spend a lot on a device like that. It's very light and thin, and has a micro USB port. The cord included in the package is pretty long, and that is actually pretty comfortable and means you won't have to buy another one, which saves your money once again.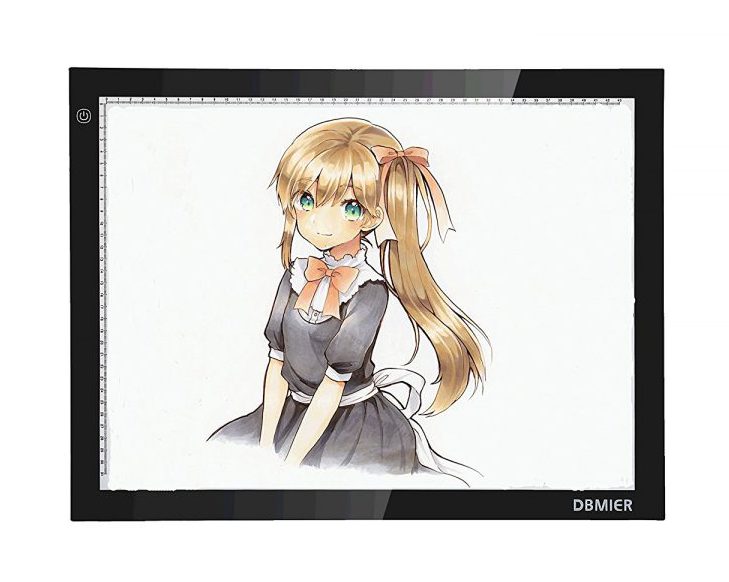 Want something really big? Then this is the perfect buy for you.
This lightbox catches the eye with its minimalistic and sleek design (and don't lie to yourself when you think that design of the device doesn't matter to an artist!), and not only it's stylish and relatively portable, but also very durable.
Its lighting will surely last up to 50.000 hours, and the strong material of the working surface, which is Japanese acrylics, is also meant to last and do you an extremely good job and be your loyal companion for quite a while. The LED lights have three brightness levels and are never hot to touch, even after being on for a very long time.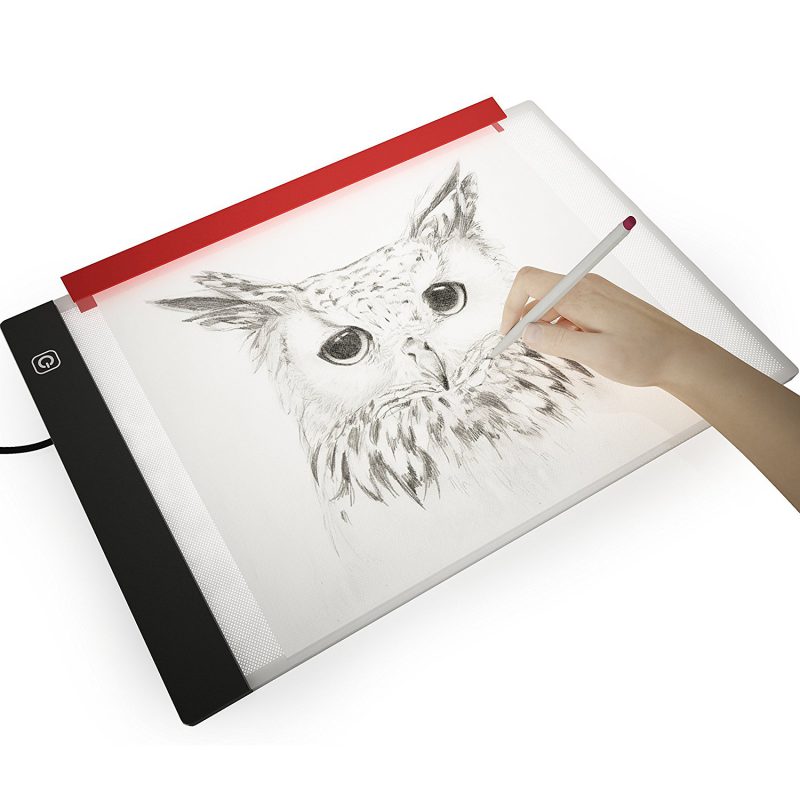 Unlike lots of other multi-purpose lightboxes that are used for various types of work, this one is designed and meant specifically for tracing drawings, which maximizes your ability to do that the best way possible on all types of paper, from thinnest to thickest.
Its power/brightness adjusting button is placed out of your way to exclude your chances of accidentally touching it while working. Its lights have extremely long life-span, and a special built-in filter over the working surface protects your eyes from being damaged.
This professional quality lightbox is super thin (only 3.5 mm) and lightweight for its A4 size and is very durable due to the material it's made of.
Its USB cord is also very durable and can survive any kind of handling for a long time, so don't be too scared to break it.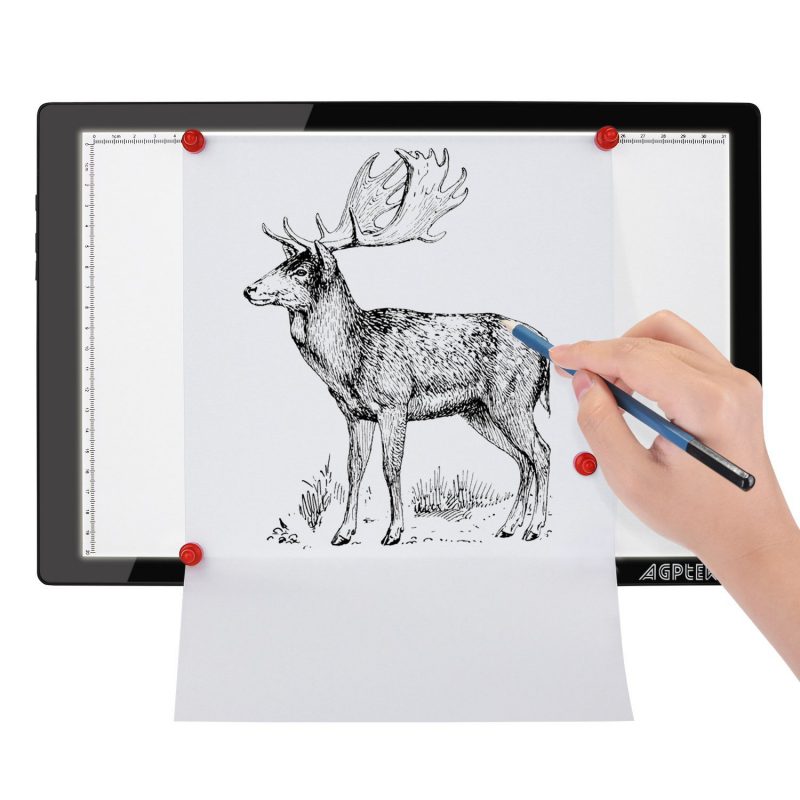 Is it possible to use a lightpad without paper clips? With this model – yes.
Its innovative technology lets you attach your paper to it using special magnetic pins that are provided together with this lightbox. Attaching a piece of paper (or a few of them) has never been easier before, and the absolute advantage is that you can place it the most comfortable places to get them out of the way of your moving hand, which couldn't happen with big paper clips.
Also its dimming and on/off buttons are physical and located on the side of the lightbox, so you also won't accidentally touch them while working. Its brightness control is stepless, from 0% to 100%, which makes it even more comfortable to use.
And it's also definitely cheaper than you'd expect.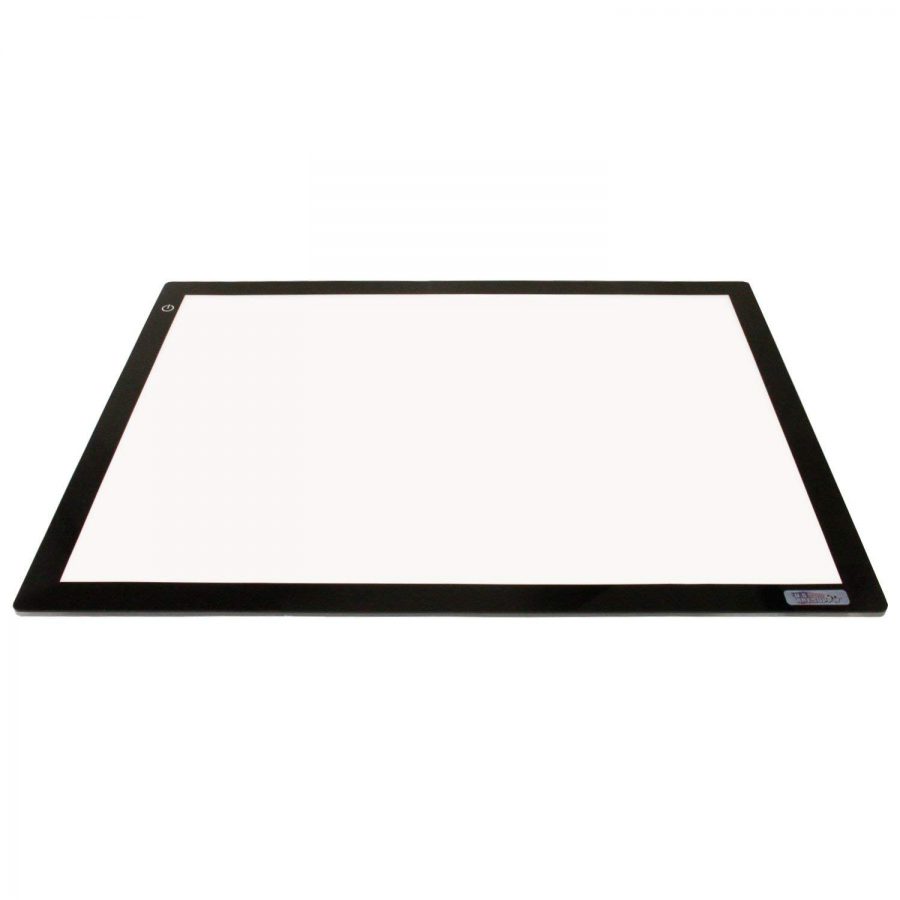 Another really big and professional high-quality option for every type of work you can do with a lightbox.
It has a measuring overlay grid and circle template of the necessary size included in the package, and that is a bonus that's hard to underestimate. Its working surface has the size of 17"x24" to fit (almost) absolutely each and every size of paper you might need.
The energy efficient eco-friendly 8-watt dimmable LED lamp that this lightbox is using will ensure you up to 50.000 hours of work, and it doesn't require any maintenance.
Overall, this lightbox the best choice ever for architects and designers, but will serve brilliantly to every other need as well.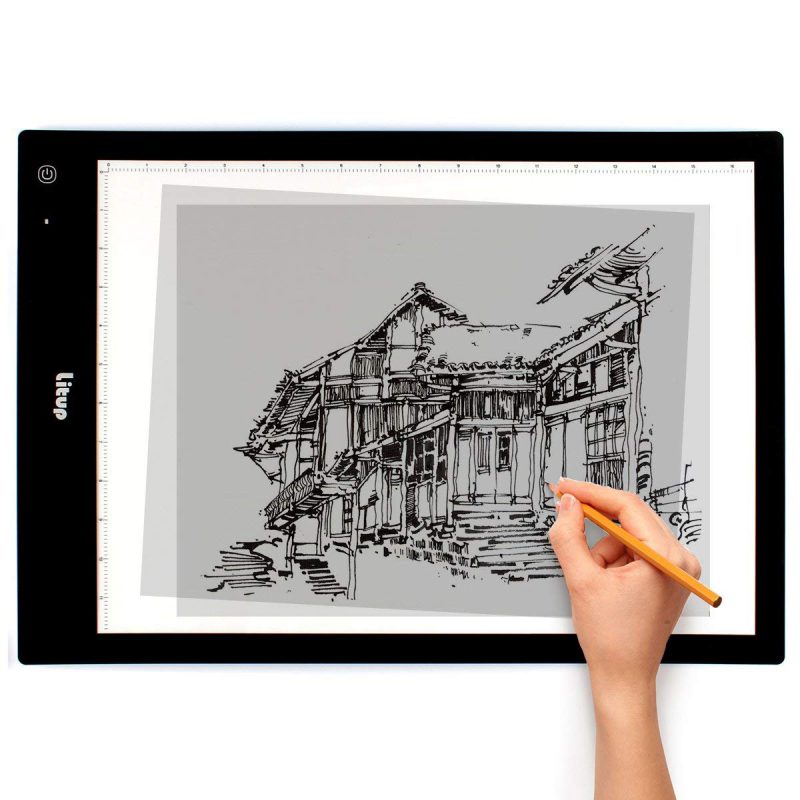 The best thing about this lightpad is not even its size or durability. It's the fact that it can work wirelessly in battery mode after only one and a half hours of charging, and the battery will work for 5 hours straight.
Its brightness is adjustable, though it will be a little less in battery mode – maximum brightness in battery mode will be 1500Lux, and when plugged to USB – 2280Lux. But don't let that scare you off!
Just imagine the possibilities of using the lightbox in battery mode: no wires, no need to be stuck around your power socket in possibly uncomfortable position. Isn't that great? You can easily switch between USB and battery mode using a single tiny lever on the side.
The lightbox is also extremely thin and lightweight.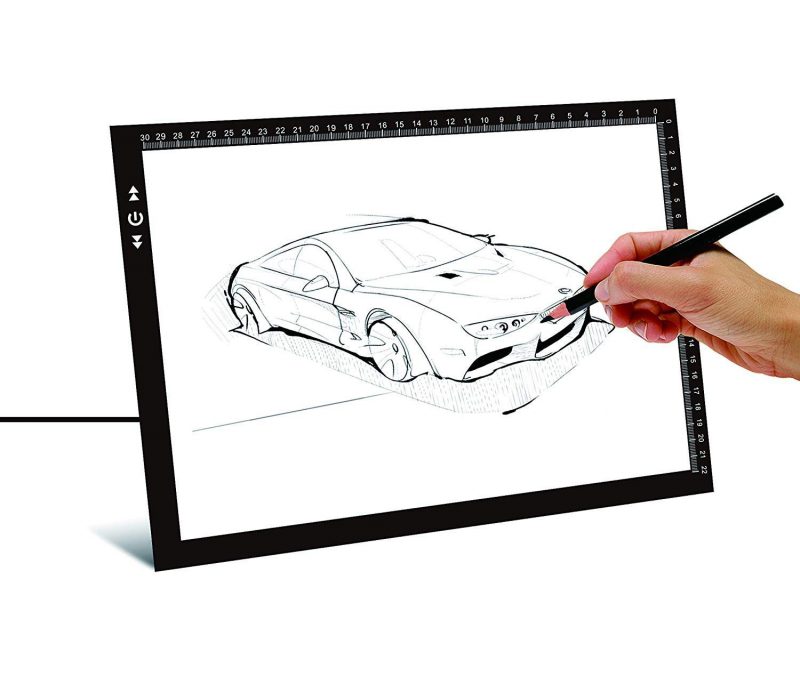 This lightbox has powerful and bright LED lamps that can shine at a maximum of 3000Lux, which is more than enough for every type of paper, even 450 or 600g.
Their improved design gives you better control over brightness level (because it isn't set by touching a single button) but instead, the lightbox has two special buttons above and below the on/off button to help you set suitable brightness easier.
Its structure also gives you no side light like many other lightpads do.
The lightbox is thin and extremely durable due to its materials: the body is made of aluminum, and the working surface is strong acrylic glass.
It also features the measurements on the sides of the working surface to make your working process even more easy and efficient.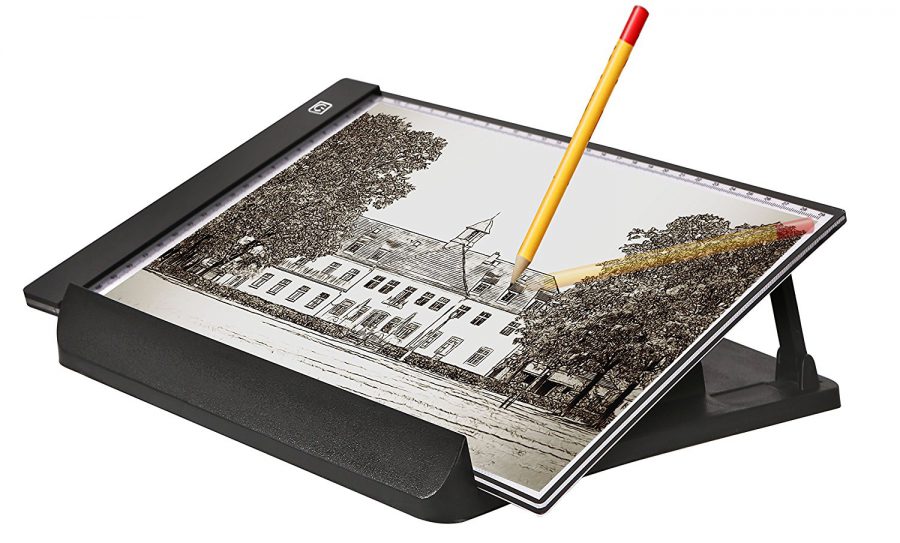 Those who appreciate comfortable and ergonomic organizing of their workplace would definitely love the fact that this lightbox is sold together with the multifunctional stander.
Now you can place the lightbox in any position you need, at any angle, rotate it at 360° for your ideal comfort. The sleek and minimalistic design will also add some style to your working space.
This lightbox is powered by USB cable plugged into a micro USB port on the side, and its location minimizes your chances to accidentally plug it out or break it.
The lighting screen has eye-protection, and you can adjust brightness levels as well. A4 size is multipurpose, and you can use this lightbox for various kinds of artistic work.
No matter what you would like to use your lightbox for or what is your experience level, please remember not to run after "fancy" features that have no practical use, don't make sense to you or even affect your comfort and working efficiency in a bad way.
You don't really need the largest and the most expensive device to be happy with it, because happiness is in the process. But it surely doesn't mean that you can choose any low-quality product you see first.
After all, it's much more important to follow your heart not only while creating something but also while choosing a perfect device that will assist you.
Because when you are comfortable, you won't be annoyed or interrupted, and concentration is a very important thing that helps you improve and create true masterpieces.
---
---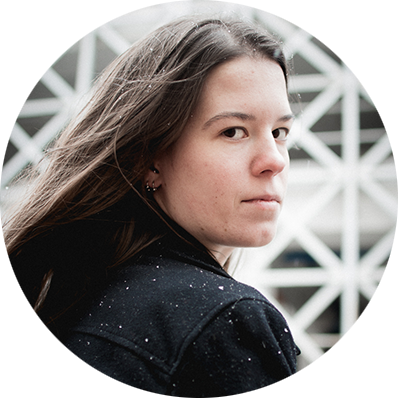 Author: Anna Martsynkevich
Anna is an artist, poet and musician who lives in Minsk, Belarus. She loves food, cats, gigs and esoteric stuff. She posts the things she does on Instagram and sometimes appears on FB.
---
---