Are you in a rush? No problem! Here is our best pick:
Sale
Wacom Cintiq 13HD Interactive Pen Display (DTK1300)
Enjoy the natural creative experience of working directly on screen;Aspect Ratio :16 : 9
Pressure (2048 levels) and tilt sensitive Wacom Pro Pen performs like traditional brushes, pencils and markers
Premium, 13.3", HD Display (1920 X 1080) with wide viewing angle,get a HDMI to Mini Display Port adapter to connect the DTK1300 to a Macbook Pro
Why Get A Digital Drawing Tablet?
There are different reasons why people work in the field of digital art, but they all may agree that there is nothing not to love about doing it. Both traditional and digital art are really popular today and warmly welcomed by the public, and both of them have their advantages and disadvantages.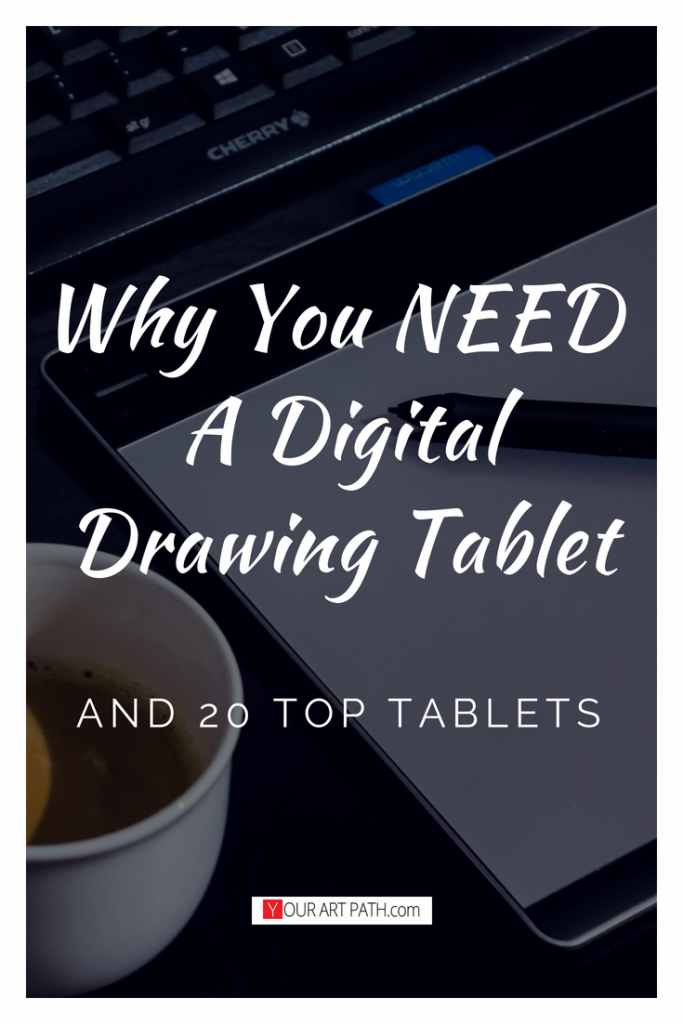 Comparing digital drawing to traditional is as useless as comparing an acoustic guitar to an electric one: they are used for different purposes, make very different sounds and, despite the very similar methods of using them, create a pretty different outcome.
Just like digital art: people use different technologies, make art for different purposes, and though it's still done by dragging the pen around the surface, the results differ.
And those who work in the digital art field know for sure that the one thing they need to create good content is a good digital tablet.
Of course, you can draw with your mouse or even a laptop touchpad, or use a finger to draw on your smartphone screen, but will that be comfortable? I don't think so.
In fact, you don't have to be really rich to afford a nice graphics tablet, because there is a huge variety of decent models from very expensive to pretty cheap. But how to sort out all these huge lists of products? This article might actually give you some useful hints.
Are you a designer, a photo retoucher, an architect or a person of any other profession that requires using graphics tablets?
Are you a traditional artist who wants to try out digital arts?
Are you already an experienced digital artist? Or are you merely the beginner who wants to start from scratch and learn how to draw not with a habitual pencil and paper duo, but with something using modern technology?
It makes absolutely no difference, so you shouldn't feel excluded or not fitting in any way. Because this list of the best digital tablets will offer you anything to fulfill your needs and many options you can choose from.
You can look through this list even if you aren't interested in digital art, just to get inspired because of how futuristic and cool they all look. Because isn't that how the older generations imagined the future would be?
Wacom Cintiq 13HD Interactive Pen Display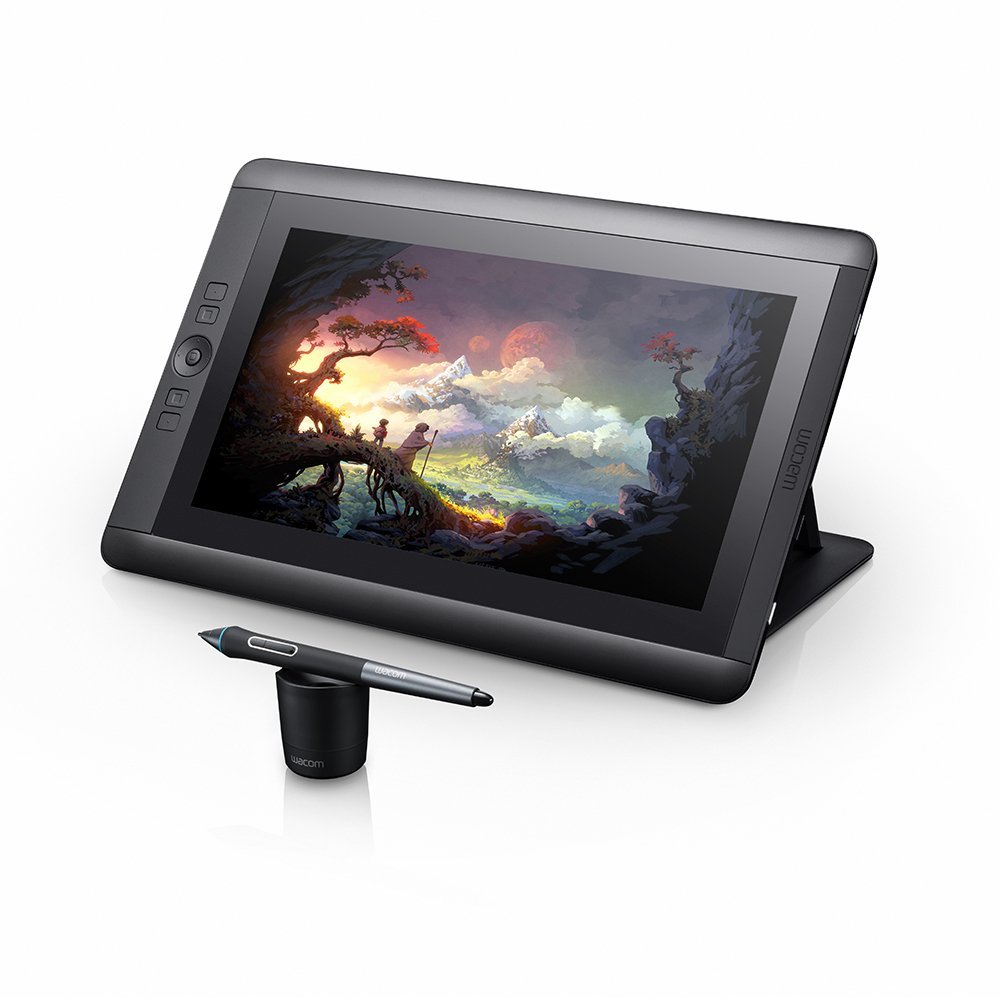 Wacom have come a long way since they were the only option on the market, and now they have presented this giant to the world!
Like a true superhero universe character, it's huge, mighty, has a lot of secret weapons in its' pockets, and also really good-looking and attractive. The design of the graphics tablet, despite its working space size, is comfortable, lightweight and compact.
Being a professional artist doesn't mean surrounding yourself with enormous and inconvenient devices, right?
Among its features are also really wide viewing angle of the display, high levels of pressure and tilt sensitivity and easily customizable shortcut keys.
And – it's easily compatible with both PC and Mac, which is very important, because lots of PC users, especially from outside the products' native countries, often experience troubles with setting graphic tablets up and making them work correctly.
Apple iPad Pro 12.9 Inch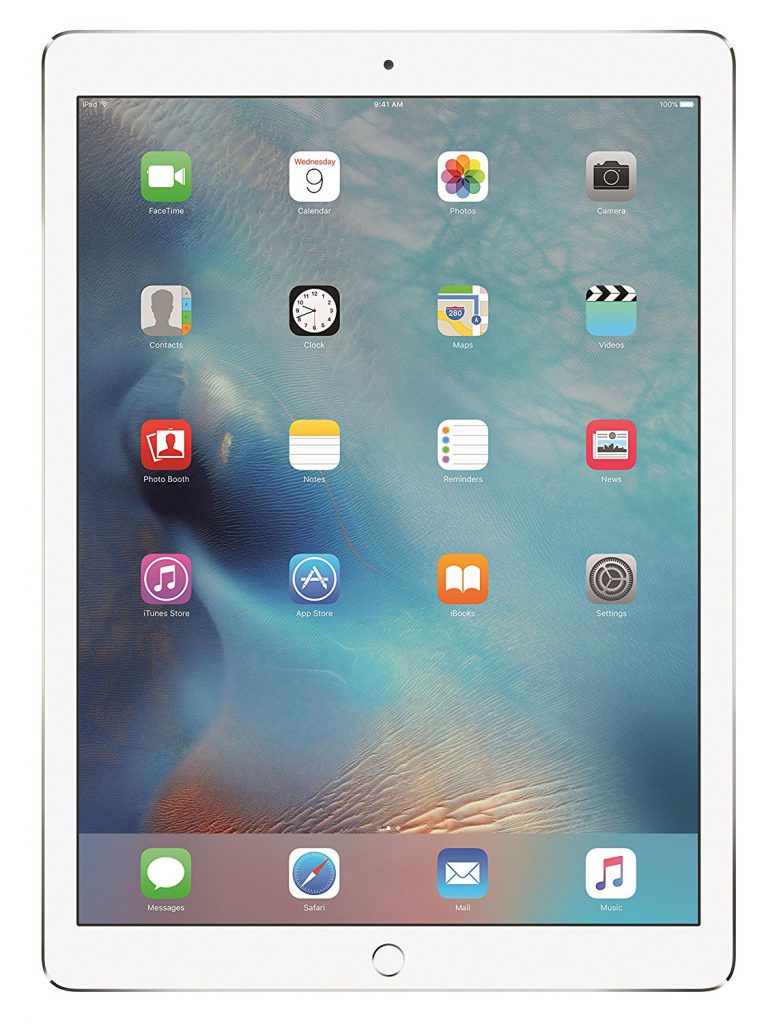 While it's not a digital tablet made specifically for drawing, lots of digital artists consider it a very comfortable and useful device you can use for drawing with a stylus and special drawing apps.
You will have to buy a special Apple Pencil, which isn't so convenient, but the quality of your work at the end is totally worth it.
Apple tablets are well-known for the high quality of their displays. This model of iPad Pro currently has the largest drawing area among all iPads, as well as a big, bright 12.9″ Retina display with pleasant colors and high refresh rate (and it feels really nice to touch with your fingers!).
A true eye candy for the connoisseurs of its slim and light design.
Wacom Mobile Studio Pro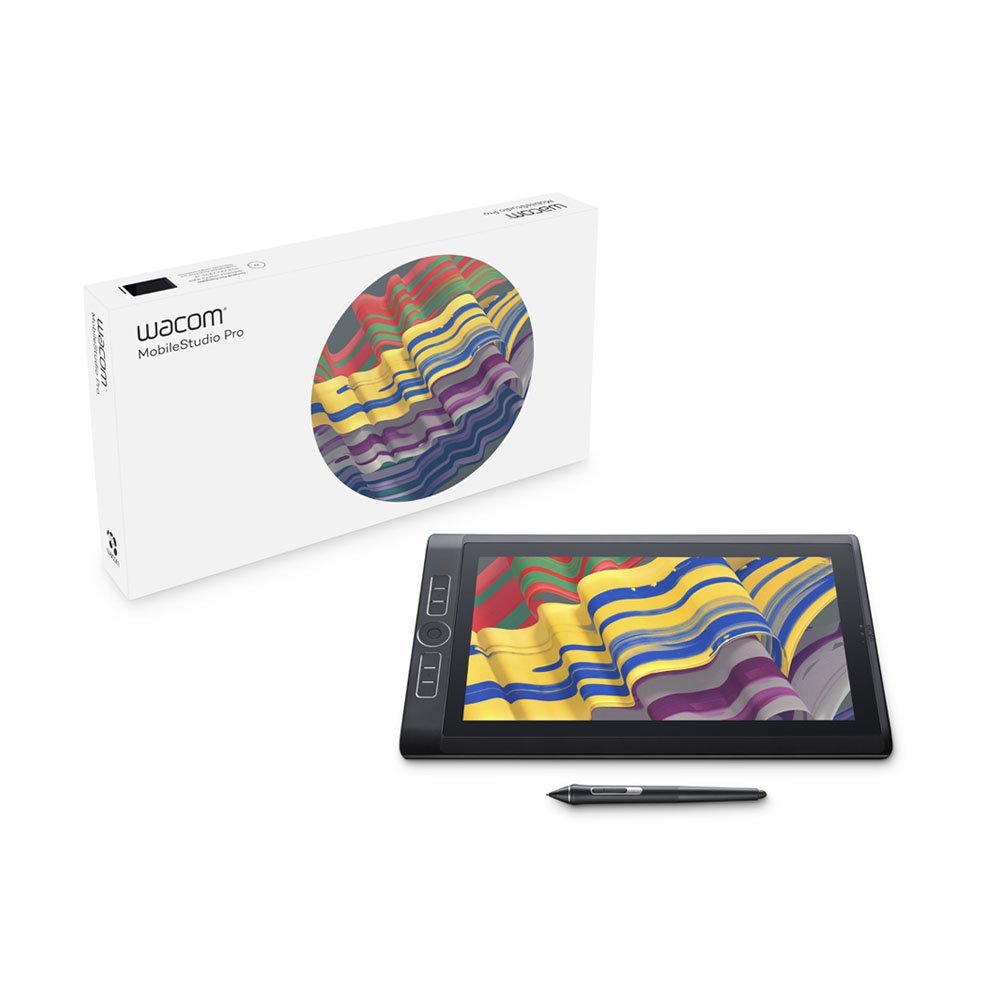 Wacom Mobile Studio Pro is another fruit produced by the famous Wacom brand.
8192 levels of pressure sensitivity and tilt-support of the battery-free pen lets you easily and naturally go from hard to light strokes and make them as smooth as you want.
Despite being pretty compact, this graphics tablet has enough power to run the most demanding 2D and 3D creative apps. It has a multi-touch high-resolution display that lets you see your art in perfect details, and the etched glass surface recreates the good old well-known feeling of pen on real paper.
The pen sounds are pretty quiet, which is good if you prefer to work in silence (or the people around you demand some rest). You can also save your time and upgrade your efficiency with multi-touch, customizable keys and Radial Menus.
Overall, this is a great high-quality digital tablet that is suitable for serious professionals who work a lot, and it can satisfy absolutely every need.
Get Wacom Mobile Studio Pro Now
Samsung Galaxy Tab S3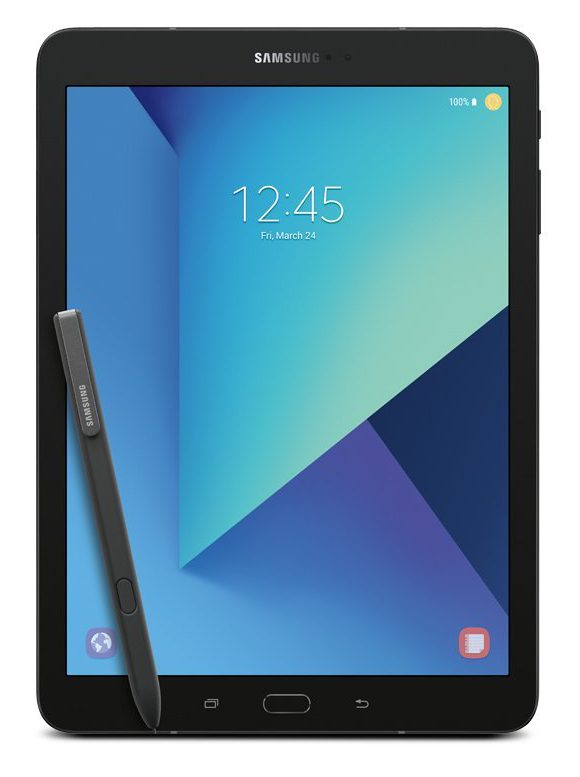 If you are a big true lover of Android devices and want to have a gadget not only to use it as a graphics tablet but also for many other useful apps, then this is definitely the best choice for you.
Latest versions of Android OS have gotten really convenient and fast, and rumor has it (actually, not the rumor, but the technical reviews) that Samsung equip their tablets with the best pens that can be available for mass-market devices, and they can even compete with special pens designed for drawing.
Its level of pressure-responsiveness is amazing, and it also needs no charging whatsoever.
This tablet has a 9.7 inch AMOLED display that gives you deep and vivid colors to satisfy your creative soul.
Ugee 1910B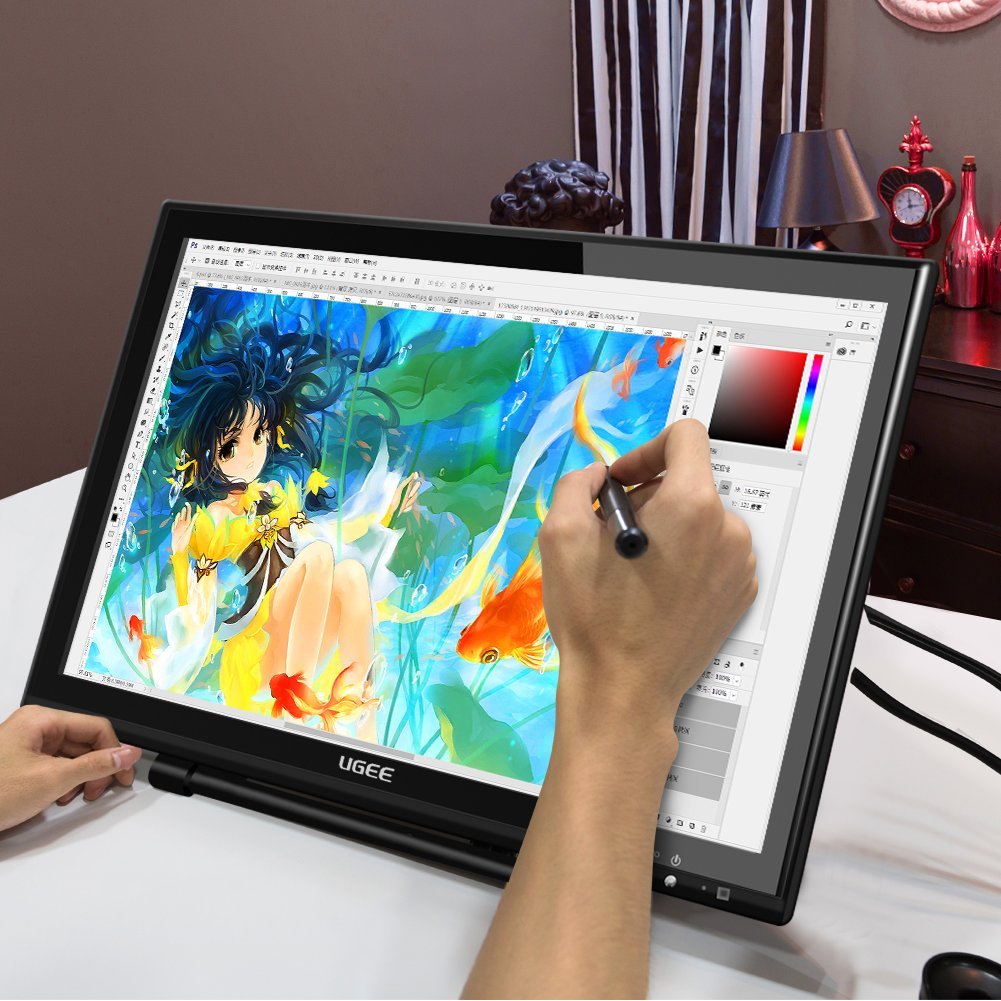 Another great digital tablet that can satisfy even the most demanding professionals' needs and also doesn't cost as much as a private jet.
It has a 19" wide TFT display with 1440 x 900 resolution and deep, superb color representation. Its adjustable ergonomic stand has a rubber cover to make sure that you can place the tablet in the most convenient way at a needed angle.
A rechargeable pen has 2018 levels of pressure sensitivity and a comfortable design that lets you hold it and work with it for long periods of time.
This amazing model is compatible with Mac and also earlier versions of Windows (unlike some of the other tablets), and you can use it with major drawing softwares without any issues.
Also, the tablet can work as a second screen for your computer, even though it has no computing functions by itself.
Microsoft Surface Pro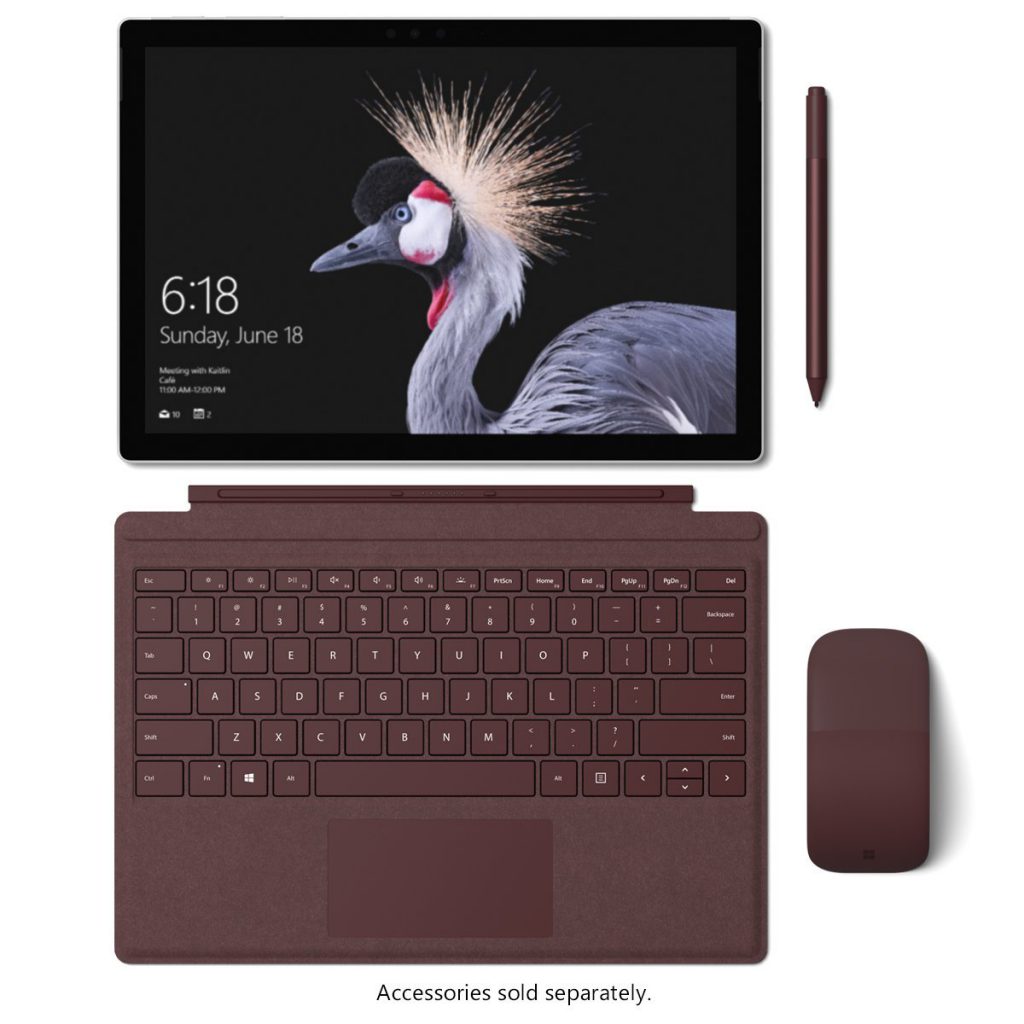 The very first products of Microsoft Surface line were not very good and didn't quite go out with a bang, but this time the company made a great improvement and didn't leave anyone disappointed.
This impressive futuristic device isn't made specifically for artists and can handle lots and lots of other functions, almost replacing a whole computer.
Some people say it's not the best thing for professional drawing itself, but if you are a graphic designer, this digital tablet can become your true and dedicated partner on your artistic journey.
Ultra-high resolution display with deep, bright colors is absolutely stunning, the battery is extremely durable and long-lasting, and the mighty processor can easily run lots of software, including Photoshop.
The Microsoft Surface Pen is sold separately, but it can add a lot to your experience, bringing you 4096 pressure sensitivity levels to respond to your slightest touches. And – the pen has a rubber eraser on its other end!
Simbans PicassoTab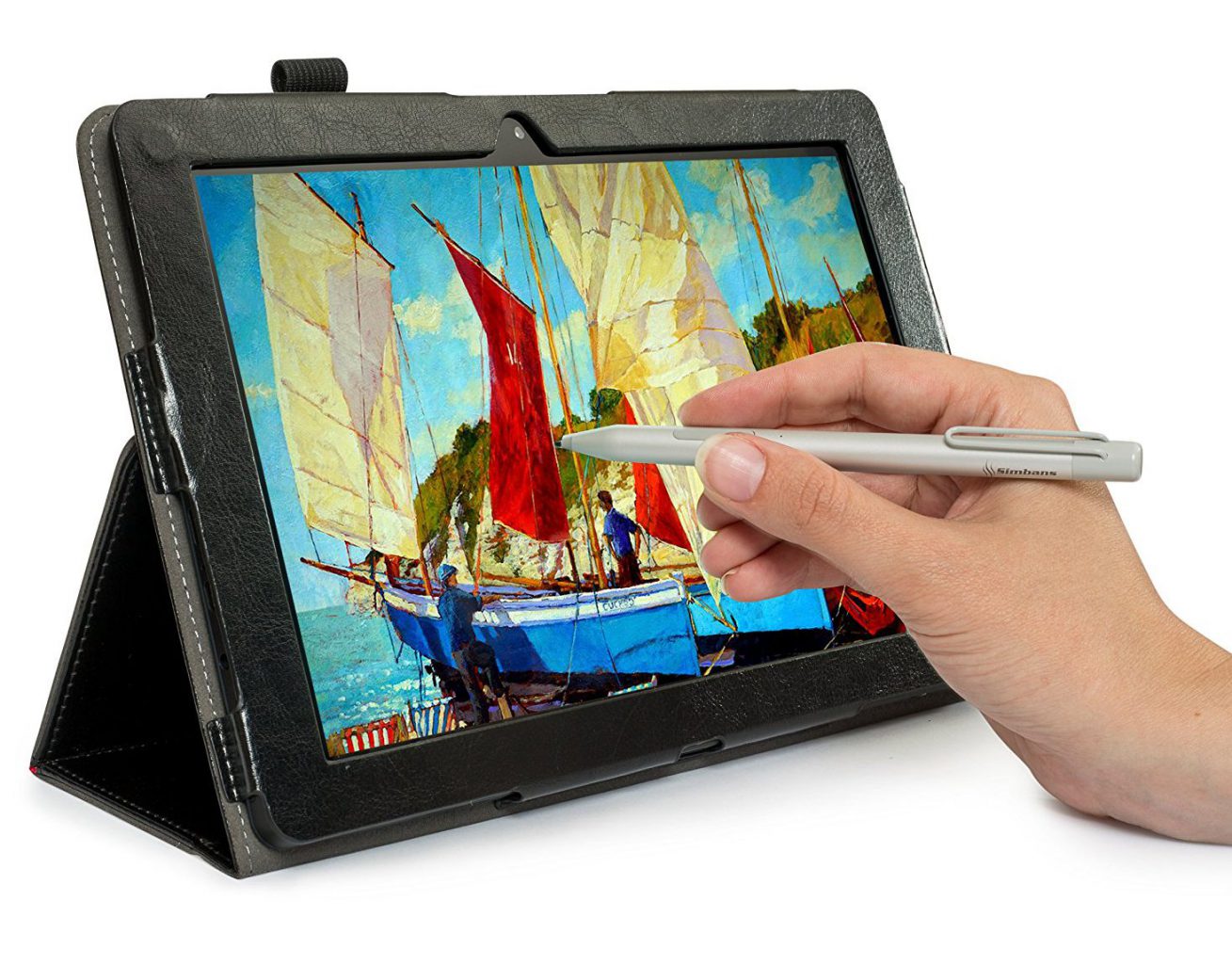 Probably the best choice for art students who need to sketch a lot and take notes during their classes (or for kids and teenagers who are interested in art and want to try out digital drawing).
Looking more like an e-reader, this graphics tablet is a small, but powerful thing, that works on Android OS and has pre-installed Autodesk Sketchbook app on it. You can install other apps on it and use it as a regular tablet, and you can also draw on it while being offline, which can be pretty useful if you're busy and live your life on the run.
It comes together with a decent active pen, and you can set the pressure sensitivity in the settings of apps you use for drawing.
XP-Pen Deco 01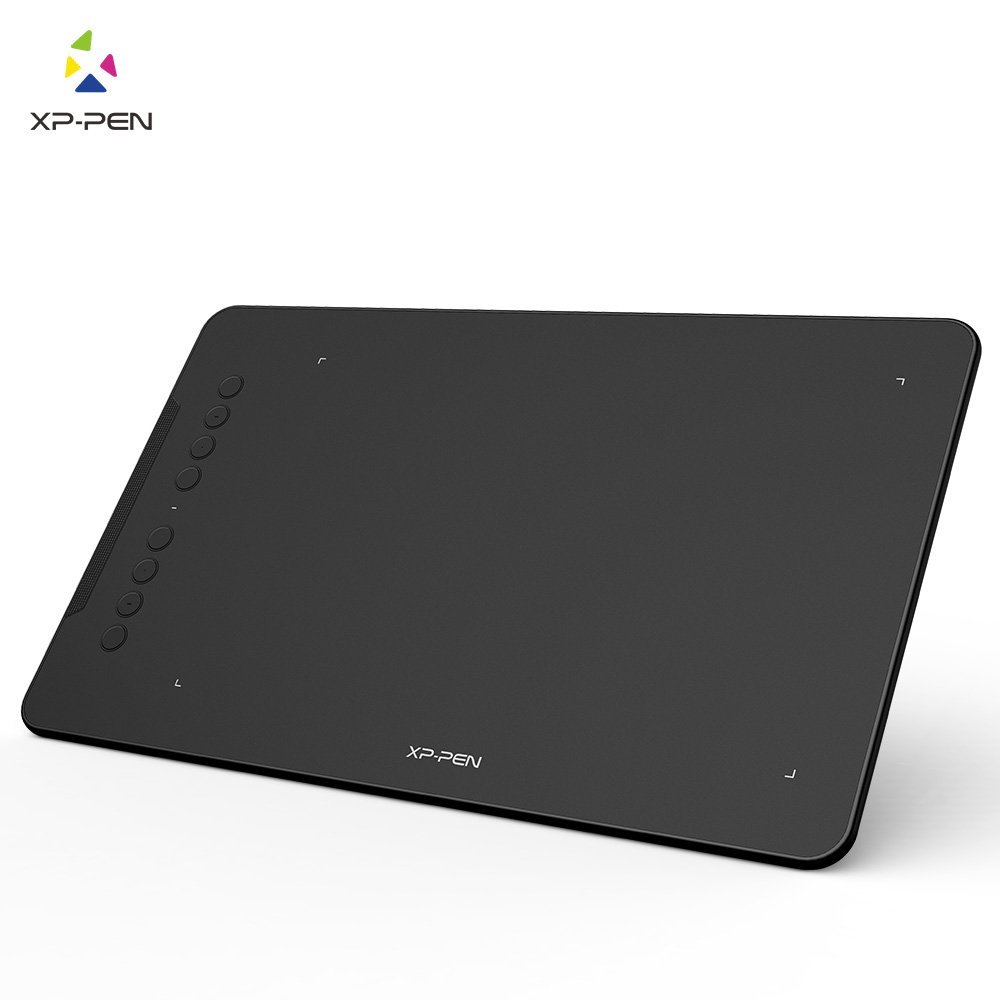 Want something bigger than most digital tablets, but still thin and light? Then this option is just perfect for you. This XP-Pen model is shamelessly thin but durable, and its working space size is 10 x 6.5 inches.
The tablet is made for both right- and left-handed (as well as ambidextrous) artists, and the ExpressKeys (that can be customized for all your creative habits) are specifically designed to avoid blind spots and be easily found while you are concentrated and keep your eyes on the drawing.
Its stylus easily switches between drawing and erasing modes, and has 8192 levels of pressure sensitivity which makes it feels exactly the way the real pen would feel. And, like the real pen would, it requires no batteries and/or charging.
Yiynova MVP22U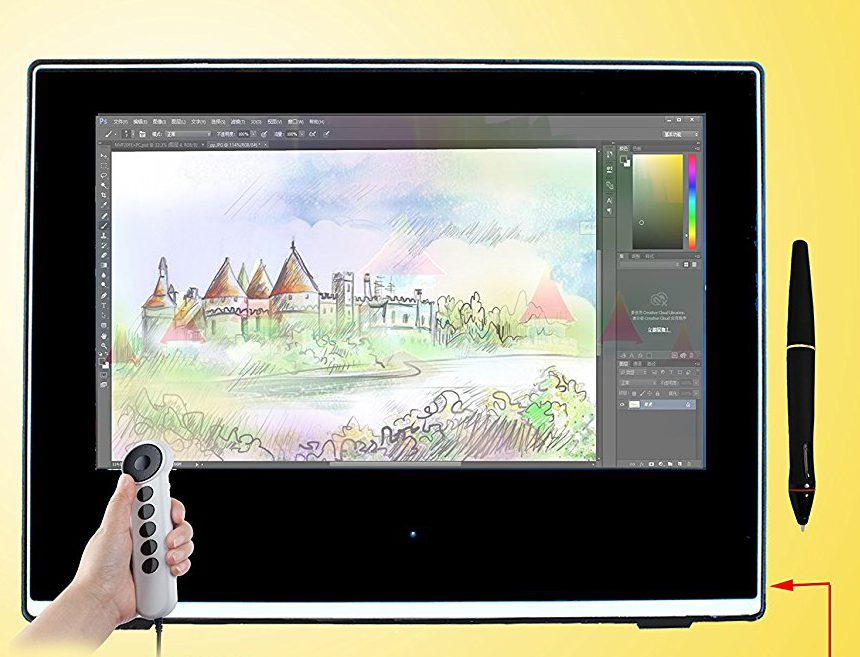 If you are in love with His Majesty Wacom Cintiq-like tablets, but their prices seem too high, do not get upset, because this option might be the best tablet choice for you.
This impressively large (19.53" in diagonal) LCD display can actually rival its pricier companions.
It has a secure detachable handler and an edge stopper, so you can comfortably place your digital tablet wherever you like at a necessary angle without worrying that it will slide down, fall and break (or hurt someone). This surely isn't the most important feature for a graphic tablet, but it's nice to have that when the tablet is huge.
The hotkeys are on a remote controller that is sold separately, but that's probably the only flaw of this tablet. Lots of people describe it as a very functional and reliable professional tablet that is absolutely worth its cost.
GAOMON PD1560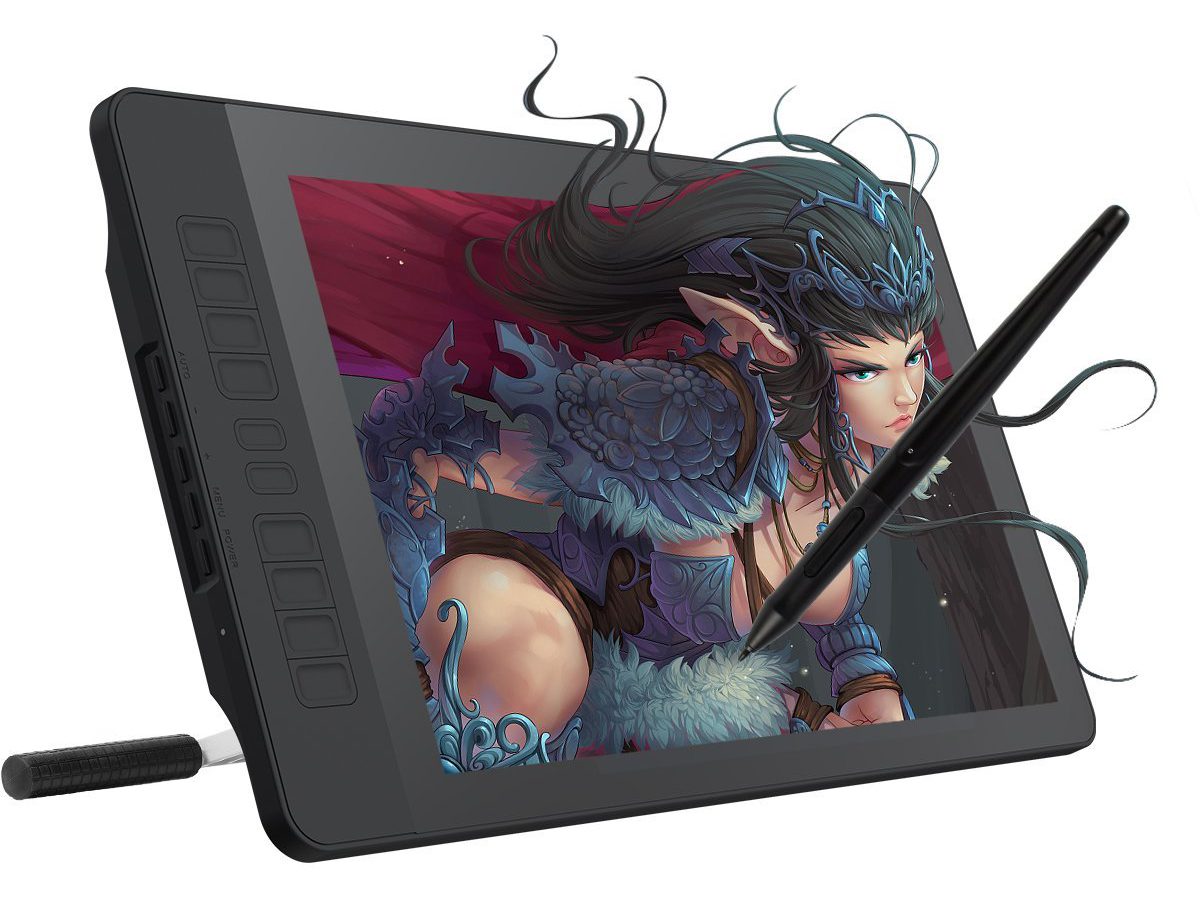 The big, full HD 1920 x 1080 screen of this beauty surely won't leave you unimpressed. Besides, it has 10 customizable shortcut and 5 menu keys to make your work as efficient as you didn't even think was possible.
This digital tablet's simple and minimalistic design isn't only satisfying your artistic eyes, but also makes this device a perfect option for left-handed as well as right-handed artists. Thanks to its convenient adjustable stand, you can find the most comfortable position for drawing.
Also the rechargeable pen has 8192 levels of pressure sensitivity for the smoothest most natural-looking lines. In other words, there is absolutely nothing not to like about this tablet and all its features.
Parblo Island A609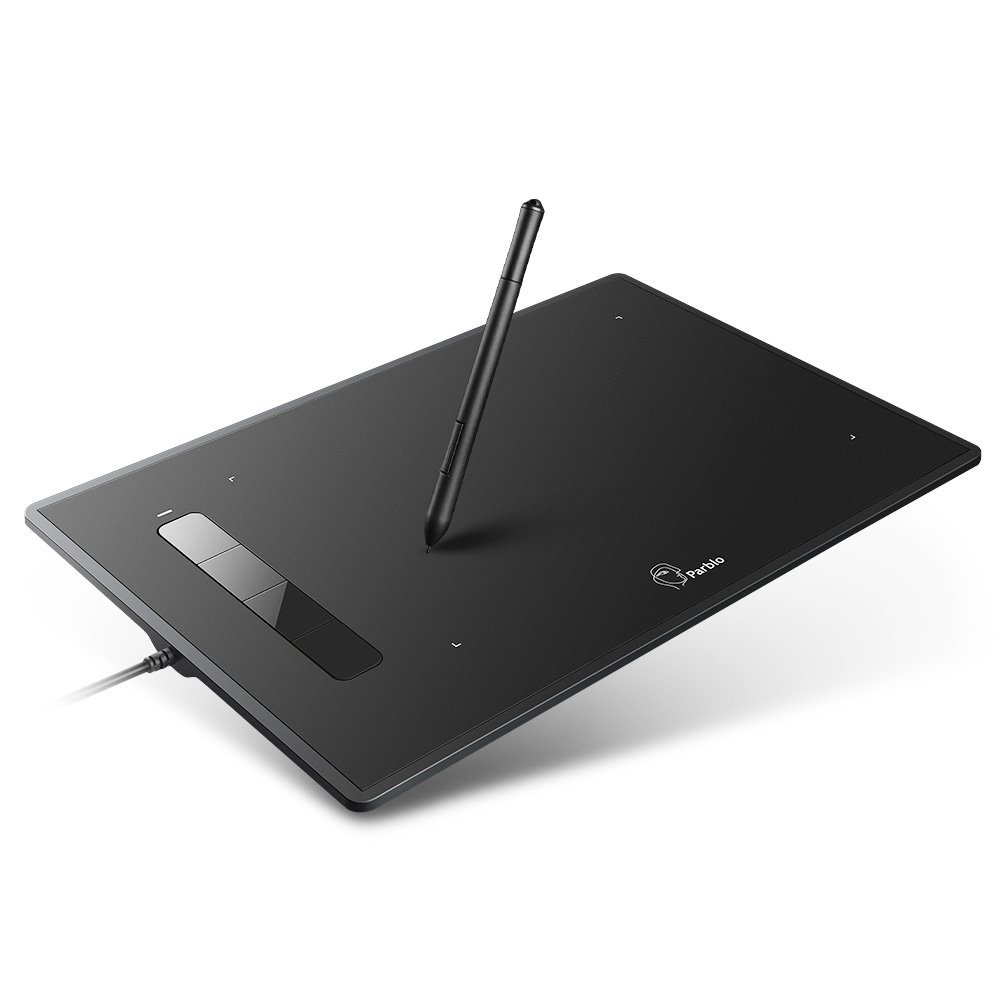 A great, durable and comfortable low-budget option for beginners. Not too large, not too small, suitable for both left- and right-handers.
It has a slim and light battery-free cordless pen with 2048 levels of pressure sensitivity and tilting function to give you full control over the lines you draw and make them exactly what you want them to be.
This digital tablet's design is convenient, sleek and ergonomic, making it easy to hold it and carry it around. If you are considering this option as your first graphics tablet – do not hesitate to buy it, because it's a very decent model and it's fairly easy to get used to working with.
The texture of its surface may seem a little rough, but it's a matter of personal taste and doesn't really affect the process and the outcome.
Huion Inspiroy G10T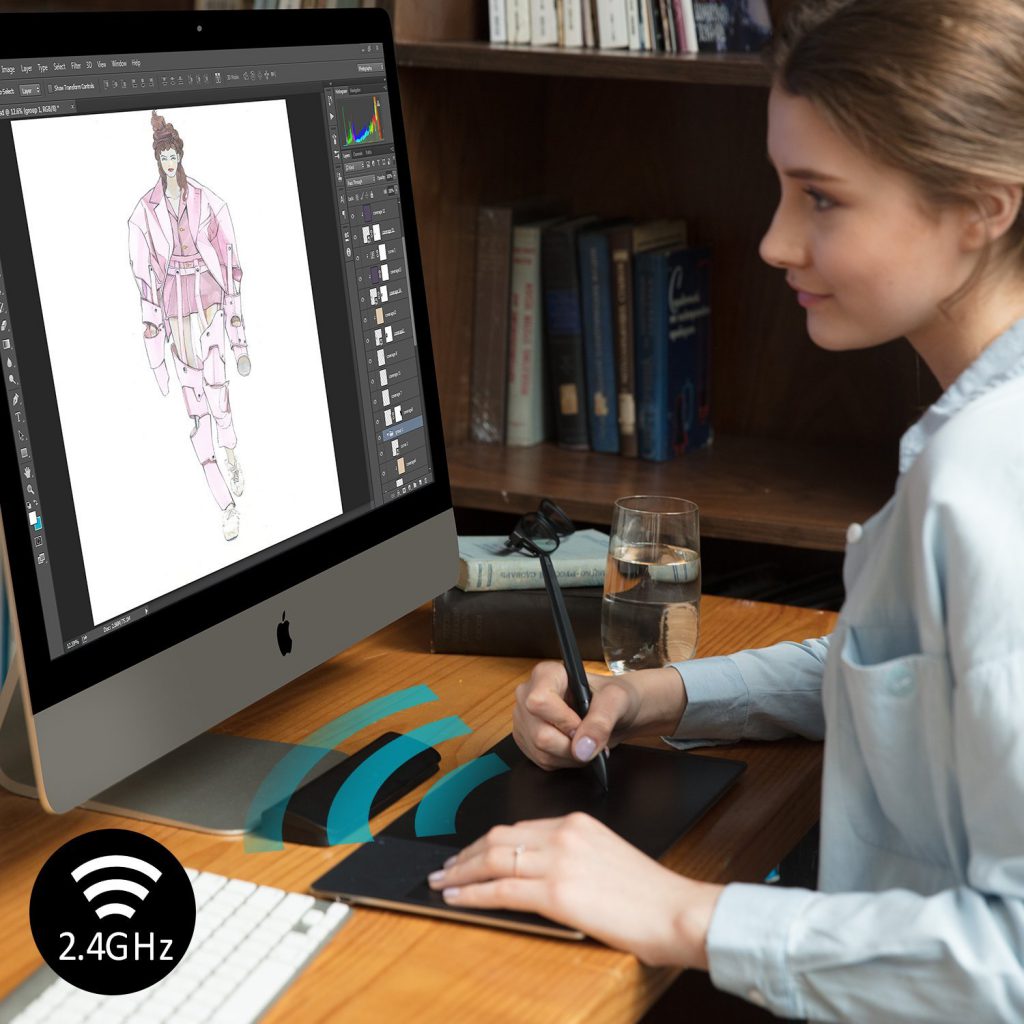 This model has a pretty unusual design for a digital tablet, thanks to its multi-touch panel located near the drawing surface. Some may find it even more convenient and easy to use than the multi-touch screens of other tablets because you can navigate, scroll and zoom only using the other hand that you aren't drawing with.
The tablet has six customizable ExpressKeys as well, that are also located pretty comfortably to not get you distracted and optimize your working process.
It can work in wireless mode, as well as with USB connection, and if you don't like the inconvenient annoying extra wires on your working desk – it's not a problem for you anymore.
The pen has 8192 levels of pressure sensitivity, and the tablet responds to your movements quickly and accurately.
Wacom Intuos Bluetooth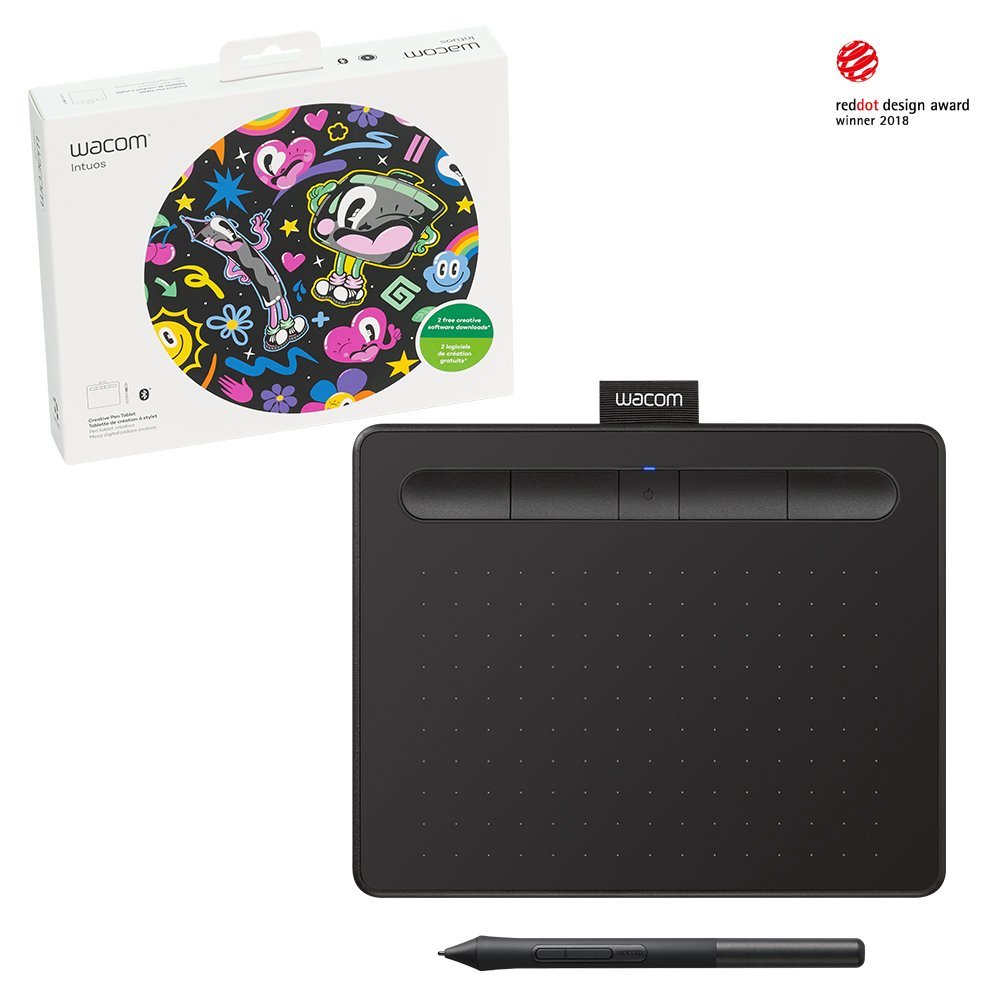 Wacom Intuos Bluetooth is perfect for beginners and has a very affordable price.
It also features 4096 levels of pressure sensitivity, which totally gives you control over everything along with a feeling that you are using an actual pen on paper.
It can connect to your PC or Mac wirelessly over Bluetooth (which is reflected in the model's name) or plugged in via USB, but please keep in mind that you would need to have at least Mac OS X 10.11 or Windows 7 to use this tablet.
The tablet has an impressively large drawing area for its whole size and is perfect for those who have limited space and need to keep things compact.
A big plus of this device is that you don't need to charge the pen or buy batteries!
Wacom drawing tablet is also good for both right-handed and left-handed artists. And after you register the product you bought, you gain access to some free downloadable software for drawing, painting or photo-editing.
Get Wacom Intuos Bluetooth Now
Monoprice 10594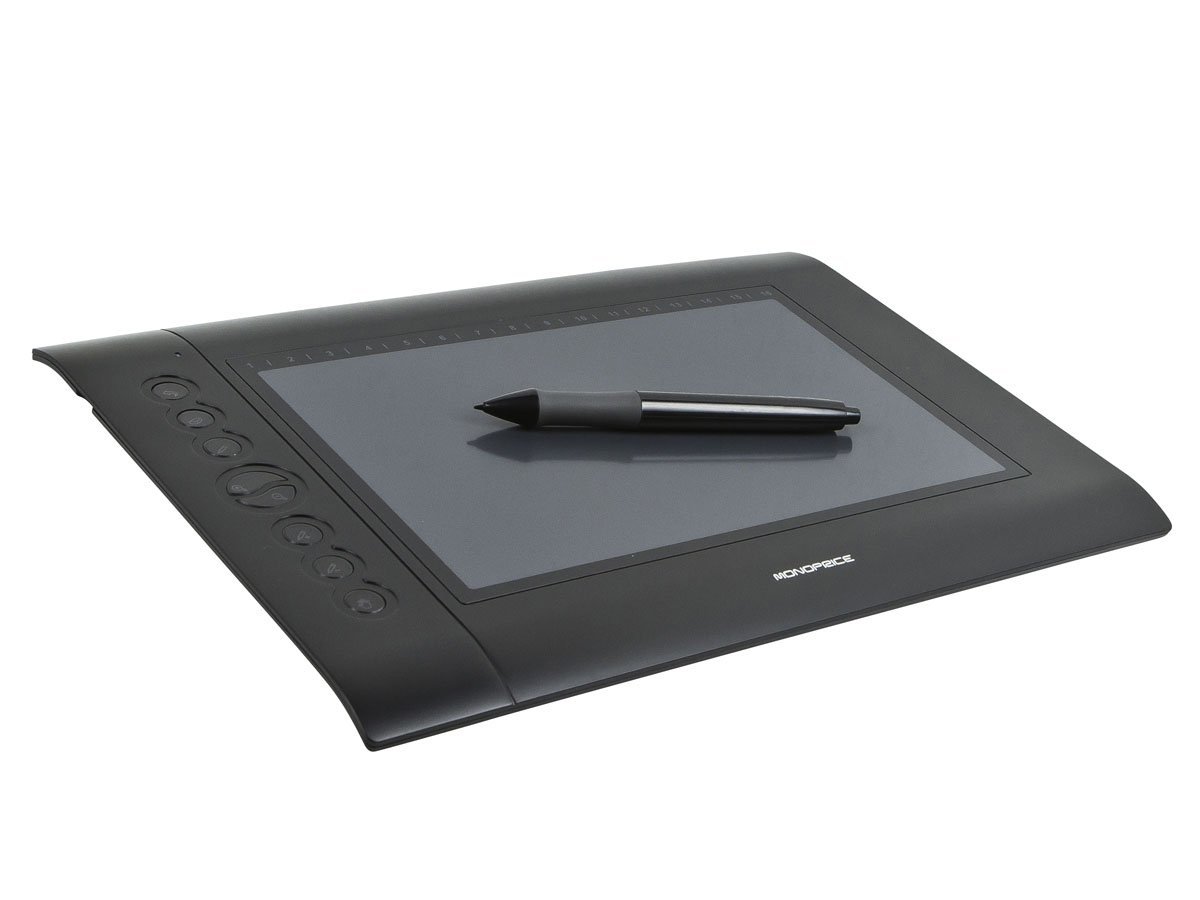 Here comes another tough guy in the category of "good quality for an affordable price".
It has 2048 levels of pressure sensitivity and a lot of customizable keys for your convenience. These keys can be used for launching applications, opening web pages or even emulate certain mouse functions.
The pen is pretty light, and even though it requires an AAA battery, it will last for a long time.
If you sometimes find yourself being not very gentle with the devices you use, this is absolutely not a problem with this model, since it can really endure a lot. Another fascinating thing about this drawing tablet is that it can actually be physically compatible not only with Windows and Mac, but also with Linux, which isn't a common option among devices like that.
Huion New 1060 Plus Graphic Drawing Tablet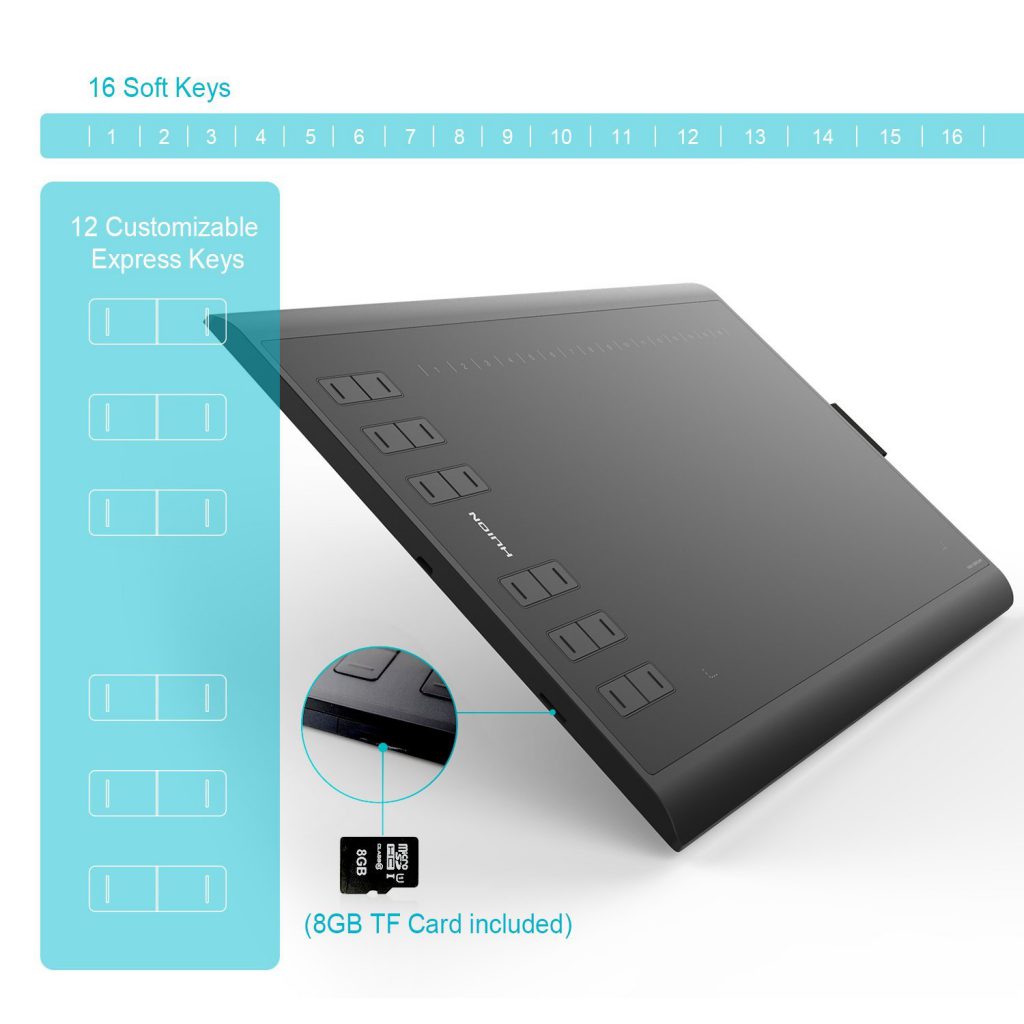 That is a pretty affordable option that is perfect for those who work full-screen on large monitors or just want their working space to be big because that's the way they like it.
The first thing that really impresses at the first glance, besides the whole size of this tablet, is a huge number of customizable keys – both physical and not. They can help you significantly increase your work efficiency and satisfy all your needs (because I personally can't imagine how to involve all of these buttons into the drawing process!).
It has 8192 levels of pen pressure sensitivity for you to draw smooth and beautiful lines and enjoy full control over it.
This model is compatible with most of the well-known softwares, including Photoshop.
XP-PEN Star 03
This elegant and simple digital tablet can be used not only for drawing but also for handwriting, saving you a lot of time.
Calligraphy? Yes, please.
It's just the perfect size to satisfy both the people who need larger working space than smaller models, and those who prefer to keep it compact. It's super thin and has 10 x 6 inches of working area. If your desk is really crammed with stuff you need and you don't want to clean up a lot of space to place your digital tablet – who we are to judge?
This tablet model has a passive battery-free pen, that feels really nice in your hand and allows you to draw smoothly and to quickly switch between pen and eraser mode. No more frustrating, inefficient and time-consuming periods of getting used to the buttons.
Huion Inspiroy H640P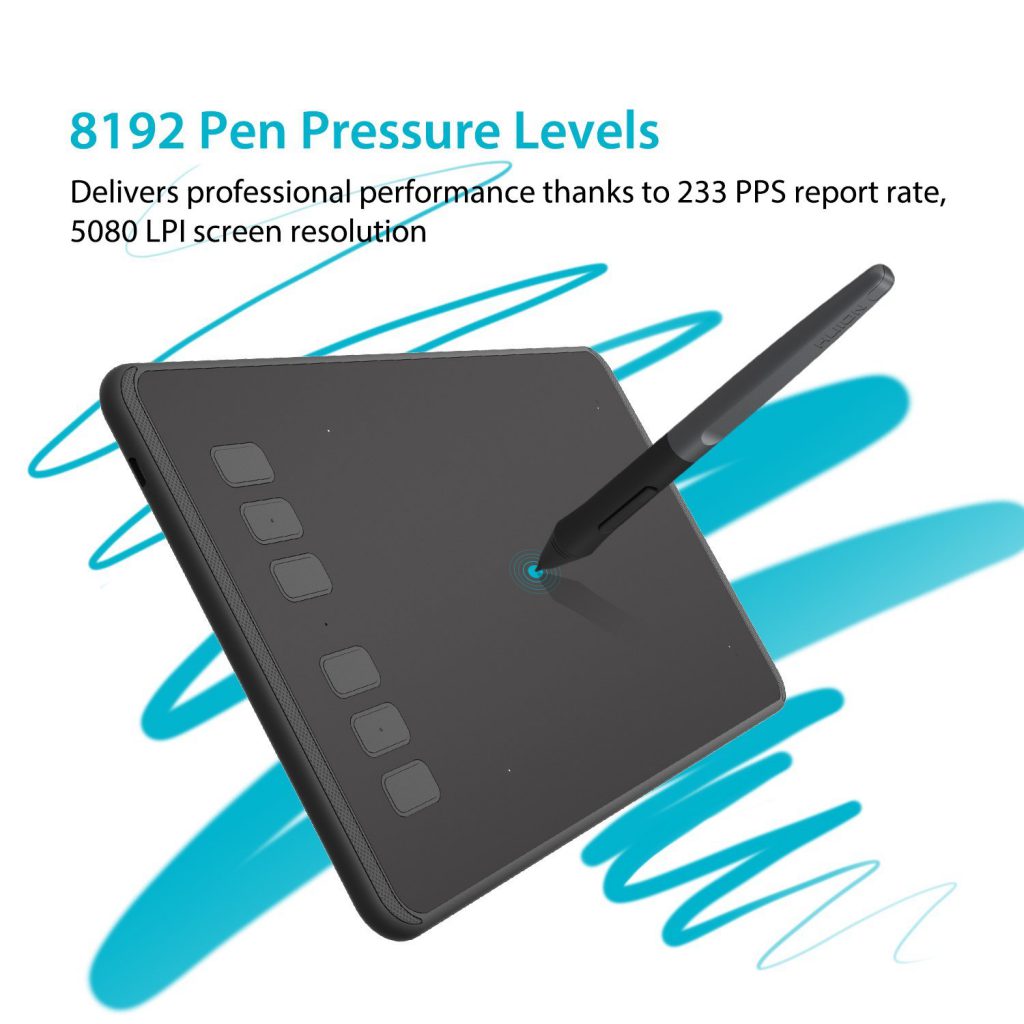 Minimalistic, sleek and compact design of this digital tablet is exactly what the doctor prescribed.
This model is easy to carry around, its working area is 6.3 x 3.9 inches and is coated with a special material to ensure its long-term usage and fine, pleasant texture, that can be compared with a feeling of real paper. It has an eco-friendly battery-free stylus that will never require any charging and, therefore, will cause you no inconveniences.
This digital tablet is a very good buy for the beginners, as well as for more advanced artists, since it also features 8192 levels of pressure sensitivity. If you want a reliable gadget for a very affordable price – go for this guy!
Wacom Bamboo Create Pen and Touch Tablet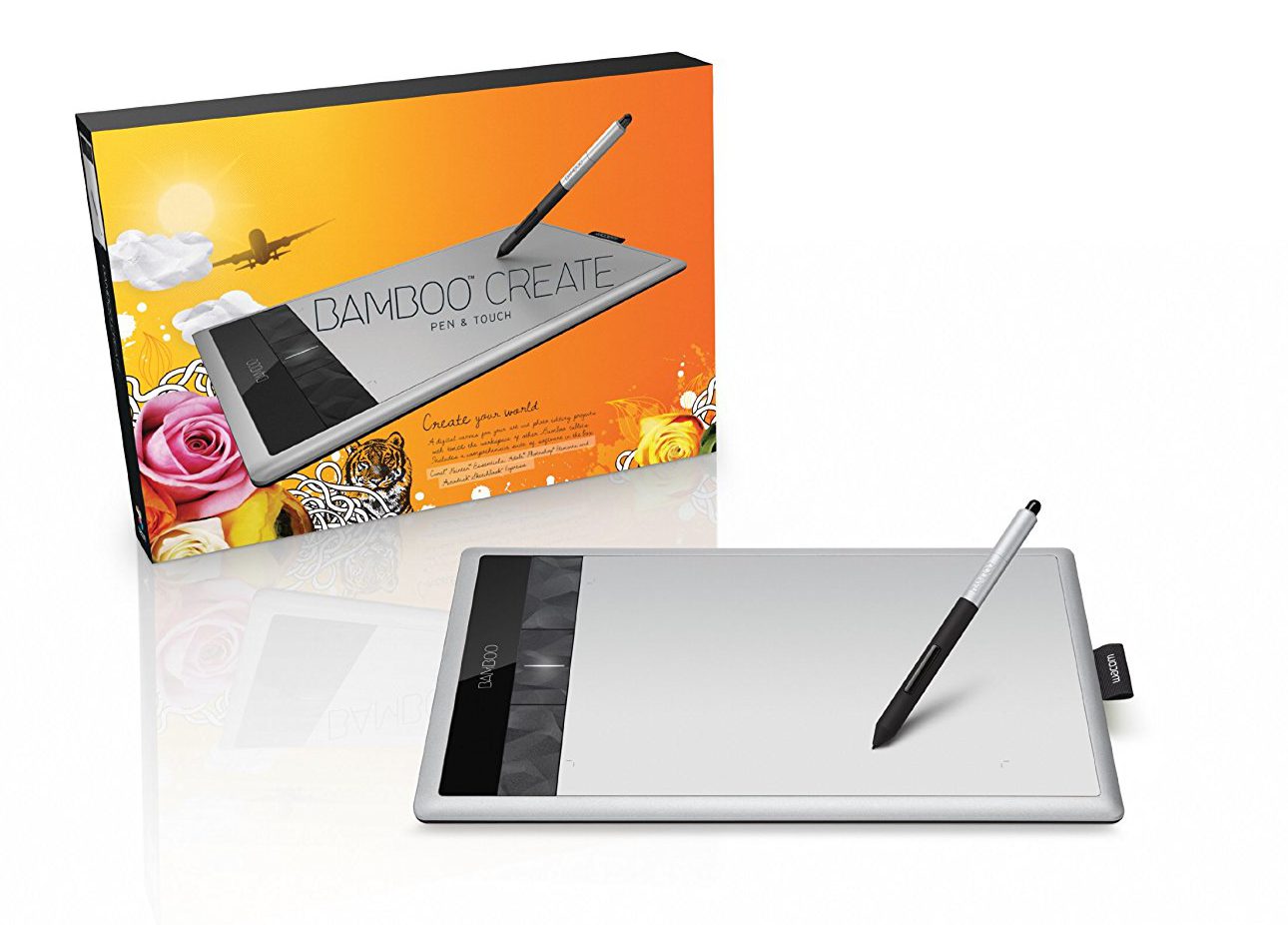 This is what can be the definition and representation of a saying "old, but gold".
It's a perfect choice for graphic designers and gives you all the creative experience you might expect from a digital tablet because it provides multi-touch input (together with customizable ExpressKeys) as well as high-pressure sensitivity, which makes it very easy to navigate, scroll or rotate.
Also, it has got a very pleasant and eye-catching design. You literally just can't resist and want to hold it in your hands and try it out.
This tablet's working area has the size of 8.5 x 5.4 inches (or 21.6 x 13.7 cm), which is big enough for you to make long brush strokes and get completely involved in the process of creating and not be distracted by any inconveniences.
Huion H420 USB Graphics Drawing Tablet Board Kit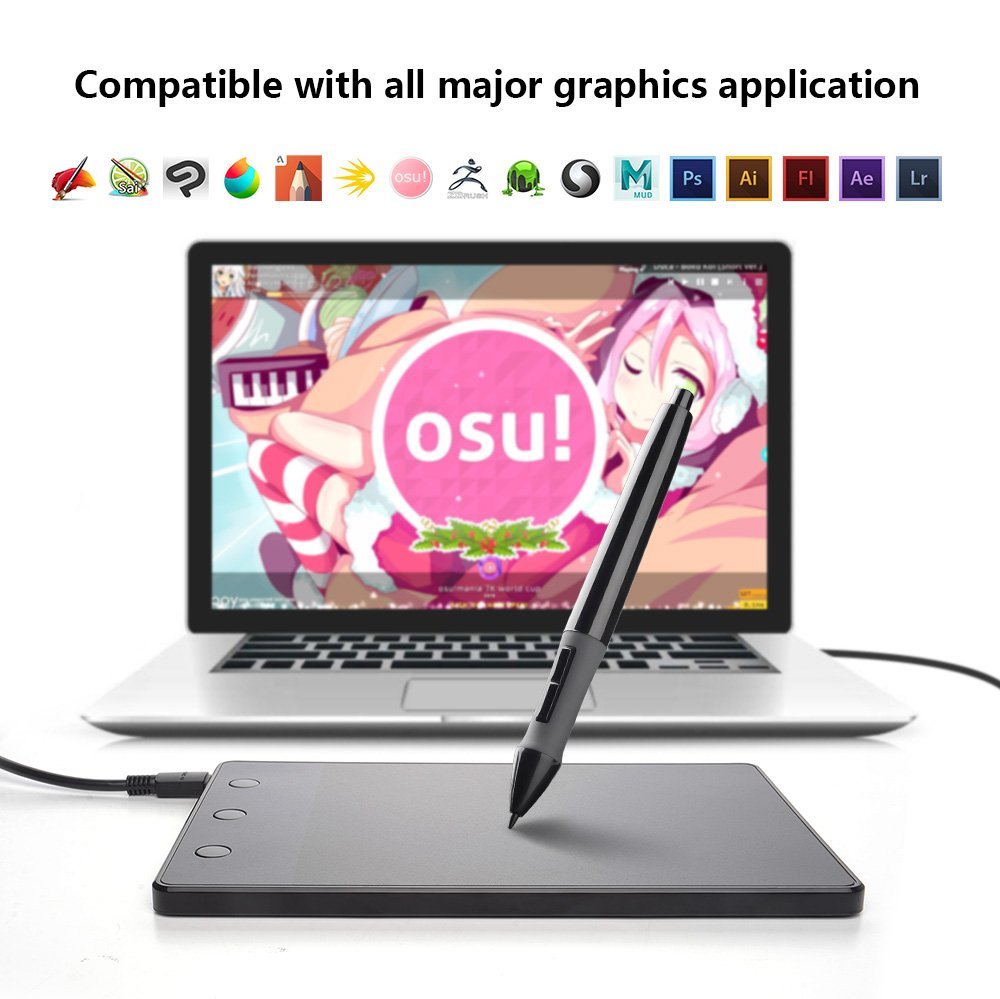 You don't actually have to spend lots of money to understand what it's like to be a digital artist.
This lovely, compact and stylish little buddy will be your trustful companion no matter where you go. Its convenience and capabilities are pretty impressive for the price segment it can be found in.
This tablet can be perfect for beginners, freelancers or travelers. It's compatible with most of "mainstream" drawing software and doesn't require any external driver installations.
The pen has 2048 levels of pressure and works with AAA battery.
It also has a very handy feature of "pen scrolling", which means you can use your tablet pen to scroll web pages and documents on your computer really fast. Unfortunately, this feature is only available if you're a Windows user, but overall, this is a very nice gadget, especially for its really affordable price.
Wacom Intuos Pro Paper Edition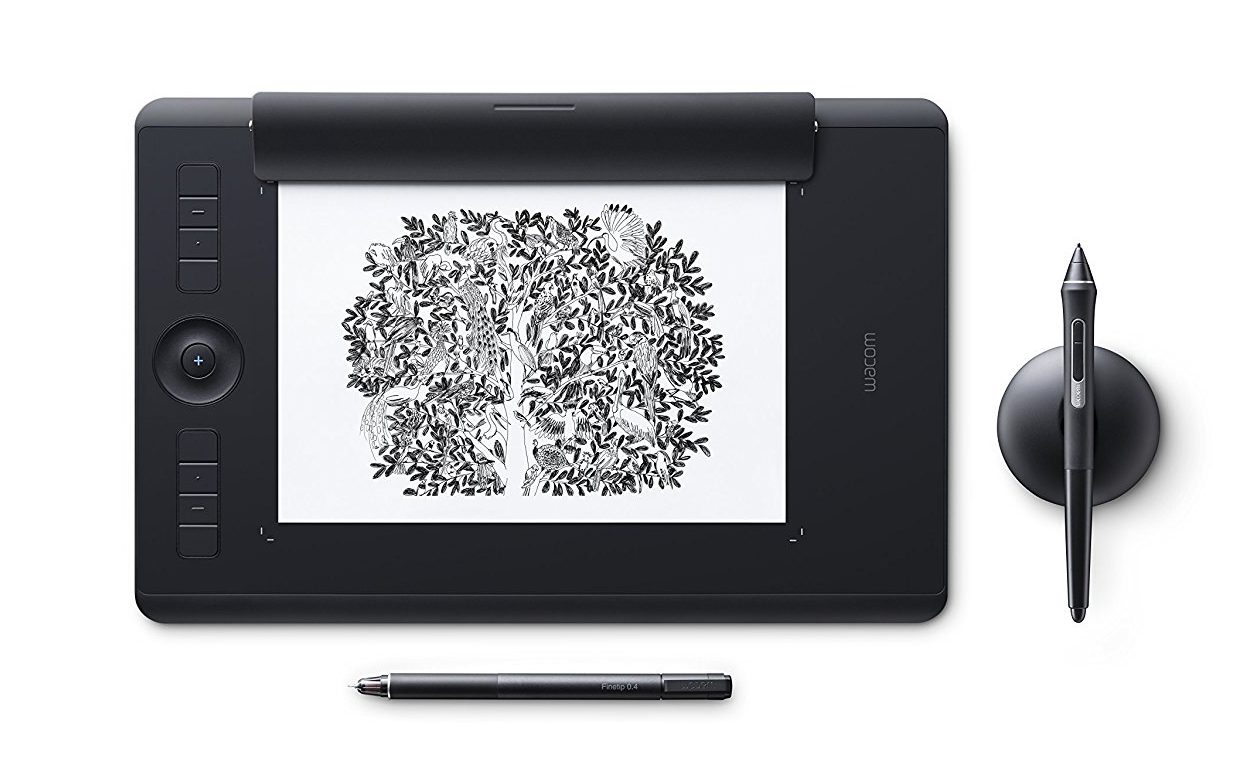 The last, but surely not least in this list is the Wacom Intuos Pro Paper Edition.
There are people who would prefer the feeling of drawing on paper no matter what, but might still need a tool to turn their art into digital to make it easier to edit and upload their drawings.
If you are one of these people, you will still benefit from a great tablet. Actually, Wacom has designed the tablet specifically for your tastes and preferences!
This magical thing is a perfect combination of modern technology and good old "paperwork". All you have to do is place a sheet of drawing paper over the graphics tablet and start working with a special gel pen – and the tablet will save your every move so you can upload it later and turn into a raster or a vector image.
You don't even need to plug it in or have internet connection all the time – this tablet model can store up a certain amount of files. Besides, it has the exciting 8192 levels of pen pressure sensitivity and tilt-response, to make your experience as real as possible.
Get Wacom Intuos Pro Paper Edition Now
But no matter how good the advertising is, and how famous is the brand's name, you should always rely on your personal experience, your preferences and your own insight when you are choosing your future drawing companion.
A good graphics tablet will help you unleash your creativity in the best way possible, optimize your work and improve your skills, and the incorrectly chosen model can easily make you disappointed in yourself and digital art at all.
Consider this list of recommendations, as merely a guide on how to choose a perfect digital tablet. And remember that it's not only the material or the device you draw with that matters, but also the thoughts and the feelings that you put into your work.
---
---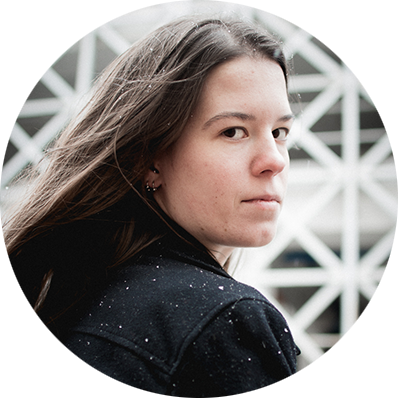 Author: Anna Martsynkevich
Anna is an artist, poet and musician who lives in Minsk, Belarus. She loves food, cats, gigs and esoteric stuff. She posts the things she does on Instagram and sometimes appears on FB.
---
---