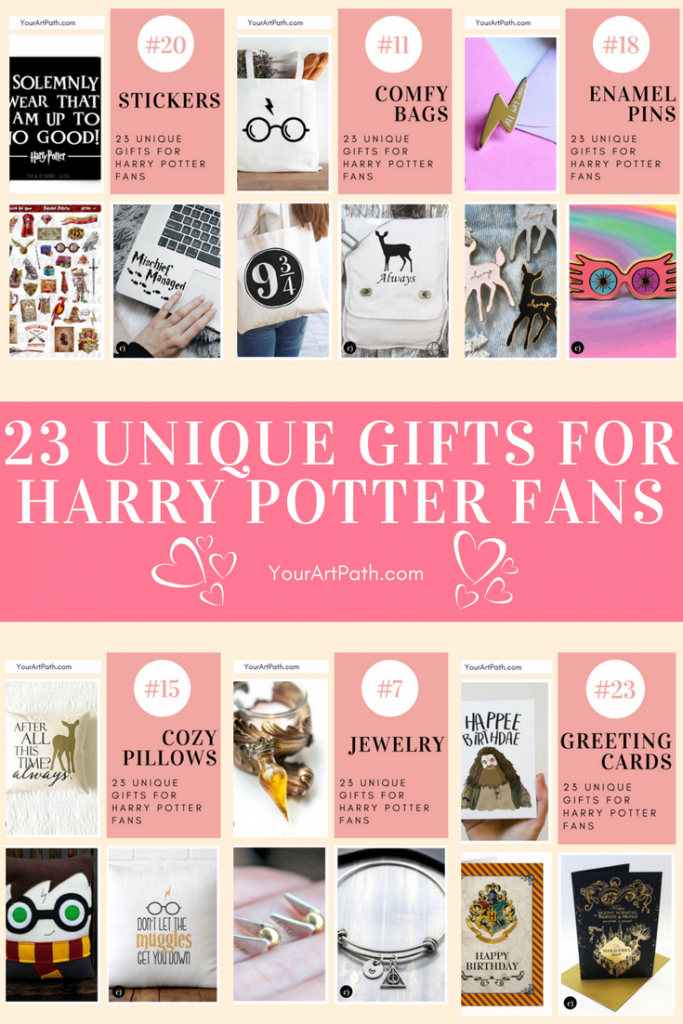 It's now been 21 years since we first met Harry, Hermione, Ron, Dumbledore and so many other talented wizards!
We followed them through their adventures, grasped our breath when they got into trouble and laughed together with them when someone was being silly (thanks, Ron!).
In honor of the book and the film series artists from all around the world to this day constantly create Harry Potter Fan Art, and last week I published a blog post " Harry Potter Fan Art in 12 Magical Styles", where 12 Artist showed off their talent and creativity by producing unique magical Harry Potter Fan Art Works ♥ !
After so much amazing feedback I received from you guys about it, I realized that there are so many of us – true Harry Potter fans!
Know someone who is as excited about HP as me and you?
Then you might want to check out this list of gift ideas:
23 Best Gifts For Harry Potter Lovers
+ A Bonus Gift Idea Tip At The End
#23 Harry Potter Greeting Cards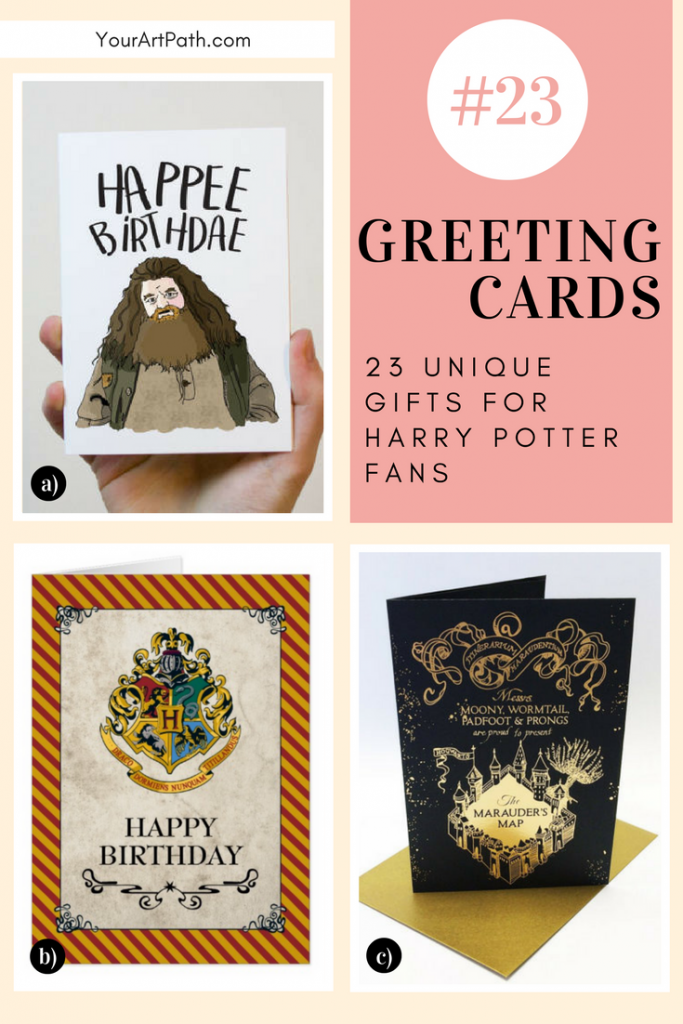 Magical greeting cards are ready for you to write a spell on the inside!
Caution: Be careful what you wish for as if read properly – will come true!
a) A hand-drawn Hagrid birthday card based on the Harry Potter Film Philosopher's Stone. 
b) Hogwarts Happy Birthday Card.
c) Harry Potter inspired Marauder's Map greeting card.
#22 Harry Potter Cake Toppers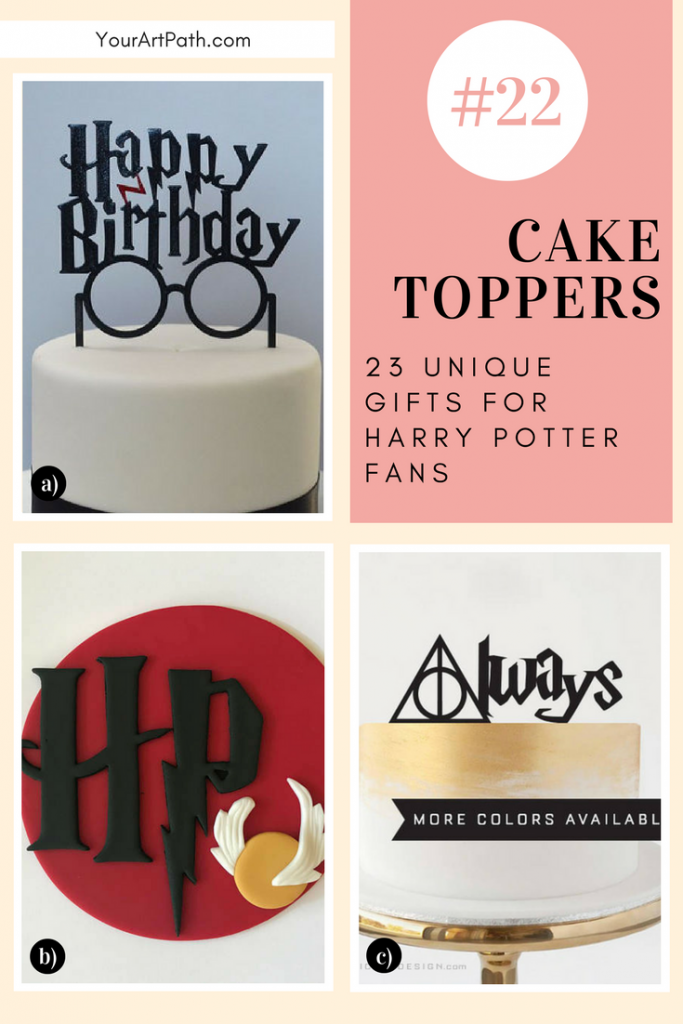 Got something for you. Afraid I might have sat on it at some point but I imagine it'll taste fine just the same. (He hands Harry a box.) Baked it myself, words and all. — Hagrid. 
a) Happy Birthday Glasses with Scar Cake Topper.
b) Harry Potter Inspired Cake Topper-Fondant.
c) Always Harry Potter Cake Topper Deathly Hallows.
#21 Harry Potter Magic Candles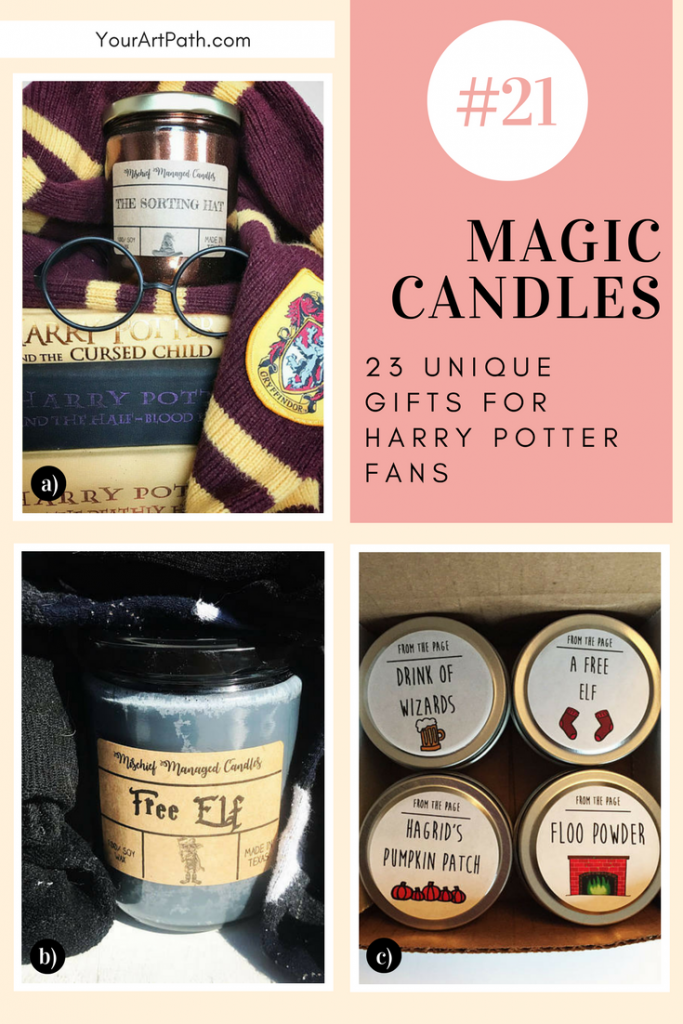 Man loves company – even if it is only that of a small burning candle. — Georg C. Lichtenberg
#20 Harry Potter Stickers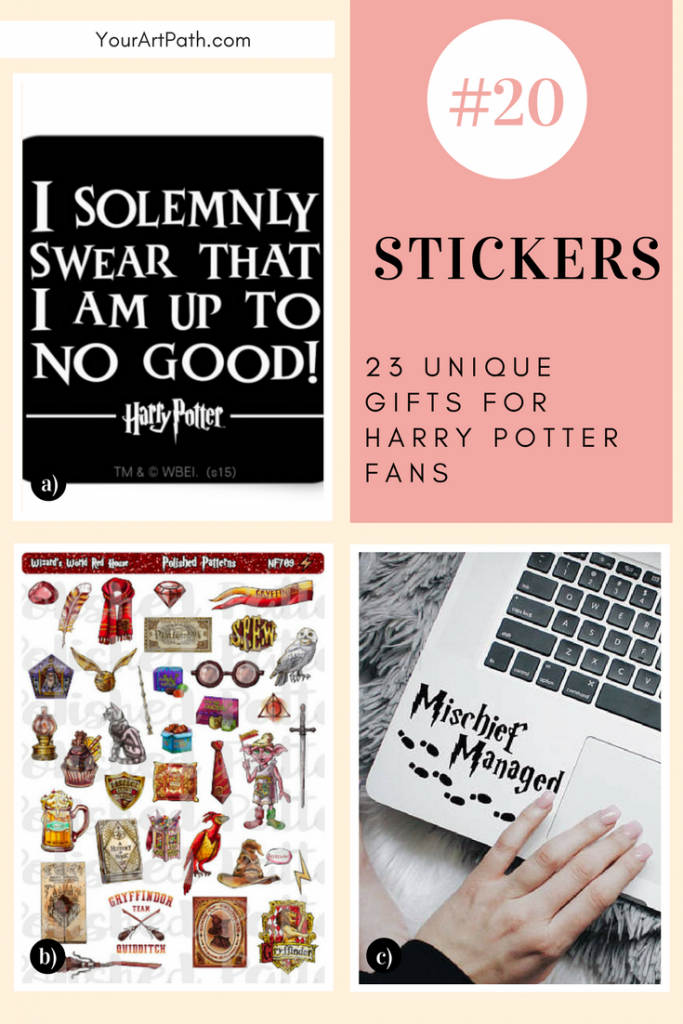 I am a big fan of stickers! But, every time I buy them – I don't actually stick them anywhere… 
a) Harry Potter Spell | I Solemnly Swear Square Sticker.
#19 Harry Potter Fancy Socks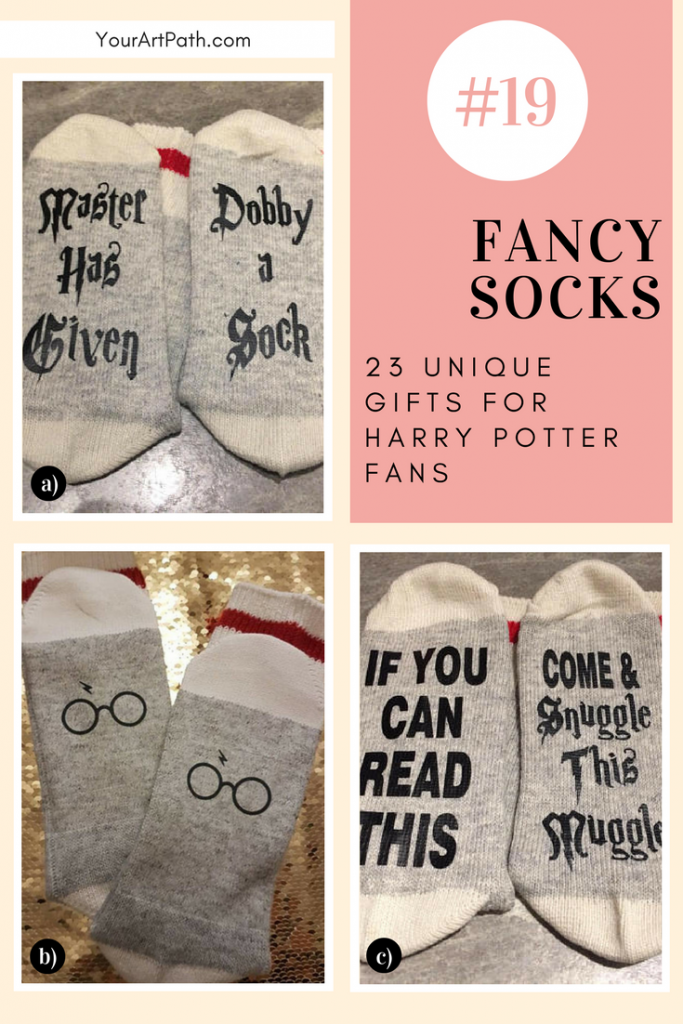 No more feeling ashamed to take off your shoes at someone else's house!
a) Master Has Given … Dobby a Sock.
c)If You Can Read This … Come And Snuggle This Muggle.
#18 Harry Potter Enamel Pins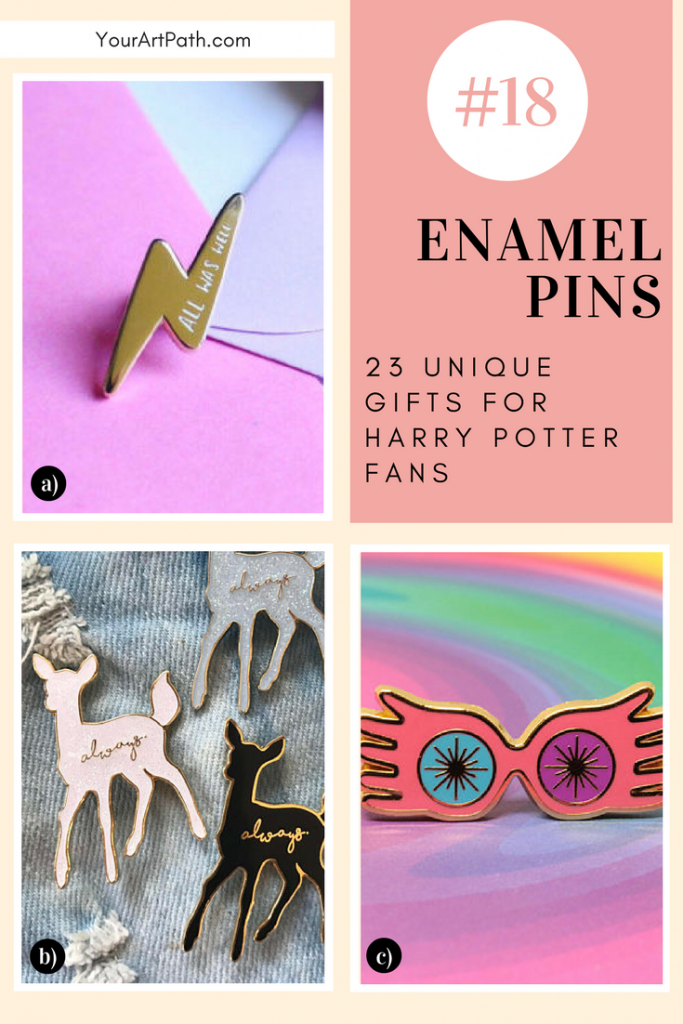 There are way too many beautiful ones on Etsy to choose from!!
a) All Was Well Lightning Bolt enamel lapel pin.
b) Doe Always Harry Potter Patronus Enamel Pin.
c) Luna's Spectrespecs – Enamel Pin.
#17 Harry Potter Cool Scarfs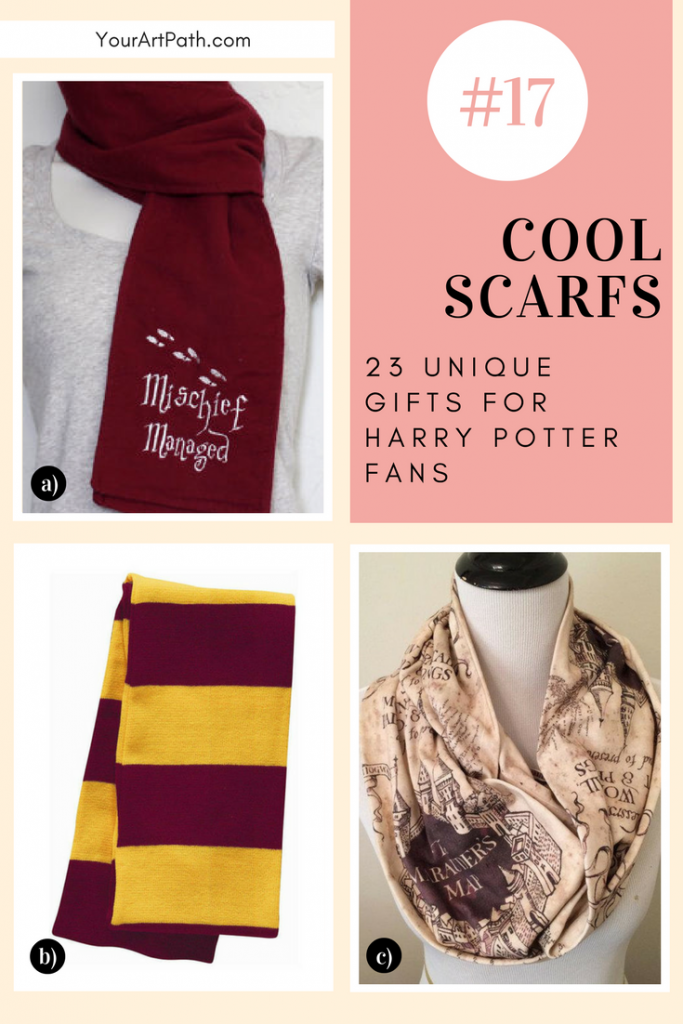 Magically fight the cold weather with warmth ♥
a) Mischief Managed Wizard Map Flannel Scarf.
c) Marauder's Map Infinity Scarf.
#16 Harry Potter Quidditch Set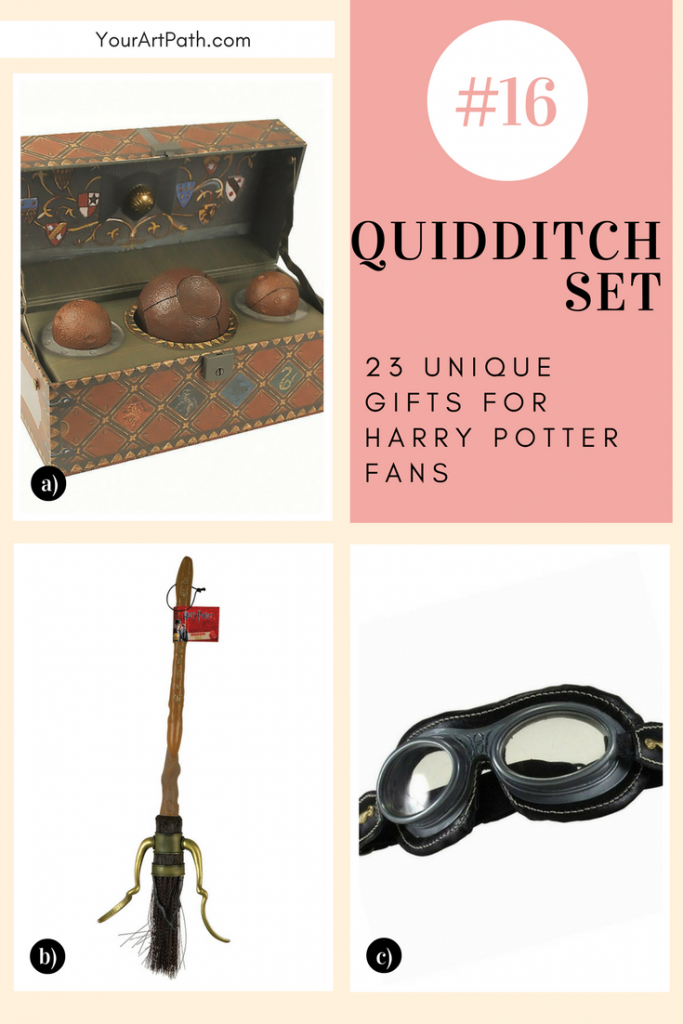 Ready to play?
[optin-cat id=2063]
a) Harry Potter: Collectible Quidditch Set.
b) Rubie's Harry Potter Broomstick.
c) Elope Men's Harry Potter: Quidditch Goggles.
#15 Harry Potter Cozy Pillows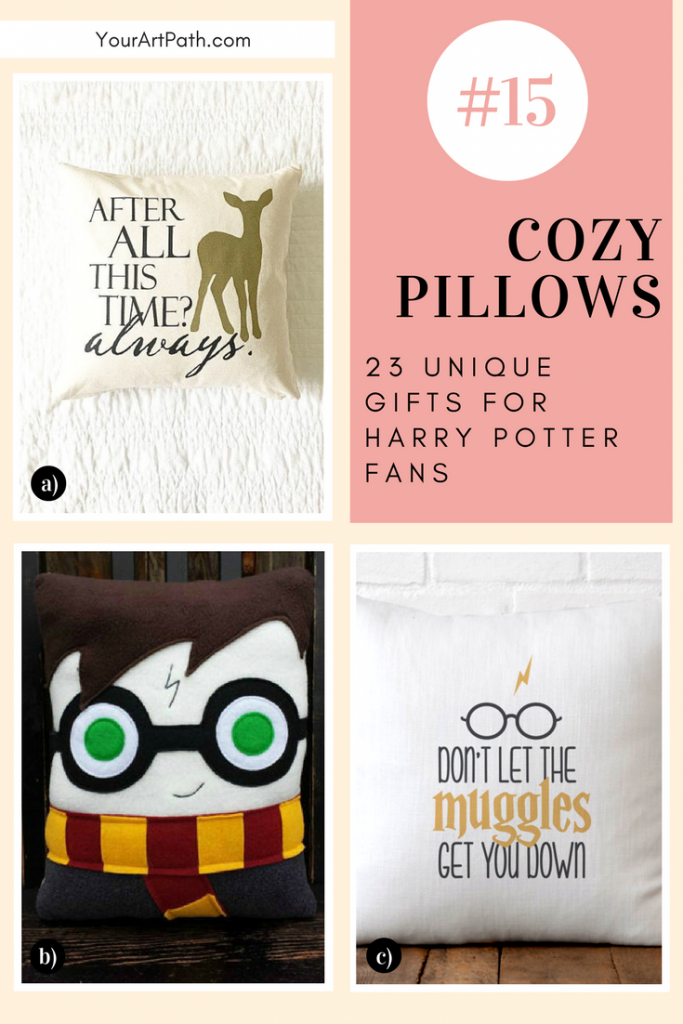 Now you can snuggle magic!
a) After All This Time? Always. Quote Pillow.
b) Wizard pillow, Harry, Hermione, Ron, Luna, Draco.
c) Harry Potter inspired pillow cover "Don't let the Muggles get you down".
#14 Harry Potter Muggle Mugs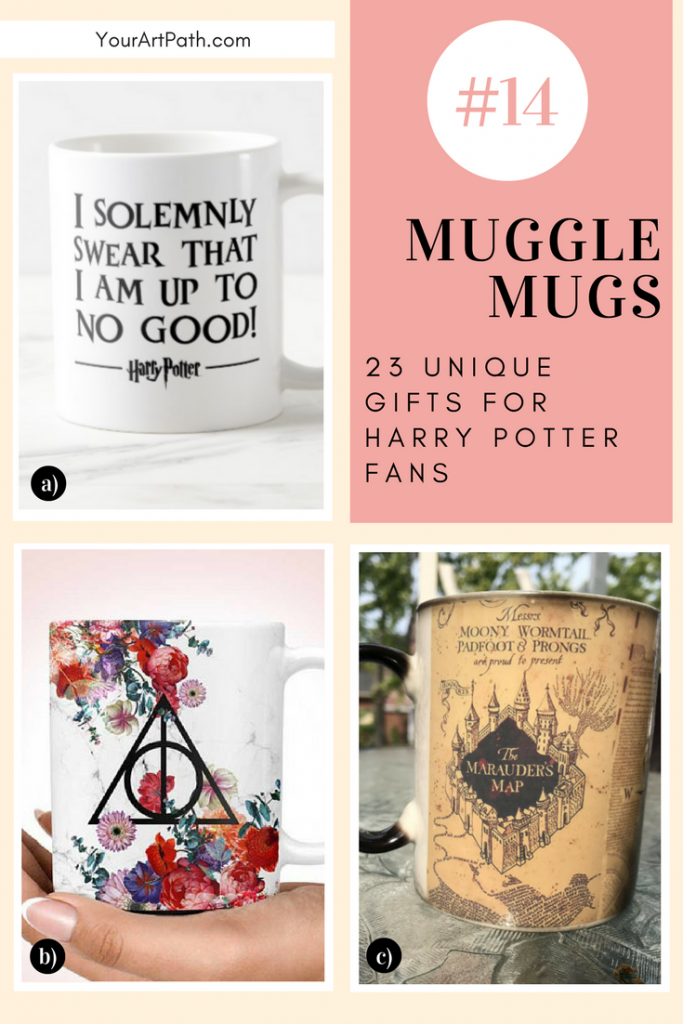 Great for drinking morning potions! 😉
a) Harry Potter Spell | I Solemnly Swear Coffee Mug.
c) Harry Potter Color Changing Marauders Map Mug.
#13 Harry Potter Phone Cases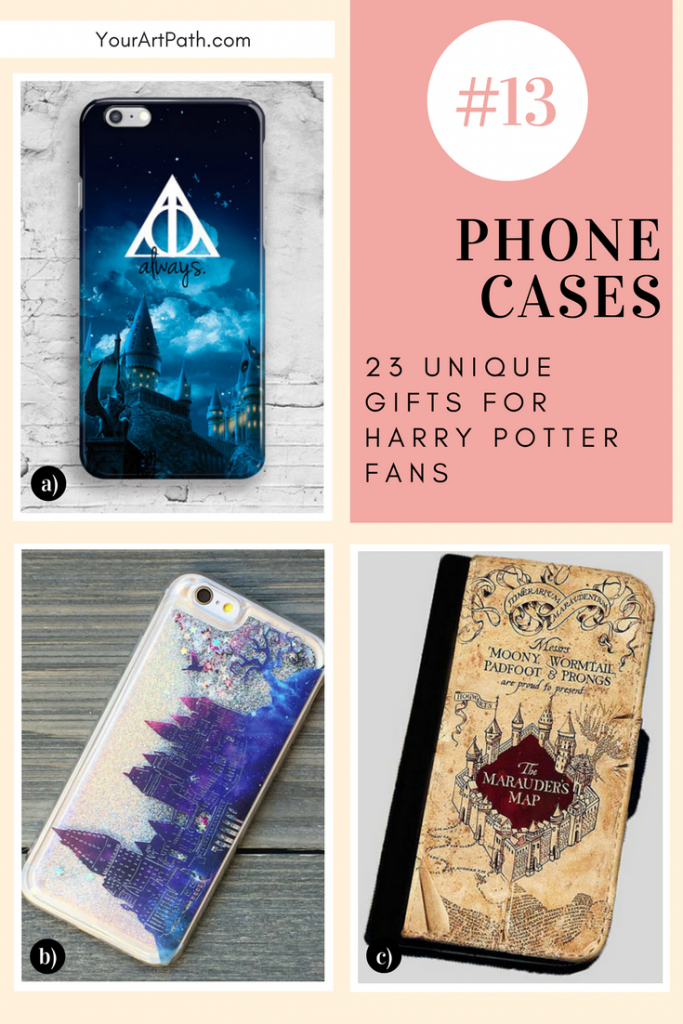 – Hello? Hagrid is that you?!
a) Harry Potter Deathly Hallows Quote iPhone Case.
b) Wizards School Twilight iPhone Castle Case With Silver Glitter.
c) Harry Potter Inspired "The Marauders Map" iPhone wallet case.
#12 
Harry Potter 
Notebooks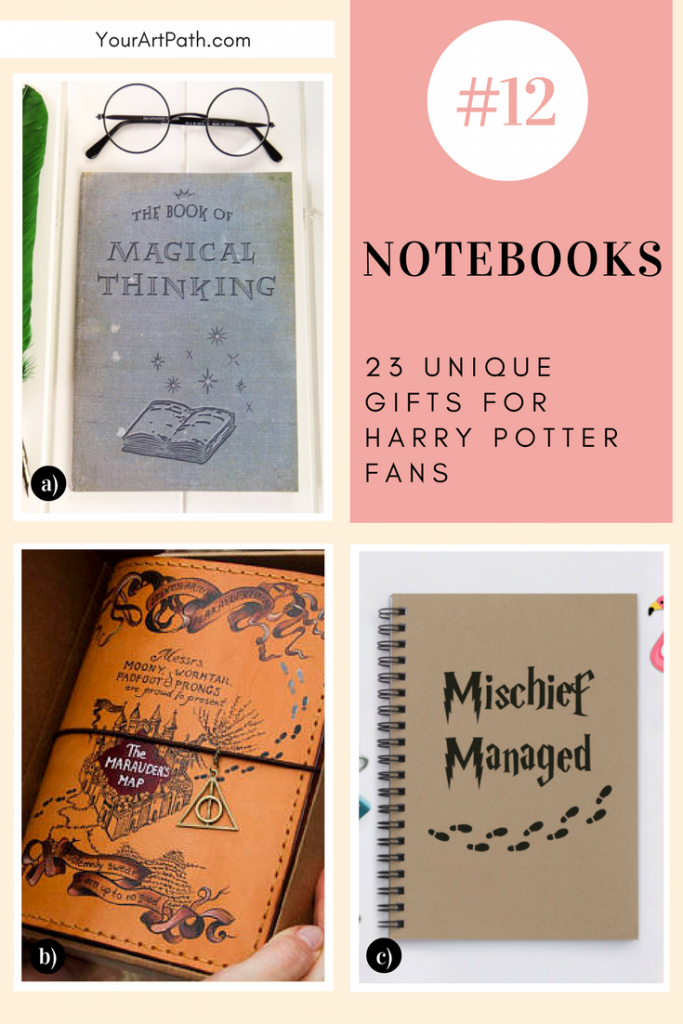 For your spell recipes, mischief planning, and magical thoughts!
a) Magic Notebooks- Set of Three Spells.
b) Marauders Hogwarts Map – Harry Potter Journal.
c) Mischief Managed, 5″x 7″ Journal.
#11 
Harry Potter Comfy 
Bags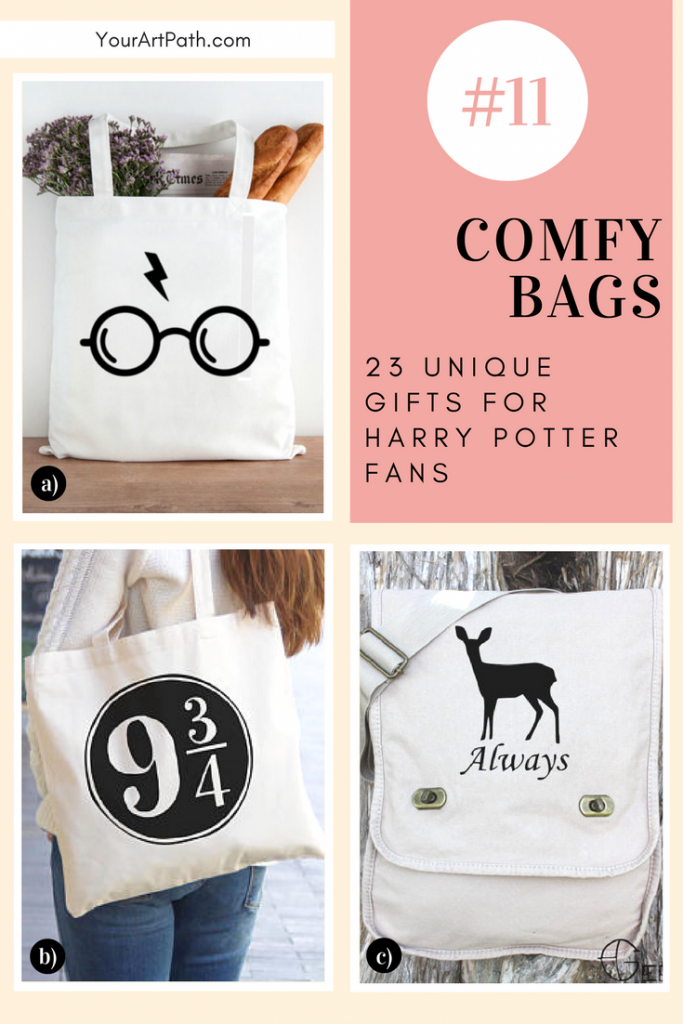 A great place for carrying books and magic wands 😉
a) Harry Potter Glasses and Scar.
b) Harry Potter Tote Bag – Platform Nine and Three Quarters – 9 3/4 – Hogwarts Express.
c) 'Always' Doe Harry Potter Inspired Canvas Messenger Bag.
#10 
Harry Potter 
Magic Wands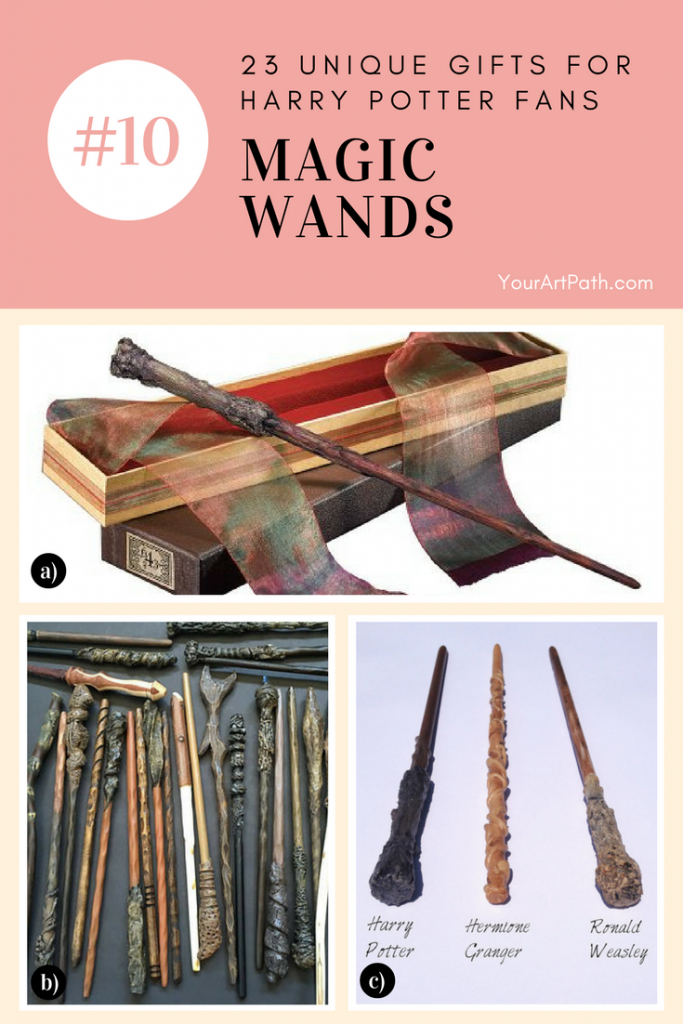 Expecto Patronus your haters!
a) Harry Potter Wand from 'The Noble Collection'.
b) The Wand Chooses The Wizard Hand Carved Magic Wands.
c) Harry Potter Inspired Replica Wands.
#9 
Harry Potter 
Board Games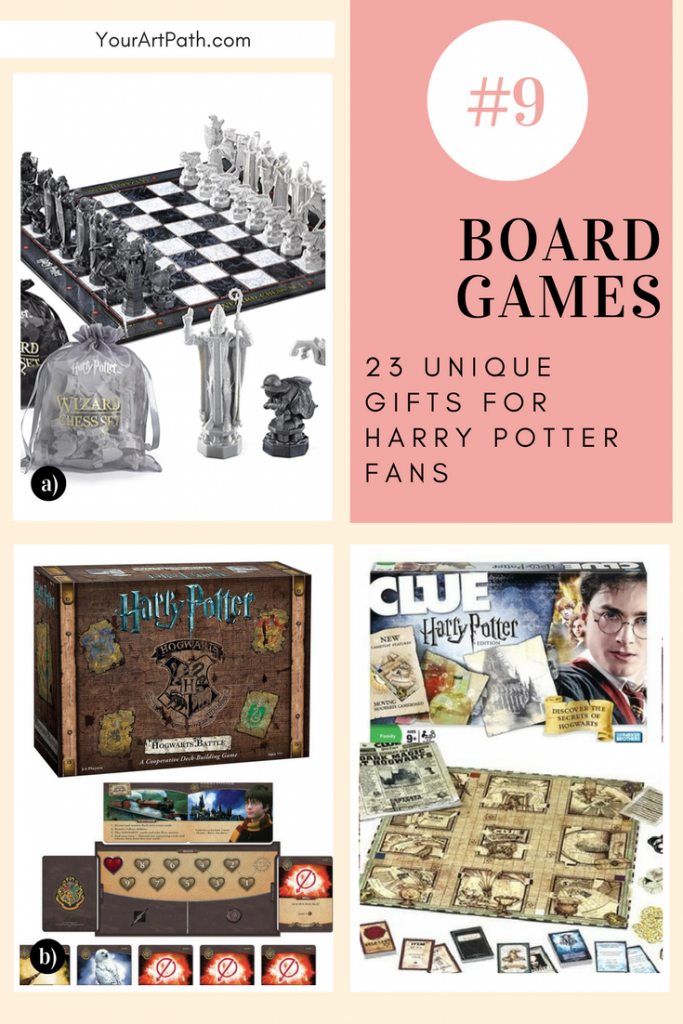 Enjoying an evening together with HP mysteries 🙂 
a) Harry Potter Wizard Chess Set.
b) Harry Potter Hogwarts Battle A Cooperative Deck Building Game.
c) Clue: Harry Potter Edition.
#8 
Harry Potter 
Movie Posters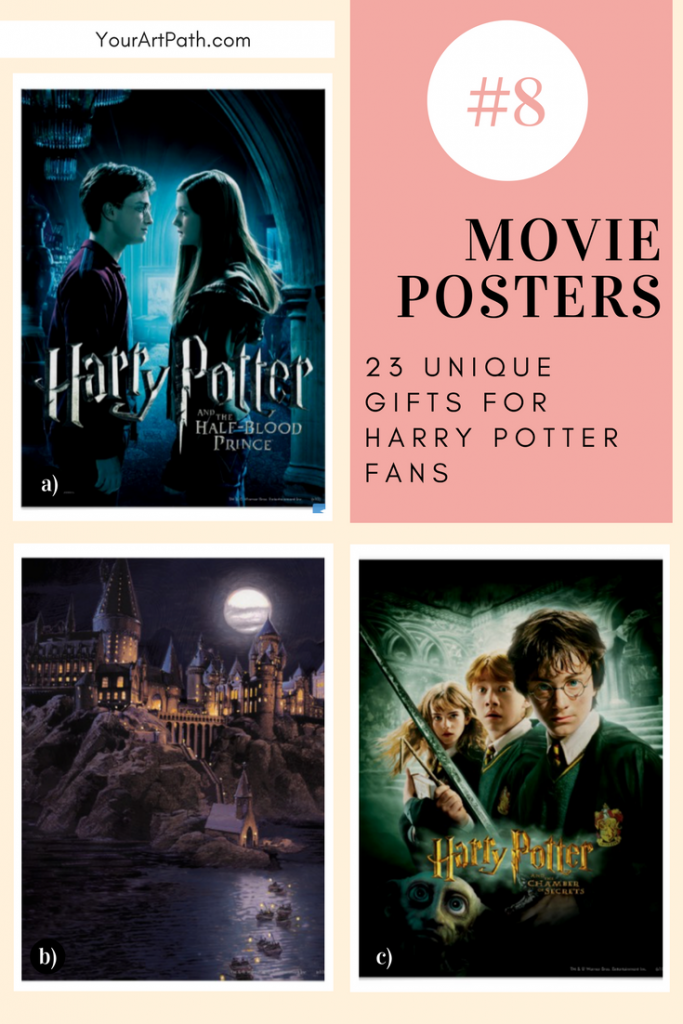 Would you prefer a poster with a younger or older Harry?
c) Harry Potter and The Chamber of Secrets.
#7 
Harry Potter 
Jewelry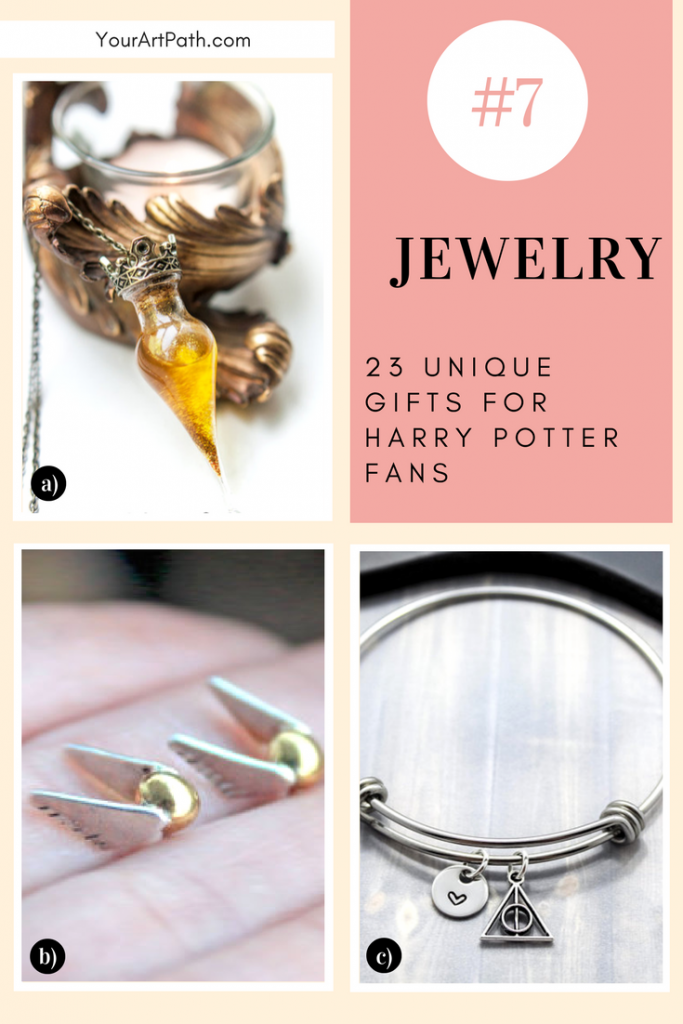 These beautiful pieces are ready to complete your look!
a) Gold potion 'Felix Felicis' necklace.
c) Deathly Hollows Bangle Bracelet.
#6 
Harry Potter 
Art Prints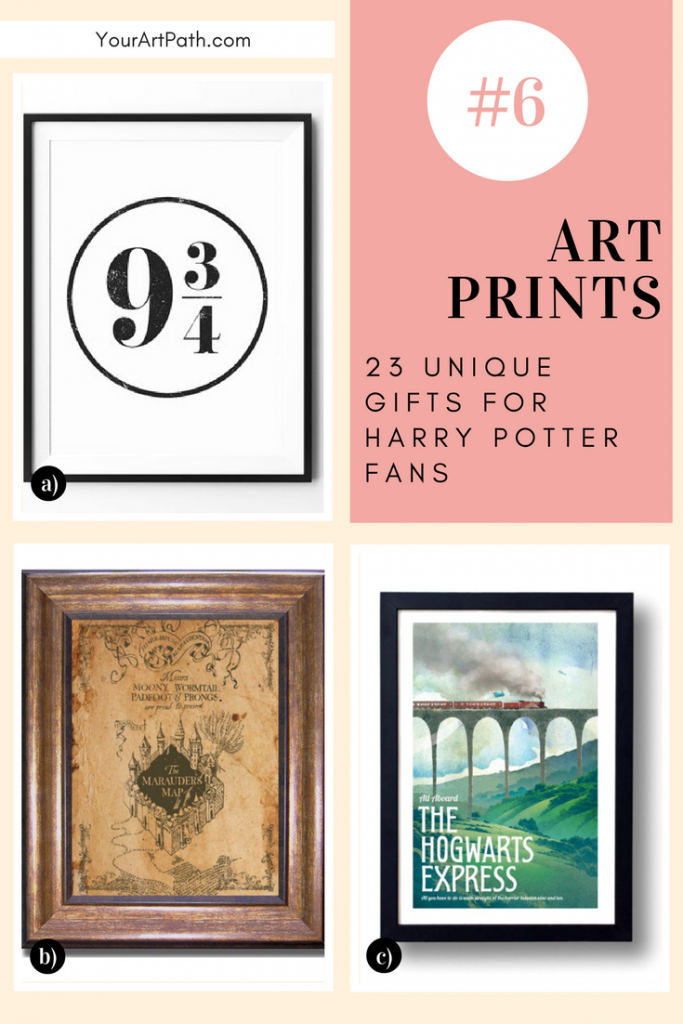 Decor that makes any room look magical!
a) Harry Potter 9 3/4 Platform Print.
b) Vintage Style Marauders Map.
#5 
Harry Potter Awesome 
Toys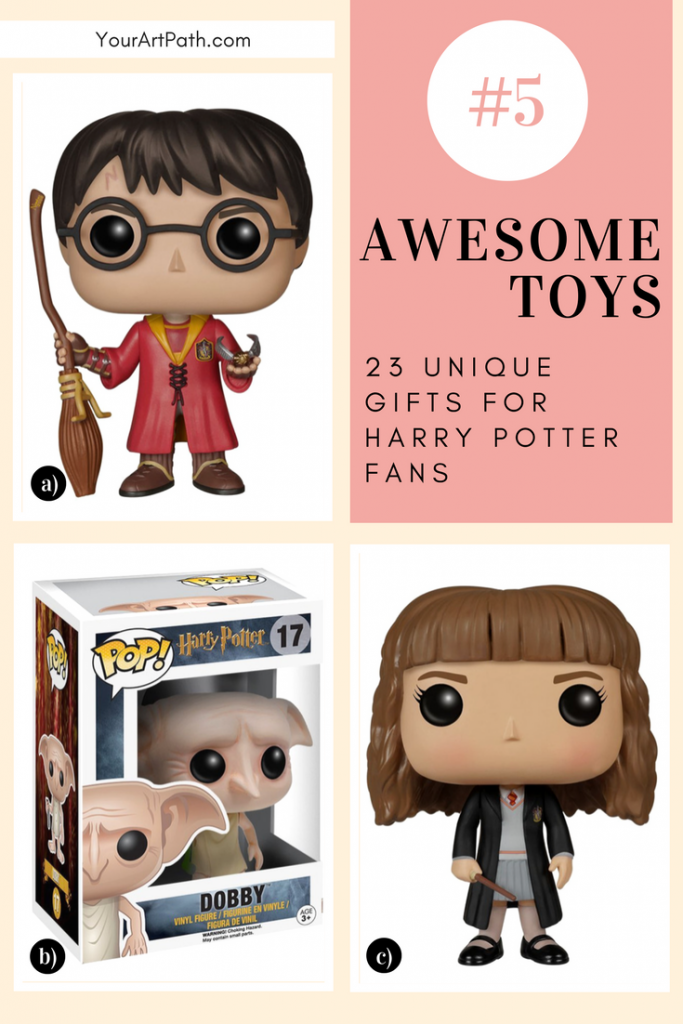 Keep one close by your working space for a power boost!
a) Funko Quidditch Harry Potter Vinyl Figure.
b) Funko POP Movies: 'Harry Potter' Action Figure – Dobby.
c) Funko POP Movies: 'Harry Potter' Hermione Granger Action Figure.
#4 
Harry Potter 
Wall Clocks
Hasn't your experience with the Time-Turner taught you anything, Harry? The consequences of our actions are always so complicated…—
ALBUS DUMBLEDORE
a) Harry Potter Geek Illustration Wall Clock.
b) Harry Potter Wooden Rustic Wall Clock – Platform 9 3/4 Hogwarts Express.
c) Harry Potter Vinyl Record Clock.
#3 
Harry Potter Cool 
Clothing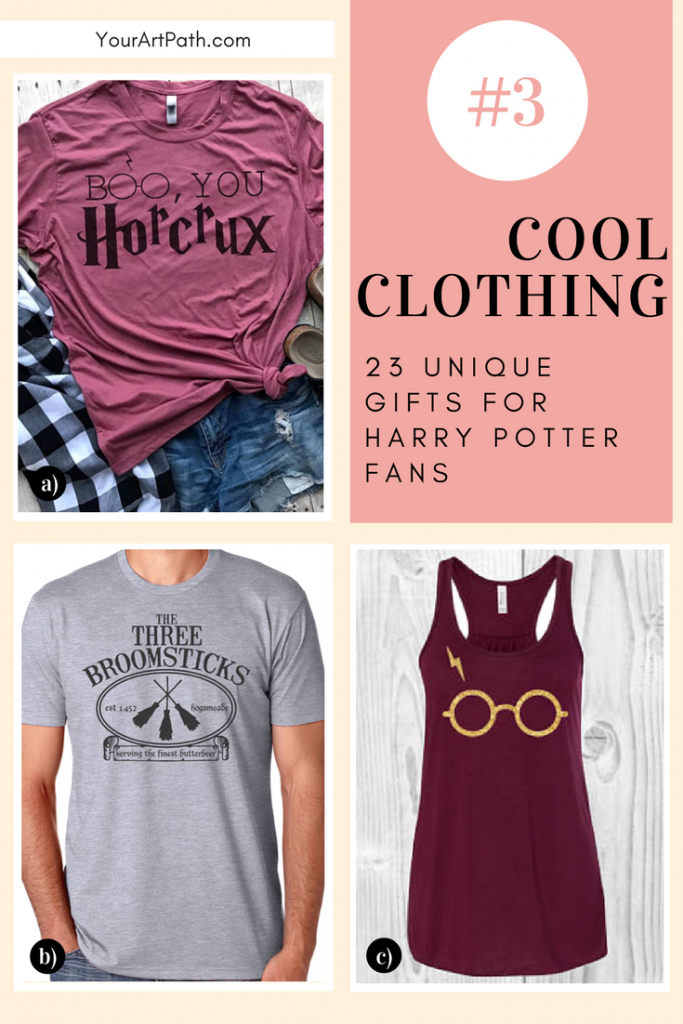 Since you don't have to wear your Hogwarts school uniform in summer – you can put these babes on 😉
a) Funny Harry Potter shirt – Boo You Horcrux.
b) The Three Broomsticks Butterbeer Mens Shirt.
c) Harry Potter Running Shirt.
For each of these items, you get to pick a color yourself!
#2
Harry Potter 
6th Scale Figures (1:6)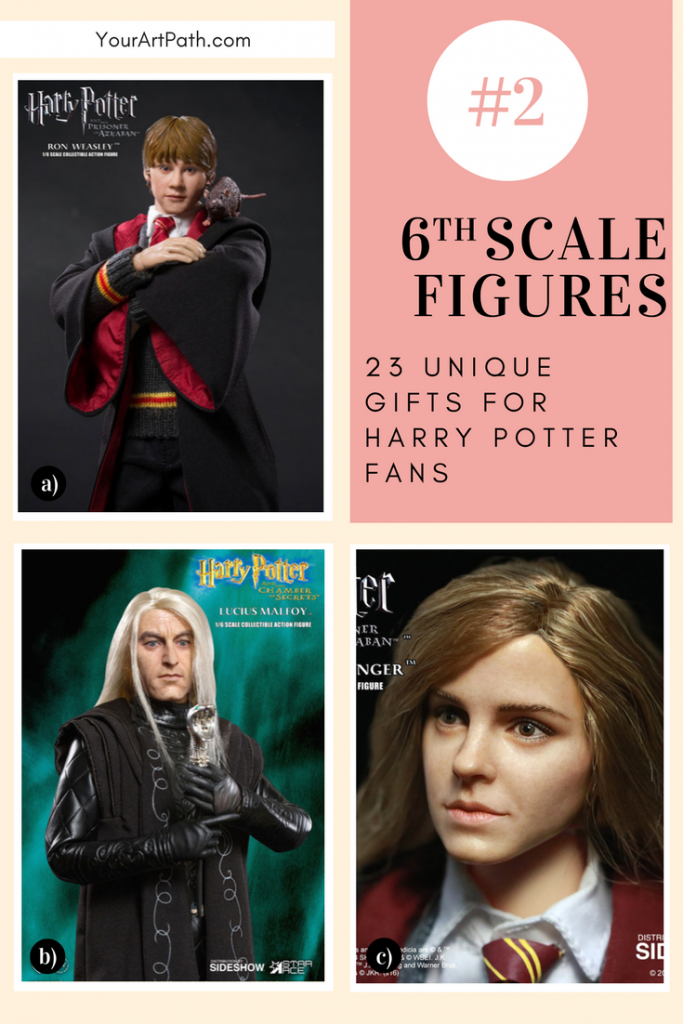 No more cartoony representation toys – it's the real deal now.
c) Hermione Granger (Teenage Version).
#1 
Harry Potter 
Collection of Books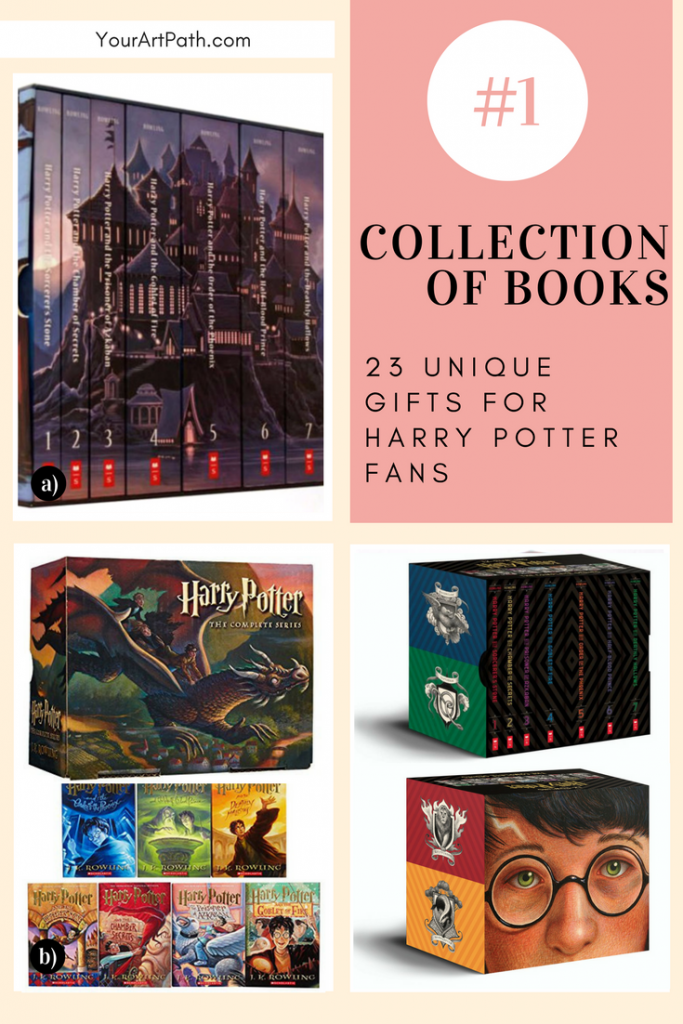 And finally – what could be better than a complete collection of beautifully illustrated books?
Now you just need to pick what style 😉 
a) Harry Potter Complete Book Series Special Edition Boxed Set by J.K. Rowling NEW! (1-7)
b) Harry Potter Paperback Box Set (Books 1-7).
c) Harry Potter Books 1-7 Special Edition Boxed Set.
Looking for even more options for the book covers? You can browse the collection here.
Bonus Idea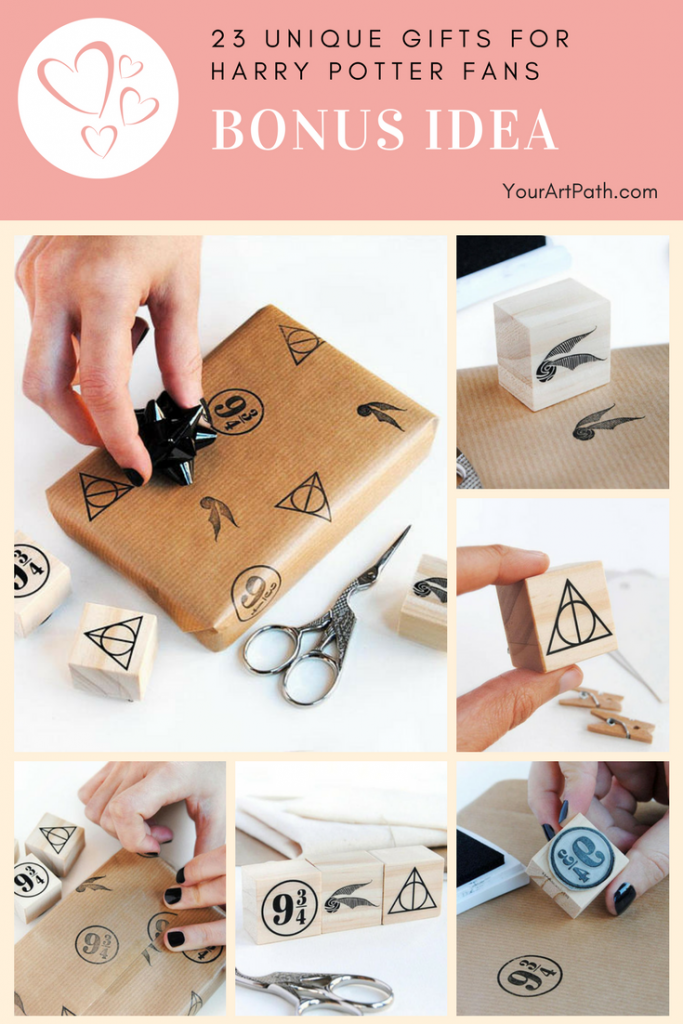 And now that you are all set with your awesome gift – it's time to wrap it in any wrapping paper!
But don't be simple, add a special touch to your gift with this awesome DIY Wrapping paper!
And the best part?
Buy it once – and use it for every occasion 😀
Final Words
Comment down below which Harry Potter Gift Idea put a spell on you! 😉
And from what other famous movie/TV show/cartoon you would like to see a collection of ideas like this one?
Feel free to Pin these artworks to your Pinterest boards for future inspirations! 🙂
Good luck on Your Art Path,
– Anna, Your Art Bud 😉
Blog Posts to check out next →  "What to Buy for an Artist as a Gift?"
and → "Stranger Things Gorgeous Fan Art From 21 Artists"