What is Plein Air Painting?
Plein air painting is an act of painting outside.
Usually, an artist finishes a whole piece in one day, or makes studies to continue working on later in their studio.
It's a very challenging but rewarding practice!
Why Use An Umbrella While Painting En Plein Air?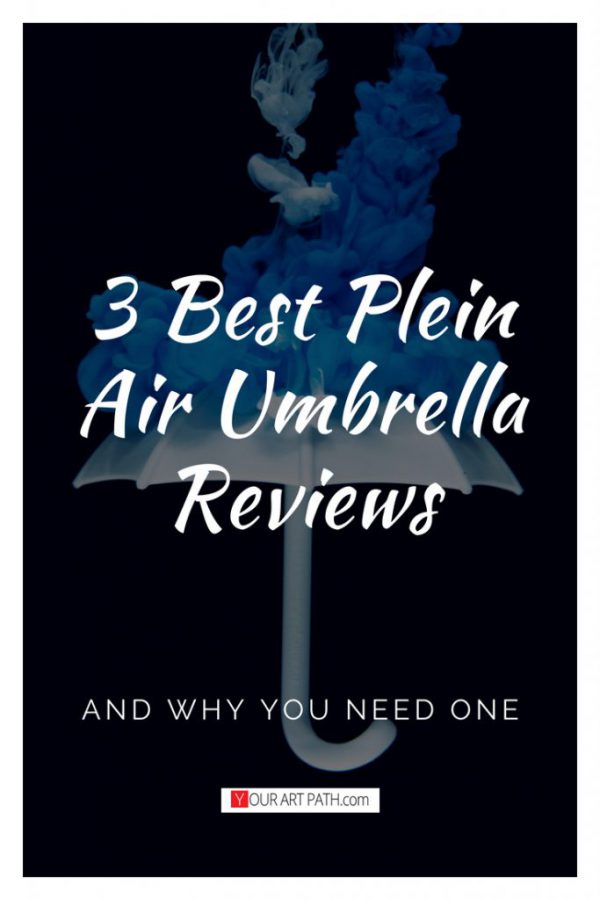 For centuries artists have been using umbrellas while painting outside.
Have you ever wondered why?
The thing is, while painting outside the sun has a tendency to screw with your perception of colors.
It beautifully reflects the sky, grass and any other colorful object around it – and we want to capture all of these beautiful colors in out painting!
But, it also reflects the white of your canvas.  I always recommend covering your white canvas in a tone of color (and burnt umber works great for me), but that will only solve the issue partially.
Thus, while you might think that the paints you are mixing look great on canvas, you will be surprised to discover that when you check your piece indoors it will look very different. And not in a good way.
Sun is a wonderful thing that brings life and colors to our world. But when it comes to painting outdoors you need to shield away from it.
That's where umbrellas come in.
Plein Air Umbrella Reviews
Here is an overview of the top 3 umbrellas I picked out for you. Let's discuss each one of them in more detail, and then compare the 3 side-by-side.
Now, let's talk a little bit about some of the most important factors you should consider when selecting the best umbrella for plein air painting that fits YOU.
1. Compactness (Size and weight)
We need to be able to carry it around without too much trouble. And while as you will still need to put in the effort of taking it around with you, a few pounds and inches here and there could save you extra trouble along the way.
2. Style (clamping onto a surface or pushing into the ground)
One of the biggest issues artists who use umbrellas for plein air painting have experienced is that umbrellas catch the wind easily. And when a stronger wind blows you risk having your whole set-up flip and fall to the ground.
To avoid such unpleasant event from occurring, I strongly recommend to set up your umbrella separately from your easel!
The best way to do so is to have the umbrella on a separate mount/tripod.
From the three best umbrellas for plein air painting I provided you with, one comes standing on a separate mount. While as the other two have a clamp. If you end up going with the later, try to attach the clamp to something other than your working area.
3. Does it include a case with a strap for easy carrying?
This one is also important because you don't want to damage your umbrella while carrying it, and because you want to be able to take it with you wherever you go with ease.
Now, let's take a look at each of the 3 options separately, and then compare them side-by-side.
This one is my personal favorite.
First and foremost, it provides me with a piece of mind for my working space because it isn't connected to my easel. Therefore, no wind will cause any troubles!
And while as I'm not a big fan of umbrellas that need to be pushed to the ground (because I'm pretty weak and so it can take me a while), this bad boy is an exception because it has a foot pedal that makes the process so much easier.
Also, the umbrella has wind-wents and a non-reflective black lining.
Black color on the inside appears in all of the three umbrellas. It's what helps our eyes to see true colors – so it won't reflect the ambient light of the grass or any other surface around our working area.
The external part of the umbrella is silver, which helps reflect the sunlight and keeps us from overheating.
Another cool feature of this umbrella is that the handle is adjustable – you can rotate it at any time following the sun's movement in the sky. This way you and your art can always stay in the shade.
And to top it all of, this guy comes with a heavy-duty carrying bag with a shoulder strap and carrying handle.
On the other hand, nothing in this world is perfect. And so the two CONs I found about this product, is that comparing to the other two, this one is the heavies – 4.25 lbs., and the most expensive one.
You can check it out in the video below:
Note: the videos I've included for you might not be the best quality, but I always find it interesting to look at how an item is used before making up my mind. So, I hope you find them helpful!!
Note: All of the umbrellas I picked out are by Guerrilla Company. I find that they know exactly what they are talking about, as they specialize in Plein Air Painting and have a lot of products to help out artists that are interested in painting outdoors.
I also mention them in my "Plein Air Oil Painting Supplies You Need To Get Started" article, as I absolutely love their Painter's Kits.
There are many PROs to this second umbrella:
Uses a secure soft-rubber clamp to attach;
Umbrella angle can be adjusted in any direction to your liking;
It's silver with black interior which reflects the ambient light while keeping you cool;
Weights only 1 pound (the lightest one on the list)
But it also has a couple of CONs:
Designed specifically for the Guerrilla Plein Air boxes (but also works with the standard French easles)
Connects to your easel which might be a problem when the weather is windy;
Let's take a look at some of the PROs of this umbrella:
The umbrella was made for easy carrying, consists of a lot of movable parts, and collapses to only 12″ in lenght!
It mounts to almost anything;
The same silver-black concept as the previous ones;
Weights only a little over one pound;
This item is the least expensive on the list;
Now, the fun stuff – CONs:
Since it is made to be super compact it has a lot of moving parts. Therefore SHOULD NOT be used in windy conditions;
It has a 1-Star review on Amazon, about it swinging around and falling down – I wonder if it has anything to do with the above-mentioned windy conditions?
Check out how tiny it is in the video below:
Plein Air Umbrella Reviews Side-by-Side
Now, let's take a look at a quick comparison of these 3 items:
Style:
Mounts to almost anything
Style:
Mounts to almost anything
I hope that these best plein air umbrella reviews were helpful for you!
But I would love to hear from you what umbrellas are YOU using when painting outside? Are they different from the ones I covered above?
Let me know in the comments below.
Also, here are some other related articles on Plein Air:
Good luck with your outdoor paintings 🙂