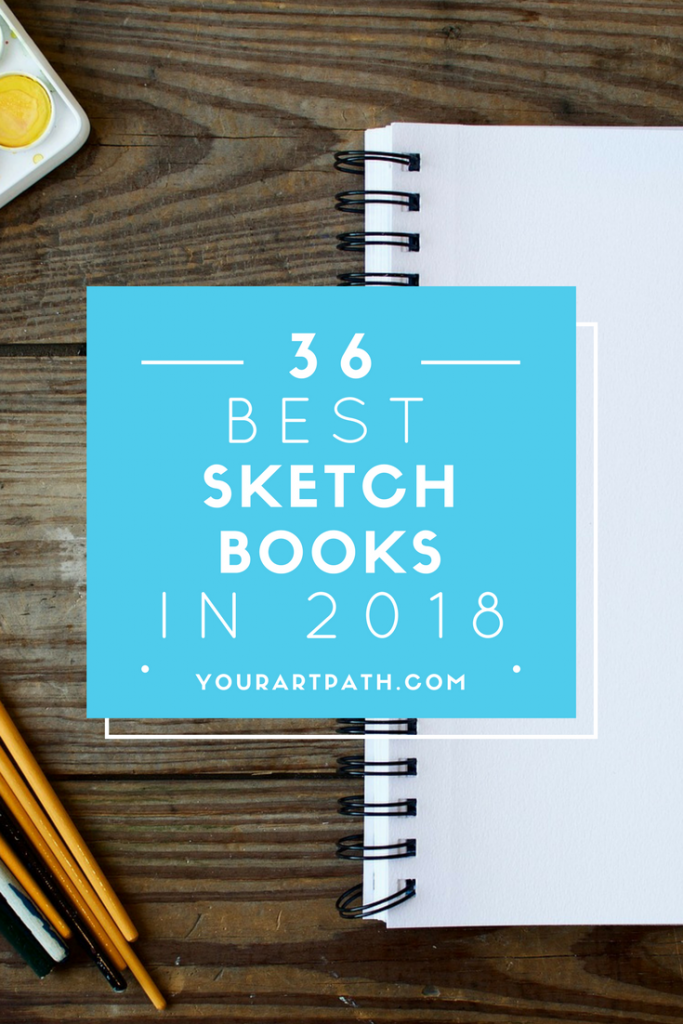 What do artists have a lot of?
Ideas, creativity, patience?
YES!
But most importantly – SKETCHBOOKS!
It's never enough!
And NEVER too many!
So, go ahead and get a few for yourself and your Art Bud to continue creating new worlds on those blank pages!
36 Best Sketchbooks For Artists under 20$
* The list is in no particular order.
9×12 in.;
100 sheets;
60 pounds weight;
Amazon's Best Seller.
Refillable;
Made out of high-quality leather;
5×7 in.
8×10 in.;
Matte-finish cover;
Unicorns, Ice-cream and Rainbows!!
4. Global Art Materials Watercolor Book
60 pages;
Acid-free;
200 gsm;
5-1/4-Inch by 8-1/4-inch.
8.5×11 in.;
50 sheets of paper;
Spiraled binding;
80 lb.
5×8 in;
140 lb;
Acid-free;
Back pocket!
7.  Sela Art Hardcover Sketchbook
9×11 in;
Spiral bound;
Stylish cover;
120 grams white paper.
9×12 in;
Cold press texture;
30 sheets;
140 lbs;
Acid-free.
9. Artisan Scribe Leather Journal
5×7 in;
Constructed from Genuine Water Buffalo Leather;
120 sheets made from 100% cotton paper;
120 gsm (great thickness to avoid bleeding);
90 day Money Back Guarantee with no questions asked!
9×11.5 in;
120 gsm thickness;
100 sheets;
Acid-free;
Hardcover and spiral bound.
11. U.S. Art Supply Heavy-Weight Sketch Pad
5.5×8.5 in;
30 sheets. (The link takes you to a pack of 2.)
160 gsm;
Semi-textured paper made for use with all Mixed Media including ink (read here about the Drawing Ink Supplies you need to try in 2018!)
12. Lang Sanctuary Owl Sketchbook by Susan Winget
10×11.25 in;
176 Acid-Free pages;
Hardcover and spiral bound.
13.  Sacred Oak Tree Leather Blank Book
5×7 in;
Acid-free paper made of recycled biomass (paper has been constructed without the use of wood pulp);
200 pages;
450+ positive reviews from buyers on Amazon;
Great for use with pens, charcoal and paint.
14. EvZ Vintage Leather Blank Notebook
Comes in 5in. and 7in. sizes;
You have a choice of 10 different colors;
Refillable. Swap pages you don't like for empty ones;
80 sheets (160 pages);
Over 500 positive reviews from Amazon buyers.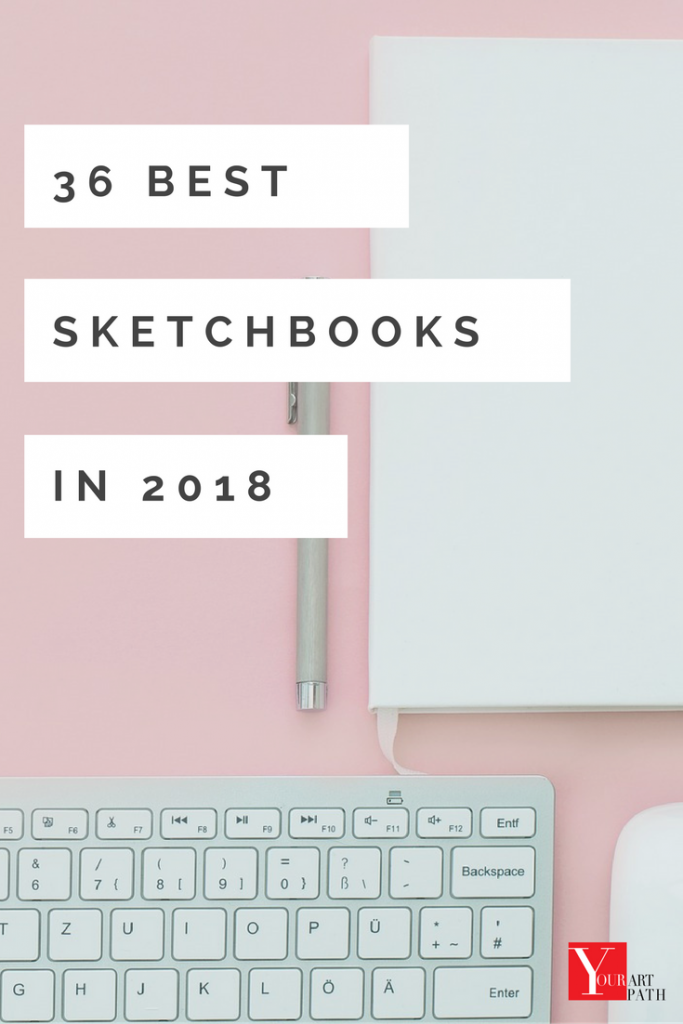 15.  U.S. Art Supply Sketch Pad
#1 Best Seller on Amazon in "Storybook Sketch Pads" Category;
11×14 in;
100-sheets;
Spiral Bound;
Comes in a pack of 2.
16. Suter Lane Bamboo Sketchbook
Comes in 4x5in., 5x7in., 8.5x11in. and 9x12in;
60 pages;
Pure white Bristol Paper;
Perfect for Mixed Media.
17. EvZ Vintage Nautical Spiral Sketchbook
Comes in a choice of 5 or 7 inches;
Blank refillable paper;
Made of high-quality PU leather;
80 sheets (160 pages);
Over 1,000 positive reviews on Amazon!
18.  Strathmore STR-400 Drawing Pad
8×10 in;
24 Sheets;
130 gsm;
Ideal for dry medium.
19.  Maleden Vintage Refillable Sketchbook
4.9×7 in;
180 pages of quality craft paper;
PU Leather Cover;
Refillable.
20.  Artist's Choice Sketch Pad
9×12 in;
60 lbs;
75 pages ( + comes in a pack of 2);
Pages have perforated edging for easy tearing ( if you are like me and hate tearing paper off with the circles on sides – then you will love this feature! );
Amazon's Choice under "drawing pads".
21.  Lemome Unlined Leather Notebook
5×8.25 in;
Flexible softcover;
Eco-friendly journal- no animals were used in production, pollution-free and has no fluorescer;
100% money back guarantee.
22.  Sutter Lane Cat Eyes Sketchbook
Comes in 4x5in and 5x7in sizes;
60 pages of superior white Bristol paper;
Sturdy pages great for mixed media.
23. Quartet Mead Academie Spiral Sketchbook
Comes in 9×12, 11×8.5 and 14x11inches;
30 sheets of white archival quality sketch paper;
Perforated pages.
24.  AzureGreen Small Leather Blank Book
4×5 inches;
100 matte blank recycled biomass pages;
Front covers with a brass clasp.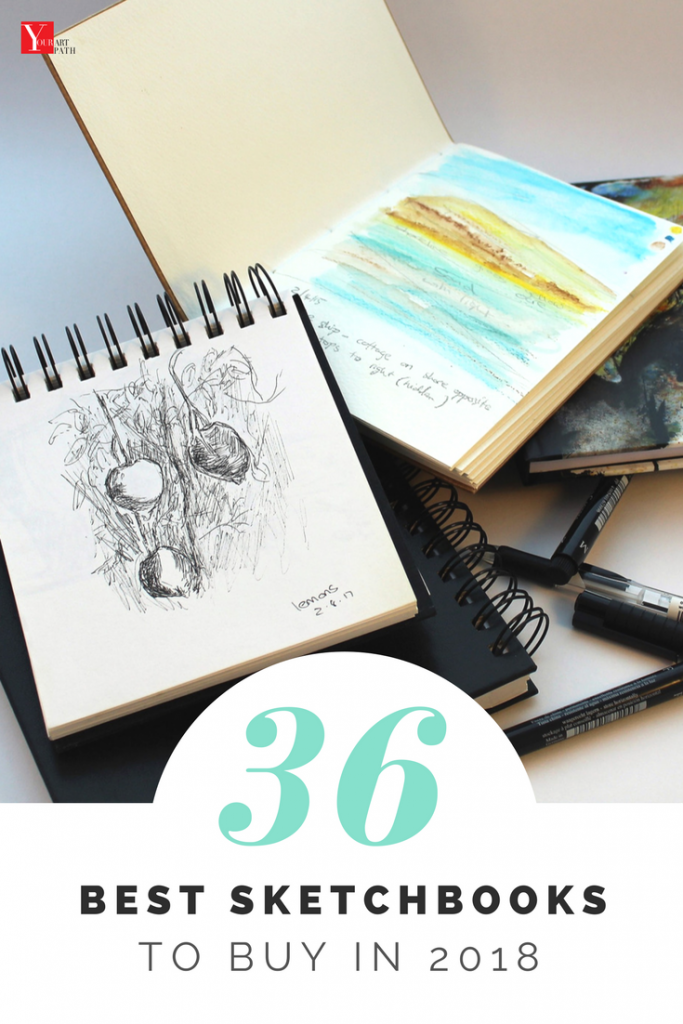 25. Moleskine Classic Notebook
3.5×5.5 inches;
Hardcover;
Pocketsize;
Rounded corners;
192 acid-free pages;
A bookmark and an elastic closure.
Comes in A2, A3, A4 and A5 sizes;
Heavy 300gsm paper perfect for watercolor pencils ( read here about how to use watercolors and what supplies to get );
12 sheets.
27.  Luke's Gift Japanese Culture Style Sketchbook
7.2×5.2 inches;
160 pages high quality glazed printing paper;
Perfect for dry mediums;
Special: buy 3 get 1 free or buy 2 get 20% off.
28. Mangal Murti Handicrafts Leather Journal
7×5 inches;
Eco-friendly;
Handmade;
100 pages of unruled handmade paper;
A stone and a metal lock on the front.
29. Canson Artist Series Universal Sketch Pad
Comes in 9×12, 11×14 and 18×24 inches sizes;
You have a choice between a pack of 2,3 or 6;
100 sheets of 65lbs acid free paper;
Great for using with pencils and charcoal.
30. Strathmore Toned Sketchbook

5.5×8.5 inches;
Tan toned paper perfect for light and dark media;
80 lbs and acid-free;
50 sheets per pad;
100% recycled.
31. Store Indya Jute & Leather Sketchbook

8×5.5 inches;
96 Eco-friendly handmade sheets;
Lac Seal fixture;
Off white/cream colored pages that are bleed free;
10% from your purchase is donated to train a new generation of artisans.
32. Bellofy Artisian Series Sketchpad

9×12 inches;
Heavy A4 98lb paper;
Great for most mediums including acrylics, watercolor and ink;
Over 500+ positive reviews on Amazon.
33. Lytek Premium Hardcover Sketchbook

9×12 inches;
160 sheets (pack of 2);
63lb acid-free paper;
Micro-perforated for easy removal of true size sheets.
34. Bienfang 100-Sheet Sketchbook 

You have choices of 5-1/2×8-1/2 and 8-1/2×11 and 11×14 inches;
100 sheets of lightweight 50lb paper;
Acid-free.
35. Store Indya Embossed Leather Sketchbook

7×5 inches;
96 pages of white office paper;
Hand embossed patterns & a cotton thread closure.
36. Pentalic Travel Pocket Journal
6×4 inches;
160 pages of acid-free recycled paper;
74lbs;
Includes an elastic enclosure, ribbon marker and a back pocket.
That's all!
I hope you find at least one that you want to try!
After you get yourself a sketchbook to fill – it's time to practice, enjoy 🙂
And if you want, you are welcome to check out our tutorial and supply posts:
Good luck on Your Art Path,
– Your Art Bud Anna 😉