Are you in a rush? No problem! Here is our best pick:
Sale
Beginner's Guide to Digital Painting in Photoshop
Beginner's Guide to Digital Painting in Photoshop is a new series dedicated to providing a comprehensive guide to the basics of digital painting in this versatile program.
The step-by-step tutorials within this book don't just describe techniques, but actively demonstrate how these techniques can be applied to an artwork.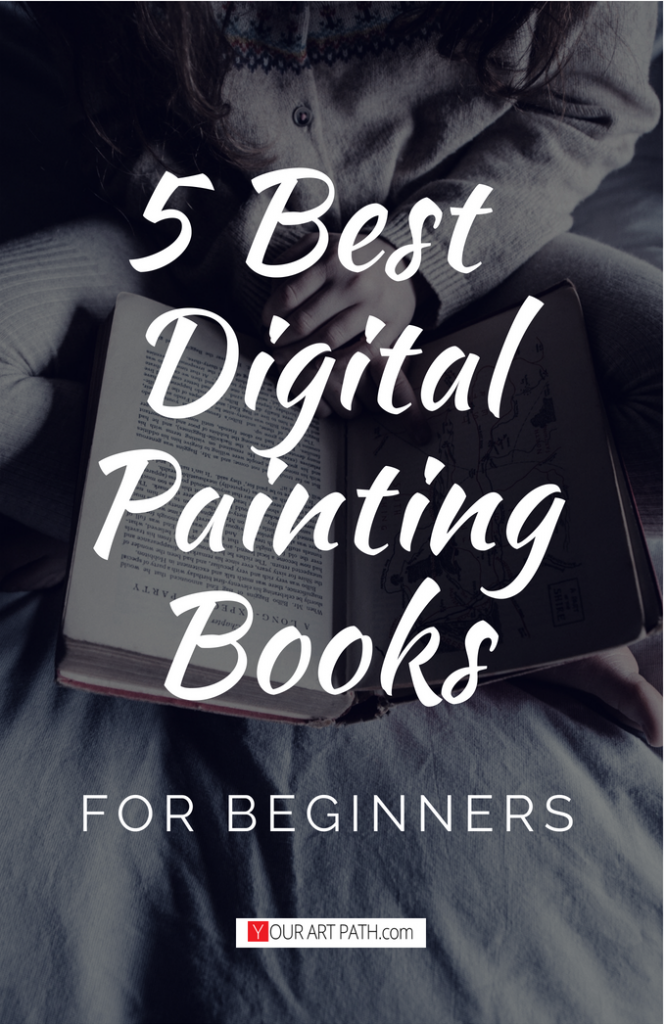 Digital painting is an absolutely beautiful medium that allows for you to experiment, not worry about mistakes, practice, and use many tools, such as digital drawing tablets, in order to create the best possible artwork every single time!
On the other hand, if used neglectingly and without much knowledge, it can turn out to be a pretty sad looking digital piece 🙁
No worries, though!
Practice makes perfect, and tips from awesome professional artists will give you many shortcuts to fast-forward your learning, and improve your skills faster.
And that's where digital painting books come in.
So, pick the one you like and dig in into the world of digital painting with head and toes, it's going to be an awesome ride! 😉
Beginner's Guide to Digital Painting in Photoshop
By Nykolai Aleksander (Author), Richard Tilbury (Author), 3DTotal Team (Editor)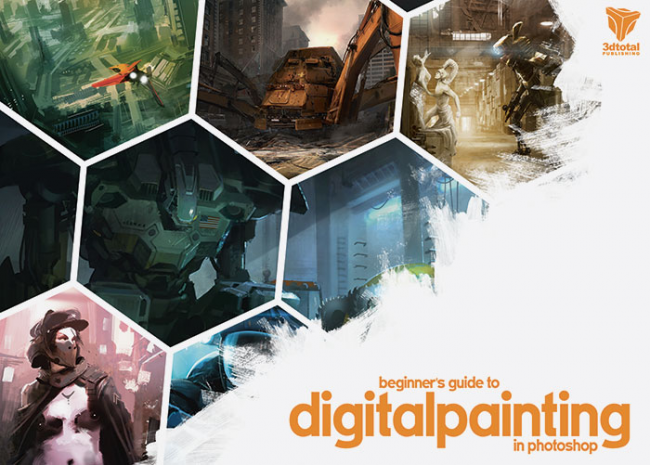 This book is as good as a full course on digital painting, with its attention to detail, easy explanations and a lot of amazing images along the way.
When I first opened it, I said to myself "Well, that's easy!" and then as I continued flipping through the pages and learning more and more – the book got more and more complex.
And that's why it is the #1 on this list – it simply makes sense! You start from the bare basics and then get into more complex stuff. So, as you progress – the book progresses too!
The techniques and tips in this book are not only written clearly but are also being demonstrated step-by-step with many breathtaking examples.
Authors of this book go into detail about some of the basic tools Photoshop has to offer, and the fundamentals of art theory (composition, color, emotion, story-telling, etc).
It's instructive and inspirational, and therefore a great fit for anyone who is just at the beginning of their digital art journey!
And here is a flip-through of the book :
GET YOUR COPY OF "Beginner's Guide to Digital Painting in Photoshop"
Beginner's Guide to Digital Painting in Photoshop: Characters
by 3D total publishing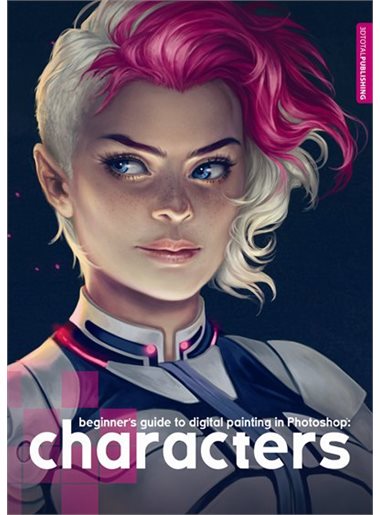 To be honest with you, this 244 pages long book has always been one of my favorites.
I have it sitting on my shelf at all times ready to inspire, motivate and teach me (I've also flipped through it only about a 100 times).
It is truly a great guide for those who are just at the beginning of their character design journey and would love to learn everything from fundamentals to creating a story behind your believable and detailed character.
This book also features some very well established artists such as Charlie Bowater (concept artist at Atomhawk) and Derek Stenning (freelance concept artist and illustrator, with clients such as Marvel Entertainment and Nintendo) who both share their insights from the field and many useful tips.
You can expect a variety of useful step-by-step guides on topics such as selecting your characters outfits, conveying strong emotions and moods, painting hair, body types, skin and more.
It also features some awesome step-by-step creative workflows with extensive explanations (probably my favorite part), and at the end of the book, you will get some quick tips on how to draw hair, skin, ears and eyes, nose and mouth, fur and clothing material, and accessories.
It's a very thorough book, but it's also written in a way that is super easy to follow – which makes it such a great resource for artists who are looking to improve their character design skills!
GET YOUR COPY OF "Beginner's Guide to Digital Painting in Photoshop: Characters"
Beginner's Guide to Digital Painting in Photoshop: Sci-fi and Fantasy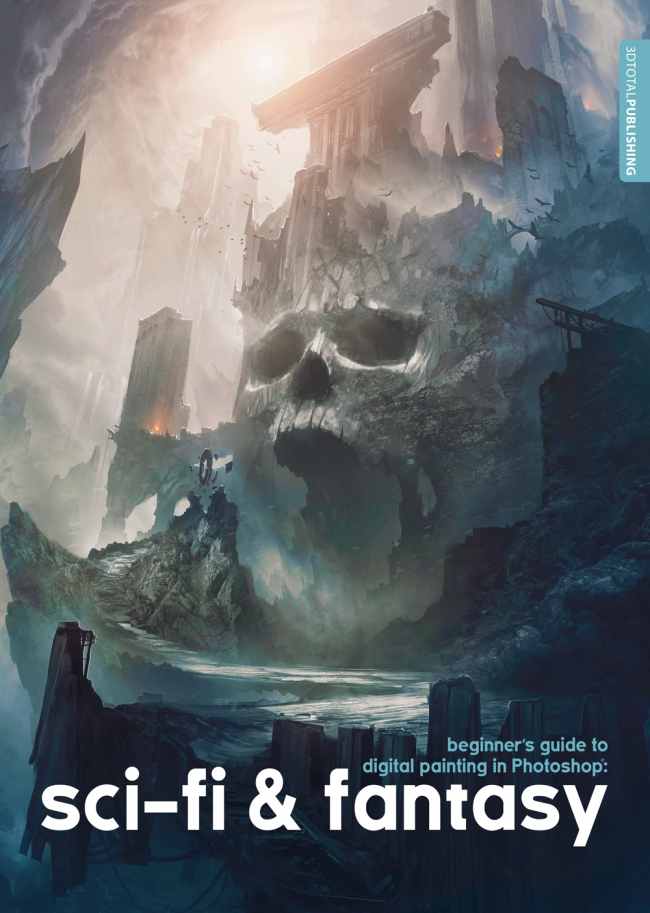 This beautiful book covers everything you need to know about the two most popular genres of concept art: sci-fi and fantasy.
It also begins with the basics of Photoshop, just like many of others – but I think that it's an awesome thing they have in common because if you aren't sure which book to go for, you, either way, get the basic foundation blocks you need to begin creating awesome digital art.
They go over dynamic compositions, developing a sense of perspective, and using color and light to convey a mood you are going for.
Established professional artists, including Victor Mosquera, Joseba Alexander, and Caroline Gariba, share their tips on how anyone can create dramatic imaginative scenes. Also, the professional artists assign you with 12 fun and engaging projects that will help you practice all the skills you learned (some of which are character design projects, and some environment projects).
Also, this book offers some quick tips on a variety of subjects, such as Bow and arrow, Dagger, Sci-fi handgun, Horns, Alien language, Smoke trails, Elfin features, Alien features, Underwater effect, and many many more! (I didn't even mention half).
It's definitely a great book for those who are interested in working in the concept art field, or anything related to Sci-fi and Fantasy digital art.
GET YOUR COPY OF "Beginner's Guide to Digital Painting in Photoshop: Sci-fi and Fantasy"
Beginner's Guide to Creating Manga Art: Learn to Draw, Color and Design Characters
by Steven Cummings (Author), Gonzalo Ordoñez (Author), 3dtotal Publishing (Editor)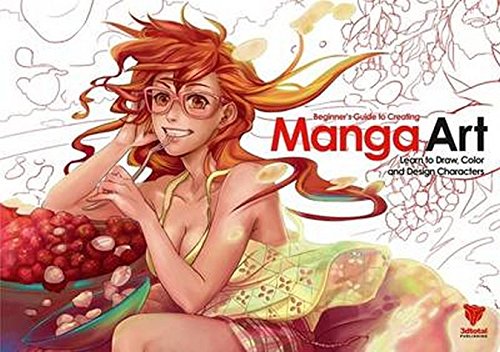 Learn how to master Manga art style with this comprehensive guide filled with beautiful imagery and extensive explanations.
If you into digital painting and want to learn how to draw in this art style, this 240-page long book is a perfect fit that walks you through designing your characters to fully coloring them.
One of my favorite characteristics of this book is that it offers a variety of featured artists, and therefore a variety of styles within Manga. Some of the leading names include Steven Cummings (an American comic book artist in Japan whose clients include Marvel and DC Comics) and Gonzalo Ordoñez (the author of Legendary Visions: The Art of Genzoman).
These talented artists will walk you through their process of creating an artwork with plenty of tutorials. Everything from sketching in your basic idea, to drawing features/anatomy/expressions, to designing clothes and then bringing your work to a finish with colors.
It's a great fit for anyone looking to try out Manga art style for themselves, or those who are already practicing in the style but want to expand their skill.
GET YOUR COPY OF "Beginner's Guide to Creating Manga Art"
Art Fundamentals: Color, Light, Composition, Anatomy, Perspective, and Depth
by Gilles Beloeil (Author), Andrei Riabovitchev (Author), Roberto F Castro (Author), 3dtotal Publishing (Editor)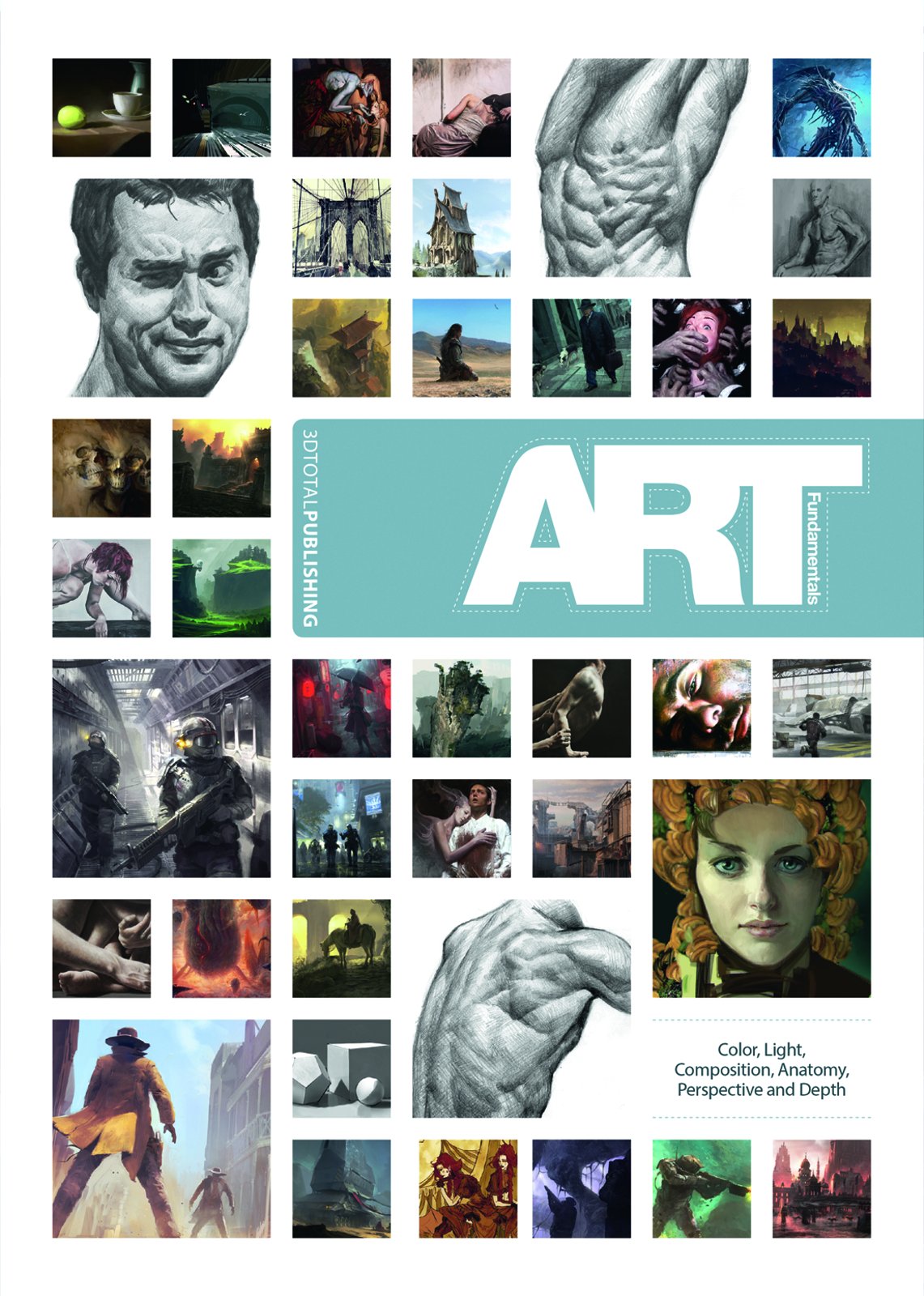 I believe that this book is a must-have for any beginner artist out there.
Simply because it covers EVERYTHING related to art fundamentals.
This 272 pages guide is filled with amazing content that even professional artists would have a use in, as a reference or as a reminder of some techniques/rules.
This book covers the fundamental topics, such as: color and light, composition, perspective and depth, anatomy, and portraying emotions.
Ever heard of Rule of Thirds, Rule of Odds, Golden Triangle, or Divine Proportions?
Well, these are just the most famous rules that make your composition so much more dynamic! Guess what? This book has them covered too!
It's broken up into 6 chapters: Color and Light, Composition, Perspective and Depth, Anatomy, Reference Gallery, Art Gallery.
The best part?
It is written by some of the most leading artists in film and game industry, including Gilles Beloeil (Assassin's Creed series) and Andrei Riabovitchev (Prometheus and X-Men: First Class).
GET YOUR COPY OF "Art Fundamentals: Color, Light, Composition, Anatomy, Perspective, and Depth"
Whichever book you decide to go with at the end, I'm sure you will really enjoy flipping through it, reading and learning!
If I were a complete beginner, I would probably go with the "Art Fundamentals: Color, Light, Composition, Anatomy, Perspective, and Depth", as it does a really good job covering everything you need to know!
But if you can only get ONE book, just try to think about what kind of art you would like to create at the end of the day!
If you are not sure yet, just take a look at your top favorite artists and that might give you some ideas about what you like 🙂
When you flip through your Instagram or look at art on any other website – what it is that makes you stop, look and click that like button?
Is it character design? Sci-fi or fantasy art? Manga style art?
Your answer to this question will help you choose!
Word of caution: these books will not make you a professional artist simply by owning them. You need to actually learn, and put what you learned into practice!
Whoever said "practice makes perfect" was 100% correct.
So, buckle up and enjoy your art path.
Good luck!