Are you in a rush? No problem! Here is our best pick:
Sale
Melissa & Doug Deluxe Standing Easel
Multi-use easel to inspire painting, drawing, and countless ways to play creatively
Includes dry-erase board, chalkboard, locking paper-roll holder, child-safe paper cutter, 4 easy-clip grips and 2 large plastic trays that can be removed for easy cleaning
Why Your Child Might Need An Easel:
Are you an artist and want to share your passions with your kiddo?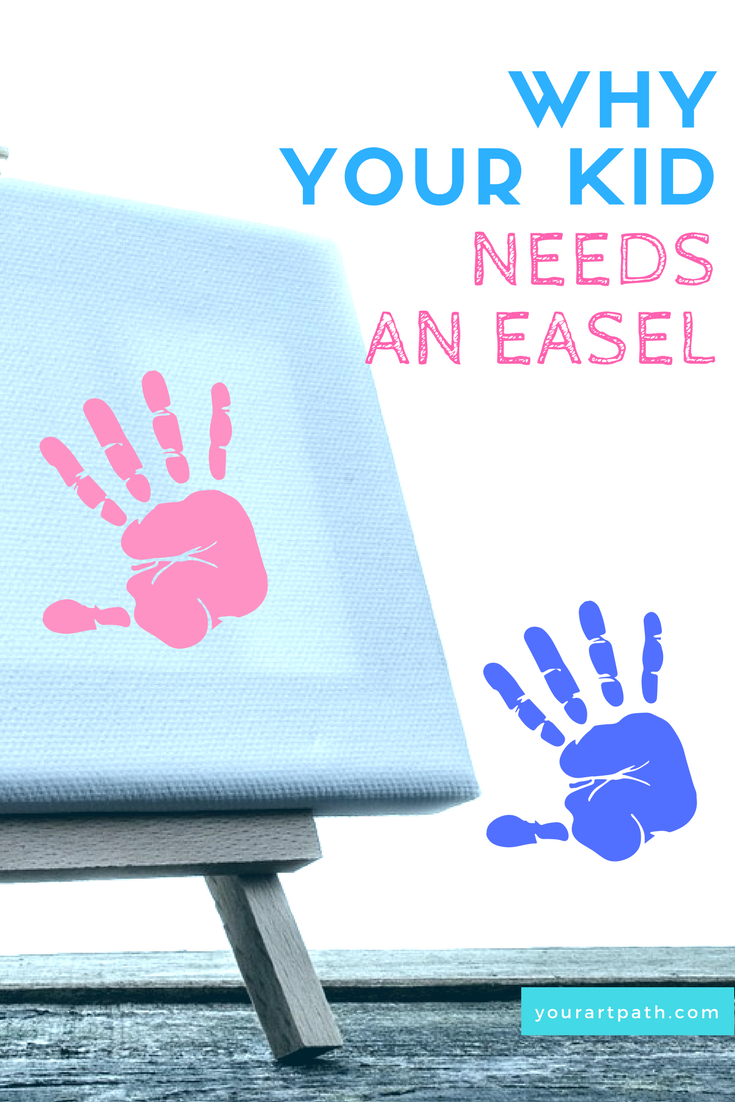 Or are you an awesome parent that just wants their kids to explore every hobby and see what they like best?
Either way, an easel is an awesome way to give your kid creative freedom and a way of playing without any technology.
There are so many positive reasons to get your little angel an easel – starting from EXPLORING. Your kid gets to explore something new to them – paints, chalk, markers – and through that learns something interesting about the creative tools we have in this world.
Also, EXPRESSION – what kid doesn't love to draw? Often, this is how they express their thoughts, feelings, memories and dreams! Those beautiful drawings so many of our parents kept of a 2 window little house and a stick figure family with writings "Mommy, Daddy and I " 🙂
Also, the process is READY TO START and CLEAN! Your kiddo wants to draw/paint? No problem! The easel is standing there at any time good to go! AND they won't paint all over desks, there will be no stains on sweater's at the elbow; as well as if they used to paint on the floor – forget the spilled paints and water cans being kicked over!
Hopefully, their hands still get colorful and messy from paints – as this is how you know they were truly in fun, creative and artistic state 😉
Why It's Best To Start Your Children Early
So, you are not sure if an easel is a right way to go?
I believe there are reasons as to why there are CHILD easels specifically.
First of all, it's a great way for your kid to move around and explore the surroundings. Don't you find that these days kids just LOVE sitting in front of a TV, or with a phone/tablet in their hands playing games and watching cartoons? Those are not too bad if you find some entertaining AND educational things for them to do. However, they do tend to spend most of their time sitting… But moving around if so essential for them! That's where easels come in – as they make kids stand up and use their legs! (read in the next subtopic why it's so crucial).
Secondly, an easel is a great creative space where you can store all the needed art materials! You can think about it as an office for your kid. When children come up to it, they know exactly what they are here to do – CREATE! And having them at a desk requires an additional collection of materials from a variety of places, and a mess of all the markers, paints, water buckets and crayons laying around. (+ no more drawing on your walls hurray!)
Finally, let's not forget the creative aspect of things. There is this rule you might be familiar with – to get good at something you need to spend at least 10 thousand hours doing it. Having an easel your child can go to at any time will only inspire them to create whenever they are looking at it, which results in more hours spent of their childhood exploring/interpreting the real world and sharing it through their art. This will give a huge boost to their future creative development!
Benefits Of Using Easels
There are many reasons as to why you should get your child an easel, but let me just cover the ones that I think stand out the most:
Standing prevents dysfunctions that later translate into back/neck pain as well as knee and hip disorders;
Kids love drawing on vertical surfaces, and if they have an easel to work on – your walls are safe;
Physical activity results in better cognitive functions (that is why standing desks are getting more and more popular with every day);
Kids are more engaged and learn better while standing (just like adults);
Children love moving around, it makes them happier – and they will move if given the opportunity;
Easels prevent the rounding of the upper back (since the head is not being constantly bent down to look at a paper at a regular desk);
Easels give your kid so much working space to show off their creativity;
Gives an ability to work using shoulders and not just the wrist;
Did you know that sitting is equivalent to smoking due to its risk of shortening ones' life?
So let's make sure our children have all the best creative tools in hands, while also protecting their long-term health!
Top 5 Best Easels For Children
I browsed around the internet, read a lot of reviews from parents, and decided on these 5 easels your kids will love :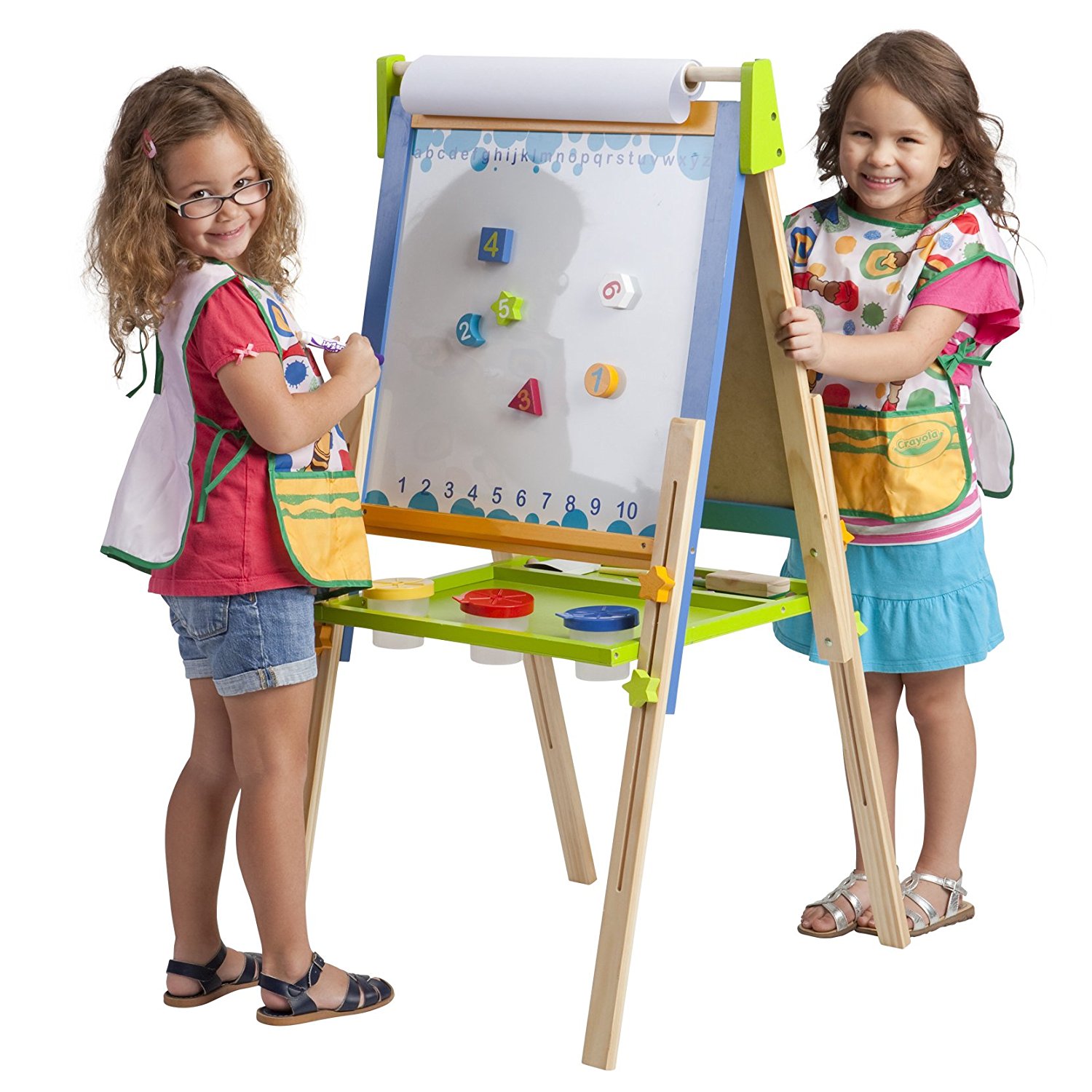 Qualities:
Adjustable easel with accessories;
Includes a 16.5″ paper roll, 6 magnets, 3 paint cups, multi-color chalk and a dry-erase marker;
14.5 pounds weight;
For kids 3 years and older.
Pros:
Double-sided: chalkboard on one side, magnetic board dry-erase on the other; and an additional paper roll for painting;
Certified and Safe – Greenguard[Gold]
Adjustable height 36″ to 49″.
Easy to assemble;
Can be used by 2 kids at the same time;
Has a storage tray with 3 slots for paint cups;
Magnetized – so the paper can be secured with magnets;
Cons:
Some assembly required using a screwdriver;
Some people had a bubble on the whiteboard (in case of such a manufacturers defect just get it replaced asap)
Read Reviews From Parents Here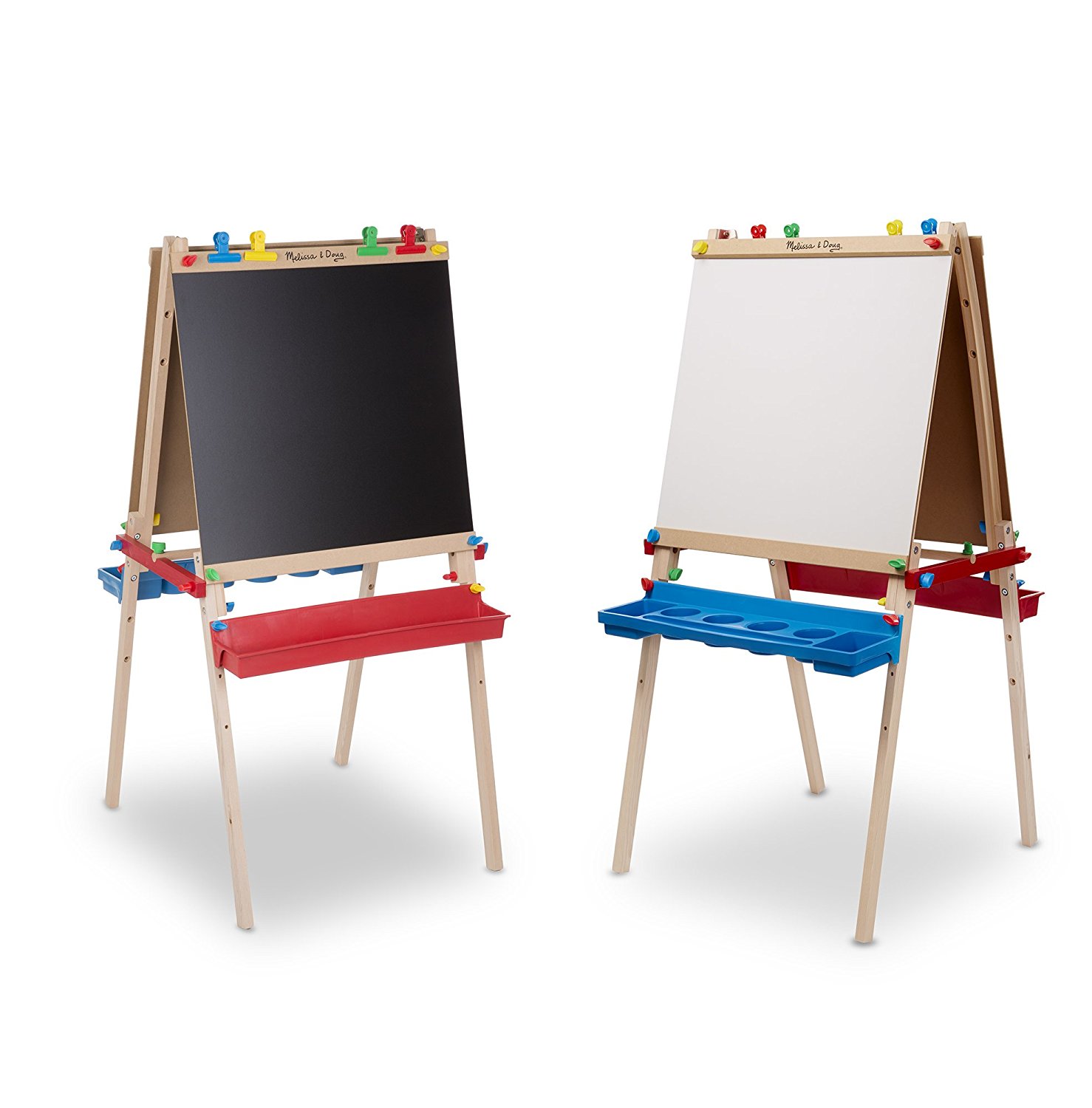 Qualities:
3-in-1 Dry-Erase Board, Chalk Board and a Paper-Roll Holder;
Wooden frame;
14 pounds weight;
For kids ages 3 and up.
Pros:
Folds flat, and therefore is easy to store and transport;
2 children can play at the same time;
Allows for experimentations with different media;
Includes 4 clips to help keep everything in place;
Comes with a tray for always-ready supplies safekeeping;
Height is adjustable;
Long-lasting.
Cons:
Paper (18-inch paper roll), paints, brushes, cups and chalk have to be bought separately;
A few people commented on how it was hard to assemble;
Some reviewers mentioned that the wood seems thin.
Read Reviews From Parents Here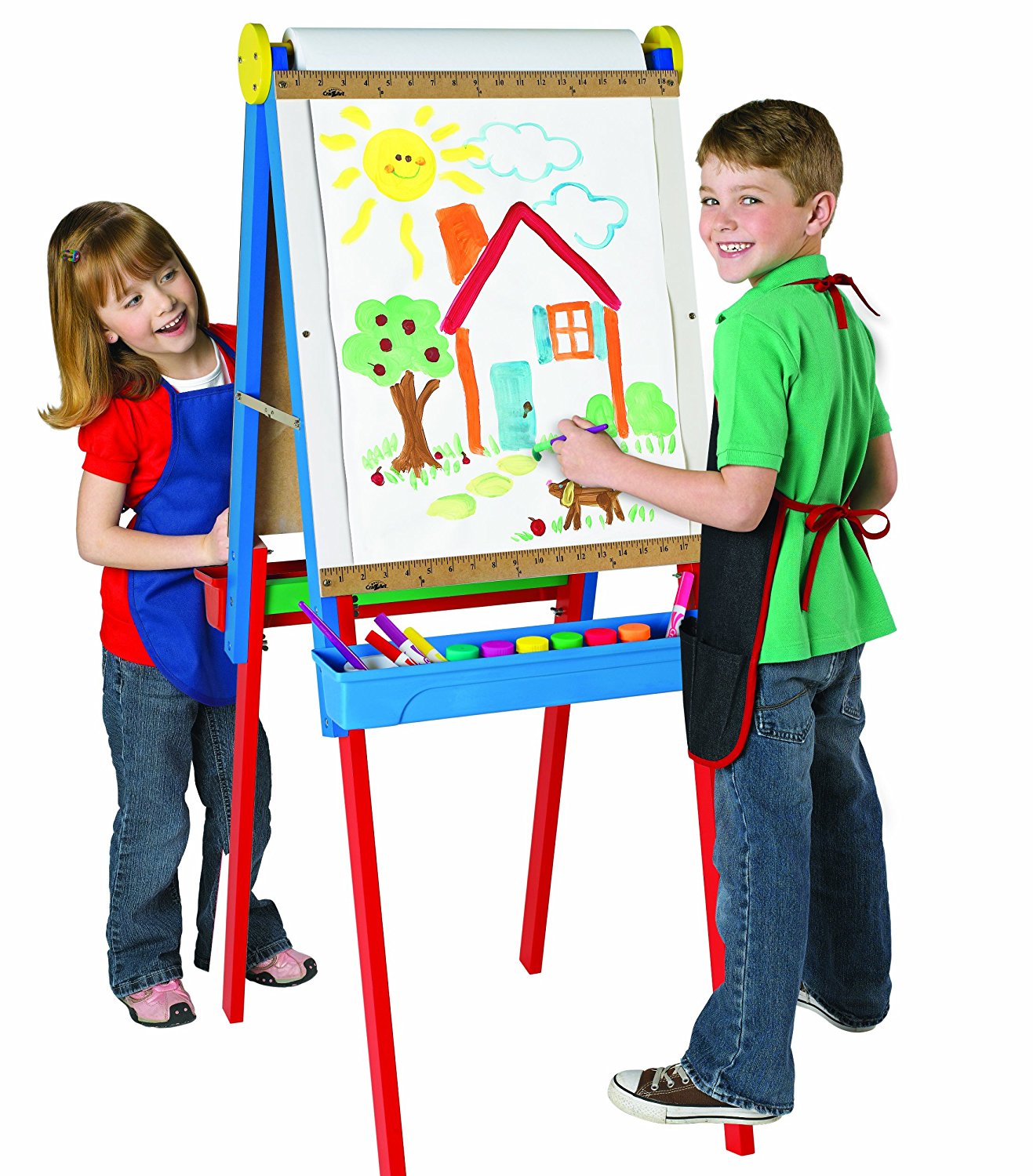 Qualities:
Ages 3+
Dry-erase board on one side, and a chalkboard on the other side;
Weight: 10 pounds.
Pros:
Includes a 35 ft paper roll;
2 washable trays for supply storage;
Adjustable height;
Fast and easy assembly;
Both boards are very easy to clean;
The wooden frame is very sturdy;
Amazon's choice for "art easels for kids".
Cons:
Some people were missing a couple of screws, rulers and instructions (not all a once, but rather in separate purchases – packagers fault).
Read Reviews From Parents Here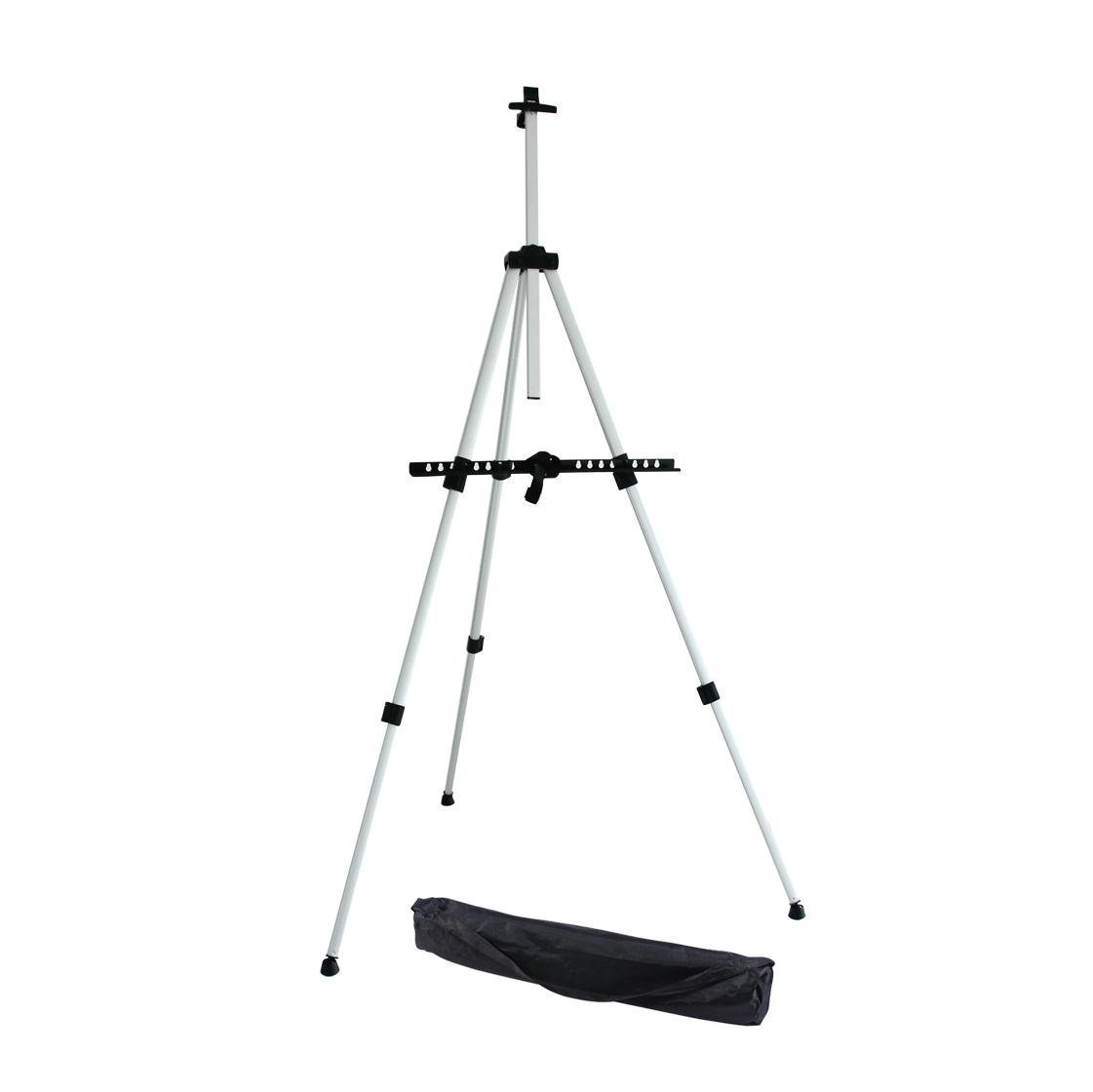 Qualities:
1.9 pounds weight (the lightest out of the 5);
Made out of high-quality lightweight aluminum alloy;
Pros:
Adjustable height: 21″-66″;
Can be used by the kid ad the parent – as it works great on the floor, as well as a tabletop easel;
Has a spring-loaded top clamp to secure canvas in place;
Angles are also adjustable;
Portable – folds to 21″ for easy storage and carrying;
Includes a bag;
Can paint on canvases as large as 30″ by 30″;
#1 Best Seller on Amazon in "Kid's Easels".
Cons:
Will only entertain 1 kid at a time;
Supplies for working have to be purchased separately;
Some people had trouble with assembly.
Read Reviews From Parents Here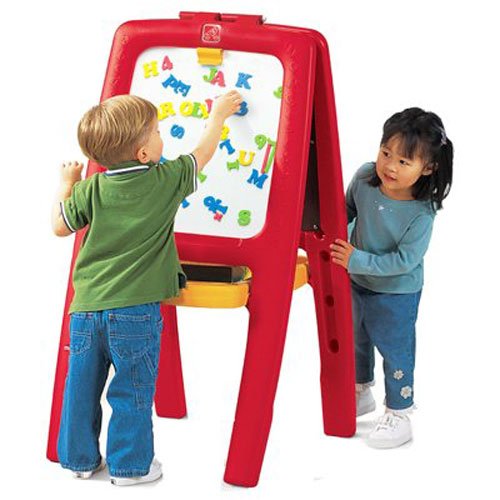 Qualities:
Chalkboard on one side, and a dry-erase board on the other;
Includes paper clip on either side that can hold craft paper;
The weight of this easel is 17 pounds.
Pros:
Includes 77 foam magnetic letters, numbers and signs;
Can be used by 2 kids at the same time;
Has a middle storage area where your kid can store their art supplies – and it is easily accessible from both sides;
Extremely easy to assemble even without a manual (however, it comes with a printed manual, as well as the online version available for download);
Easy to store by folding both sides together;
Amazon's choice for "kids easels".
Cons:
Art supplies (chalk, markers, dry-erase) have to be purchased separately;
The height is not adjustable;
Read Reviews From Parents Here
With an easel like any of these 5 your kiddo is ready to explore this world with a variety of colorful art supplies – everything will always be ready for them to just go and start creating!
The artistic freedom is so important to them, as it is one of the most powerful and effective ways to explore their emotions, try to work out how to put a 3-D world into a 2-D space and just fool around in a fun and creative way.
Who knows? Your child might be the next Picasso out there 😉
I hope the list of Pros and Cons was helpful to you!
In the comments below please let me know what other products you would like to get, but don't know which ones are the best? 😉
Oh, and don't forget to subscribe to our email list and follow us on social media if you would like to read our future posts!
Good luck on Your Art Path,
– Anna, Your Art Bud 😉
Blog Posts to check out next → " 14 Best Figure Drawing Books For Beginners "
and → " 36 Best Artist Sketchbooks To Buy In 2018 "