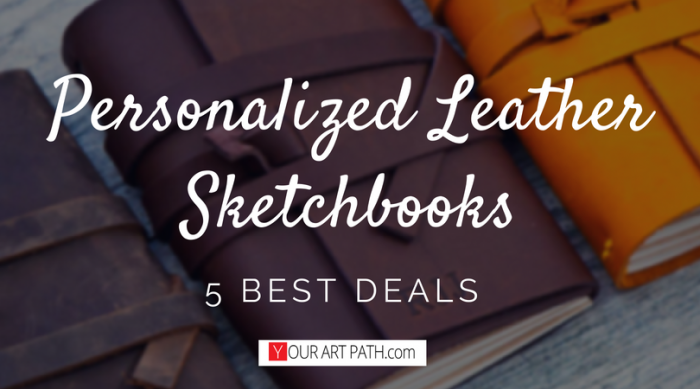 A personalized leather sketchbook is an awesome gift for any occasion for someone special, or for yourself.
You can fill it up with your beautiful drawings, thoughts, notes, food recipes, poems, goals and even phone numbers – the options here are limitless 😉
What I really like about this personalized sketchbook idea is that it makes it truly one of a kind, and not just on the inside, but on the outside too!
And the best part is that it's leather, which gives it durability, and this mysterious old-style look, don't you think?
5 Best Personalized Leather Sketchbook Deals
Personalized Leather Sketchbook by ForestNine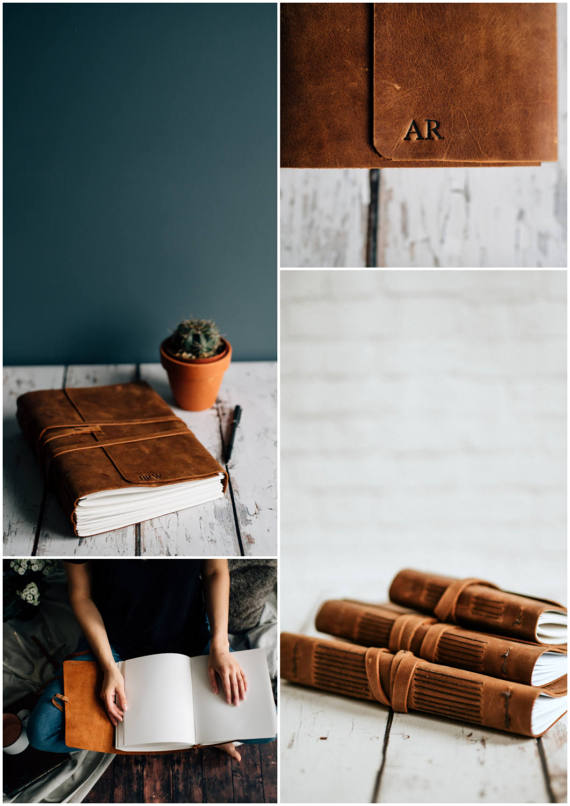 Their sketchbooks are made with tough rustic leather (that is so pleasant to the touch) and the pages are hand bound to your unique cover that can be customized with a monogram.
The journal comes with 180 pages (you can select what paper you prefer: blank, lined, waterproof or recipe), and is available in these sizes:
▸ 6×4 Inch
▸ 5×7 Inch
▸ 6×8.5 Inch
▸ 8×10 Inch
They also offer a couple of add-ons you can select from (for details check the description of this listing):
Extra pages
Custom Title Page
Book Mark
And the best part is, that ForestNine offers you a possibility of fully designing your journal (custom paper, thread colors, size, etc.) if you just get in contact with them.
The process of ordering is very simple:
Add the listing to your cart;
Use the drop-down menu to select the desired size;
Right below, there is a second drop-down menu which lets you select the preferred paper;
After that, you will be sent to a new page where in the section "notes" you can let them know what you would like embossed;
Choose your shipping method and you are all ready to receive the special new gift! 🙂
*Note: the process of ordering stays the same from one shop to another, so I won't repeat myself with the steps. The only difference will be some variety in the drop-down menu options.
Get Your Custom Leather Sketchbook From ForestNine
Personalized Leather Sketchbook By TealsPrairie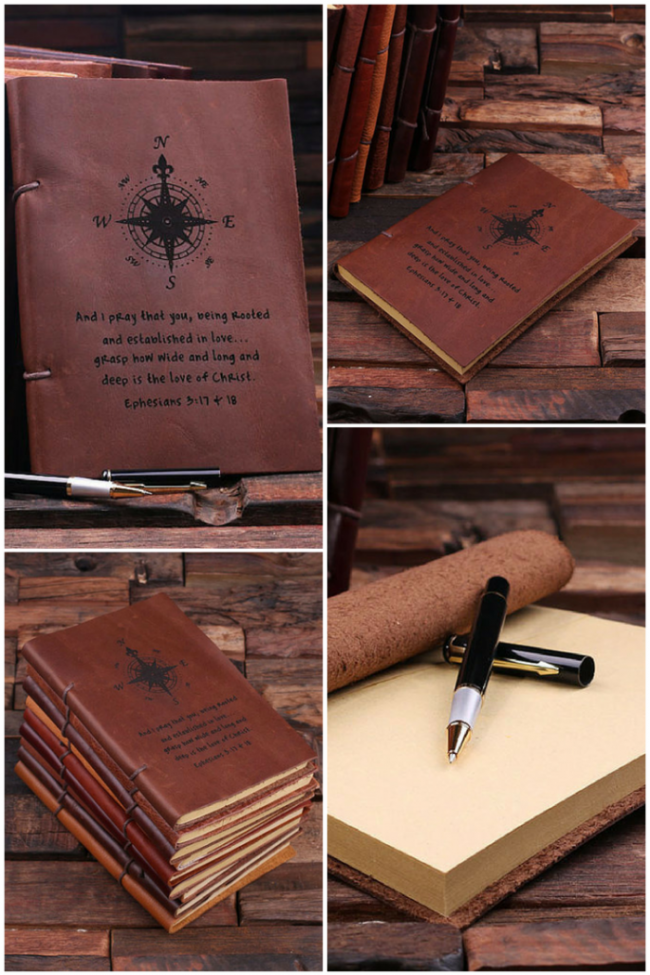 Their sketchbook is made from genuine cowhide leather.
And it comes with 100 pages of recycled paper/ craft paper.
Available in varying grades of brown color leather.
The beauty about this one, is that it doesn't have to be personalized only with your initials or a name, rather they let you make that choice yourself.
If you would like just the name – no problem. But they can also monogram your entire cover with a laser engraving of your favorite artwork, clip art, company logo or pretty much anything else you can think of!
The downside is that it comes is only one size: 7.75″ x 5.5″ x 0.6"
On the other hand, you get to design the entire front cover and make it like no one else's 🙂
Get Your Custom Leather Sketchbook From TealsPrairie
Personalized Leather Sketchbook By PortlandLeather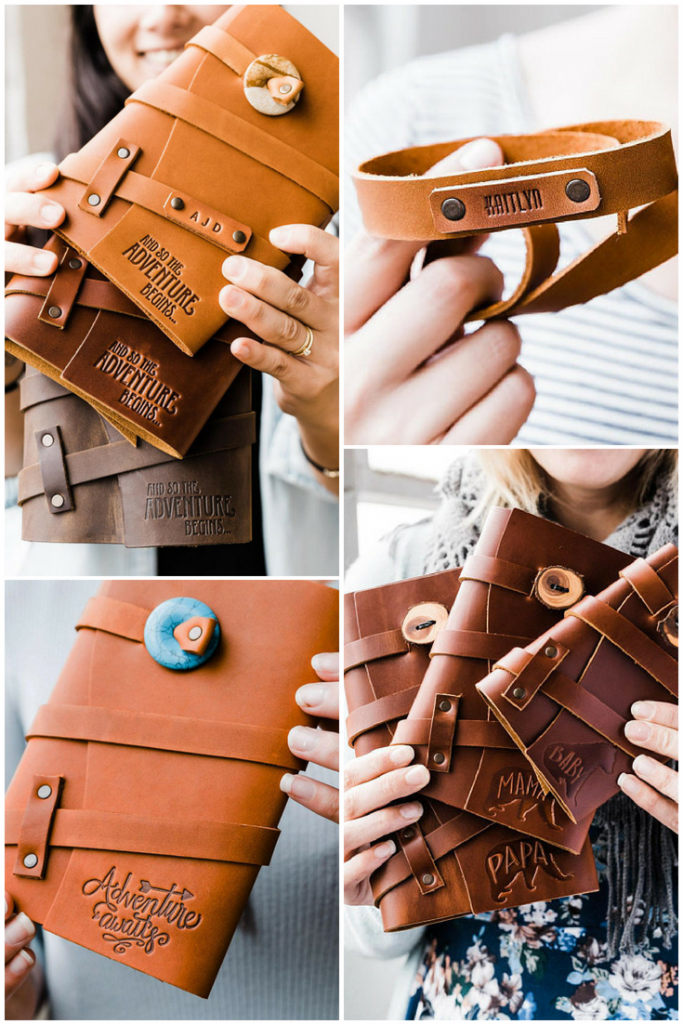 Their Full-Grain refillable leather journals are 100% hand-made in their Portland, Oregano workshop.
The cover comes in two colors: Saddle or Hickory (and both are absolutely gorgeous as you can see on the images I've included).
The sketchbook also comes with a long wrap-around strap that neatly attaches at the "clasp" and tucks into the leather slide at the bottom left.
They offer 3 sizes options: Small (6 x 4), Medium (7.5 x 5) and Large (9 x 6).
Sketchbooks include 88 pages of cream-toned archival paper.
So far so good, right? Let's take a look at their customization options.
There are 2 ways in which you can customize your journal:
You can personalize it on the back with initials or name.
Personalize it on the front (in a form of a tag) with initials or name.
Tags are a very unique way of personalization in my opinion, what do you think?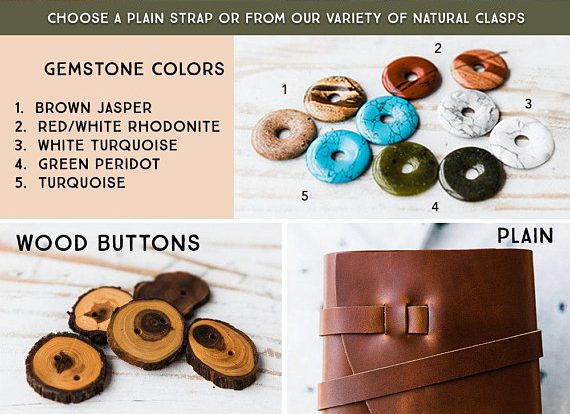 Oh, and I almost forgot – they have this other awesome option – you can pick a clasp for your journal that suits your personality!
You can choose from natural gemstones, a juniper wood button, or a simple a Plain Leather Strap.
Your call!
Get Your Custom Leather Sketchbook From PortlandLeather
Personalized Leather Sketchbook By OxAndPine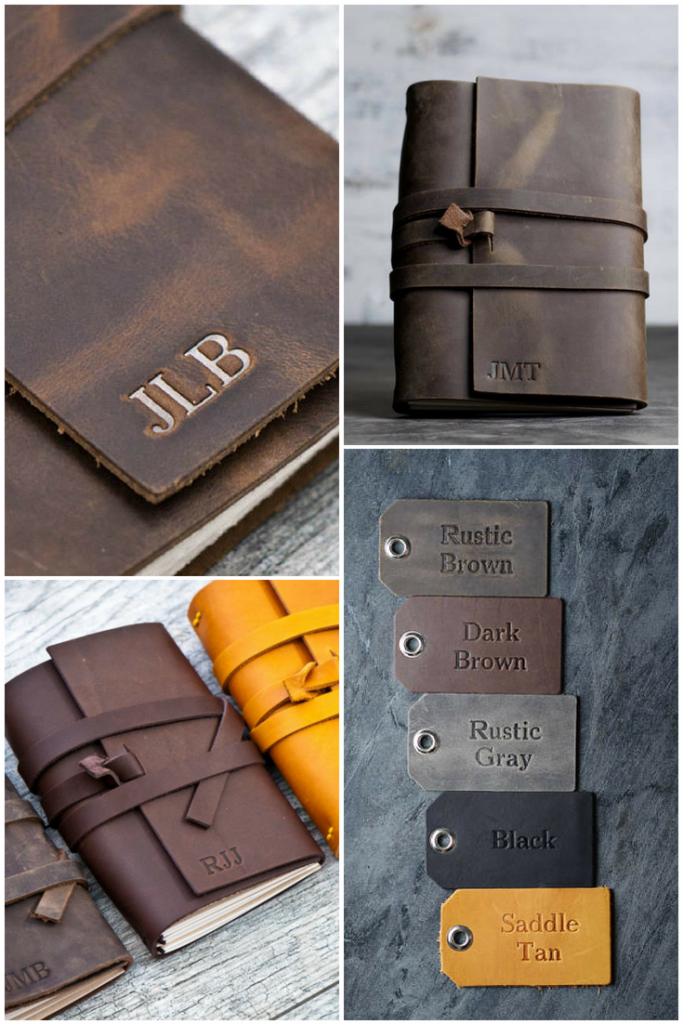 This is not just a sketchbook, it's many sketchbooks!
This refillable journal comes with and holds 4 notebooks that are 70 lb text weight, acid-free paper with a kraft paper cover, that together count to 192 pages.
It's a neat little thing if you would like to separate this sketchbook into some different topics, for example, drawing, notetaking, journaling, a to-do list of ideas, and so on.
There is an elastic wrap-around strap that keeps this notebook closed at all times, and serves as a nice addition to its design.
As for the customization, you can request for initials, name or a date to be engraved on the sketchbook.
Moreover, for the stamping, you can choose if you want it to blend in (no color stamp), or for it to have silver or gold foil effect.
Get Your Custom Leather Sketchbook From OxAndPine
Personalized Leather Sketchbook By Oldagebook
This big guy here includes 320 pages of white paper or kraft paper depending on your choosing.
It is made from cowhide leather with a personal stamp on the front of a name, initials or a date. And you also get to pick the font: "Shelley Andante BT" or "Time New Roman".
Oh, and they've got a variety of sizes to choose from:
3×4
4×6
5×7
6×8
5×8
8×10
8.5×11
So, whatever your preferred working space is – they got you covered!
The only downside is, that you will have to wait a little bit longer for this product to ship as it is coming from China. However, a little bit of patience and you have yourself a beautifully customized sketchbook.
Get Your Custom Leather Sketchbook From Oldagebook
Whichever one you decide to go with, I hope it will inspire you to create many new and beautiful things 🙂
Good luck!