For this week's interview our guest is Beatrice Blue (known as B. Blue on social media) – a visual development artist focusing on color and lighting, and Key Frame illustrations.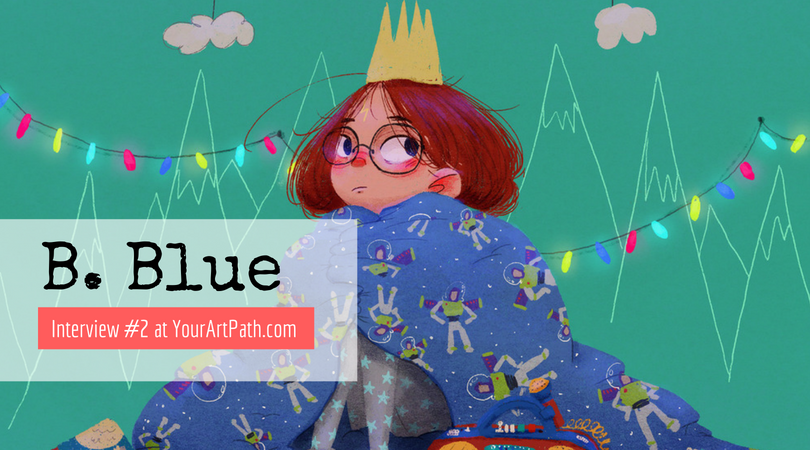 Here is where you can find out more about her:
Anna (known here as Your Art Bud): Thank you so much for agreeing to share your art story with us!
At what age have you started making art and what motivated you to keep going?
Beatrice Blue: Hi! Such a pleasure! Well, I started when I was very very little! I think I've never stopped drawing and painting since I was like 3 haha. But I guess it got serious when going to art school. I was 16 at the time.
One of the main reasons to keep going was my parents, really. They are and were always encouraging me to make the best of me and finding happiness within everything I do/make. Besides from that, another big reason was moving to NYC to study anatomy when I was 19. And my friend and teacher at the time Amaya Gúrpide. That made me get really deep into painting and drawing.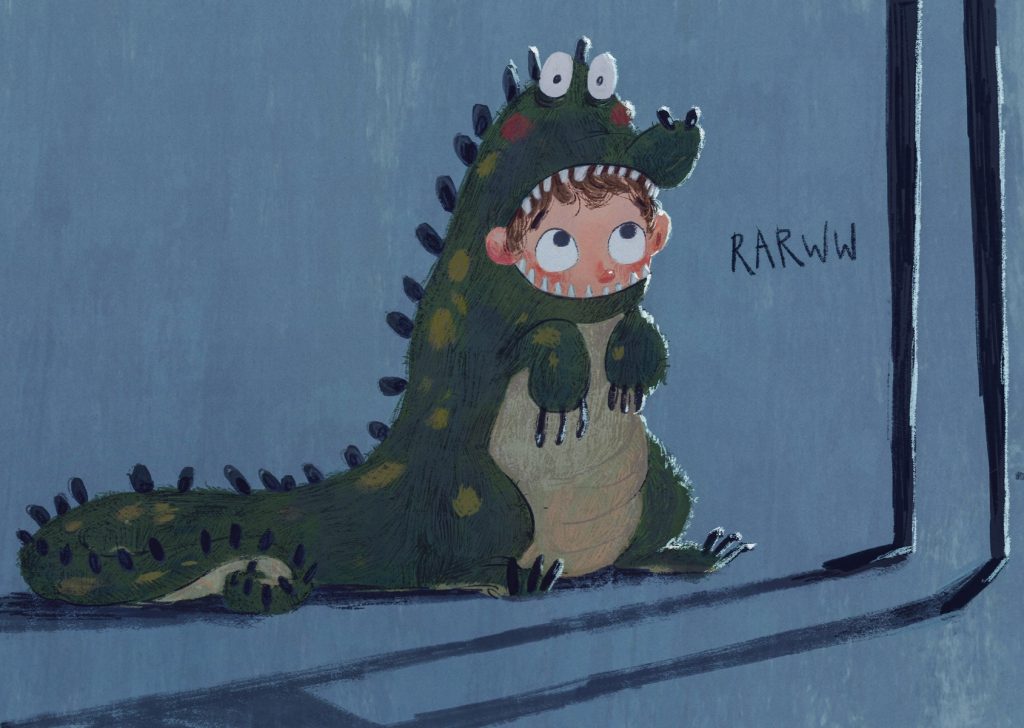 A: It's great that your parents support you – it means so much to all of us!
Have you finished any colleges/universities?
B: Well, it feels a little embarrassing but no I haven´t! I studied in Madrid for 2 years, then NYC for another 3, and then on my own. Some online courses too. But never been to a college/university.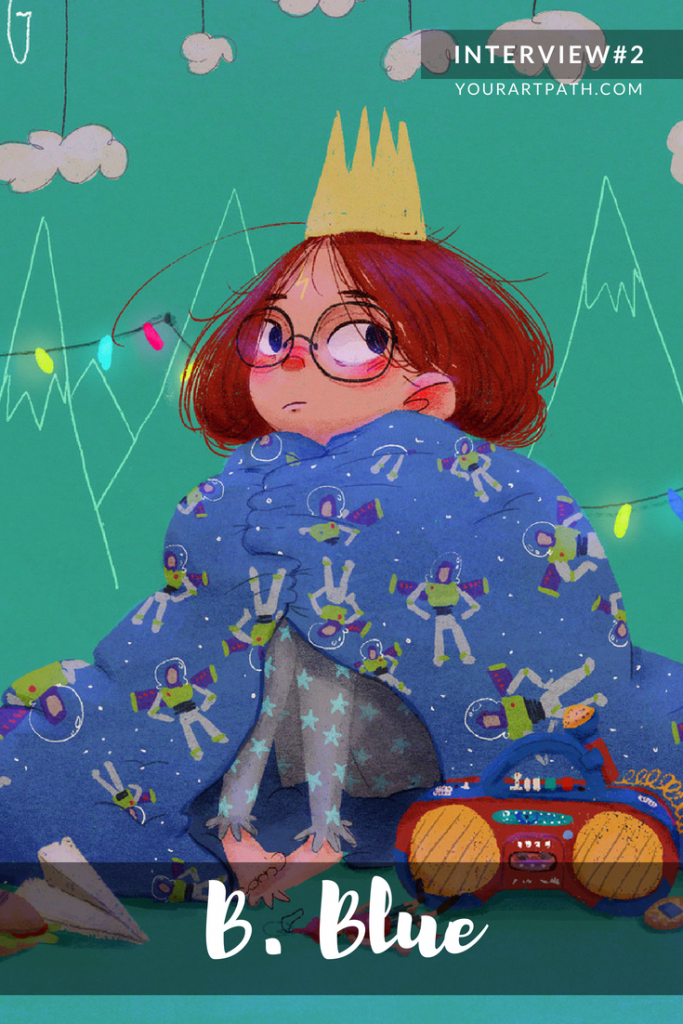 A: Ha-ha that's fine!
But do you think in order to become an artist you need to go to an art school?
B: Well, I think it definitely helps to have some sort of teacher/guide to help you develop the best of you, mostly when you first start. I believe nowadays there´s no actual need to go to an art school in order to become an Artist as long as you´re broad-minded, awake and well, disciplined haha. There are so many cool things online you can learn from and aim to.
I believe nowadays there´s no actual need to go to an art school in order to become an Artist as long as you´re broad-minded, awake and well, disciplined. – B. Blue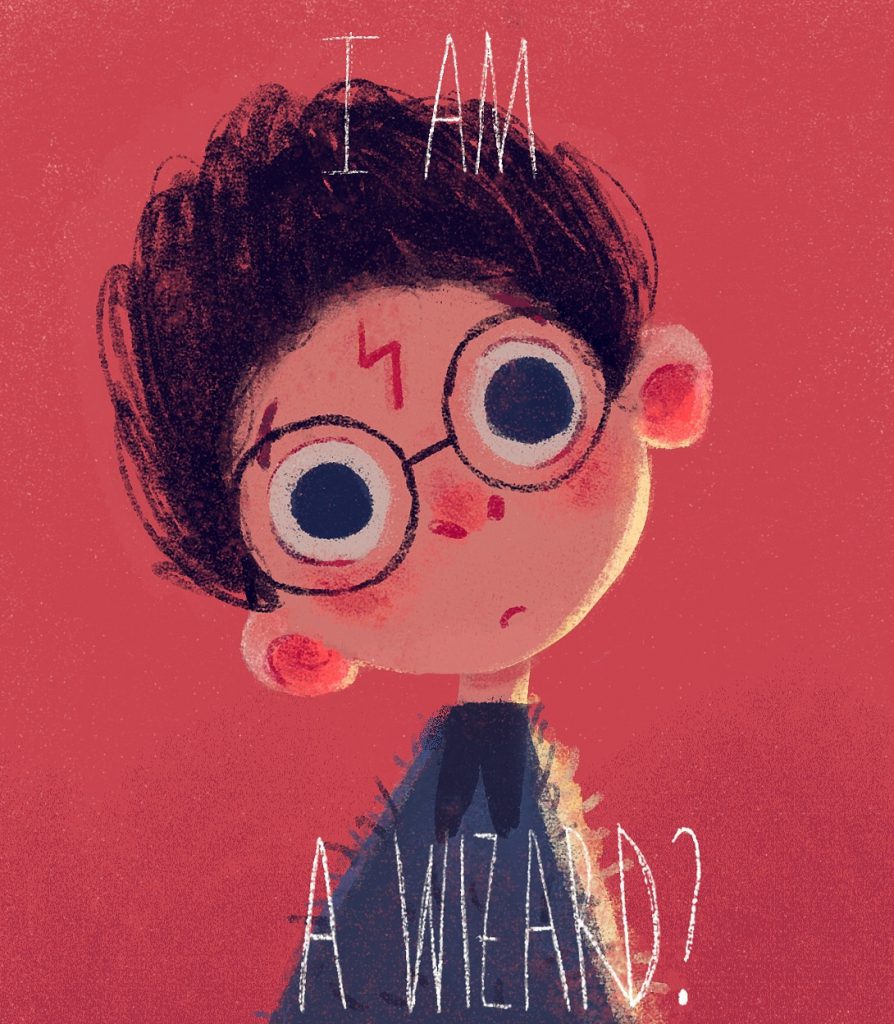 A: I always enjoy looking at your pieces! Beautiful colors and character design – soooo adorable <3! How did you develop your style?
B: Haha, you´re so sweet! It´s funny you say so. I can´t quite find a defined visual style in what I do. I wish I did! Still on the search for that 🙂 Quite the struggle sometimes! But I love to keep searching, investigate, explore and try new things. Keeps me awake and happy.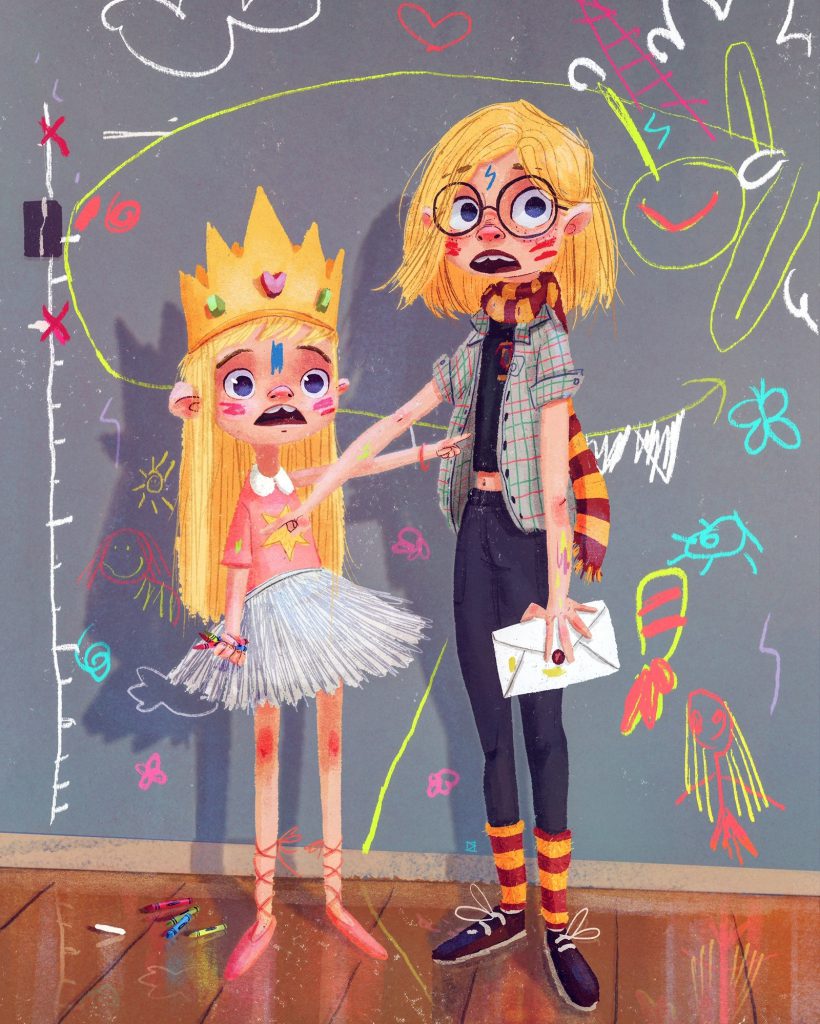 A: What are your favorite tools that you use when making art?
B: Mmm depends really if I'm home or traveling. But I really love everything! Mainly Oil painting, pencil colors, crayons, pencil, iPad Pro, and my Wacom! 😀
A: How long does it take for you to finish one art piece? And how many hours per week do you draw on average?
B:  At the moment I´m working at home and my house is by the woods, so days are mainly based on exploring and painting-drawing. I can easily spend 10 hours a day on average drawing-painting-working on new stuff. Some days more, some days a little less. But generally no less than 5-6 hours per day.
[optin-cat id=2063]
A: Having a place by the woods and having all this time to just enjoy making art – that's amazing!
For someone who just starts their art path – what tips do you have in order to get famous and start selling art?
B:  I´d say GO FOR IT. Don´t be overwhelmed (there´s so many incredible people out there) or scared, just go for it. Learn from great artists. Try, explore, fall and rise up again. Be confident. And humble too. One very important thing, in my opinion, is to value everybody´s work and giving the best of you at the same time.
Try, explore, fall and rise up again. Be confident. And humble too. – B. Blue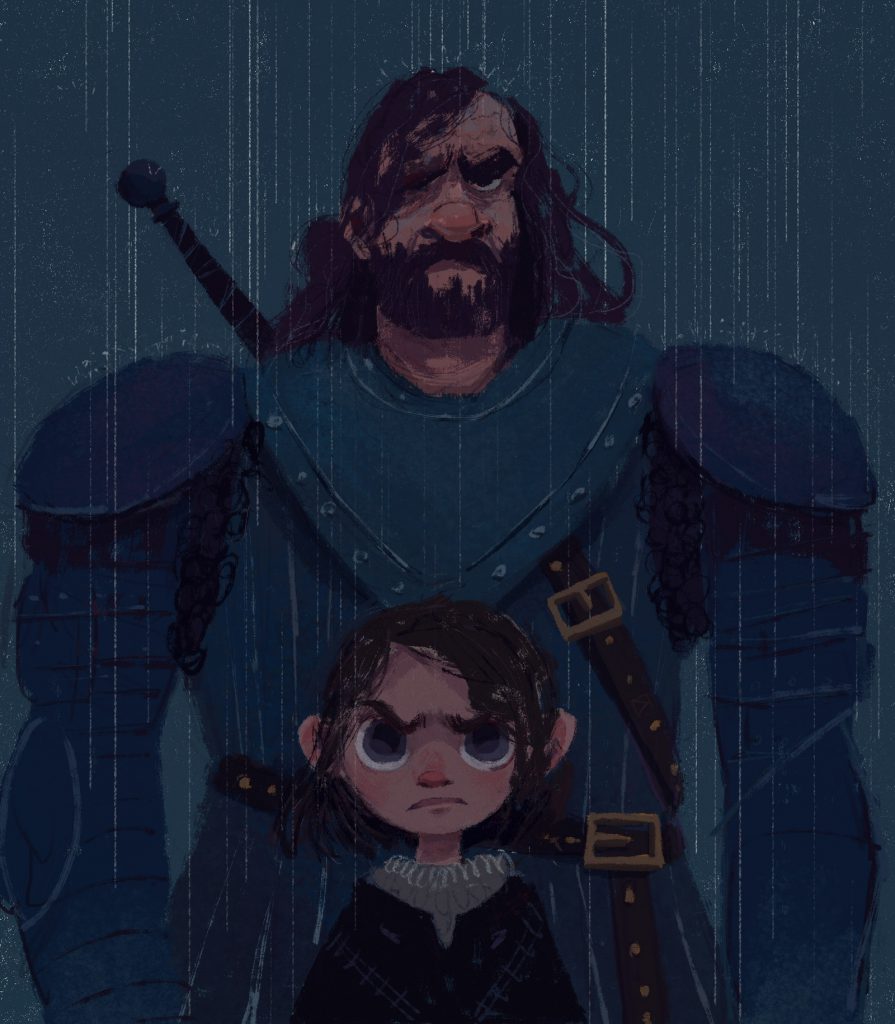 A: Who are your top favorite artists?
B: Haha, that´s a hard one! So many people!
Mmm I'm gonna say a few even though the list is so long it wouldn't fit on here:
– Dani Diez (also my husband, hagh! <3)
– Benji Davies
– Eran Hilleli
– Shaun Tan
– Guillaume Fesquet
– Mike Redman
– Robert Kondo / Dice Tsutsumi
– Clement Griselain
– Julia Sardá
– Nikolas Ilic
– Cory Loftis
– Gop Gap
– James Woods
– Mael Gourmelen
– Meg Park
– Joaquin Sorolla
– Veláquez
Oh, I could keep like this forever. I feel so bad for not putting EVERYONE I like on this list haha.
A: Definitely an inspiring list to check out!! 🙂
What is the one quote you live by?
B:  Less is more. (among many others hehe)
(Also I have a post- it's all over my desk that says: CLEAN, CLEAR, CONCISE)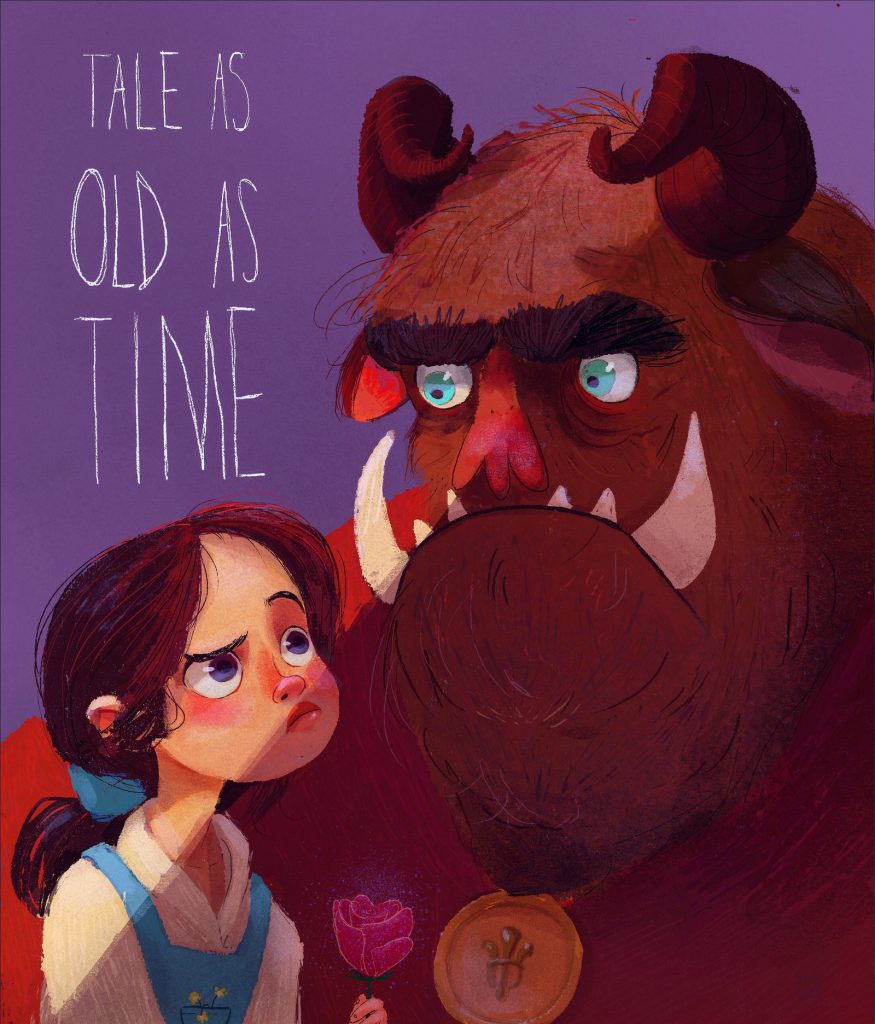 A:  Anything else you would like to share with our readers? (anything at all! It could be something motivational, some more tips or info, ideas or wishes.)
B: Never stop searching!! Never AT ALL!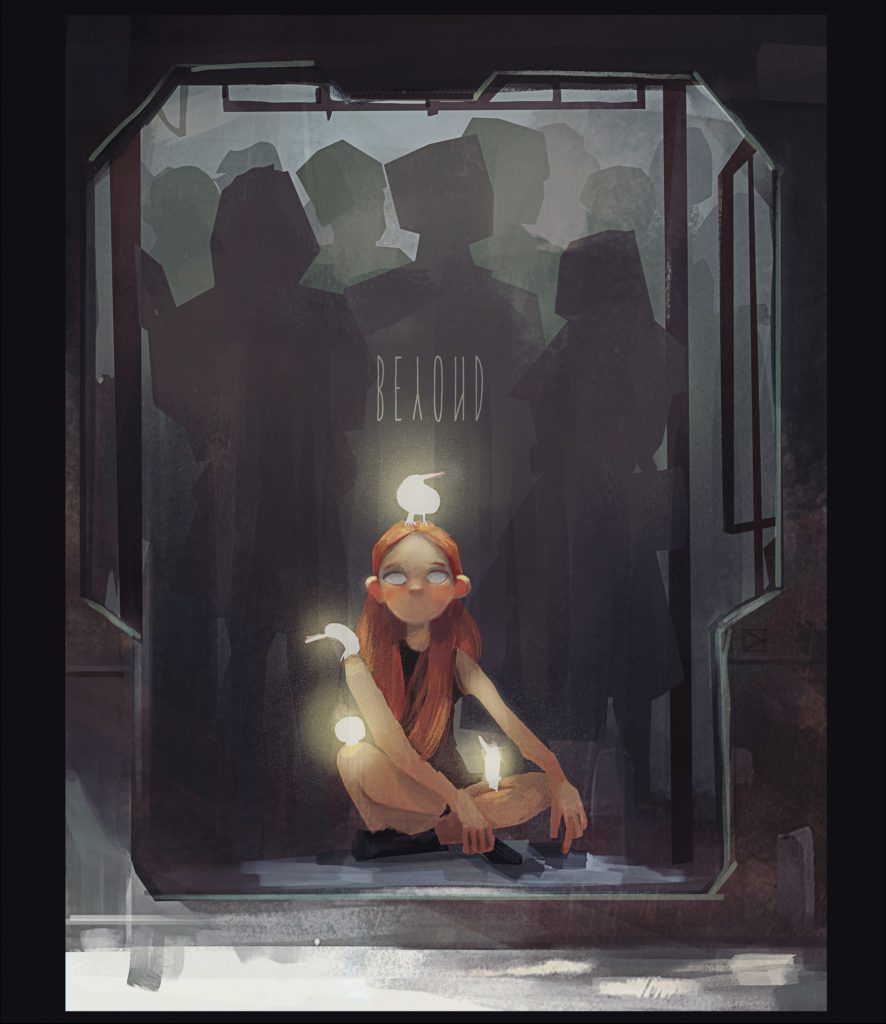 Never stop searching!! Never AT ALL! – B. Blue
Hope you guys enjoyed reading this as much as I enjoyed having this conversation with Beatrice !! Her story inspired me to go and create Art! How about you?
Good luck on Your Art Path,
– Your Art Bud!  😉

–
Check out these posts for more Art Tips, Inspiration and Motivation:
*  "Artist Interview #1 – Featuring Kevin Hong".   where he shares his art story, tips,  and inspirations with us 🙂
*  " How to Art – 7 Beginner Steps to Improve Your Drawings " for some more tips on how to get started on Your Art Path!
*  " 15 Leonardo Da Vinci Quotes " to learn from the master's ideas!
*  " Art Inspiration Weekly #1 " to get inspired by awesome contemporary artworks published every Thursday!
* " Top Oil Painting Tutorials on YouTube or 8 Steps to Learning How To Paint in Olis" to master oil painting in no time!