Get ready to be inspired by this week's featured artist – Christian Orrillo!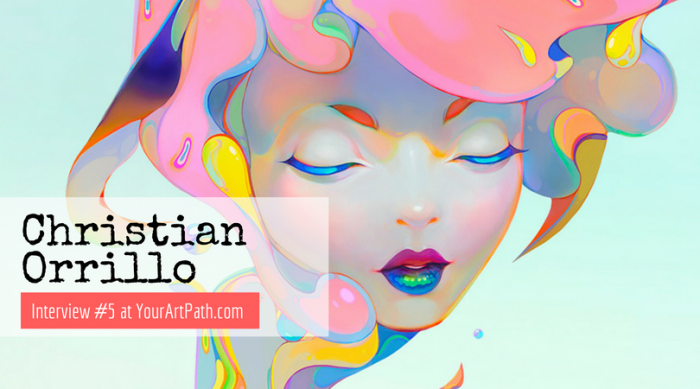 His work expresses many personal concepts related with his own fantasy world, full of beautiful characters and dream-like scenes. Surrealism and classical beauty are constant elements in his digital portraits which are embellished by an iridescent color palette, influenced by the aesthetic of the anime/manga art and pop culture.
Anna (known here as Your Art Bud): At what age have you started making art and what motivated you to keep going? 
Christian Orrillo: I remember my first drawing when I was barely 4 years old, I drew Ariel, from The Little Mermaid, I was totally obsessed with her. From that moment I haven't released the pencil and paper until now.
Throughout my evolutionary process, my family was one of my greatest motivations, as well as various references such as the Japanese culture and animation, also many books about art and biology that I used to read as a child.
If there is anything like the basis of all that motivation, I could probably mention my strong desire to continue expanding my horizons and creating my own parallel universe.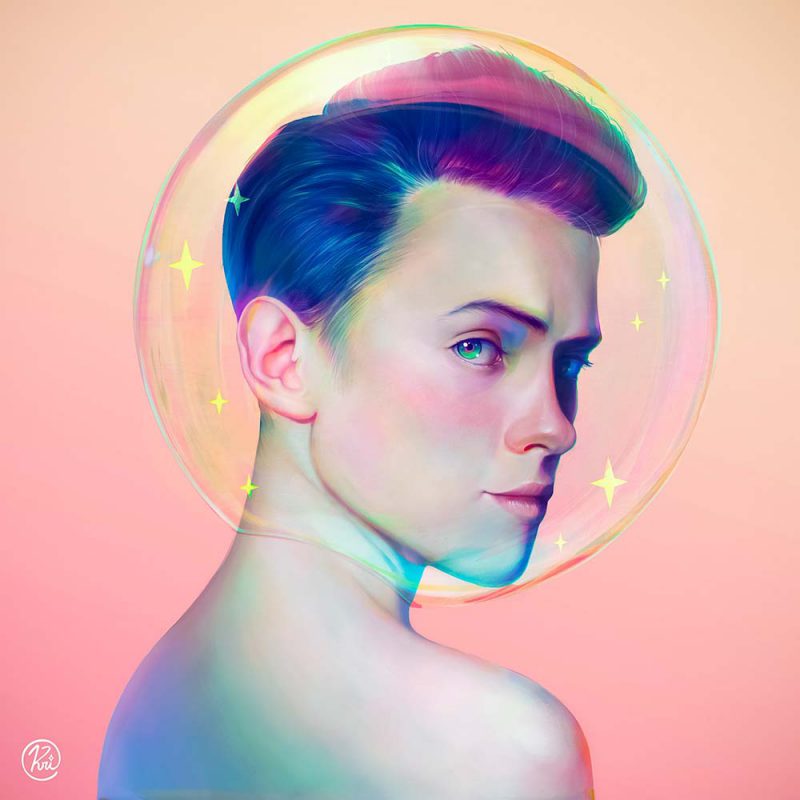 A: Have you finished any art schools? How important do you think they are? 
C: I am a completely self-taught artist, I took some very basic drawing workshops when I was younger, but I always had the feeling that I needed something more.
In spite of that, I think I have been very disciplined and constant, even perfectionist in my beginnings. I would like to know what would be different in my work if I had decided to study arts, to interact with other artists and be guided in the process by experienced professionals.
Although to be honest, I am very satisfied with my own achievements and methods.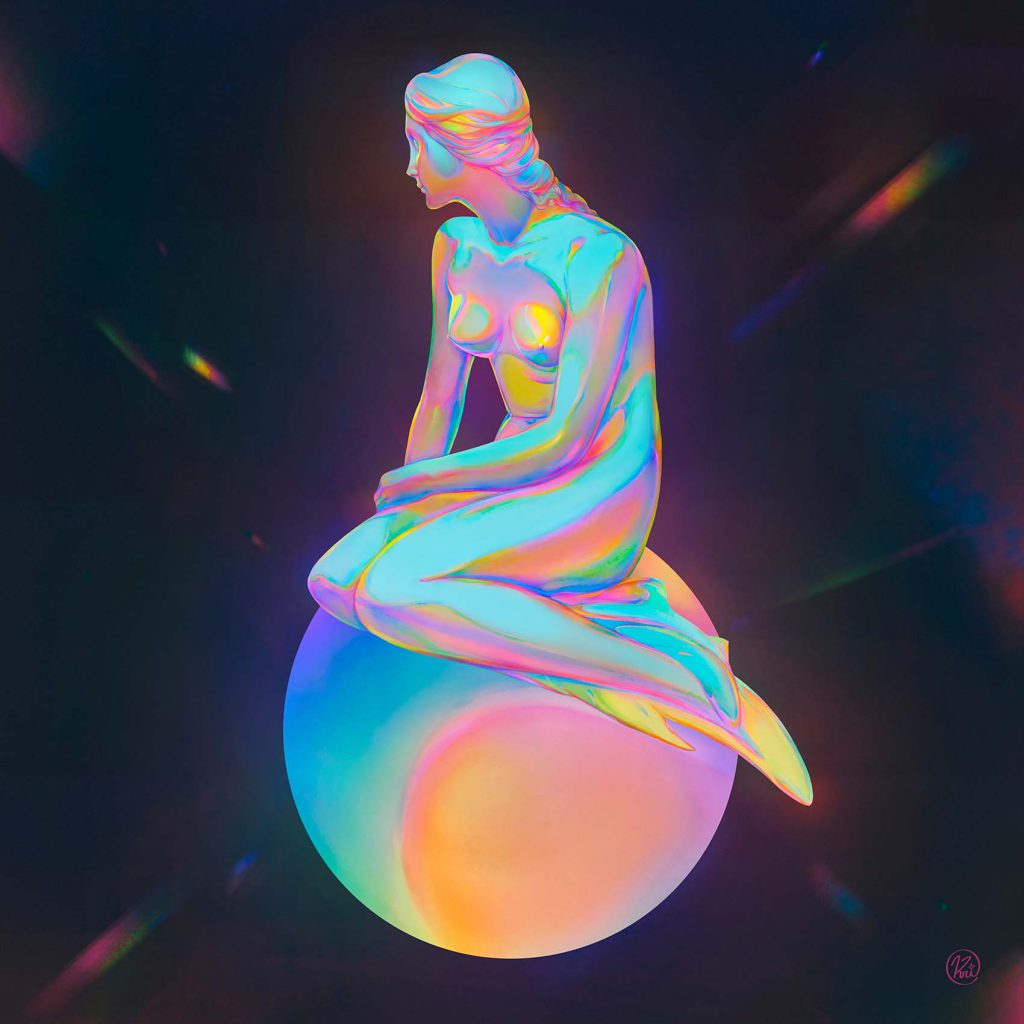 A: Do you feel happy about your current style? How did you develop it? 
C: I am absolutely in love with my current style, I still can't find the right words to describe the special relationship I have developed with my art.
The only thing I can say is that after an extensive process of changes and a search of my own voice I have made it flourish, from the colors I choose to the shapes and expressions I portrait in my work. I played a long time with my ability to "mutate" my style and adapt it to different requirements and purposes until I got to the point where I felt I had completely lost myself and was playing to be somebody else.
After I recognized how important it was to be oneself, I went through a deep introspective process until I was able to find myself. I went back to basics and I found all the elements and references that have influenced my work during these years, to finally consolidate this new concept.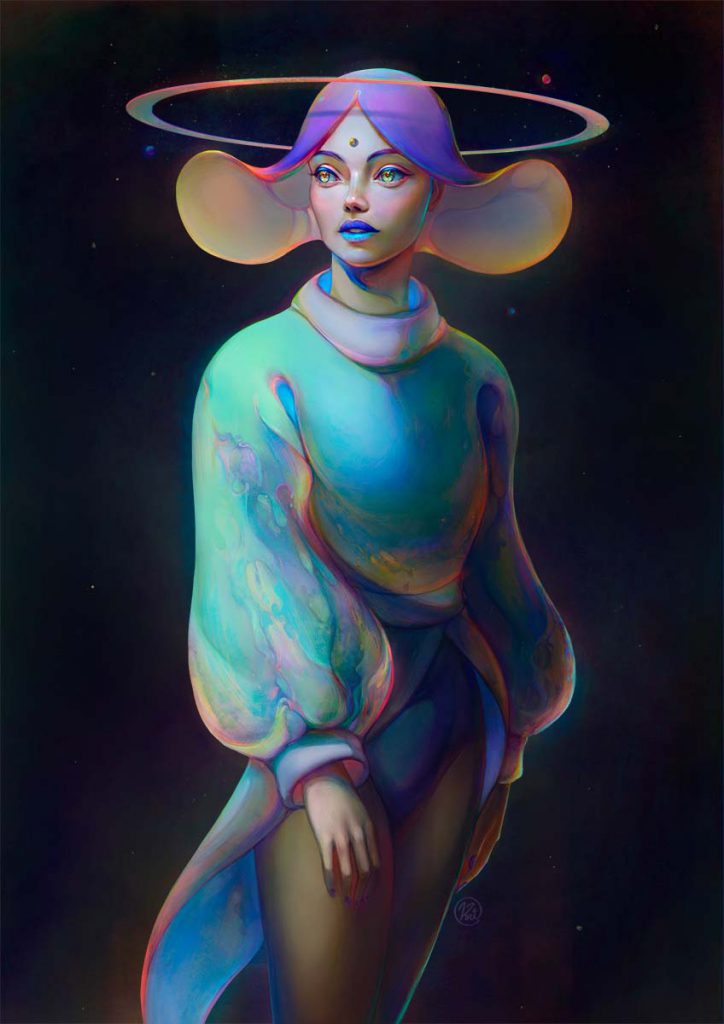 A: How long does it take for you to finish one art piece? And how many hours per week do you draw on average? 
C: It depends on many different factors, first of all, if it's a personal work or a commissioned work, whether to consider deadlines, the complexity of the work, the amount of corrections it may have and many other factors.
Usually, a work can take me a couple of weeks while I develop the concept and adjust the colors until I feel satisfied. During the week I draw approximately 5 hours a day, particularly from Monday to Friday. Weekends are to enjoy with friends, to disconnect and rest.
[optin-cat id=2063]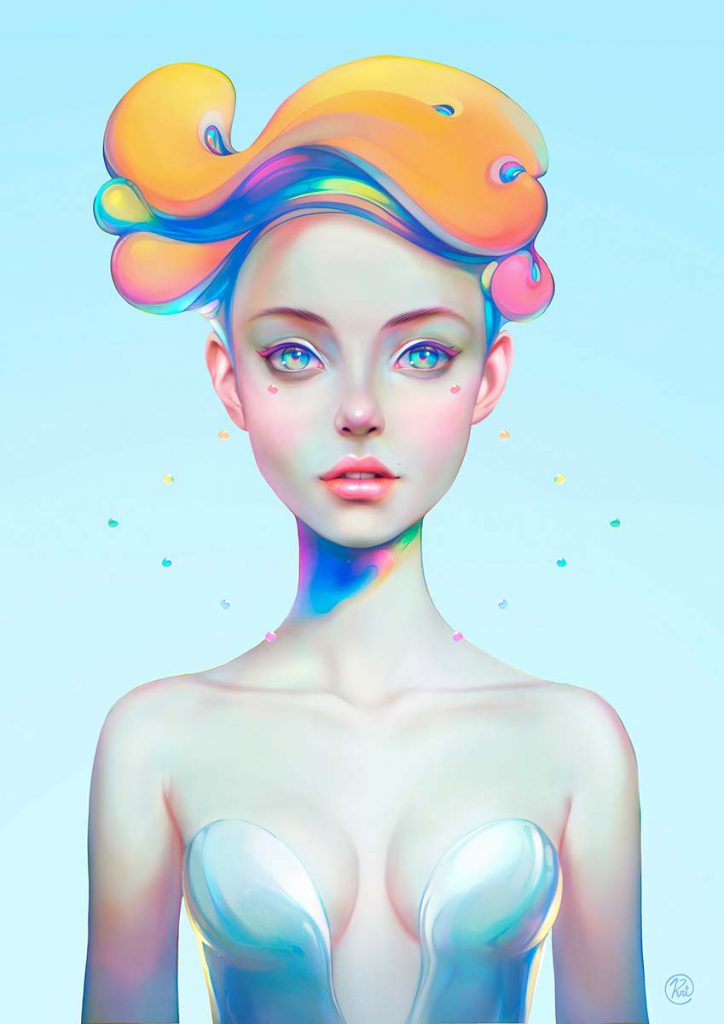 A: Do you have any tips for newbie artists on how to start selling their art or how did you sell your first art piece? 
C: I could summarize everything in two words: "Social Media". I think it's nothing new to talk about how powerful social media are and how a proper management can do magic.
But that's not everything, it is also important to recognize that we are and we offer a product in some way, and it is ideal to always think of a high-quality product, enough attractive and innovative for everyone to talk about it.
On the other hand, it is important to interact with our followers, generate a community where you can collaborate with the rest giving some advice, gifts or just being kind and grateful, we all owe our fans and our responsible management of networks.
Creating consistent and quality content in the right networks can be an important starting point for attracting future clients, and one more thing, be patient.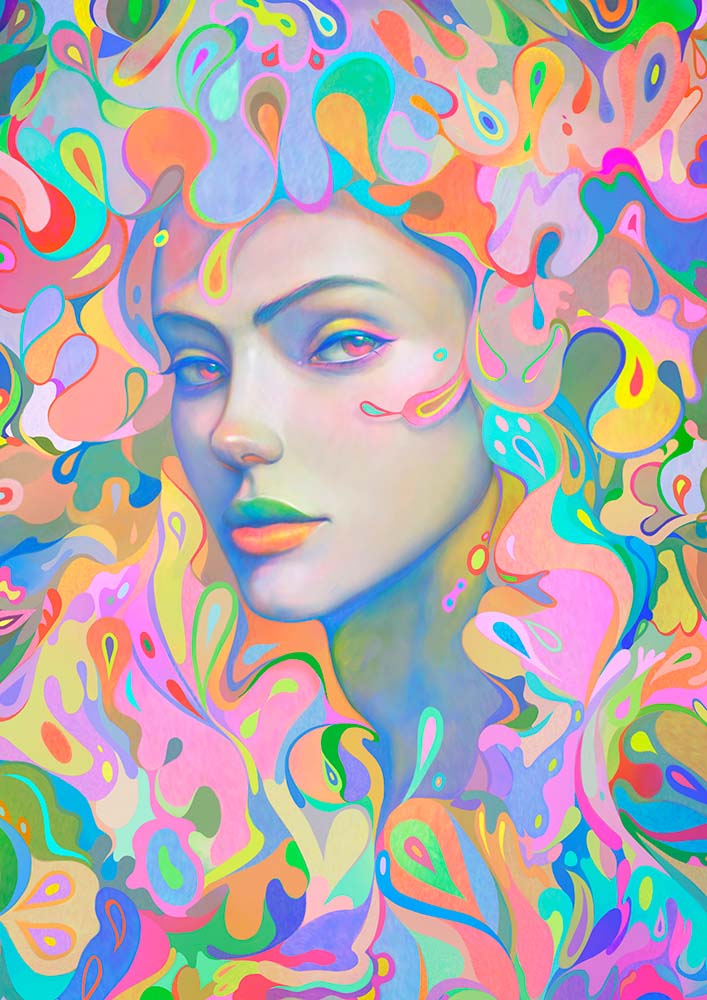 A: Who are your top favorite artists? 
C: It is very difficult for me to decide, I have been inspired by very different artists, but chronologically I could cite first of all Walt Disney, my eternal inspiration.
During my stay in the manga and anime universe, I could mention Naoko Takeuchi, the quartet CLAMP, Makoto Takahashi and Sasorigatame, artists who somehow caught my attention because of their excessive use of preciosity.
I am currently fascinated by the work of contemporary artists such as James Jean, Mark Ryden, Tsunemasa Takahashi, James Marry, Martine Johanna, Korehiko Hino, Mino Hirano, Xhxix, Hikari Shimoda, Sean Mahan, Charlie Immer, Audrey Kawasaki and an endless list of artists and wonderful colleagues.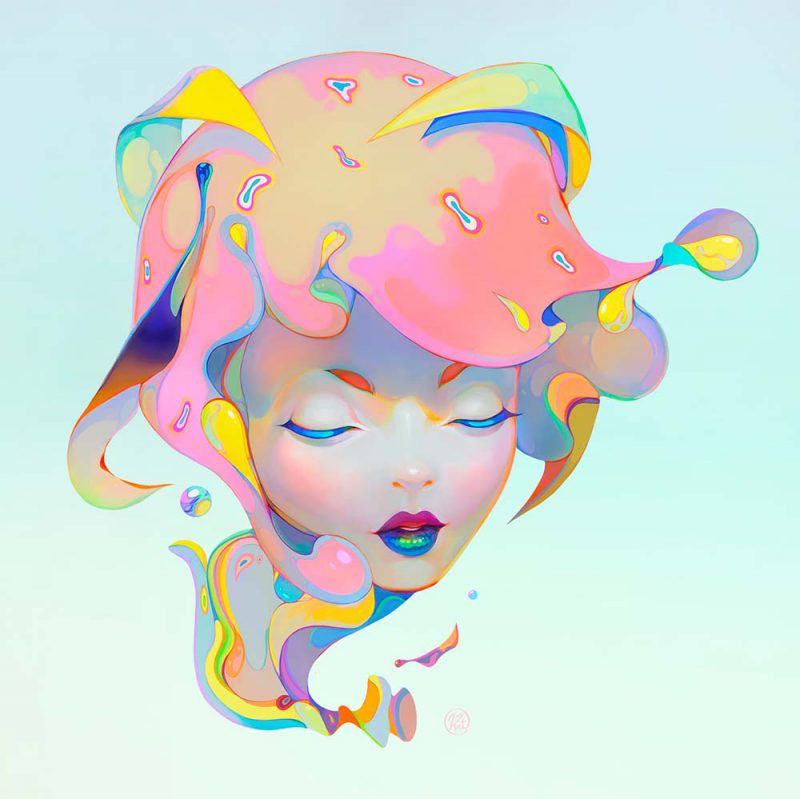 A: What is your most favorite quote? 
C: 
"Art enables us to find ourselves and lose ourselves at the same time." – Thomas Merton
A: What is your big dream for your art career? 
C: I think I still live in a dream thanks to my art, although I know that I have a lot to know, create and develop, I would love to collaborate with artists that I admire, expand my work to other disciplines such as fashion design, music, sculpture, and photography.
I feel like I'm still enjoying the start of a fantastic trip.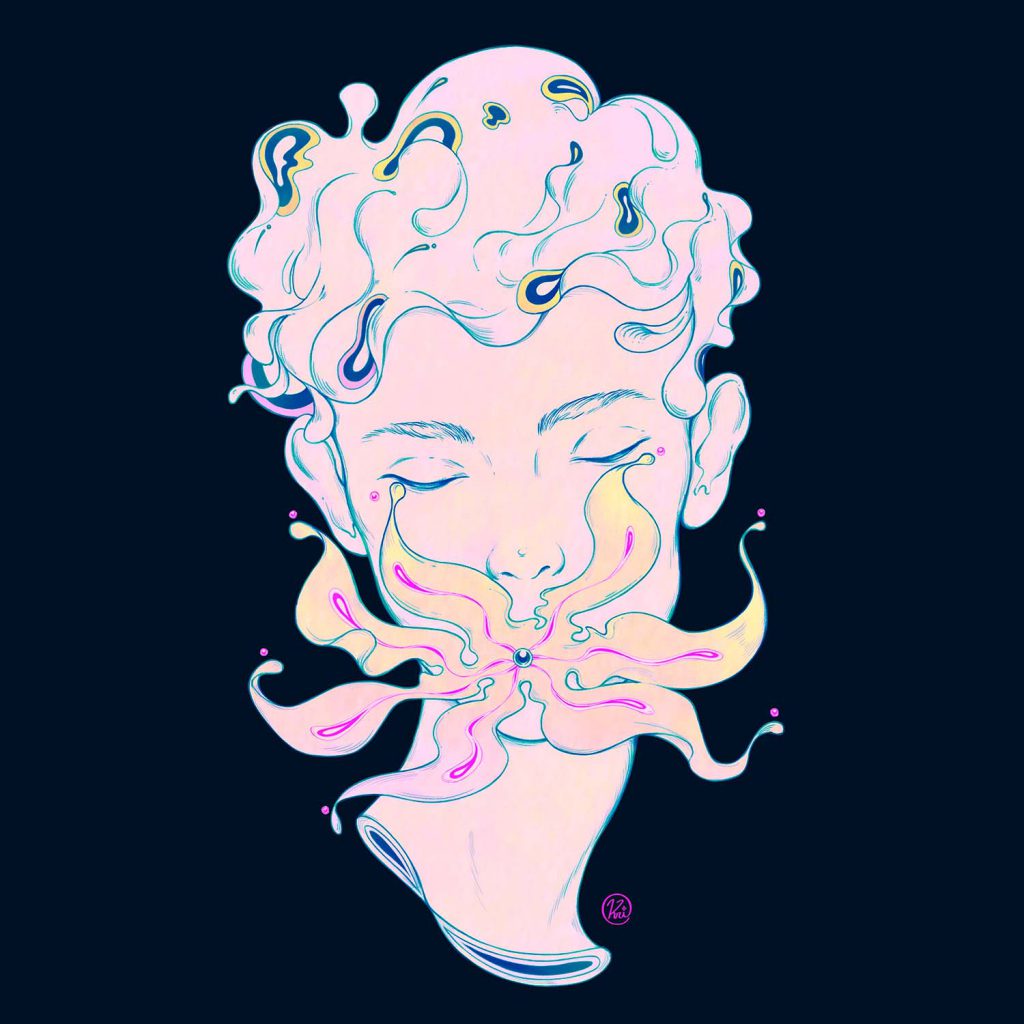 A: Where can our readers find more about you and your art?
C:
Social:
https://www.instagram.com/krizpii
https://www.facebook.com/krizpiart
https://www.behance.net/krizpi
Print Online Shops:
https://www.inprnt.com/gallery/krizpi/
Thank you so much Christian for sharing your art story with us! I'm so happy to have you here with us at yourartpath.com! 🙂
What's your favorite part about this interview and would you like to learn something else about Christian Orrillo? Let me know in the comments below 🙂
Also, check out these posts for more Art Tips, Inspiration and Motivation:
*  " Artist Interview #1 – Featuring Kevin Hong "   where he shares his art story, tips,  and inspirations with us 🙂
*  " Artist Interview #2 – Featuring B. Blue " for her story and colorful paintings!
*  " Artist Interview #3 – Featuring Agnieszka Nienartowicz " to get inspired by her art and tips.
*  " Artist Interview #3 – Featuring Daria Golab " for her insights.
*  " 14 Best Figure Drawing Books for Beginners " with a list of great resources!
*  " How to Art – 7 Beginner Steps to Improve Your Drawings " for some more tips on how to get started on Your Art Path!
*  " 15 Leonardo Da Vinci Quotes " to learn from the master's ideas!
*  " Art Inspiration Weekly #1 " to get inspired by awesome contemporary artworks published every Thursday!
*  " Top Oil Painting Tutorials on YouTube or 8 Steps to Learning How To Paint in Olis " to master oil painting in no time!
Good luck on Your Art Path,
– Your Art Bud!  😉