Name: Zipcy
Location: Seoul, Republic of Korea
Primary Media used: (ink, pencil, digital, and if digital – Photoshop)
Major projects:  [ touch]  series     http://www.grafolio.com/story/18675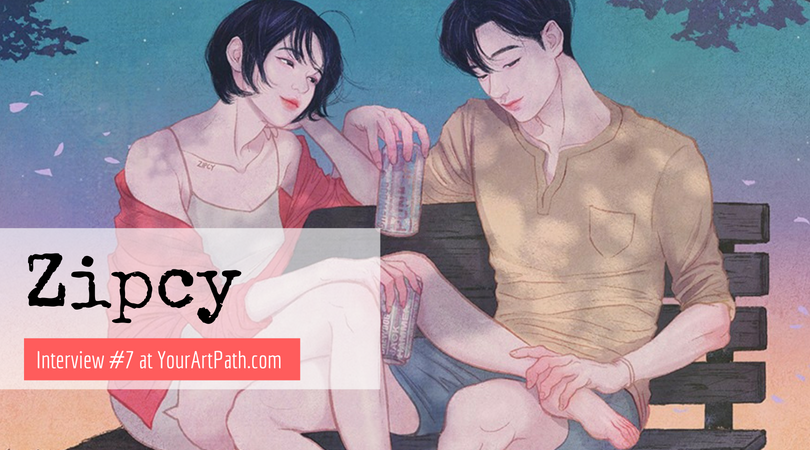 Anna (Your Art Bud): I first discovered your beautiful art pieces at Bored Panda! They wrote that you go by Zipcy but your real name is Yang Se Eun and that you're a 29-year-old artist from Seoul, South Korea. Is that correct? 
Zipcy: YES. My last name is "Yang", and first name is "Se-eun". In Asia, family name goes first. Please kindly be noted. 🙂 And I very much prefer being indicated by my author name, "Zipcy", which stands for my identity, and aim.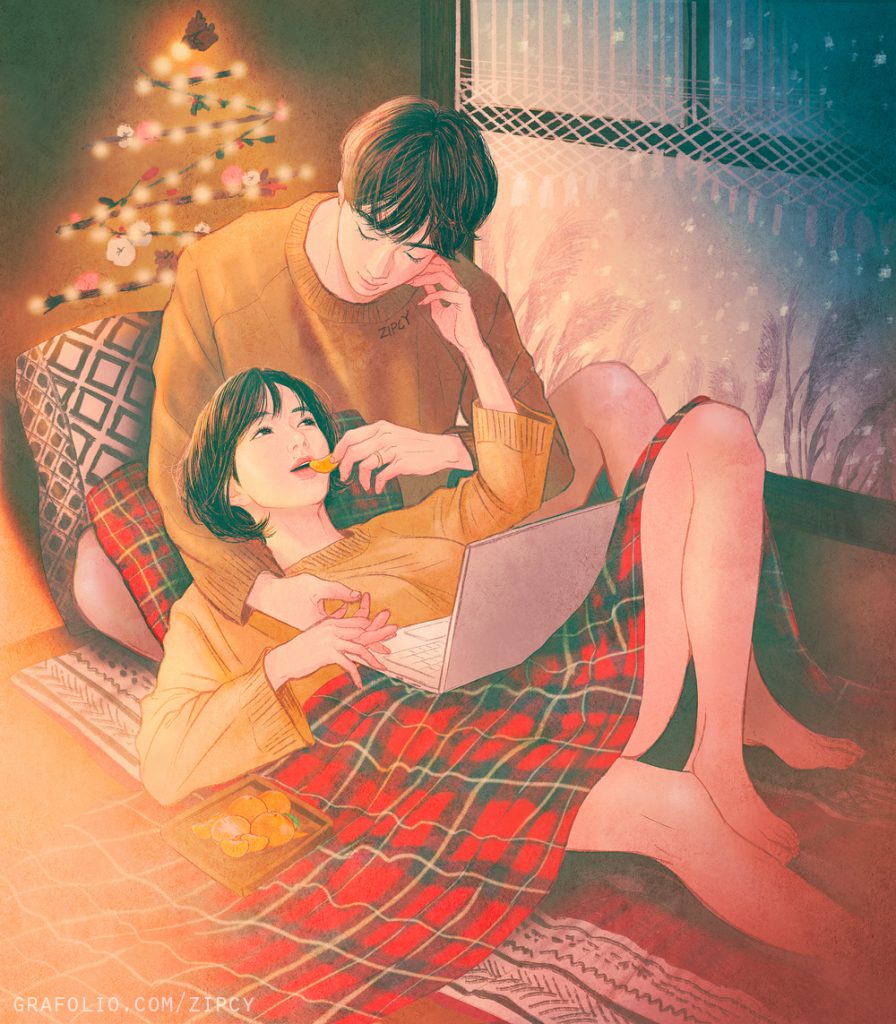 A:  How would you describe your "Touch" series? What do you try to capture with it? 
Z: "Flesh on flesh". It is never only a physical contact, nor a friction, but, in the very moment, it is something more- give you a crush, take you high, blow your mind, and make you float around. These illustrations will remind you of that moment of mysterious sensation.
Through my work, I want you to relive the moment each of you have experienced, and capture every detail of the scene and feeling of the touch. This is my intention of the series.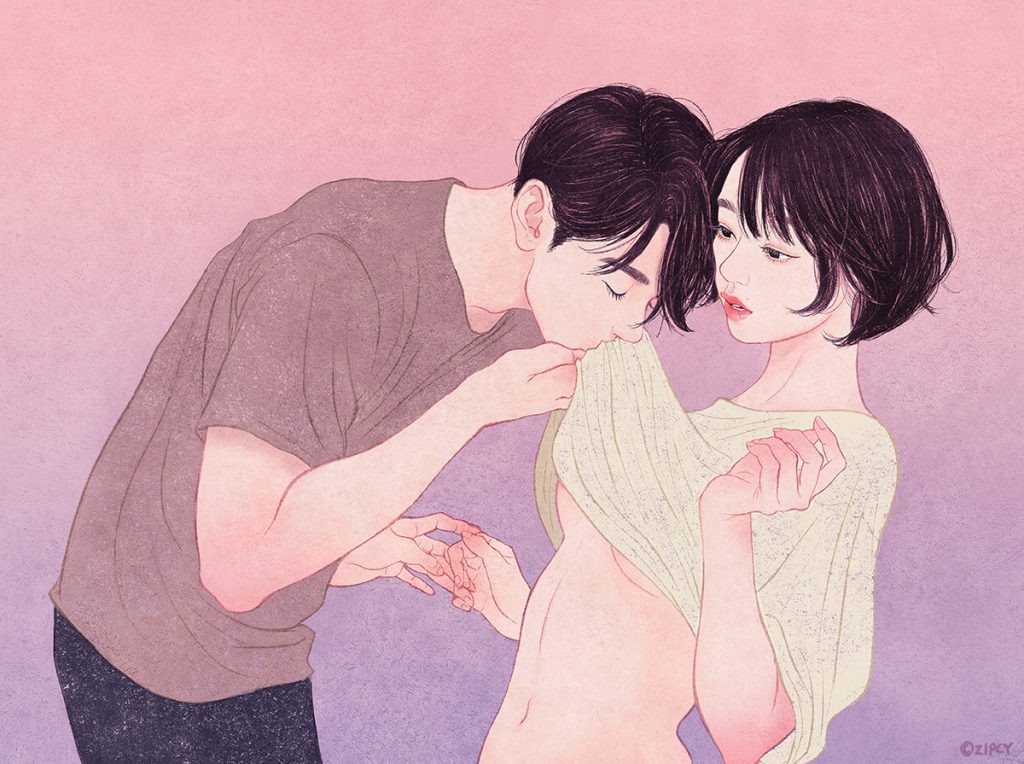 A:  Who is the man in the illustrations? Your real boyfriend? A character you made up? 
Z: The reference of the male character is my husband. Of course he doesn't look exactly the same, but my work is mostly inspired by him – hairstyle, body shape, and aura , etc.
[optin-cat id=2063]
Unfortunately, the female character is not from me, but some figure I admire.  I don't even look like her, rather I am completely opposite. That's why I'm attracted by short-haired, quiet, and mysterious women. Haha.
How the both of male and female characters look like is created from my imagination. That might be the reason they kind of look alike to each other.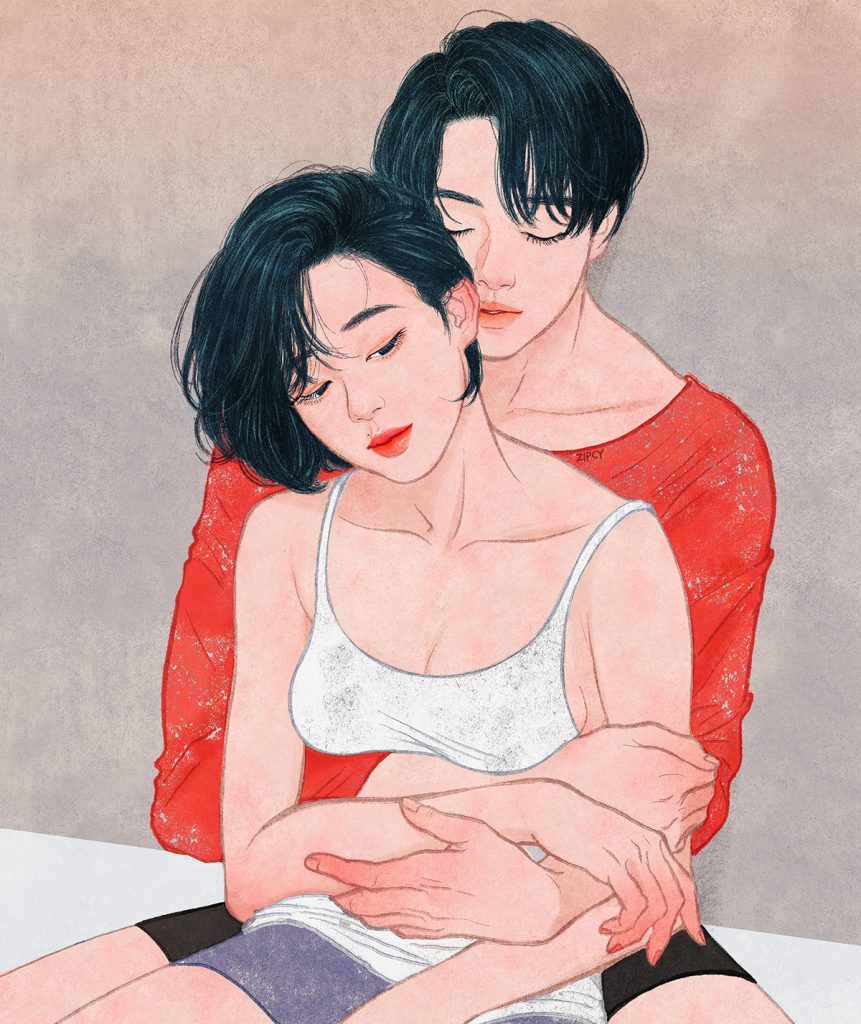 A: When did you start creating these artworks?  
Z: 2 Month ago.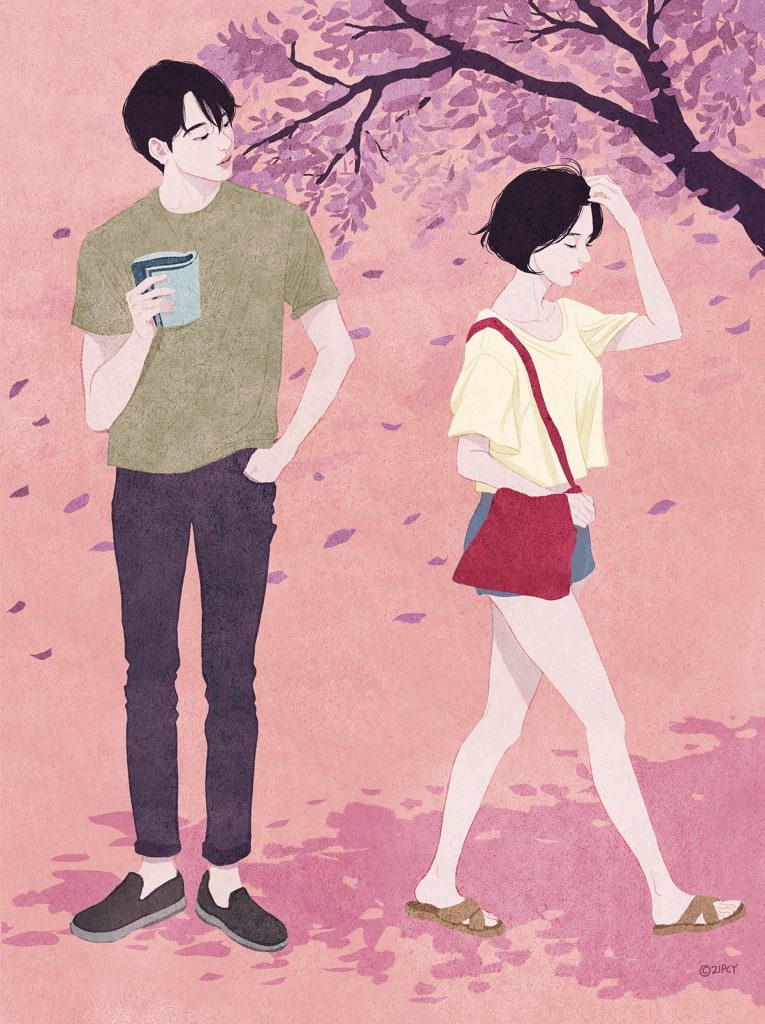 A: Are you planning to start any other artwork series? 
Z: Yes.
After this series, I will travel the world with my husband. I will capture the images of the lovers in each country and describe them as my drawings.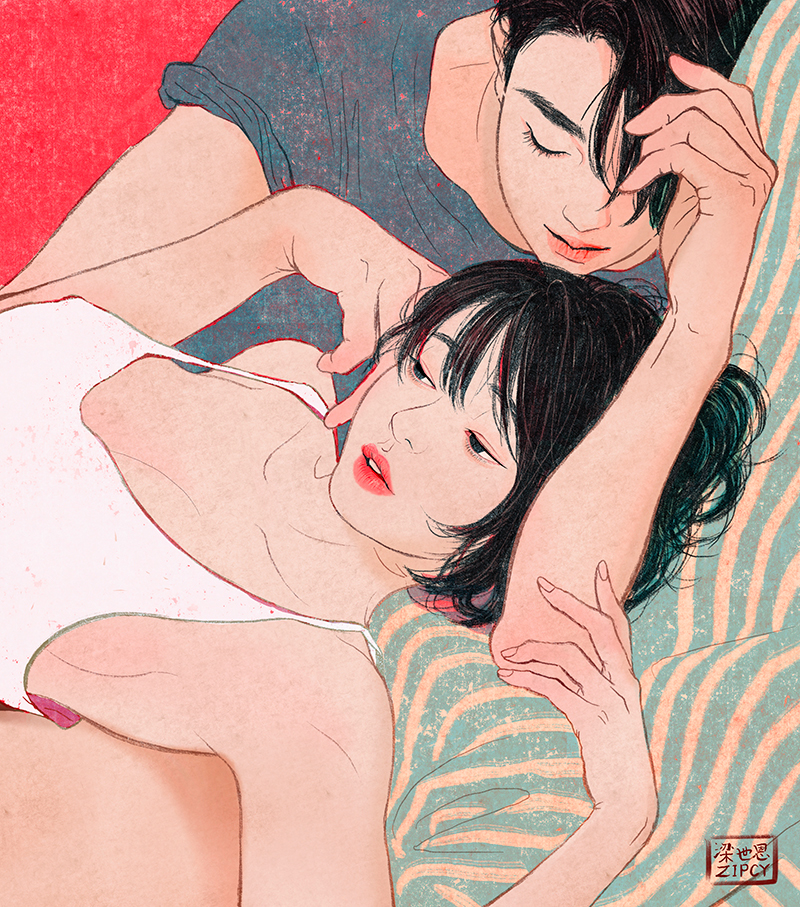 A: I can't wait to see what you come up with!! Thank you a lot for sharing your story with us today 🙂
Z: Thank you so much 🙂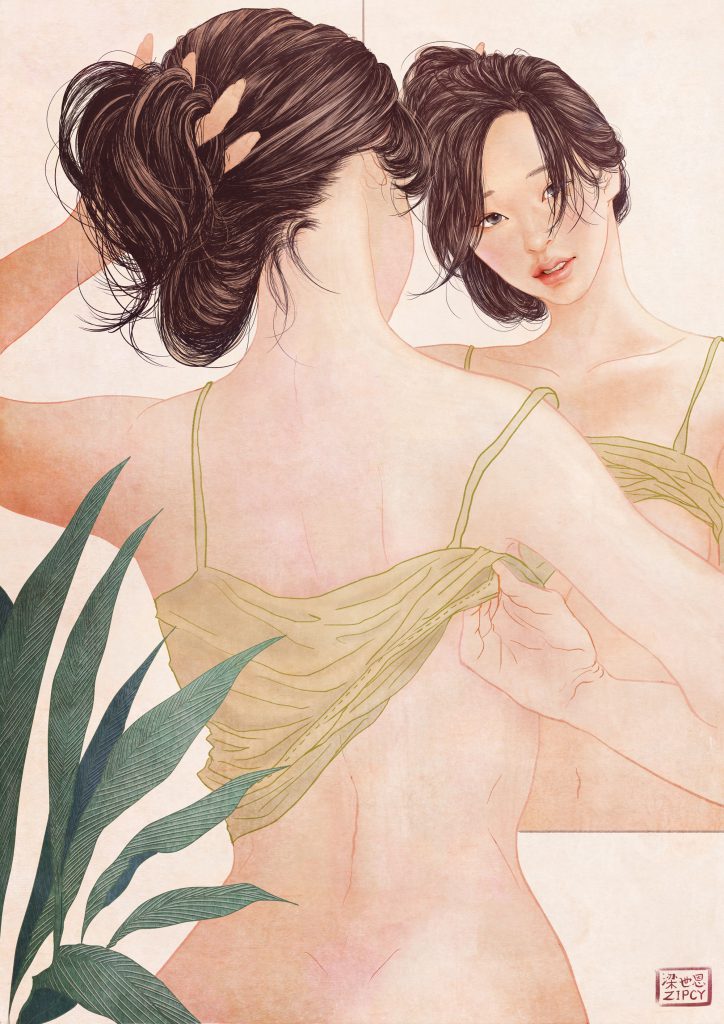 I hope you enjoyed this little interview 🙂 Please leave any comments on it below, and share on social media if you like her art! 😉
Also, don't forget to check out all of our other awesome stuff and subscribe to our newsletter 🙂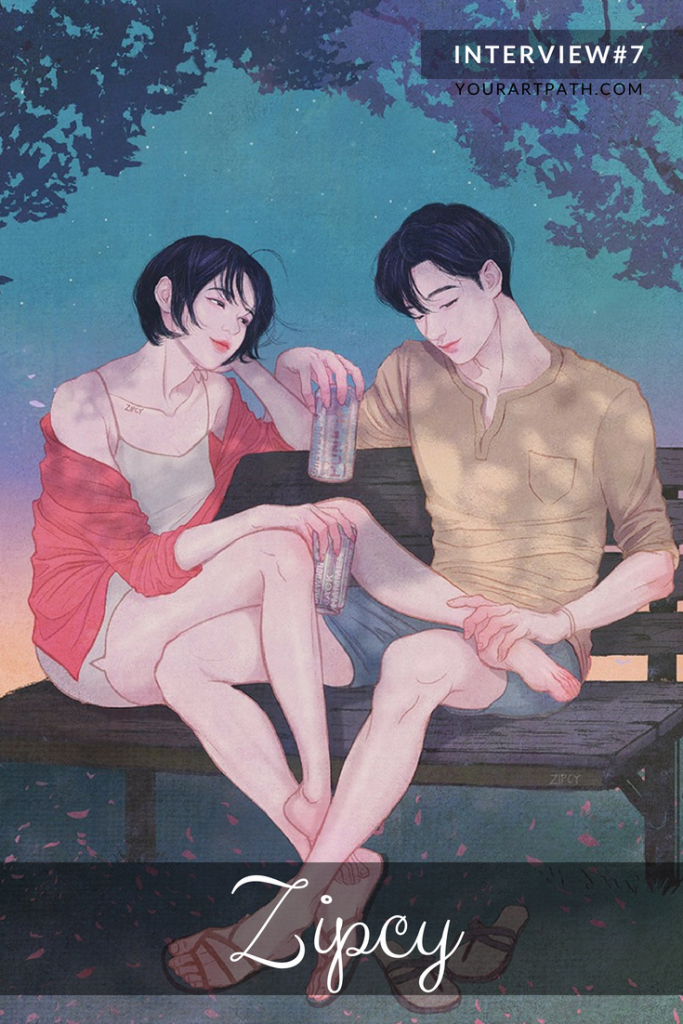 *  " Artist Interview #2 – Featuring B. Blue " for her story and colorful paintings!
*  " Artist Interview #3 – Featuring Agnieszka Nienartowicz " to get inspired by her art and tips.
*  " Artist Interview #4 – Featuring Daria Golab " for her insights.
* " Artist Interview #5 – Featuring Christian Orrillo " where he shares his Art Path!
*  " 14 Best Figure Drawing Books for Beginners " with a list of great resources!
*  " How to Art – 7 Beginner Steps to Improve Your Drawings " for some more tips on how to get started on Your Art Path!
*  " 15 Leonardo Da Vinci Quotes " to learn from the master's ideas!
*  " Top Oil Painting Tutorials on YouTube or 8 Steps to Learning How To Paint in Olis " to master oil painting in no time!
Good luck on Your Art Path,
– Your Art Bud 😉