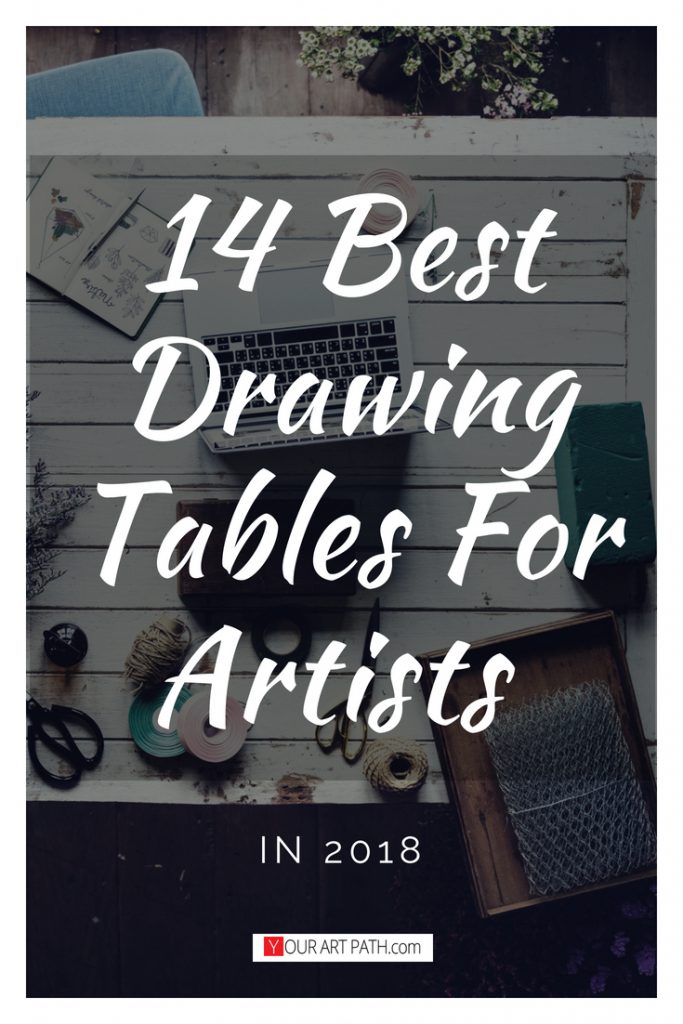 A convenient and well-organized working space is always essential for people of every profession, with no exceptions.
Artists usually work in a sitting position a lot, which is a common cause of various health problems. People who don't pay attention to how they work can suffer from their eyesight getting worse, pains in their back and hands or even more severe cases.
Also, organizing your working place in the most convenient way possible will optimize your drawing process a lot – make it easier, faster and cleaner. It will also help you get the right angle when you are drawing and will allow you to use your hands freely.
You may adapt regular desks, computer tables, kitchen tables, your own lap and other surfaces for that purpose. However, there is nothing more convenient than working tables designed specifically for artists.
People who design them have considered all of the special professional requirements and needs of artists. They've done everything to provide you with the most comfortable drawing experience you've ever had!
That's why we prepared a list of some models of best drawing tables for you to consider:
14 Best Drawing Tables For Artists
Studio Designs 10053 Vision Craft Station
This drawing table has the working surface of 35.5 x 24 inches. It's made of smooth tempered safety glass, which feels extremely nice for your hands.
If you are afraid that this kind of surface is too slippery, do not worry. The 23.75 inches wide tray that is located at the front of the table will be a perfect and safe holder for your pens, pencils, markers or any other supplies and will prevent them from falling off the table when the surface is tilted.
The table also features removable trays for art supplies at the sides of its tabletop. Their removability makes them easy to clean and arrange based on your personal preferences.
The three slide-out storage drawers can be placed either on the left or on the right side for your ideal comfort. And if you don't like the wheels this table has, you can easily replace them with rubber floor levelers to achieve maximum steadiness.
Artie's Studio Office Drafting Table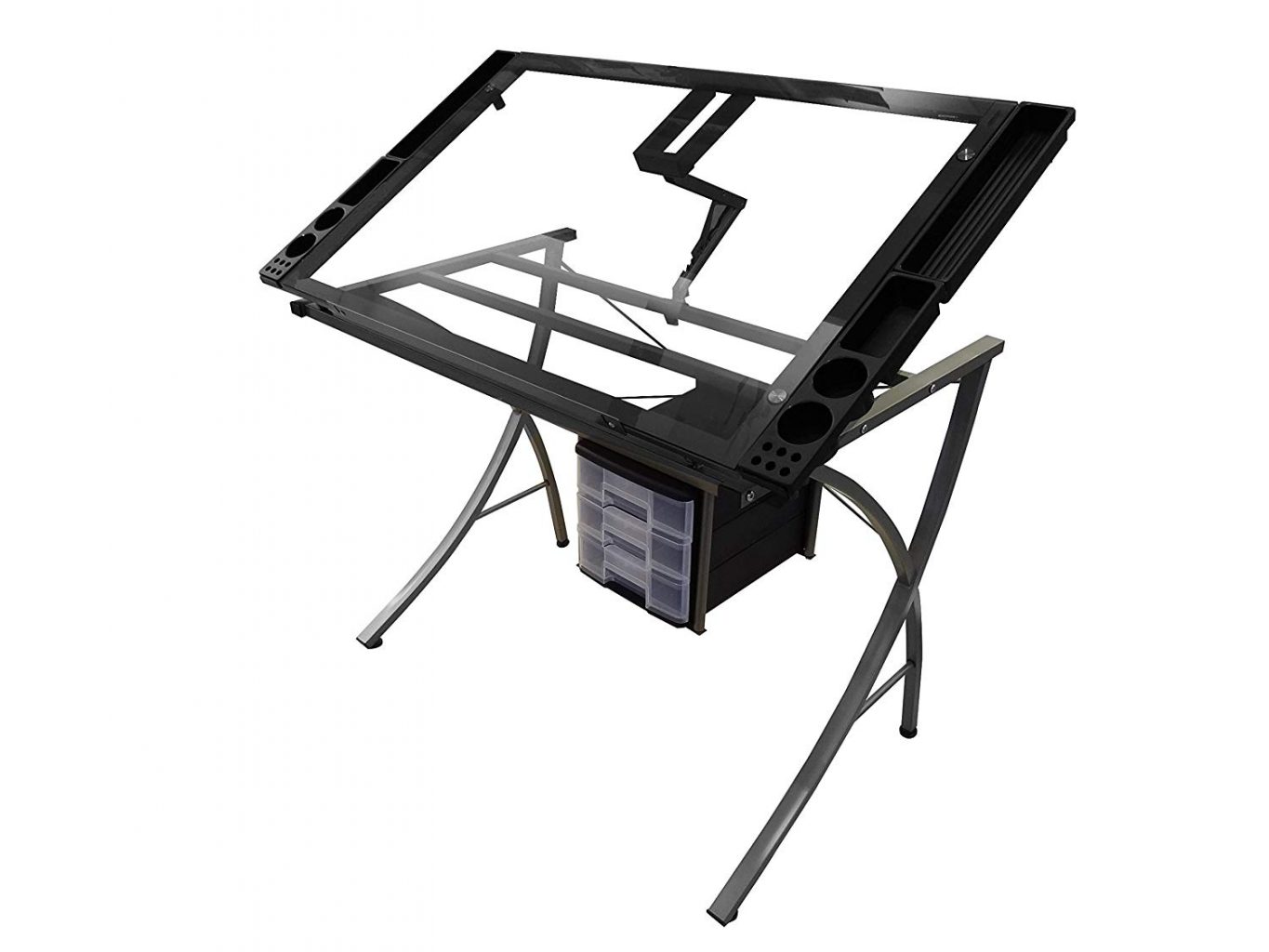 Stylish, sleek and modern design of this desk, easily converting into a drawing table, will not disappoint your artistic taste.
But not only does it look nice, it is also meant to bring you comfort!
The size of its top is 41 x 24 inches, and it's 29.5 inches high. It can be adjusted from the absolutely flat working surface to up to 30 degrees' tilt and overall has six adjustment options.
The main surface, made of tempered glass, has the size of 35 x 24 inches. For your easy access to the most used art supplies, the table offers you versatile side trays that can be easily reached.
The table also includes three plastic slide out 10.5 x 7 x 7.5" drawers. This gives you more space for storing your supplies comfortably and within your access. They are also completely see-through to help you find the necessary color or tool right away.
Stand Up Desk Store Drawing and Drafting Table
Even though this drawing table is seemingly simple and laconic, it is actually very versatile and brings a lot of comfort into your working process.
The table provides a wide range of height adjustments as well as the options for adjusting the desktop by tilting it. It can be used as a standard flat sitting desk, as a drawing station with a tilted surface, and you can also turn it into a standing desk.
Standing desks might give you a useful boost in your concentration, and are even believed to be healthier than the sitting ones (or at least it can give a nice refreshing pause to let your back rest and change the position for some time).
All the adjustments can be easily made with oversized thumb screws, and you won't need any instrument for that.
This table is pretty light but steady and durable: it's made of steel and birch tree and has four rubber feet that it comfortably stands on.
Coaster Contemporary Glass Top Drafting Table Desk
This beauty isn't just eye-catching, contemporarily designed and nicely colored piece of furniture, it's also a very convenient drawing desk that satisfies a lot of requirements.
It has a large (41 x 23.75 inches) and convenient tempered-glass top to minimize scratches, and its metal frame is extremely durable, and very stylish. This table will last and serve you for many years even if you're not the gentlest user in the universe.
It has plenty of space to store all of your art supplies:
two long versatile trays on the side of the tabletop for you to easily reach your most used supplies, and
three capacious drawers underneath it to store some other things that are not so frequently used.
The working area can be easily lifted up for your comfort to help you achieve the perfect angle, and it has a stopper on its front to make your working process easy and secure.
Darice Studio Creative Center Table
This drawing table is the representation of steadiness. It's made of steady, durable and heavy powder-coated gauge steel and has four floor levelers for complete, trustful stability.
Its tabletop made of light and comfortable MDF and is easily adjusted from 0 up to 45 degrees for you to work with maximum comfort.
The sheet stopper will prevent your materials from sliding off the table no matter what position is it in. The table also features two drawers underneath the working surface and trays for supplies (with a cup holder!) on the side of it.
A very big advantage of this table is that it also has a special, comfortably located area for laptops or extra supplies, that can be easily pulled out and used simultaneously with the drawing area (and who doesn't like watching tv-shows or listening to music while drawing??).
The table also comes together with a matched high-quality padded stool so you won't have to buy one separately.
Studio Designs Catalina Craft Table
The next on the list of the best drawing tables is this surprisingly elegant furniture with a pretty unusual design.
Its main working surface consists of two flat 10x 23.75 inches' panels on the sides and one 20 x 23.75 inches' adjustable working panel made of tempered glass in the middle. It's made to be a desk and a drawing table at the same time.
You can place lamps, laptops, drawing supplies, cups and many other things on the side flat panels while working on the middle one.
It has four possible tilting options up to thirty degrees and can be easily transformed into a light table, since it's made of see-through glass.
It also has a 20-inch slide-up ledge on the front of the glass part of the desktop (or bottom, when tilted) to hold your paper and pencils (or any other supplies you are currently working with) on the slippery glass.
The floor levelers at the bottom make this desk stable on any surface.
Alvin CM40-4-WB CraftMaster Art, Drawing, and Hobby Table
This desk is very versatile due to its wide range of adjusting options. It adjusts in height, as well as its desktop is tilted from absolutely flat zero to good thirty degrees.
It provides you 21 inches of room for your legs (which is very comfortable) and a footrest crossbar in the middle, between the table's own legs.
Among all of its advantages, this table model provides you with two sets of side drawers for storing your supplies. They are located on the sides of the table's legs, which, again, gives you more leg space and comfort.
The deep pencil ledge/ instrument tray makes your working process easier and faster.
Studio Designs Ponderosa Glass Topped Table
Are you looking for some classy, elegant and retro-vibe drawing table that looks like the desk of an old classical poet?
This option would be perfect for your home, office, classroom or any other place: wherever you decide to place it, it will immediately turn this room into the artist's workshop.
It's got solid wood legs and frame that would charm and inspire anyone with its seriousness, yet elegance.
The height of this table is 41.5 inches.
It also has a tempered safety glass top, which adds a few points to its almost breathtaking beauty. The 42 x 24 inches' top can be adjusted in eight possible ways up to 30 degrees to provide you with the most comfort possible.
Under the top surface it has a simple, but nice looking 31 x 10.5" drawer for your supplies, that is divided into five parts for easy organizing, storage and access.
Martin Ashley Art-Hobby Table
Equally good for both grown-up artists and kids, this drawing desk is easily adjustable for anyone's necessities. You can adjust both it's height and tilting angle pretty easily.
It has a melamine surface, which is pleasant to touch, not very slippery when tilted and looks good.
24 x 36 inches' drawing surface is just enough to fit in any kind of room as well as to give you a lot of space to express yourself.
The desk has three drawers on its left side to fit your art supplies into it, and also has a foldable utility rack on the other side for your folders or pencil cases or other pouches.
No matter how uneven the floor is, this desk will be sturdy because you can adjust any of its legs. And it also is relatively light so you can easily move it if you need to.
It includes a matching vinyl-padded light and comfortable stool.
Studio Designs 13326 Comet Center
This is not just a desk, but a complete three-piece center to increase your comfort while you are working.
Its top can be tilted up to 40 degrees. It is more than most of the best drawing tables can do, and therefore will provide you with more convenience.
The 24 inches long pencil ledge will prevent your supplies and drawings from sliding off the table. The desk also provides an additional tabletop on the side to help you get better access to your tools.
Each one of three fabric side drawers (that are located under that second tabletop) will give you 12.75 x 12.75 inches of space for storing all of your art supplies.
If some of your supplies won't fit inside these drawers, the desk also has an additional storage shelf under the desktop. The third piece of the station is a comfortable and durable padded stool made of metal, that is 20.5 inches tall.
Yaheetech Adjustable Height Drawing Table
This table will be a perfect buy if you need some serious adjustments. Its desktop can be tilted up to 60 degrees, and it's done very easily: you just have to lift it up and lock with just your hands, and the desktop is pretty light.
You can fill all the offered space with your art supplies, and there's a lot of it:
two drawers,
an extra retractable size table,
stationery holders on the side of the working surface,
a metal storage shelf underneath it all and
even an adjustable pencil ledge – all of this will serve you greatly.
A very nice faux leather stool, that can hold up to 220 lb, also comes together with this highly functional table.
Tangkula Adjustable Drafting Table
Beautiful and multi-functional, this drawing table can be perfectly adjusted for every need and preference.
It's easy to assemble and all the required accessories are already included.
It is made of high-quality materials: MDF board for the top and steel for its frame. The materials make it durable and comfortable to use, increase its weight capacity, and its design makes the desk very stable.
Four legs of this table are designed to form two arches for extra sturdiness.
The working space has the size of 40.55 x 23.62 inches to give you and your hands a lot of space for creativity, and a stopper on its front to make your working process safer.
Four removable plastic trays on the sides of the desktop will help you store your most frequently used supplies and access them very easily.
You can leave the tabletop flat or tilt it the way you like to get the perfect drawing angle.
Studio Designs Pro Craft Station
This extremely handy drawing desk will give you a lot of space to store all of your supplies.
If you work with various materials in different styles and have a ton of tools and paper, don't worry about it, because this table can fit them all.
It has two sets of drawers on both sides of the table's frame,
three drawers in each of them,
a 24 inches long pencil ledge that slides up to protect your art supplies from falling off the table,
and four removable trays on the sides of the tabletop (that can be easily arranged in the way you would like them to be).
The tabletop is 38 x 24 inches and can be adjusted from 0 to 45 degrees. This drawing table also has got a padded footrest for extra comfort, and its casters (that are meant for you to move the desk easily) can be locked for stability.
ZENY Draft Desk
Perfectly suitable for many functions, this best drawing table has not only amazing durability, but impressive capacity as well.
It features two spaces: a tiltable top one for drawing, and the bottom one (that can be pulled out) for laptop, books or other supplies.
The tabletop has a stopper for your working comfort and a plastic tray for storing your most necessary supplies where you can easily reach them. The table also has two drawers underneath the desktops.
You can adjust the height of this desk and chose a drawing angle that will be the most comfortable for you. You will definitely enjoy the size of the main working surface, which is 34 x 23.62 inches.
This desk's metal legs have special rubber pads for extra stability on any surface, and they also effectively protect your floor from scratching.
As you can see, a drawing table is not really a super luxury thing.
It can be really affordable and might serve a crucial role in your working process.
Having a space that is nicely organized is inspiring! And the ability to adjust the angle of your working surface can help improve your drawings since it allows for a better control over your hands' movements.
So, if you spend a lot of time drawing, tracing or doing other activities in a seated position – consider buying yourself a comfortable desk.
It will make the work process easier, will help you store your supplies with style, give you extra space for a laptop, tablet or books and will let you take better care of your health.
---
---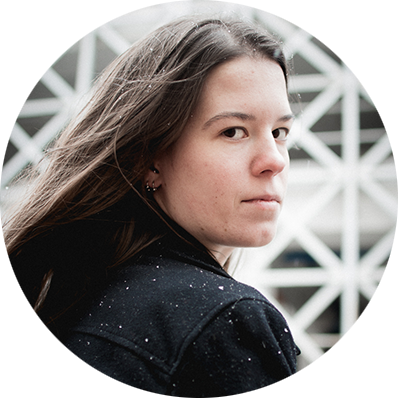 Author: Ann Martsynkevich
Anna is an artist, poet and musician who lives in Minsk, Belarus. She loves food, cats, gigs and esoteric stuff. She posts the things she does on Instagram and sometimes appears on FB.
---
---