Here are the sketchbooks/paper we will be covering today:
Just like with any other art mediums, choosing the perfect paper for soft pastels is a very important thing.
Paper will define the surface of the drawing and affect the way it's going to look when it's complete, and also may affect the very way the pastel will be applied and how effectively it will stay on it.
As we mentioned in the article about soft pastels before, soft pastels are an absolutely amazing medium to work with. Why?
They are versatile and can stay on a lot of surfaces;
They can easily add a lot of emotional atmosphere to your drawing because of the way they are spread;
You draw in layers, with various thickness and pressure, and pastels allow you to be spontaneous during the process;
They are bright, vivid and can help you create a perfectly realistic drawing.
But to unleash all of their amazing features and use them to their full potential, you would need special paper for soft pastels.
Why bother with a special paper for soft pastels?
Of course, you can use any kind of paper, and it will work fine, but the trick is – pastels can get mesy.
They mostly consist of dry pigment and chalk, mixed and kept together with a binding agent, so, when you draw, all the tiny pieces of it fall off the pastel stick.
And the pigments need something to hold on to!
Therefore, the first thing the special paper needs is tooth.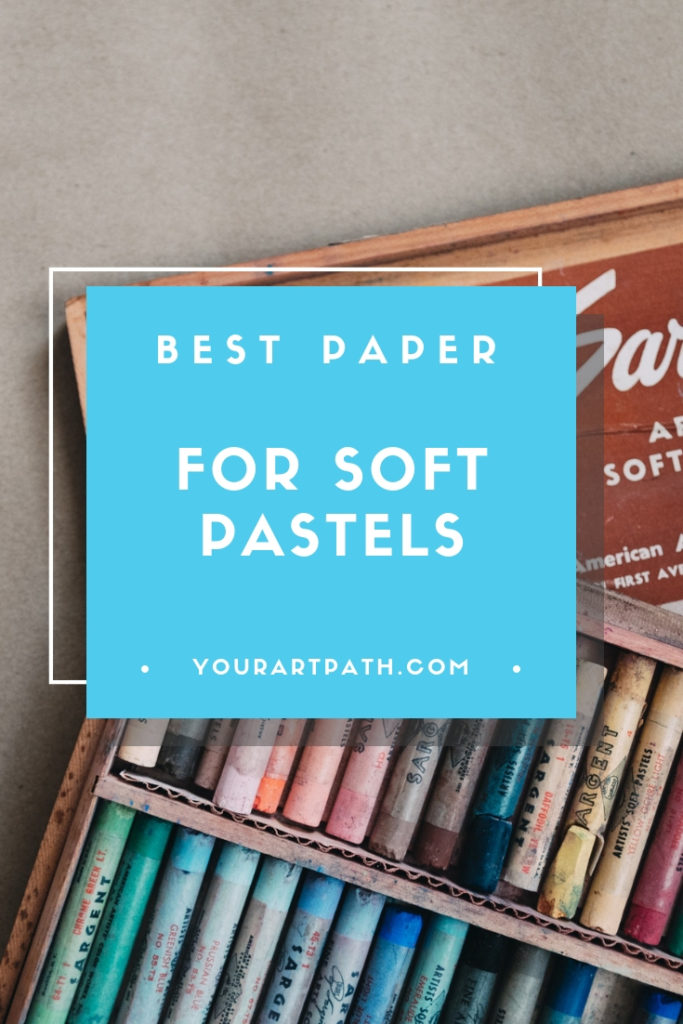 And by tooth I mean the roughness of paper's surface that will help the small particles of pigment to come off the stick and stay on paper.
Basically, pastels need something to cling to, this is why the surface is so important.
A rougher surface will help you apply more color. It also defines how many layers you will be able to apply, so if you love thick, layered, emotional drawing, you'll need to choose paper with more tooth. Rougher papers will also reduce the amount of fixative you will need to use.
On the other hand, if you want to mix pastel colors right on the surface, during or after applying, a toothy paper might cause you some problems or completely stop the colors from blending. Also, if you prefer smaller details in your works, a smoother paper will work out better in your case. Velour papers will help you achieve creamy and soft, more realistic style of drawing.
Another note: if you are going to work in wet pastel technique, the best choice for you will be watercolor or mixed media paper, because pastel paper will only do it's best with dry substances.
Textures can also vary from irregular to regular, and this is a completely personal preference:
Irregular textures will give you a feeling of mold-made paper,
regular texture patterns on paper are spread and used more widely and make the surface of the paper kind of harsh.
It can also be really fun to create your own texture using special grounds or gesso to prime the surface you will be working on.
Note: if you are looking for some other options for sketchbooks, you might wanna see "36 Best Artist Sketchbooks To Buy in 2018"
The second important thing about a special paper is its color.
Pastel papers are usually sold in a wide variety of colors, and not just because it looks esthetic and feels good to buy. Mostly it's because the color you choose will affect the final look of a complete drawing.
Pastels aren't covering the surface completely, because they aren't liquid, and that's why the color of the paper will show through the covered areas, and this will give your finished work a complete look, uniting the colors and adding a certain tint to them. Y
ou'll need to be careful while choosing the right color, but if you do everything right, the result will be magically stunning! And it also gives you plenty of space for experimenting.
A light-colored paper is usually meant to emphasize the dark colors of pastels, and light pastels can look dramatic on dark paper.
A mid-toned paper is the most "neutral" option, as they are balanced and harmonious with basically every color.
A mid-tined paper will be good if you are going to leave a lot of blank space.
And contrasting, bright paper is usually chosen for more developed and detailed "paintings". But no one can stop you from experimenting, and if different combination fits your needs and makes your drawing look just as you imagined it to be – why not?
The other important options are weight and thickness of the paper.
It may not actually play a very big role, but it depends on the style you're using.
If you prefer to treat your drawings rough, do a lot of layers, hard strokes and blending, you'll need a thicker paper that can handle such way of treating.
This advice also works in case you are doing a mixed media work, especially if it will include wet paints.
The most ideal paper thickness (weight) for pastels is from 175 gsm and above. Translucent pastel paper also exists, and it's used in case you need to easily trace a picture, other drawing or a part of it.
Note: if you are into tracing, you might want to check out "13 Best Light Boxes For Artists And Why You Want One"
Now that you know a thing or two about how to choose the paper and have a few ideas what exactly you might need, let me give you a few examples of high-quality pastel paper to choose from:
Best Paper For Soft Pastels: 5 Picks
A set of professional acid-free soft pastel paper, that has 24 sheets of different neutral colors for the largest versatility possible.
You can also use other mediums on this paper, but be sure to test them out first.
It's toothy enough for holding several layers, and you won't make a mess with this paper, because there won't be much of the pigment falling off.
This paper might be a little difficult to remove from the pad, so be careful, but otherwise, it's a wonderful choice for soft pastel artists.
And the best part is – that it was made with soft pastel artists in mind!
Buy on Amazon
Canson is a well-known worldwide brand that produces high-quality paper.
This pad is perfectly made for soft pastel drawing and meets all the requirements.
The paper is dual-sided – it can be both heavy-textured and more light, whatever you prefer.
It's 50% cotton, resistant to fading and heavy enough for anyone to draw (160 gsm) and still perfectly able to go through a printer.
This pack features 24 sheets of assorted colors, and not just the boring ones like white, grey and cream – there are also brighter ones.
They are glued together and can be stored together (though they have no glassine paper between them), but also can be easily divided if you want that.
Buy on Amazon
This paper has two different sided textures – both tooth and smooth for any kind of purpose, so it will be brilliant if you work with both or want to try them out.
It's made specifically for pastel and fulfills all the needs of pastel artists.
It has the versatile A4 size, a sand color, which is also pretty versatile and suitable for most drawings, and is available both in portrait and landscape orientations (it's not only defined by which side is glued to keep the paper together, but also by the direction in which tooth is running).
This pack has 30 sheets of high-quality pastel paper.
Buy on Amazon
Interested in what velour paper has to offer you and how it would affect the way your drawings look?
This starter pack of velour pastel paper is a perfect choice.
It has eight sheets in several colors, so you would have quite a variety of options.
Most of the colors are neutral, but some are not, and there's even a black sheet in the pack – this means you can try out everything.
This paper is thick and heavy (260 gsm), perfect for pastel drawings, will hold many layers of pigment on it, and its texture is extremely pleasant.
Buy on Amazon
This sketchbook is ideal for those who want all their sketches and drawings made (but not necessarily kept) in a notebook.
Drawing inside a sketchbook gives you hardness under your paper sheet, as the book has hard backing, and is also a great option for outdoor drawing.
The paper is micro-perforated on the top, so you won't destroy it by accident if you decide to remove the sheet from the sketchbook and have it on display somewhere else.
There are eighty sheets that are suitable for pastels and other dry matters, and this would be enough for quite a lot of practicing.
The spiral binding is versatile, suitable for both right- and left-handed artists and very comfortable to use.
The thickness of the paper is enough to make it durable and survive multiple erasing and emotional strokes.
Buy on Amazon
Final Advice
Overall, you can't overestimate the importance of using special paper for soft pastels.
It will give you a lot of comfort in working with this sometimes messy material, and making layers and layers of soft strokes over textured paper is such a satisfying feeling!
And when selected correctly, art supplies make your work much easier and better-looking.
For me personally, the best choice from this list would be Canson's Mi-Teintes Pastel Pad  , because I'm a big fan of colored paper and the variety of choices that dual-textured sheets can give.
But you can choose any type of paper you want, according to your personal tastes, techniques and preferences.
You might need to try out several brands, types and colors, but eventually, you'll come in harmony with yourself and find a perfect one.
And don't forget to enjoy the drawing process!
---
---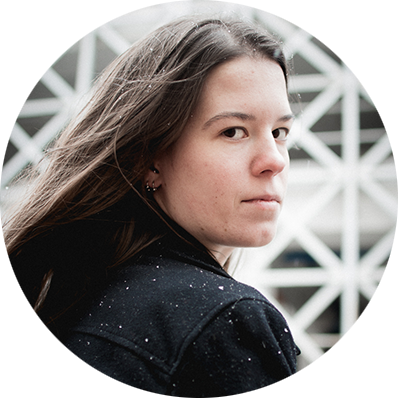 Author: Hanna Martsynkevich
Hanna is an artist, poet and musician who lives in Minsk, Belarus. She loves food, cats, gigs and esoteric stuff. She posts the things she does on Instagram and sometimes appears on FB.
---
---