What is Plein Air Painting?
It's an act of painting outdoors that is practiced by many artists.
Best Plain Air Easels
Before we can get to the accessories, let me just briefly cover easels.
You can pretty much use any type of easels. However, it is important for them to be easily portable since you will be taking your easel on a lot of road trips.
Let's look at some specifications I looked at to create this list:
Folded Size: We need the easel to be able to collapse into a portable size. (H-height, W-width, D-depth)
Weight: Because we will be carrying it around, we need to make sure it's as lightweight as possible.
Canvas Support: up to what size canvas it can accommodate.
The height of the easel: if you prefer standing while painting, you need it to fit your height while supporting canvas size.
Fits your price budget.
Folded Size:
15-3/4"W x 10-1/4"D x 4-1/4"T
Max. Height:
N/A -> Needs a Separate Tripod
N/A -> Needs a Separate Tripod
Max. Height:
N/A -> Needs a Separate Tripod
Folded Size:
15-3/4"W x 10-1/4"D x 4-1/4"T
Max. Height:
N/A -> Needs a Separate Tripod
So, as you can see many of them are better than the others in different features. So, you will just have to decide for yourself what detail is more important to you!
My favorite is the first one "Mont Marte French Box Easel" because you don't need to purchase anything separately to begin using it, and also because it supports the largest canvas size out of the top 3 picks.
On the other hand, it's pretty heavy (but compact!), so if you own a super light tripod and prefer working on smaller canvas then one of the other 2 is your best choice.
Plein Air Easel Accessories
Now, why purchase easel accessories?
To make your painting process outside more comfortable and less painful 🙂
Let me share with you some cool plein air easel accessories I've collected:
Guerrilla Painter French Easel Accessory Set
This awesome set here includes:
Handy Hook

You connect it to the side of your easel and can hang a paint rag, brush water or anything else you can come up with.

Hang-Up Brush Caddy

By lifting a handle you can hang it on any edge and store your art supplies in. It holds up to 10 brushes depending on their size.

Paper Towel Holder

Great for those who like using paper towels while working. You can simply run the chain inside a paper towel tube and then connect it to your easel.

Mighty Mite Jr. Brush Washer

Are you constantly worried about cleaning your brushes like I am? Then you will find a use for this portable brush cleaning jar.

Composition Finder 

This bad boy is a great helper if you have trouble picking out a composition for your painting. It has an adjustable opening, includes rulers on the sides in inches and centimeters, "Golden Section" and Fibonacci Spiral for locating focal points and a value scale. All the things you need to think about, especially when painting outdoors.
Stone Bag
This guy is useful for those artists who work with standing easels and large canvas (or easels that have a lot of accessories on them).
It helps you ground your easel, so no matter the wind, or any other cause for it to collapse you are assured it's stable.
This "stone bag" is exactly what it sounds like. You connect it to the legs of your tripod or easel and fill it with heavy objects (stones).
Palette Box Extension
These handy guys will give you extra space to paint on.
Also, I think it's really cool not having to hold a palette in your hands. One less thing to worry about!
They've got little holes to put your brushes in for easy grabbing.
Note: they were made for "Gorilla Box", but the screws are included, so I'm sure you can find a spot on any other easel/box to connect it to if you want.
Easel Brush Grip
If you need some extra space where to keep your brushes – there are some awesome brush grips out there.
I found these two to be the coolest since you can remove them at any time and place somewhere else.
And they hold up to 8 brushes (depending on the brush's size)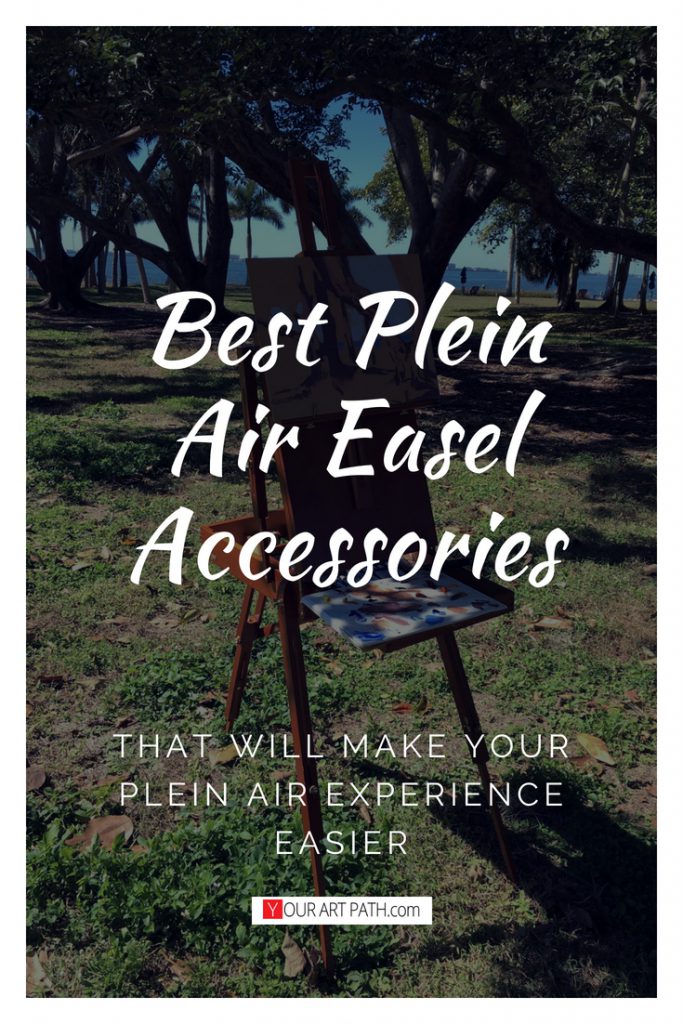 That's about all of what I found interesting for plein air easel accessories out there!
But if you have any other suggestions or tools you use, feel free to share them in the comments below!
I would love to hear what tools you use while painting outside.
Also, here are some other related articles on Plein Air: