Plein Air Painting Chairs: Features To Consider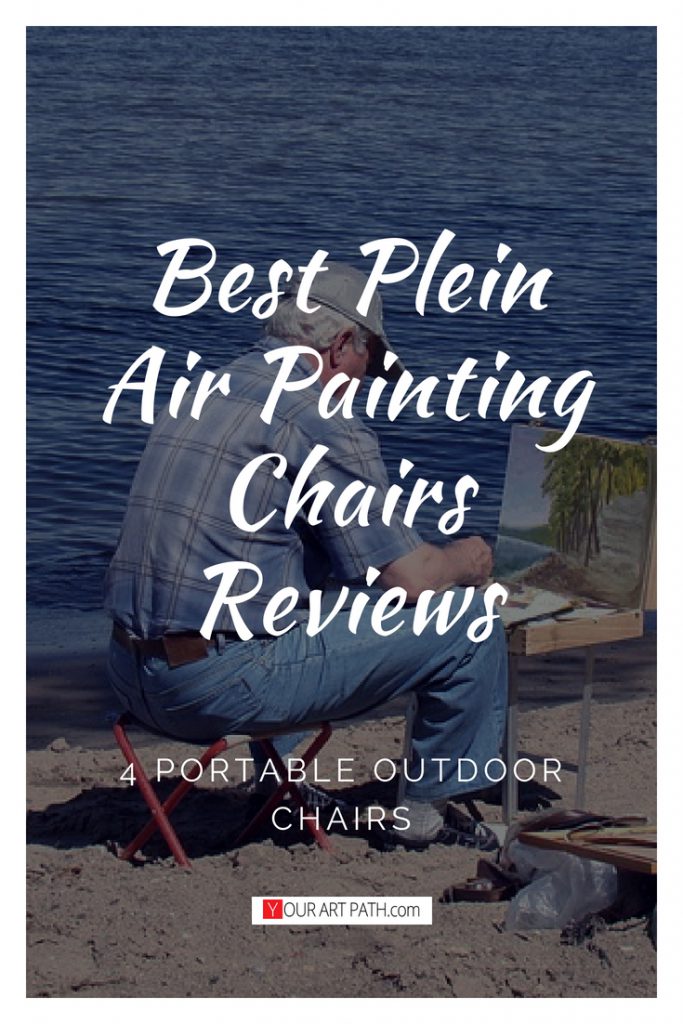 Plein air painting is super fun and useful for any painter out there. It improves your ability to see color, helps you produce lively paintings and overall improve your artist's painting skills.
Now, there are two types of artists who practice plein air painting: those who stand and those who prefer to sit.
Today's article is for the ones that love sitting!
And while as you could get lucky and stumble upon some bench in a park to sit on, or try some rocks (which would make your session super quick due to the lack of comfort), today we will look at a surefire way to make things work – plein air painting chairs.
Now, before we begin, let's look at some key features to look for:
Portability. You will be carrying the chair around. A lot. And even if you have a car, you will still need to take the chair with you to a perfect destination. You are also carrying many other supplies, so a chair shouldn't be the biggest of your problems.
Weight. This one kind of works with portability, but if one is not made specifically for carrying, then we need to make sure the weight is doable.
Extra Storage Room. This one is not often included in chairs, but it would be so nice to have some extra space, wouldn't it?
Comfort. The more comfortable you are, the longer you paint for and the more masterpieces you produce. So, let's not skip this part either.
Best Plein Air Painting Chairs: Review
Before I dive deep into every single product, let's take a look at the products we will be going over today:
Now, let's begin talking about each one separately.
And we will begin with my absolute favorite chair by Guerrilla company.
In my opinion, anything related to Plein Air Painting (like art boxes, easels, umbrellas, kits) they've got the hang of it in the market!
One of the most important factors of this chair being on top of the list is that it was made specifically for artists who are practicing plein air painting!
Portability:
It's not just a chair, it's a carryall portable folding chair with wheels!
Guerrilla knew exactly what artists will use it for, and so they made it in a way where you can take it with you wherever you go with ease. It's like taking a suitcase with you, except you can also sit on it 😉
Weight:
It only weighs 10.5 pounds. And while it's not the lightest item on this list, keep in mind that you don't actually need to carry it – the wheels will do all the hard work for you.
Extra Storage Room:
It has a huge storage compartment that holds up to 65 lbs. In fact, with the dimensions of 20″x 12″x 8″ you can fit your painting box in it! One less thing to carry around in your hands.
Comfort:
Guess what? They've taken care of this part as well.
Not only does it have a back to lean on, it also includes a lumbar pillow that is easy to adjust to your height preferences.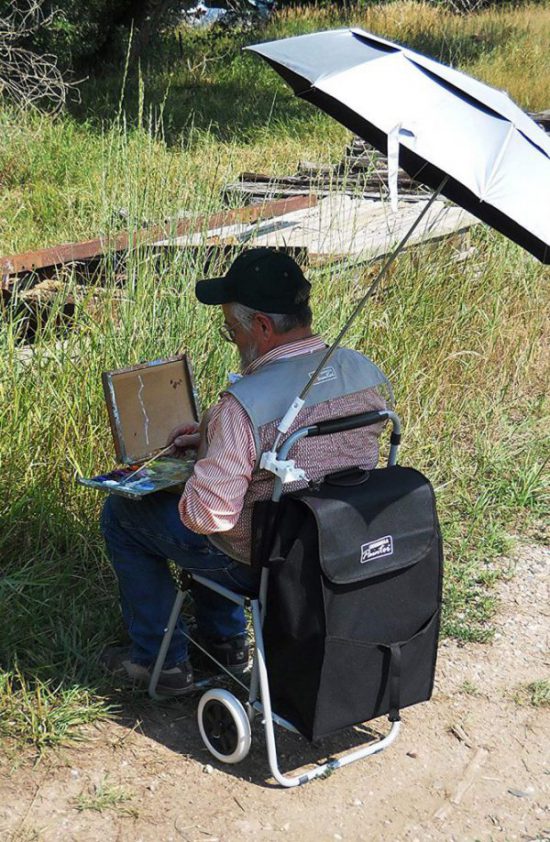 Other Features:
If you have read my article that covers everything about plein air painting, you already know that it's essential for an artist to have an umbrella while practicing outdoor painting. Well, this chair has a special place to attach your umbrella to.
If you think about, it's like this chair is the final piece of a puzzle where everything comes together.
Note: If you are looking for a good quality umbrella, check out "3 Best Plein Air Umbrella Reviews"
CONs:
No product in this world is perfect, and to make the best choices for you one needs to look at an item from all sides.
So here are a few things that are not-so-great about this chair:
It's pricey.
Doesn't have pockets.
This chair is a close runner-up to Guerrilla's one. Even though it's not advertised specifically as plein air painting chair, you can notice a bunch of similar featured between the two.
Portability: 
Just as the Guerrilla's, this one is also a portable folding chair with wheels.
Weight:
Weights around 11 pounds. And even though it's the heaviest out of the chairs we are comparing today, the wheels do their job and do all the heavy lifting for you.
Extra Storage Room:
It's got a large waterproof inner compartment (14″ × 22″ × 7″) that can fit a regular french easel in.
Comfort:
This is the part which bumped it down to a second place. Even though this chair is sturdy and pretty comfortable to sit on, it is lacking a pillow like the one Guerrilla offers. And we all know that pillows make everything just so much more comfortable.
On the other hand, you can easily grab one with you from home – but that will be just one extra thing to carry.
CONs:
Second most expensive item on this list
Doesn't have a pillow
No special attachment place for your umbrella
Some customers have had complaints about the strap that is holding the bag(that it isn't long enough) as well as that the plastic closures are often hard to open.
This guy wasn't made with painting in mind, but I find it to be a good fit for this list as well because it matches a lot of the features we are looking for. Also, it has a pretty good price point!
Portability:
It folds up compactly and has a strap so you can carry it on your shoulder.
Weight:
Total weight is 4.5 pounds. Super lightweight for a chair, but you do need to keep in mind that you will be carrying it around on your shoulder together with the rest of your supplies.
Extra Storage Room:
Has a built-in storage compartment at the bottom. And while you can't fit your painting box in it, it's an awesome chair to keep your art supplies in if you don't own a pinter's box.
Or, you could always throw in some lunch and drinks, as it can hold Ice Packs & Up to 6 Cans.
Comfort:
Comparing to the other chairs, I would give it a 3/5 on the comfortability. It looks like a sturdy chair but is missing a pillow, and the overall size and shape of the chair isn't as comfortable as the first two on the list.
CONs:
No pillow or a place to attach your umbrella to
Wasn't made with artists in mind
Can't fit your french easel or painter's box in
The seat is only about 10″ wide and therefore isn't the most comfortable to sit in
The biggest reason why I decided to include this chair in this list as well, is that not all of us care about the many features other chairs have. Some, just want a place to sit on that isn't a rock or grass, and don't want to spend a lot of money.
So, this is the cheapest item on the list but it does the job!
Portability:
It's a collapsible stool that folds to 3″ diameter. Thus, it can fit into your backpack no problem! And it also has an adjustable shoulder strap for easy transportation.
Weight:
Weights less than 1.5 pounds. Which is awesome considering all the other things you need to carry.
Extra Storage Room:
Not available.
Comfort:
It's made in a way where you would sit on it as though you were sitting on a bike. And that's pretty comfortable!
CONs:
Not made with artists in mind
No extra storage, pillow, or a place to attach your umbrella to
Some people complain that the fabric breaks through after a couple of uses.
Now, let's compare all 4 items side-by-side.
Here is a table of features I prepared for you guys:
Portability:
portable folding chair with wheels
portable folding chair with wheels
folds and includes a shoulder strap
folds to 3" + shoulder strap
So, that will be all for today's article, I hope it will help you pick the Best Plein Air Painting Chairs for you!
Also, here are some other related articles on Plein Air: