Using pen and ink in your drawings looks amazing!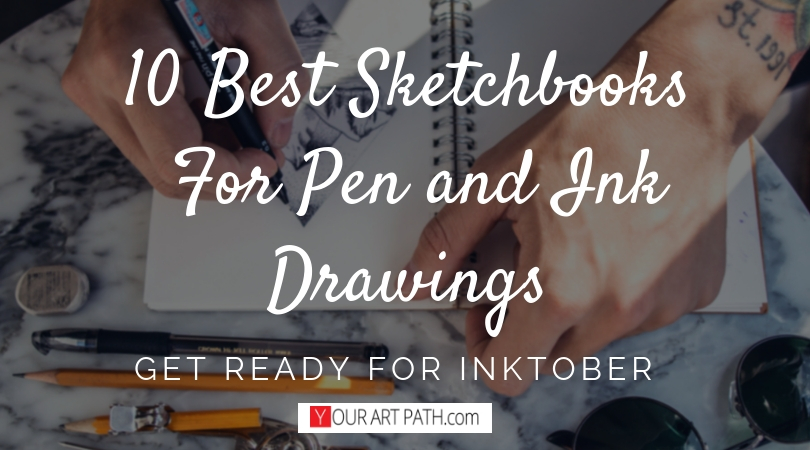 Lots of people actually prefer using pens over other drawing methods, even though it might seem difficult.
The problem is, you are probably afraid that it's impossible to correct mistakes. If you mess up with pen or ink, it often feels like every tiny mistake is going to haunt you forever (unlike with pencils, paints, digital or any other art supplies).
But there are many more benefits to ink drawings than there are flaws.
So, let's take a second and talk about it.
Pen and ink drawings are awesome because:
They leave a strong, uncompromising black line that almost no other tool offers;
Using ink is going to give you an amazing, satisfying tactile sensation, no matter what particular supplies you use;
Inks and pens will help you cope with your fear of making mistakes and will teach you to draw with confidence and concentration;
After you conquer ink, it will be easier for you to try out other materials;
Ink drawings look stunning and professional with their layers of strokes and/or washes.
Messed up while using Inks?
There are a couple of ways to correct your mistakes.
Well, in some cases it's not exactly "correcting", but treating them right and learning to improvise and dance around what you've got.
No matter if you smear ink, accidentally put an unnecessary mark, spilled some on your paper or got it blurred with water (if they aren't waterproof),
you can try out several things:
Try to fit the mistake into your drawing, change the pattern, add extra details;
Make a patch out of the same paper type and glue it over the spoiled piece of drawing;
Scan your drawing and clean up using Photoshop (and print the drawing back out if you need);
Use a razor blade to carefully scrape out the mistake (works only on thick heavy paper).
What kind of paper should you use for ink drawings?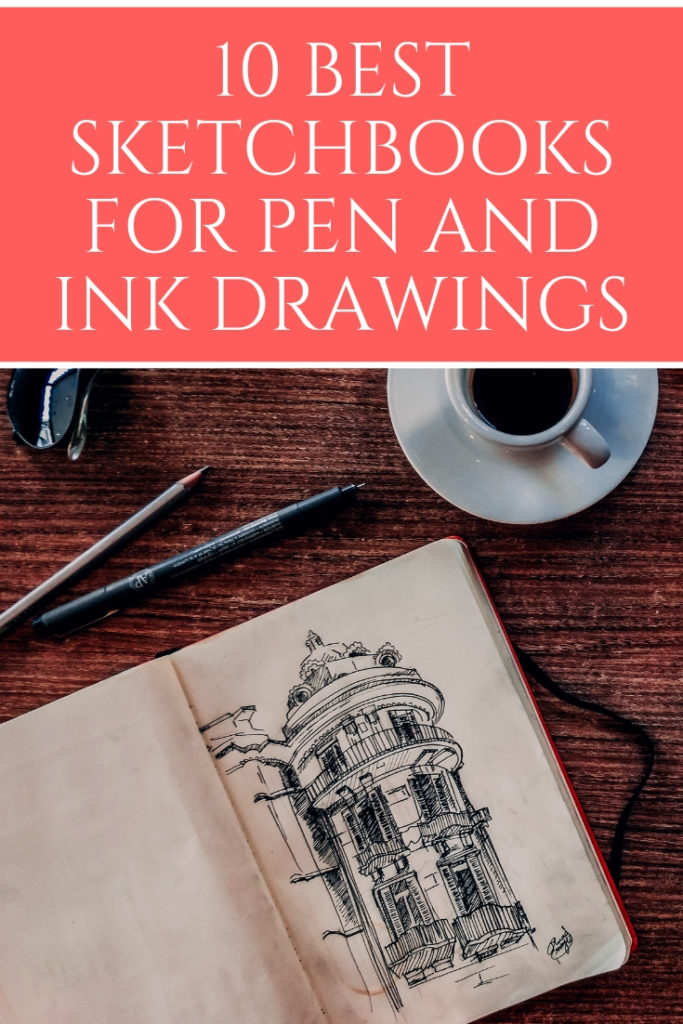 Well, it depends.
There are a few options of paper to choose from, and all that's left is to find the type that fits your needs the most.
Plain drawing paper is heavier than regular writing paper, but not very thick. It can be great if you are using thin pens and don't scratch the paper a lot.
Watercolor paper can also be used for ink, and you can apply watercolors over it as well (just don't forget that most inks are blurring because of it and you'll have to buy special waterproof inks or pens). It can be smoother or rougher – it's up to your preferences.
You can use Illustration boards or Bristol boards for ink, and they are strong enough to handle lots of other mediums.
Overall, the best choice for inks is paper of 180 gsm or more, but all other options are up to you.
There's a tip though – if you'll use a quill pen or something as scratchy as that, you can break the tip over a rough paper.
Rough papers make it easier to correct your drawing mistakes though. So, if you're just starting, thick rough paper, such as watercolor, may be a better choice for you.
If you are going to make a sketch before you start working with ink, choose paper that will allow you to erase it easily. But don't erase too quickly or you'll smudge the undried ink.
Also, it's good to use soft pencils and light strokes when you sketch.
Red or blue soft pencil can be a great decision if you are going to scan your artwork when it's complete because these colors are easier to get rid of in a graphics software (like Photoshop).
On that note, we chose several great sketchbooks that will help you use pen and ink to their full potential.
Let's take a look at them now:
Best Sketchbooks For Pen and Ink:
Since sketch markers are also inks (a liquid medium that requires a certain type of paper and certain attitude), marker paper is also great for ink and can tolerate washes.
Although it can seem a little lightweight, it works wonderfully with ink and is water and bleed resistant – exactly what you would want from an ink sketchbook.
The paper is smooth and coated specifically to resist bleeding, so your lines and washes will be safe.
50 sheets should be enough for you to practice, to explore your creativity and to perfect your brushstrokes.
Buy on Amazon
Due to "no show thru" technology, you can use both sides of every page of this sketchbook, which makes it amazing and perfect for liquid mediums, including inks and pens.
It may take a little while for your ink drawings to dry, but it's absolutely worth it.
Nothing will bleed or show through on either side, as it often happens with liquid mediums, so you won't have to use blotter paper, and you'll be able to fill 100% of your sketchbook.
The paper is 180 gsm thick, and the hardcover of this sketchbook makes it durable, protects the edges of your drawings and saves them from creasing.
Buy on Amazon
60 pages of this sketchbook with 200 gsm watercolor paper will give you plenty of chances to experiment and explore.
It's perfect for ink (and watercolor as well), prevents your drawings from bleeding, and the soft white color of the paper helps underline the colors of your ink.
The cover is linen, feels and looks extremely stylish and nice, and has a clear envelope on the inside of the back cover.
The sketchbook also features a ribbon bookmark and a rubber band to keep it closed or open at the time when you need it.
Buy on Amazon
This sketchbook with high quality professional paper is perfect for mixed media works.
The paper is internally sized for different wet drawing media and has a durable vellum finish for special drawing techniques (pens' & inks' techniques included, as well as pencil sketches, if that's what you also like).
It's 100% cotton fiber, free of acid and lignin and has 190 gsm thickness.
The binding of the pages allows them to lay flat and make it more easy and satisfying to fill the sketchbook up with beautiful drawings and comfortable for left-handed artists.
Buy on Amazon
This watercolor journal is perfect for ink and pen drawings because of its 300 gsm wonderful cotton paper. It's designed specifically for liquid drawing media for it to dry quickly and to prevent bleeding and smearing.
The binding of this sketchbook makes it perfectly flat and suitable for both left-handed and right-handed artists, and all the pages are micro-perforated for easy removal, but they will not fall out against your will.
The hard chipboard cover is recycled, which means it's eco-friendly, and makes the sketchbook perfectly comfortable for creating art outdoors and drawing on your lap.
Buy on Amazon
This sketchbook has an ideal smooth surface for pen and ink drawings.
40 sheets, perfect for sketching and inking, are easily divided if you need to remove some of them. But the binding will hold pages together as a full sketchbook in any other case, so it won't fall apart even if you carry it around a lot.
Durable acid-free paper can survive any drawing technique and any experiment of yours.
It also makes colors look bright and sharp, keeps your lines smooth, and helps you reduce smudging, blotching and bleeding.
You can use other mediums on this paper as well.
Buy on Amazon
The cold press finish of this paper is versatile and has a light texture.
It's absolutely perfect for wet mediums, including ink.
Made of 100% cotton, it has the impressive thickness of 300 gsm and will not warp or bleed when you work.
It also will not tear when scratched due to gelatin in its composition, so you can go wild and use quills on it.
The color of the paper is natural white, which will make your ink and/or pen works look stunning, and such color is achieved without acid or other agents.
Buy on Amazon
The sketch pad contains 80 sheets of nice and smooth paper that is acid-free and ideal for inks and pens.
Even though it's 100 gsm thick, which might seem quite a small number, it's sturdy and heavy enough to endure scratching and/or erasing, in case you want to make a sketch before you draw.
It will satisfy both beginners and professionals with the quality of the paper.
The spiral binding makes it perfect for right- and left-handed users, and the sketchbook lays flat and allows you to draw outdoors because of the hard backing.
Buy on Amazon
The paper of this sketchbook is acid-free and eco-friendly, since both cover and insides are made out of recycled paper.
Spiral bound helps you add more pages or remove them easily, and also makes the sketchbook lay flat for both lefties and righties to use it easily and comfortably.
Sufficient tooth of the paper makes it great for and smooth strokes, but be careful with washes: it might smear a little.
The hardboard cover has a nice pleasant texture that feels great to touch, is extremely durable and will survive even rough handling inside the bag.
Buy on Amazon
This journal is amazing mostly because of its cover, hard and covered with nicely textured thermo-PU leather, that has an embossed logo on the back.
What makes it so awesome is the rubber band which helps keep it closed when you carry it, and the small bookmark that makes it more convenient to use.
The paper is wonderful as well: perfectly suitable for wet mediums, it's 200 gsm thick and 100% recycled.
The placement of its bound makes it a perfect sketchbook for urban and daily sketches, as well as the fact that it's durable enough for you to carry it anywhere.
Buy on Amazon
Final Thoughts
The most amazing sketchbook out of all, for me personally, is the Bee Paper Company Bee Creative Watercolor Book , because I'm madly in love with very thick textured paper (that prevents bleeding), and spiral bounds, because they are so practical and comfortable.
In case you are still in doubt about that, I can assure you that making ink and pen drawings is an absolutely awesome process because they'll help you a lot in developing your strokes and lining skills.
They'll teach you to not be afraid of making mistakes and to improvising, and you won't make such solid and cool black lines with any other medium.
So don't hesitate to try it out, and – who knows?
– maybe it will become your most favorite medium and drawing technique!
---
---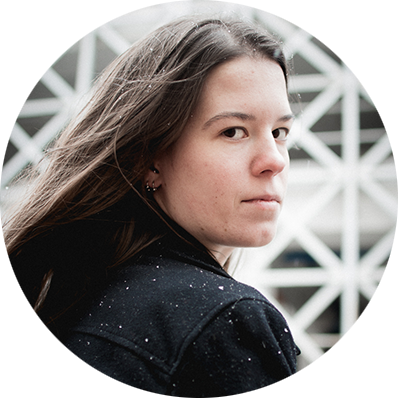 Author: Hanna Martsynkevich
Hanna is an artist, poet and musician who lives in Minsk, Belarus. She loves food, cats, gigs and esoteric stuff. She posts the things she does on Instagram and sometimes appears on FB.
---
---