A couple of weeks back, I had the pleasure to interview Moutaz K. Maudy – an Egyptian Workaholic Illustrator currently working as a freelancer in the mobile gaming field as a Game Artist/UI Designer. ( you can read the interview with him, and check out some of his awesome art here.)
And now he created a blog post sharing with us his new creation – Black Panther Fan Art of Shuri and Okoye!
Below,  you can read all about his process, as he walks us through this short digital painting tutorial of his 🙂
Let's get started!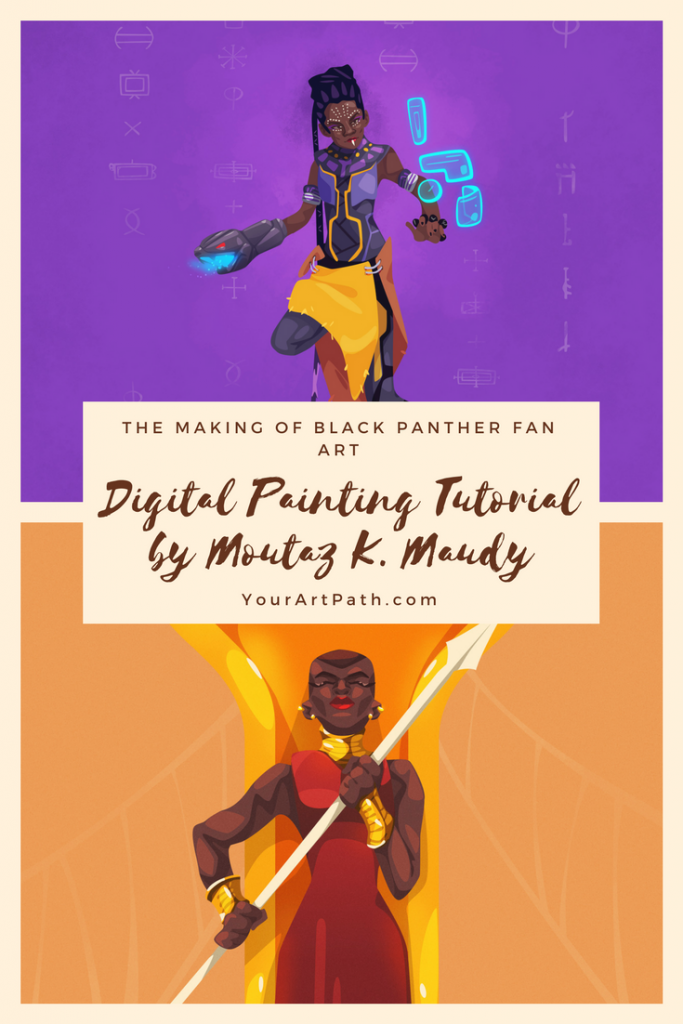 Since I don't have a solid process yet, I'm gonna talk about the one I would go with most often whenever I'm about to start a new piece.
( Usually, it is messier and all over the place 😀 )
Step 1: Brainstorming, Sketching and Thumbnails
Often times I start with a clear vision in my head to what I want to achieve or what I want the piece to look like by the end.
[optin-cat id=2063]
At least a rough undetailed overlook, even by writing down and describing some of the elements or the feel of the piece.
Sometimes it goes along with some light sketching either in my sketchbook or using Procreate on my iPad Air 2 ( I know I'm outdated 😀 ), to generally test some options for the poses, anatomy and sometimes basic colors as well.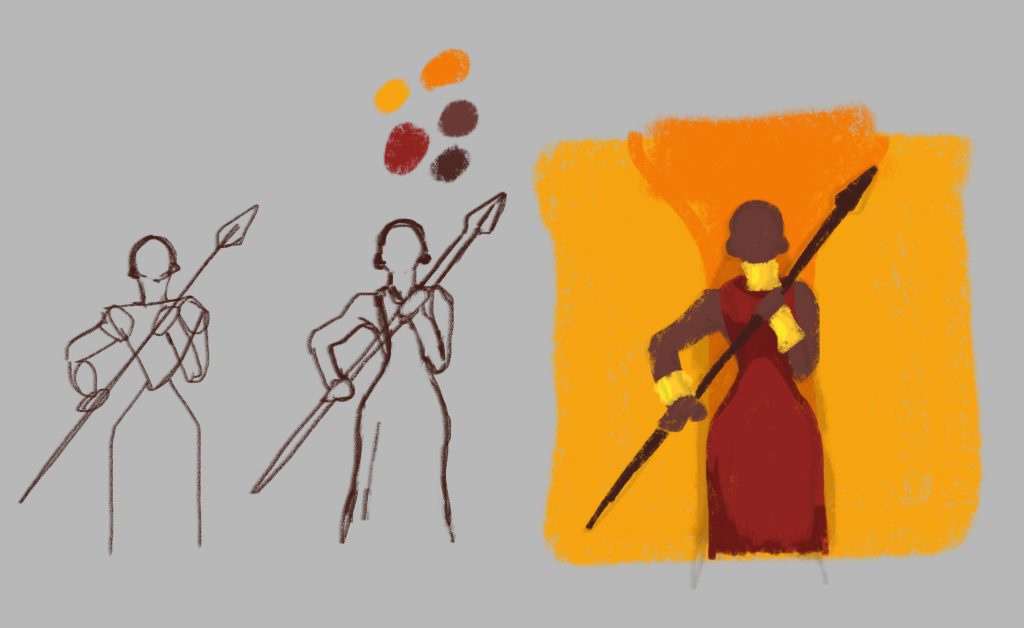 Some visions though take quite some time and tinkering; so for example with Okoye's piece it was a total hit as I had in the back of my mind what I want the character to look. Fierce and standing firm showing her spear and jewelry in Pride and Peace.
It didn't take quite much figuring out compared to Shuri's piece, which I had the idea for as well very early on in verbal context to make her look as badass as I could showing off her technology in one hand and the gauntlet in the other as well as paying attention to her beautifully detailed costume.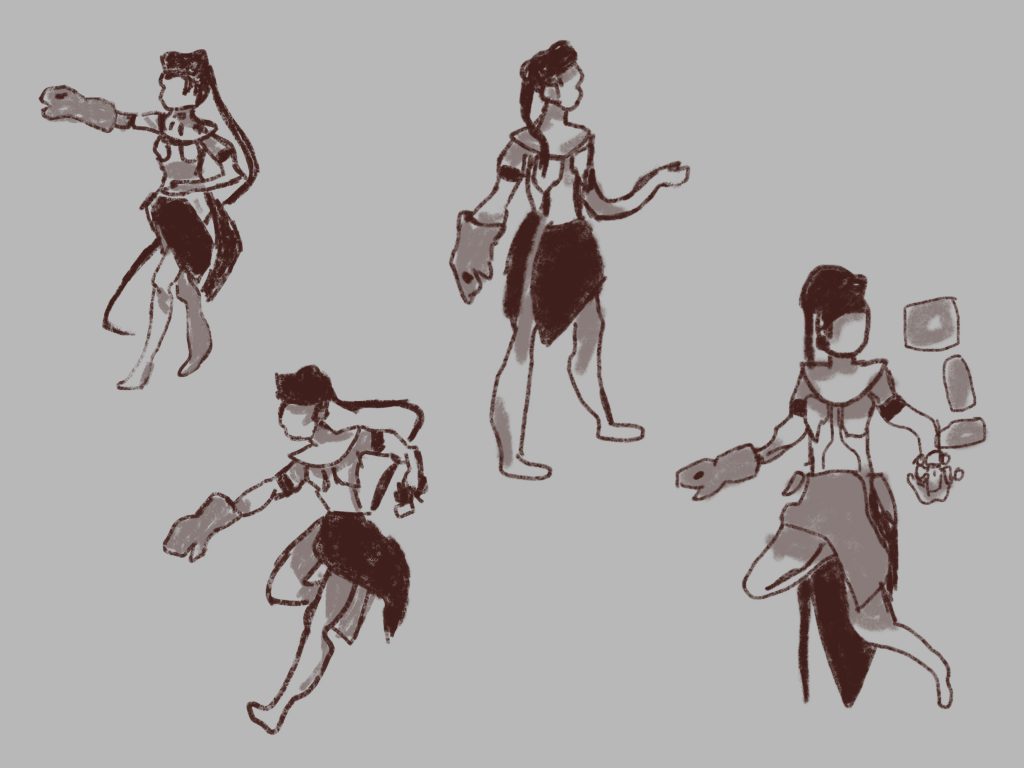 Thumbnails come pretty handy when using Procreate as you see in Okoye's piece, I had already found the perfect contrasting colors and composition.
A lot goes into the sketching step in general as I go forward and backward between sketching and digitalizing using Photoshop with my Wacom Intuos Art since I'm a messy sketcher. That's why I find Vectors are perfect,  given they're so easy to edit and can get pretty quick results and solutions 😀
Step 2: Refinements and Color Flats
After I have some options from step 1; I start to translate them with the pen tool and see how the shape dynamics and the poses feel, oftentimes along with the colors as well even if I end up changing and tweaking them later on.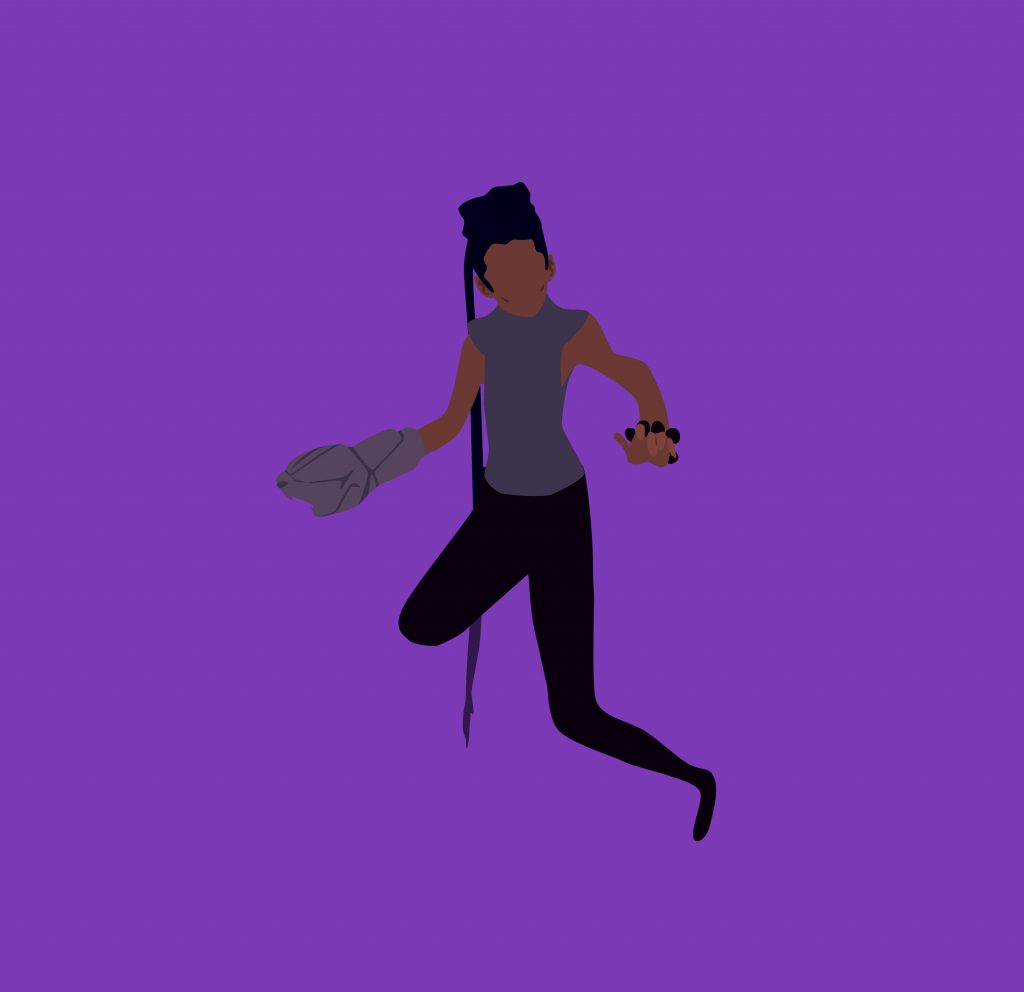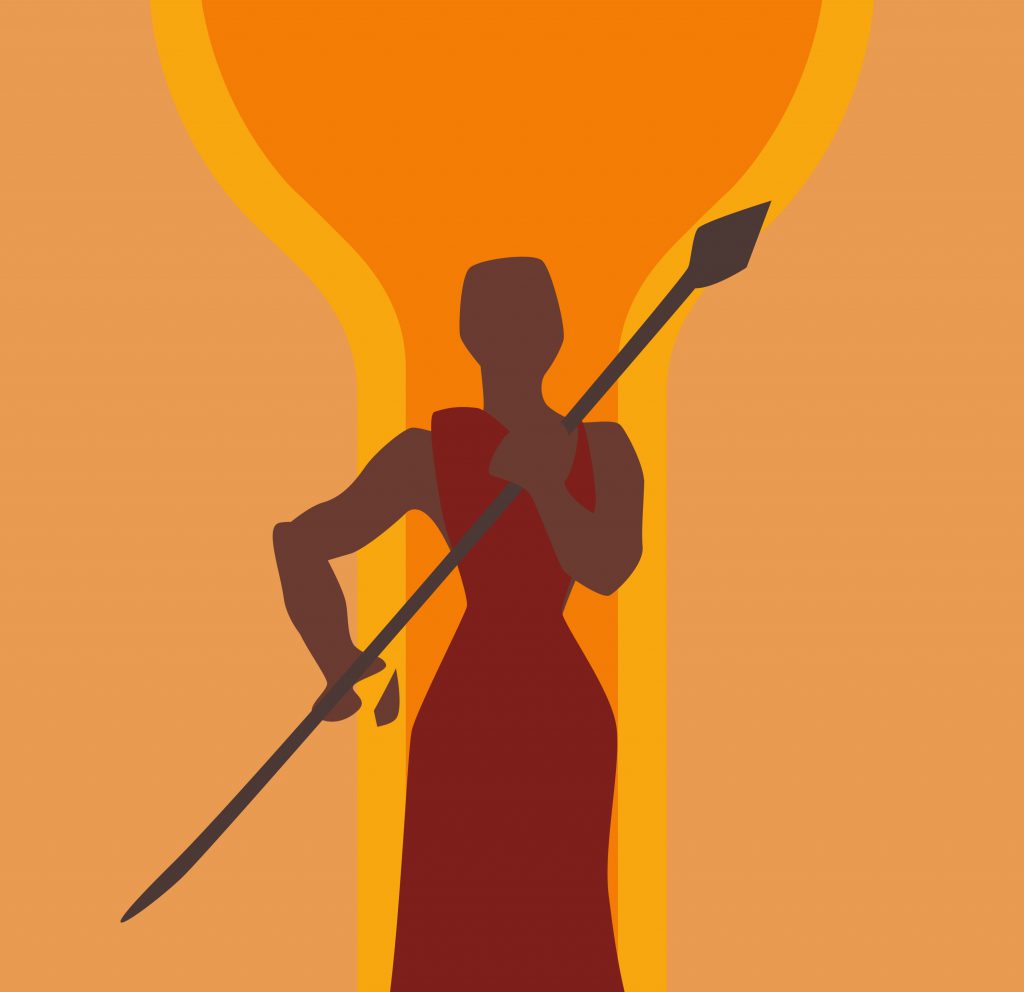 Once I settle with the flats, I start to pay attention to the background and the details of the elements I want to add to the piece.
For example, in Okoye's piece, I found the interesting shape behind her as symbol to an overflowing gate polished in gold similar to the set design in the movie, having some drapes as well from the side to add some continuity to the piece.
In Shuri's piece, I was very interested in the symbols of the language displayed in the movie on the walls and everywhere basically, so I searched some more about the roots and started to implement them in vertical strings of texts (sort of like The Matrix);
As you'll see in the final result they added some pretty authenticity to the whole piece and I'm really glad about how it turned out in the end.
Step 3: Polishing
This is my favorite part : D Where I drift off and zone out as I let the mood and my style take control.
Between the shading and sometimes more experiments with colors and shapes, I keep rendering and tweaking until it looks satisfying.

Final Words
That was an awesome walkthrough of your process, Moutaz!
If you want to continue learning more about art, tutorials and techniques, I recommend these 3 sources:
Skillshare – it's a paid monthly subscription site with many amazing courses on different topics, but you can get Skillshare for free for 2 months by using my link 🙂
Proko – is a website full of tutorials you can choose from!
Figure Drawing Books!

I have a list of Top 14 Figure Drawing Books, so you can go ahead and check them out here!
Feel free to Pin these artworks to your Pinterest boards for future inspirations! 🙂
Oh, and don't forget to subscribe to our email list and follow us on social media if you would like to read our future posts!
Good luck on Your Art Path,
– Anna, Your Art Bud 😉
Blog Posts to check out next → "How To Draw A Dragon 7 Awesome Books"
and → "Stranger Things Gorgeous Fan Art From 21 Artists"