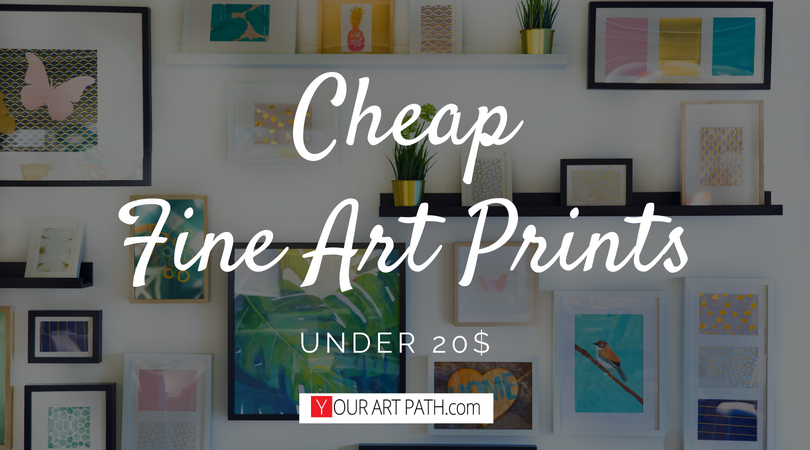 Are you looking to add some artistic life to your home?
Fine art prints are just the way to do it!
And when they are also inexpensive and affordable – makes it an even better experience 🙂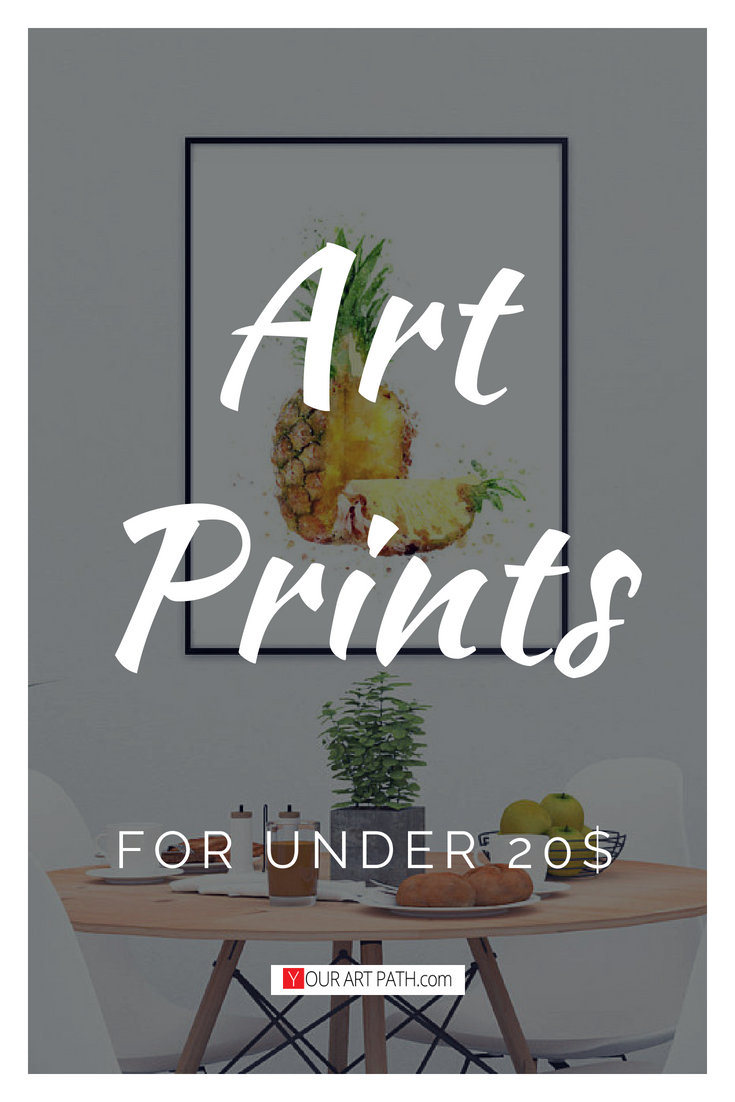 With a print like one of those below, you can add some nature in your home with amazing paintings of flowers and plants without the need to water them.
( I love nature and plants. Unfortunately, I get too busy with daily tasks and even cacti don't stay with me for too long 🙁 And hanging a print of one sure does make me feel great and inspired! )
You can also hang a little print in your kitchen or dining room with yummy food on it that makes the room feel connected and gets your visitors hungry right away. (Or they feel like they've eaten just by looking at it and you don't actually need to share your food with them. Sounds like a dream come true to me!)
I also love seeing fine art prints of different locations I've been to or have a dream of visiting – keeps me motivated to work hard and earn my way to these places.
Or prints with animals, people or objects – all of them have a way of inspiring, speaking of what kind of person you are, or even come in handy when you want to surprise someone with an awesome gift!
Do you feel like you want to buy a print now?? Well, that makes the two of us 🙂
Now, you can browse through all of the prints, that I picked out for you in these categories: Nature, Plants, Flowers, Animals, Food, Abstract and Quotes.
Nature Fine Art Prints
Who doesn't love being outside?
At the age of fast-paced lives and internet, we sometimes forget to reconnect with mother nature and all her miracles.
And while a print won't substitute spending time with friends in the fresh air, it will definitely bring some life and joy into your own home.
So while you sit at your computer and glance up, you will get to enjoy a beautiful view!
And, who knows? Maybe even decide to leave all of your tasks for later and go relax in some nice weather outside.
Modern Navy Blue Forest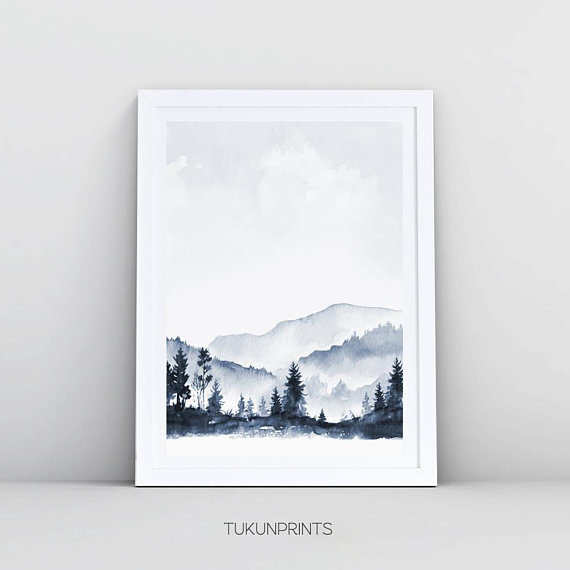 Modern watercolor forest scenery.
I am personally charmed by the blurriness and the mood of this piece.
Mysterious in a way, don't you think?
Ocean Abstract Painting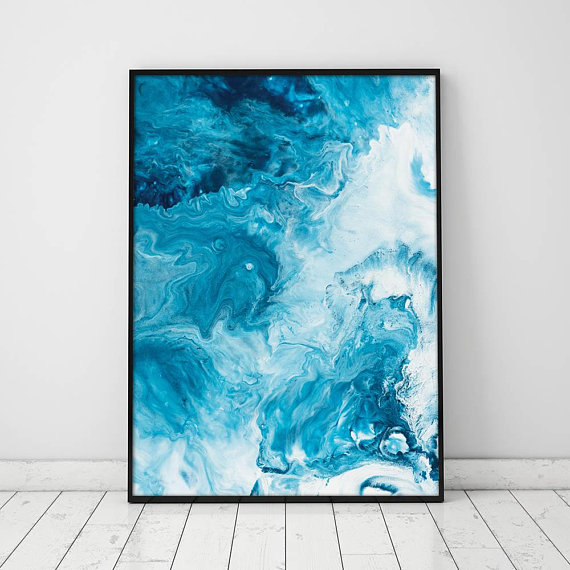 This beauty makes me think about summer, beaches, friends and dancing!
What will you be thinking about when you look at it on your wall?
Japanese Mountain Print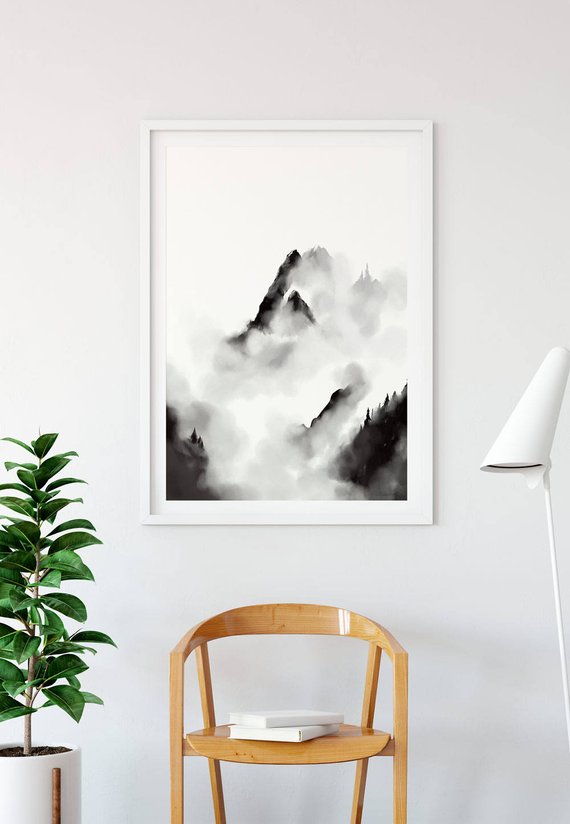 What is that beyond the horizon?
This piece makes me think about my future…
Clouds won't let me take a peek at all of the struggles I will have to overcome, but I clearly see what achievements I'm going towards!
What are your lifelong goals?
Plants Fine Art Prints
Some people are just like that, you know?
All about minimalism and nature.
And when you walk into their apartment you wish it was your apartment!
Well, here is their secret: minimalistic paintings of plants!! Woah, now you can get your place looking cozy too.
You are welcome.
[optin-cat id=2063]
Tropical Monstera Leaf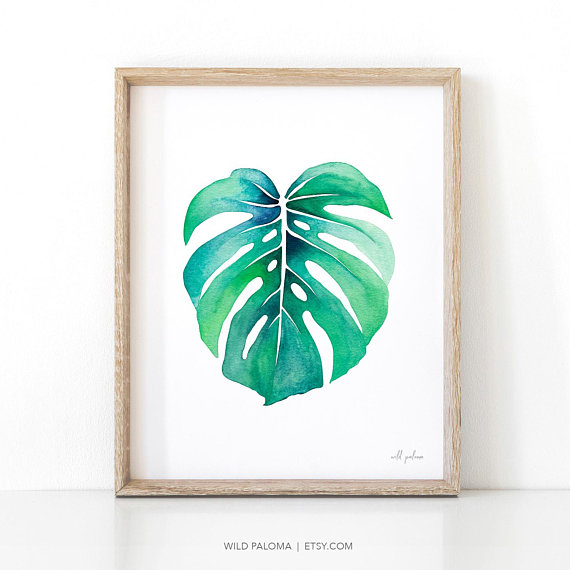 Can you see the different color variation going on in this painting?
Minimal composition + intentional negative space = just so gorgeous!
3 Watercolor Tropical Palm Leaf Paintings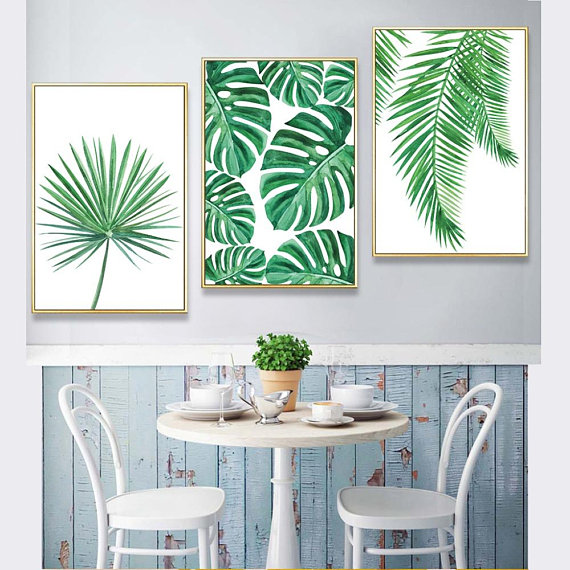 What's better than 1 fine art print in your house?
You got it!
It's 3 beautiful wall decorations ready to be stared at for hours!
Fern Leaf Decoration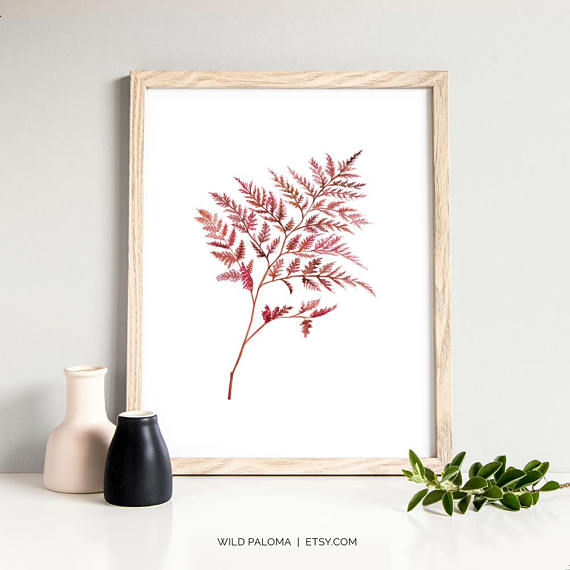 Who said that leaves have to be green to be hanged on your wall??
That's right, no one!
Enjoy this beautiful work of art that's full of life and… well, fall!
Flowers Fine Art Prints
Picking them yourself, or getting them as a gift – Don't you just love smelling flowers?
I know I do!
But it is so very upsetting to see them faint right before my eyes in just a couple of days 🙁
Well, no more of that! Now I can have them on my wall FOREVER.
They might not smell like real flowers, but they do bring me such immense joy just by looking at.
Watercolor Sunflower Decor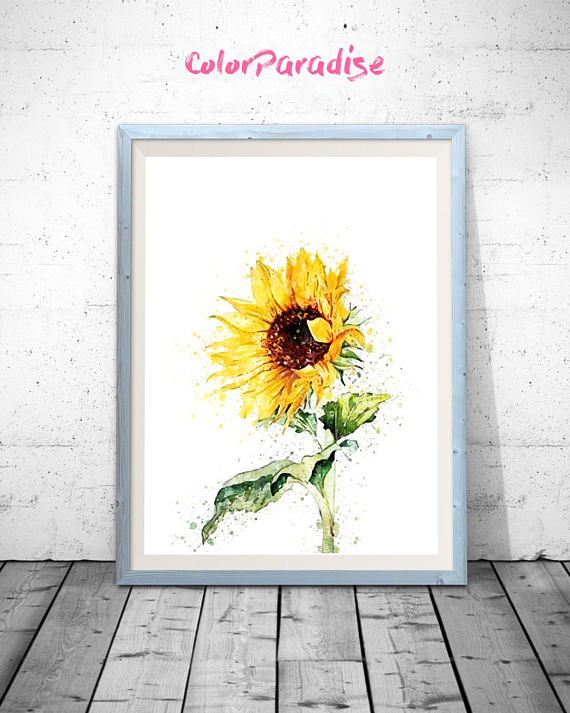 Looking for something to brighten up your room?
I wouldn't be able to suggest anything better than this beautiful watercolor piece.
I only have one word for it – striking!
Abstract Rose Painting
Roses stand for love and passion.
What a great addition as a welcome piece to your new visitors, or as a passionate statement in your bedroom!
Peony Watercolor Flowers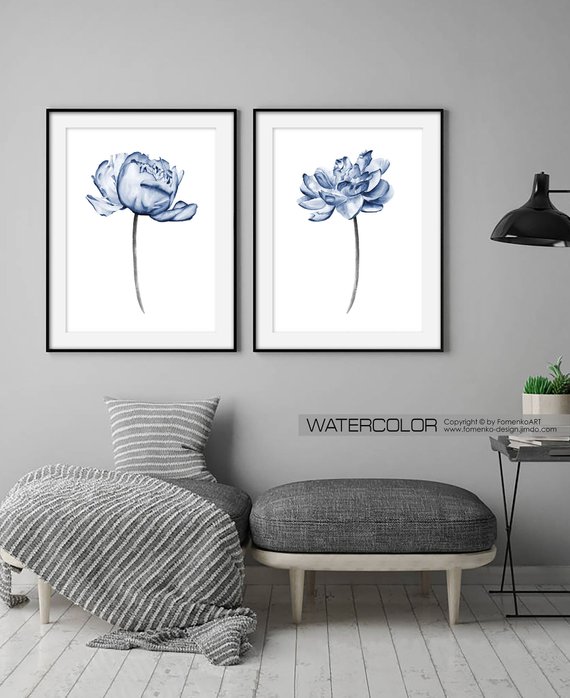 Do you have a spot in your living room to fit these two masterpieces?
I sure hope so!
Comment below the first compliment you receive from your friends for picking out such an awesome decor 😉
Animals Fine Art Prints
Whether you are a dog/cat/fish/bird/elephant/pig/horse person – no matter!
We all must agree that all animals are just adorable!
So go ahead and show off your love to our little friends <3
Peekaboo Dog and Cat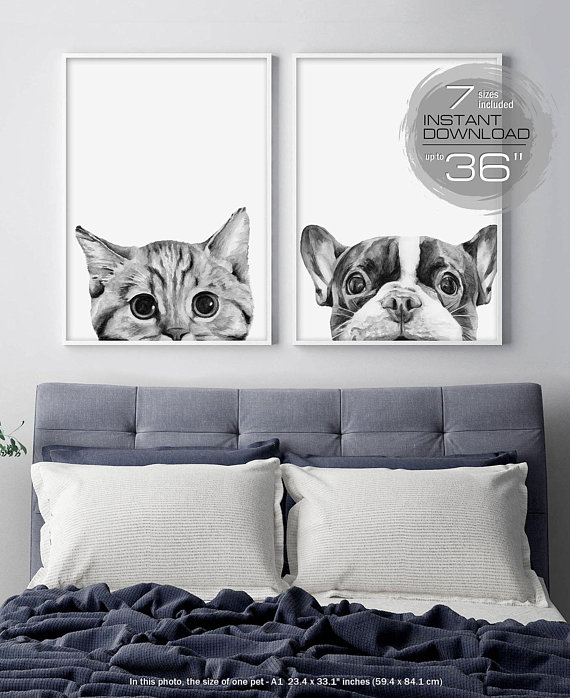 You were probably expecting this moment with anxiousness!
Who is she going to put first in this list – a dog or cat?
Well, I won't give you the joy of many dreadful comments haha!
And let's just put it out of the way – I have both a cat and a dog and love them both dearly!
And how can you not? Just look at these two trying to play peekaboo with everyone who visits your home <3
Blue Jay Bird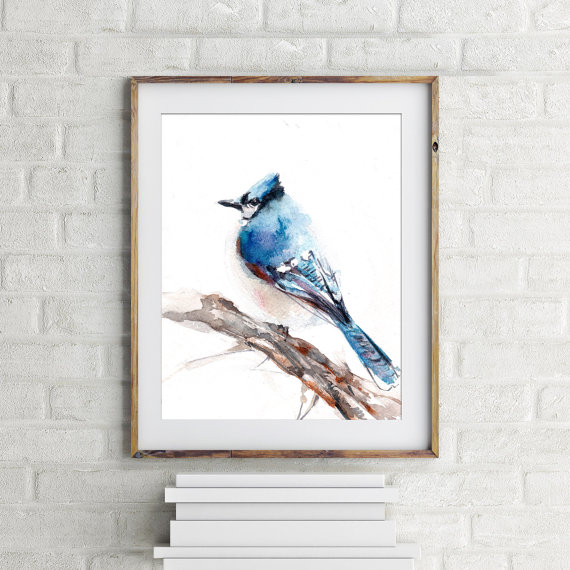 Birds stand for freedom and hope.
And this inspiring watercolor print is ready to inspire you to achieve a freedom in any aspect of your life that you desire!
Elephant Watercolor Painting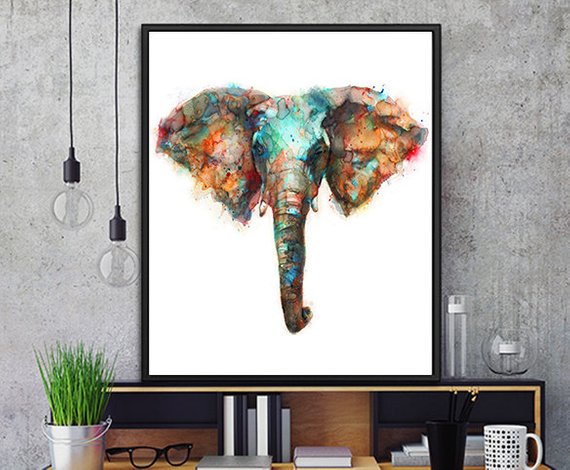 An elephant is a symbol of strength and power.
What better way do you find to show your guests who is the powerful one around here?
Symbolism aside, it is just such a powerful piece to look at and get inspired by!
Food Fine Art Prints
Who loves food?
Stupid question… EVERYONE!
And no wonder that most of the famous restaurants have food paintings or prints all over their walls. They just make your mouth water with anticipation for something yummy coming your way!
So why not have one up on your kitchen or dining room?
Pineapple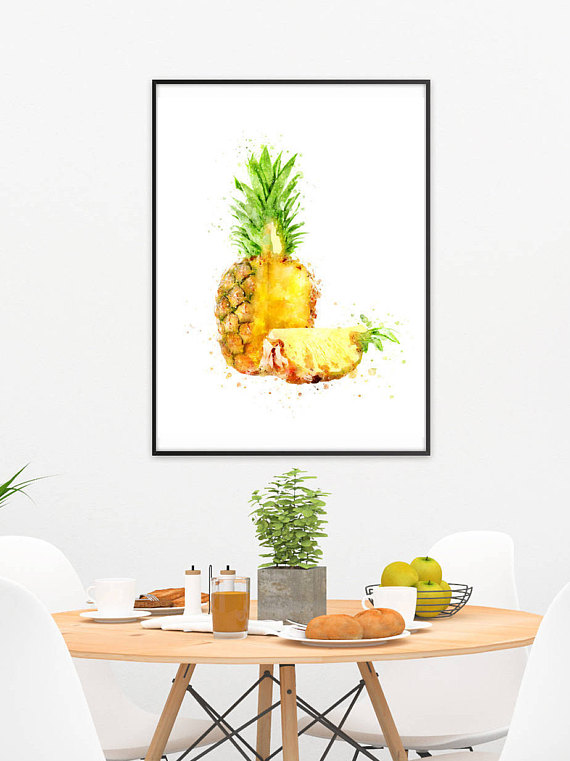 Pineapples are said to be great not only for many nutritional benefits, but also they help your mental health!
I don't know about you, but I feel better just by looking at this stunning watercolor painting.
Watercolor Fruit Painting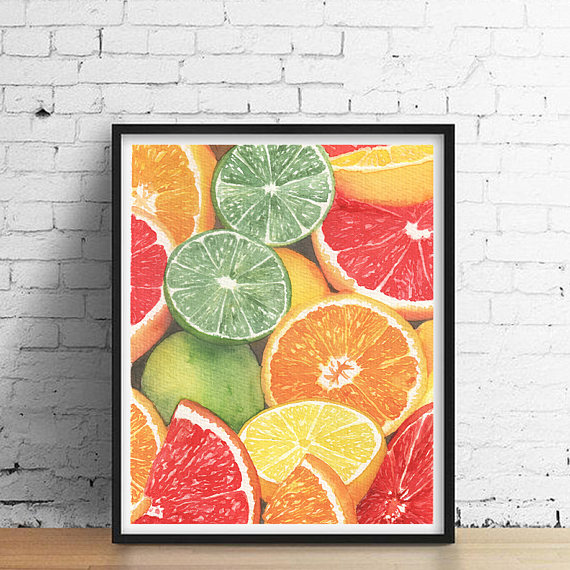 This piece makes my mouth water just by remembering all those times I've had a yummy lemon, orange, grapefruit or lime!
Isn't it funny how sometimes we squint just by thinking of sour food?
Otherwise, it's a very vibrant piece that could add some life to your kitchen!
Avocado Slices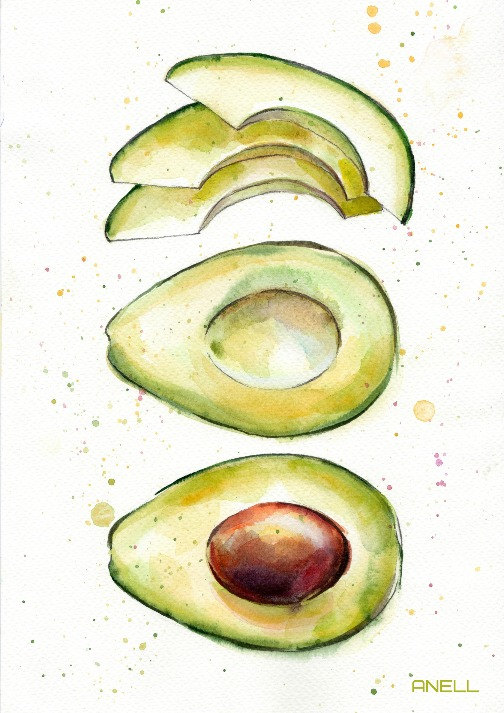 Healthy, Yummy and Stunning!
That's my best description of avocados at the moment.
I enjoy one every morning and I sure do appreciate the treatment artist has given to my favorite treat.
Which yummy meal will you put up on your wall?
Abstract Fine Art Prints
Abstract art gives you the chance to interpret your own vision of what an art piece about.
Instead of using recognizable subjects, it uses abstract shapes, colors and compositions to represent a feeling or an idea.
And you, as the host at your own home, have a chance to come up with your own storyline for each piece.
You can also hang a piece on a wall as a symbol of something your desire, of your dreams, losses, experiences or thoughts.
Black And White Minimal Ink Painting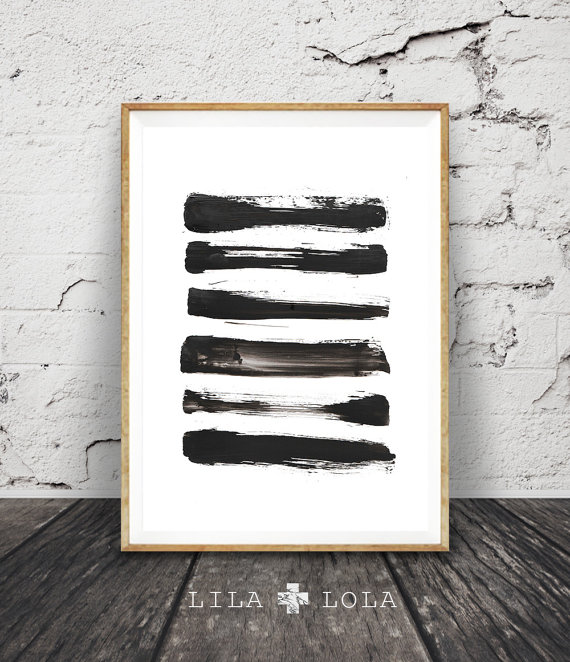 This one I think can add a great designe's look to any room.
Simple.
Minimalistic.
And… just look at that texture!!
Indigo Blue Watercolor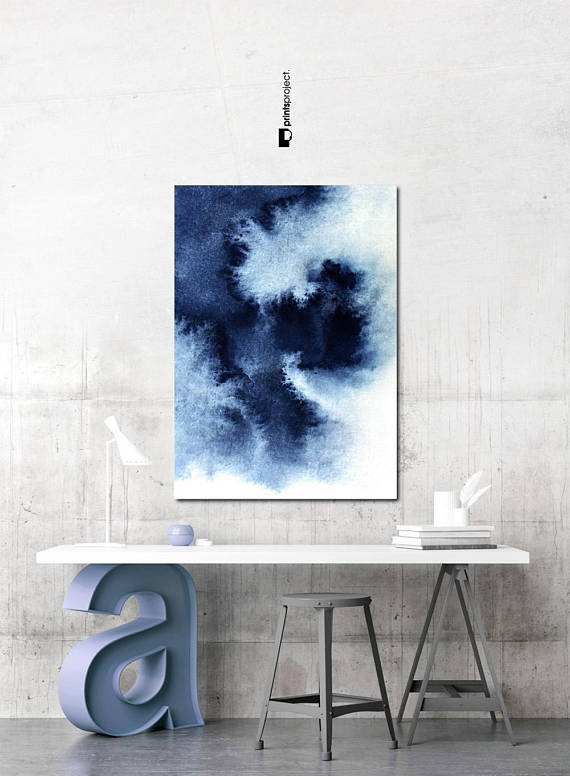 The effect on this piece reminds me of watercolor paintings with a mix of salt and/or alcohol.
The texture is just so stunning, don't you think?
Navy Blue Brushstrokes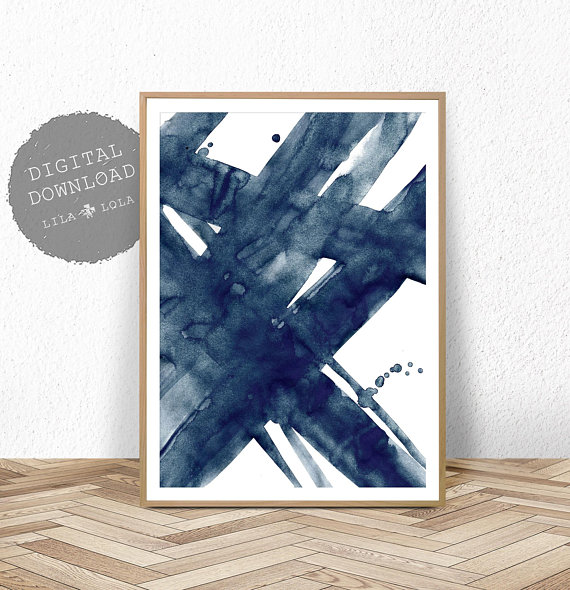 Any abstract painting is able to provide you with a backstory that's personal to each and every viewer.
What is the story behind this piece for you?
Postscript
And with these couple of my favorite picks of cheap fine art prints, I will leave you to decide for yourself.
If you are wondering where you can find some awesome affordable prints in other categories that I didn't cover – then my answer is simply Etsy. They are way too good to ignore.
If you like any of the prints, but feel like you need more time to decide – I get it!
That's why I created these couple of awesome pins for you to save for future references to your Pinterest boards.
Enjoy!