Updated on September 4th, 2018
Drawing in Ink is always fun, it's a bold medium that forces you to think before putting down a line (since there is not much you can do after the ink is placed on paper).
So, in this short post, I will go over the essential best pen and ink art supplies you need to try!
Let's begin 🙂
Working In Ink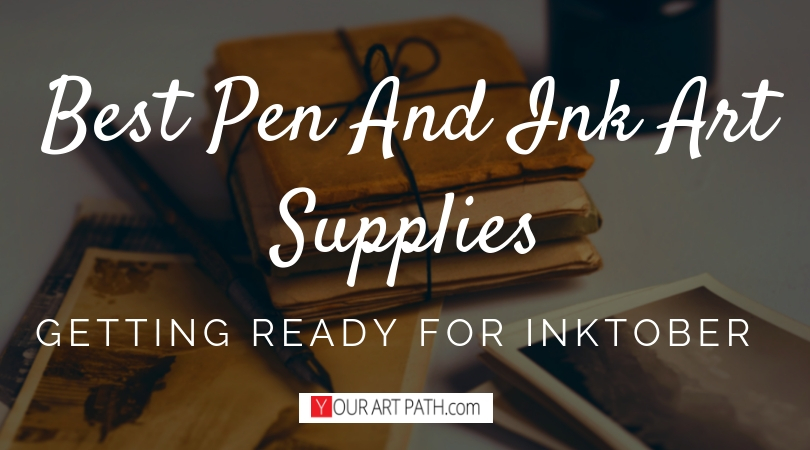 Ink is a very appealing medium that requires a certain skill and practice. It is very different from a pencil that you can erase or a digital painting where you can use layers and Ctrl+Z to redo when made a mistake.
With ink, once a mark is down there is no going back. It is inks' strength that could scare away those who are not very familiar with the process.
Ink is also great for practicing art skills, once you can perform well with this tool, it gets easier when using other tools!
I remember my first time deciding to participate in Inktober 2015 (a 30-day ink drawing challenge that happens in October every year). It was scary trying out a new medium, but also very excited!
I spent 30 days creating pieces with ink, and it was one of my best practice experiences! It helped me learn so much!
I wish at that time I had a list of supplies I could choose from, but I didn't. I got to experiment with a variety of things I could use, and now I would like to share my list of ink supplies with you 🙂
Hope you like some of them and give ink drawing a chance! Have fun 😉
List Of Pen and Ink Supplies You Should Try
(6+ Supplies To Get You Ready For Inktober)
1. Ink for Dip Pens
This is my top pick!
I have used many brands prior to this, but I find that Winson and Newton suits my needs the best!
Pros:
Thick. It is much easier to work with than some other brands since I can dilute the thickness of it at any time. On the other hand, if the ink is not thick enough, there is not much you can do to make it thicker!
Brilliant. It has a rich and silky quality to it that I enjoy very much when applying ink to paper.
Dries Fast. I love that it dries so quickly since I am pretty clumsy with my work, and sometimes I would put my hand on top of my drawing and smudge it if the ink is not dry! I don't experience much of this problem with these inks.
Cons:
Dries Fast. This feature has two sides to it. The fact that it dries fast means that you must work fast with your drawing, and I could see how that would be a problem for some people.
Separates Fast. The ink separates fast, which means that you should shake the bottle well before and during usage.
Overall, I would give it 4.5 Stars and would definitely recommend! So far it's by far my favorite Ink medium, but if you have any other suggestions please let me know 🙂
So go ahead and check out some more reviews and ideas about this ink HERE, where you can also purchase it if you like.
2. Ink Fine Line Pens
They are definitely my go-to!
These pens are absolutely amazing if you don't like the regular way of using ink with a nib. They are also easy to have by your side at any time and they allow you to work with very precise line thicknesses!
Pros:
Transportable. These pens are great to take with you wherever you go. They make it so easy to practice with ink on a bus/subway or at school ;). It would be much harder and messier to have to carry a bottle of ink and a bunch of nibs. So, if you like working on the go and keeping things clean- they are the way to go!
Smooth, Consistent and Opaque. These pens do wonders if you are going for a clean and consistent look! And if you want some variation in your lines – there is always the brush pen (that is included in this set) with which you can easily achieve the "traditional" stroke variety look!
Cons:
Some people have had troubles with pens leaking. I personally never had any trouble with them whatsoever, but it is a little complaint out there. Keep in mind – sometimes even regular writing pens leak, but out of so many you have used in your life, there were only probably a handful of those. I feel like the same goes for these pens as well. It might happen but in very rare cases.
Overall, I think that some manufacturer's mistakes could've happened that cause some of them to leak. However, I've never personally had any problems with those pens, and I love being able to always have them nearby! I will give them a 5 Star Rating as I am super satisfied with them!
* If you just want to try just one for yourself before getting a set, you can always get only one pen here.
3. Nibs and Nib Holders
A long time ago people used to write by dipping a feather in ink.
We have evolved from those times, and now there are ink pens like the ones above and a variety of nibs and nib holders for those artists who want to take full control of their drawings and experiment with ink application.
Nibs vary in shape, mount size, tip size, material and flexibility. Nib holders vary in shape and material.
I will be honest, I have only tried a couple of brands for nibs and nib holders of different value ranges, but I always keep going back to this particular set!
Give it a shot and see how you like it, if you are not afraid of experimentation and maybe even mess.
Pros:
A Set. The nibs and nib holder comes as a set, so you won't have to browse around looking for separate nibs and nib holders that work nicely together.
Great for Beginners. With such a great price point and good quality! As well as if you are just trying to experiment and see if you want to ever use nibs in your artworks 🙂
Cons:
Not the best out there. But again, for the price point, they work much better than you could guess.
Overall, my rating of this product will be 4 Stars. As it is not the best out there, but for the money you pay, you get pretty great quality and it works wonders!
4. Drawing Paper
The drawing surface is a very important factor in how your final illustration will look.
Some people prefer smooth paper, some textured. I think it really depends on the outcome you are going for.
Smooth paper(less tooth/texture) will give you the ability to create more precise linework, while as a textured paper has the ability to let ink bleed around just a little and creates very nice textures within your piece!
Here are some of my Top Paper Types for Ink Drawings:
Mixed Media – My Top Pick is "Strathmore 300 Series Mixed Media Pad".
It's a sketchpad I personally use for my Ink drawings, Acrylic Paintings, and Markers. I love how it has a bit of a tooth and allows me to play around with different textures.
Sale
Watercolor Paper – My Top Pick is "Winsor & Newton Cotman Cold Press"
It's a little more expensive, but the quality of it constantly inspires me to create! I love working on bigger finished pieces on this specific paper 🙂
Sale
Winsor & Newton Cotman 200-Pound Water Colour Cold Press Gummed Paper Pad, 10 by 14-Inch
This gummed (tape-bound) pad contains 10 sheets of Cotman 200 lb. cold pressed water color paper and a strong backing board for rigidity and stability
Fine quality mold-made, wood-free paper
Acid-free for extensive life without deterioration
Natural warm white surface
Cold pressed paper having a moderate texture to hold in water and pigment and is generally considered the easiest to use
Bristol Board – My Top Pick is "Strathmore 300 Series Bristol Smooth Pad".
It's a heavy-weight paper pad that is ideal for pen and ink! If you are planning to take your ink drawing to the next level, this paper will help you out greatly!
Note: If you are looking for more sketchbook ideas, check out 36 Best Artist Sketchbooks To Buy For Artists  and 5 Best Personalized Leather Sketchbook Deals
5. Brush Pen
Brush Pens are simply awesome!
They give you the hand-rendered quality with varying opacity and stroke widths as does a regular nib, but they have the ink already inside them, so you won't have to worry about carrying a bottle of ink with you everywhere you go!
Here are my top two brush pens:
It's a good idea to experiment with using both at the same time!
6. Other Materials
There are many more materials I could include in this post.
However, I decided to keep it pretty short and focus on my most important and favorite ink tools!
In case you were wondering what else I use while working with Ink, here are some more supplies I always have by my side:
I like to use those as an underlayer beneath my ink drawing.
I love using red and blue pencils since if I scan my image in later, it is very easy to get rid of those colors and be left with just the ink drawing.
My favorite brand to use from colored pencils is Prismacolor! I find the colors to be vibrant and easy to sketch with.
* You can see my fan art ink drawing at the top for "Brother Bear" by Walt Disney Pictures which has the blue pencil showing through. I really enjoy the aesthetics it gives to my sketches!
Kneaded Eraser
I absolutely adore this type of erasers!
If you didn't know, they are kind of like plasticine.
You can shape them to whatever form you like in order to create some cool textures on your pieces, or to shape it to a very tiny point and erase little details from your art!
If you haven't yet, give them a shot, I think you will be pleasantly surprised.
White Gel Pen
I can't tell you how much of a difference these guys make in the final stage of your artwork creation!
My final step in adding details to my piece would be done with this cool tool!
You can use it to add highlights, make textures and even mask mistakes in some cases!
Try them for yourself 🙂
So there it is!
We are all done with our list of supplies.
I hope you check out some of them, and if you have already let us know in the comments below your thoughts on these art supplies!
In case you can only get one:
If you are just at the beginning of your ink drawing practices and are wondering what you should get to start, I suggest the Pigma Micron Ink Fine Line Pens as I truly love them 🙂
Don't forget to subscribe to my email list for FREEBIES + weekly tips and updates on new blog posts!
Also, follow us on social media:  Facebook, Twitter, Pinterest, Instagram.
So we can communicate and be even closer!
Related Articles:
Stay Inspired!
-Your Art Bud 😉