Cynthia Xing is a very talented artist from Beijing with her art pieces being on top of their game with the amazing colour choices, character designs and composition! You can find her on:
Website: http://cynthiaxing.zcool.com.cn
Behance: https://www.behance.net/cynthiaxing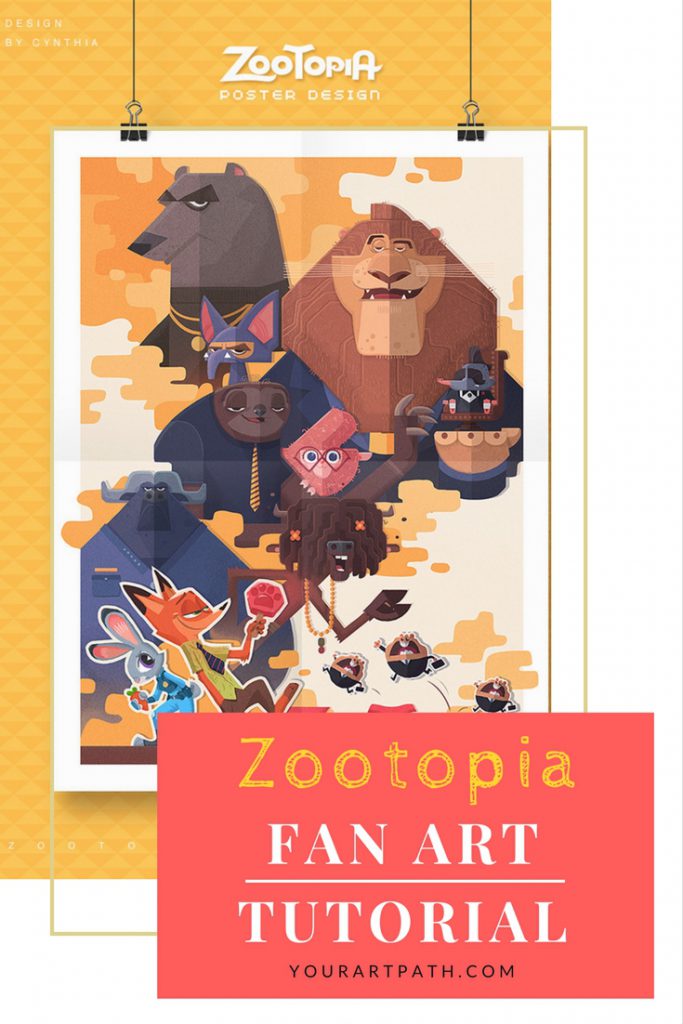 Today, she prepared a special treat ONLY for YourArtPath.com readers! We are so excited for this!
You can read more about her thought process, life and see more of her art pieces here: "Artist Interview #12 – Cynthia Xing". Where just last week she shared her Art Path story with us! 🙂
For today's feature, she prepared a step-by-step tutorial of her process on making an illustration from start to finish! It's a cool how-to-make-an-illustration type of lesson worth checking out 🙂
For this topic, she used one of her older works dedicated to a Walt Disney Animation Studio film called "Zootopia".
(You can check it out at the links below if you want, and also get the super cool The Art of Zootopia book for inspiration! )
[optin-cat id=2063]
For those of you who don't know, here is a short summary grabbed from the official Disney website:
" From Walt Disney Animation Studios comes a comedy-adventure set in the modern mammal metropolis of Zootopia. Determined to prove herself, Officer Judy Hopps, the first bunny on Zootopia's police force, jumps at the chance to crack her first case – even if it means partnering with scam-artist fox Nick Wilde to solve the mystery. Bring home this hilarious adventure full of action, heart and tons of bonus extras that take you deeper into the world of Zootopia. It's big fun for all shapes and species! "
The characters in the movie are so amazingly created that it makes you fall in love with them instantly! I definitely recommend checking it out! I LOVED IT!!
So now, let's get straight to the tutorial:
Disney Drawing Tutorial in 5 steps

Did you like the quick and fun tutorial Cynthia created just for you? Don't forget to Pin it to your Pinterest board so you never lose it! 🙂
Also, just thought it might be interesting for you to know: she spent almost 2 weeks on it!! So don't get upset if it looks a little unfinished at first, art takes a lot of practice and time, but after all, I'm sure you can do it! 🙂
Also, subscribe to our weekly newsletter (at the top of the page) for some awesome content delivered to your inbox once a week! No spamming, I promise 🙂
Now, a quick recap of Cynthia Xing's art process:
Step 1: Sketching
Step 2: Composition
Step 3: Color
Step 4: Cold and Warm Tone Adjustment
Step 5: Adding Details!
Sounds easy, right? 🙂
I hope you enjoyed this quick drawing tutorial, and there is much more to come! Don't miss out on it by connecting with us on social media:
Facebook, Twitter, Pinterest and of course our email list! Our community is growing slowly but steady, and we would love for you to be a part of it!
Related Articles:
Stay Inspired!
-Your Art Bud 😉