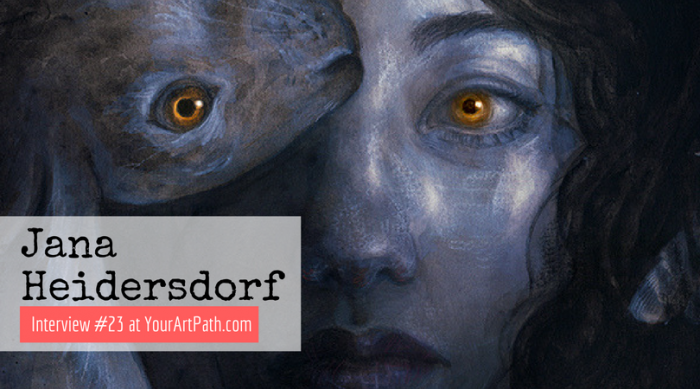 Welcome back to YourArtPath.com Artist Interview series!
Today, it's my pleasure to interview an amazing Illustrator from Germany – Jana Heidersdorf !
Be sure to check out the artist's Instagram for more art!
Now, let's get to it! 🙂
Welcome, Jana Heidersdorf!
Can you tell our readers a little bit about yourself?
Oh hey, I'm a 24 year old fantasy illustrator from Germany primarily known for drawing creepy glowing eyes and mermaids.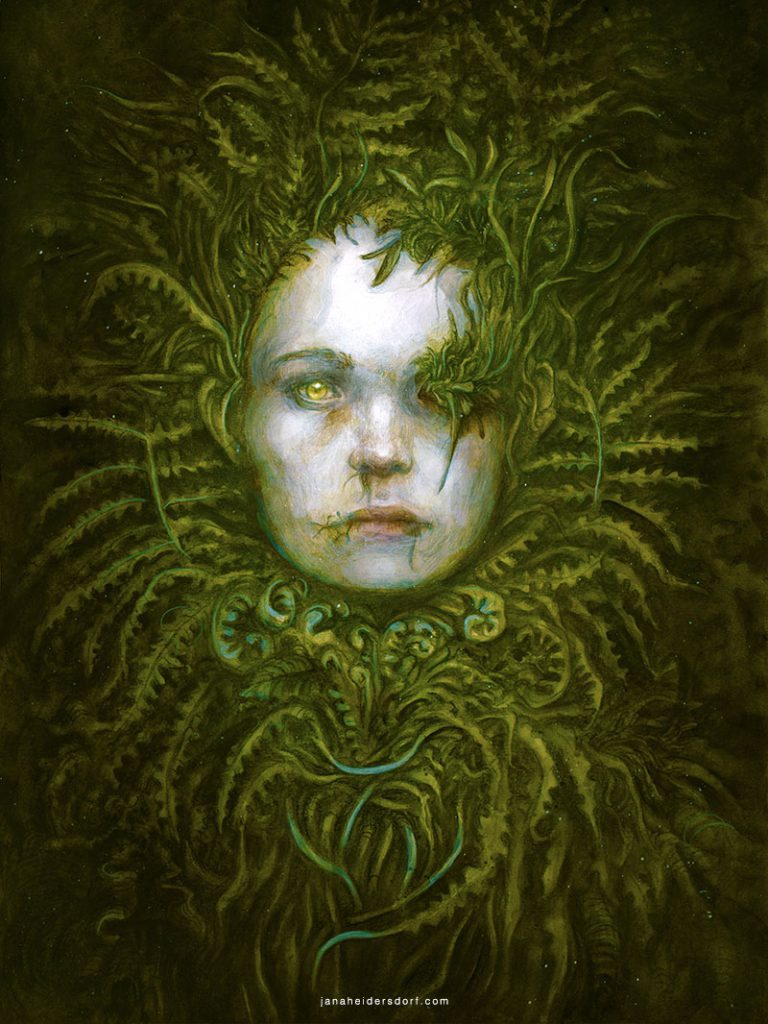 Your works are full of mystery and fantasy! What inspires you to create these pieces?
This is a tough question because the answer is really very simple. I mainly draw what I'm interested in or find appealing.
I read a lot and love to dip into fantastical worlds, if not necessarily those with the flashiest, most colorful dragons and pompous sword masters (unless it's funny). Gnarly trees and skeleton leaves and cats and peculiar things always find their way into my own art in the end because they have become part of my visual vocabulary and how I see the world.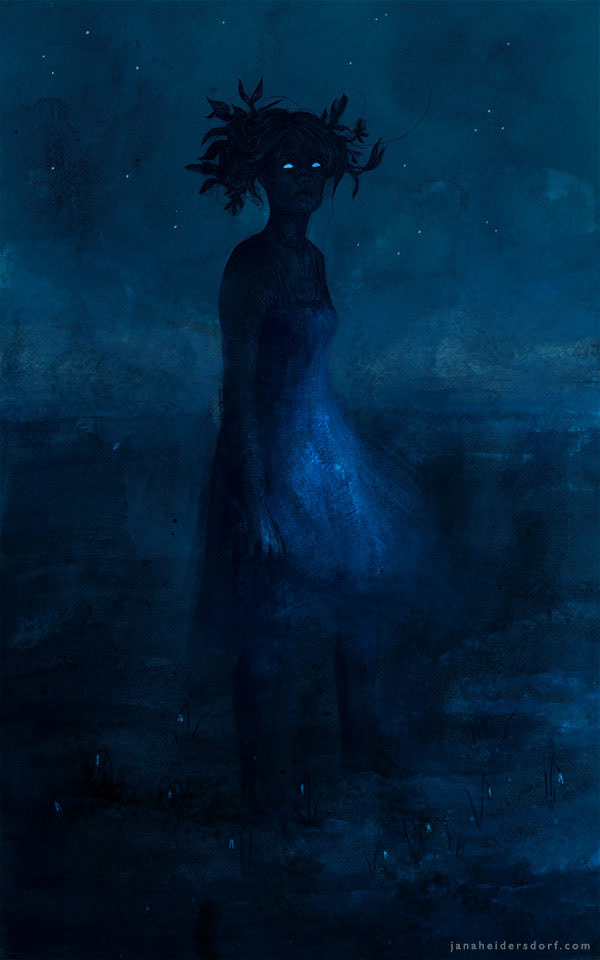 You mentioned some of the Publications you worked for: Cemetery Dance Publications, Unsung Stories Press, Amazon Studios ("LORE"), Bracken Magazine, ImagineFX, Titan Comics, Fabulous App, Erthe & Axen Records, Bottleneck Gallery;
What was it like to work for these companies? Were you approached by them, or did you send them your resume?
Well, for all these projects I got to work with lovely people on cool stuff while sitting at my desk at home, so that was neat!
Otherwise, every client is different. Sometimes I get to be part of a team contributing to something much bigger than me and sometimes I have near-total creative freedom in shaping the look of another person's story. Both are pretty great experiences.
While I do contact some select dream clients (although not as often as I should), all my clients so far have reached out to me first, most likely because they've found my work somewhere on social media or featured on a blog or portfolio site.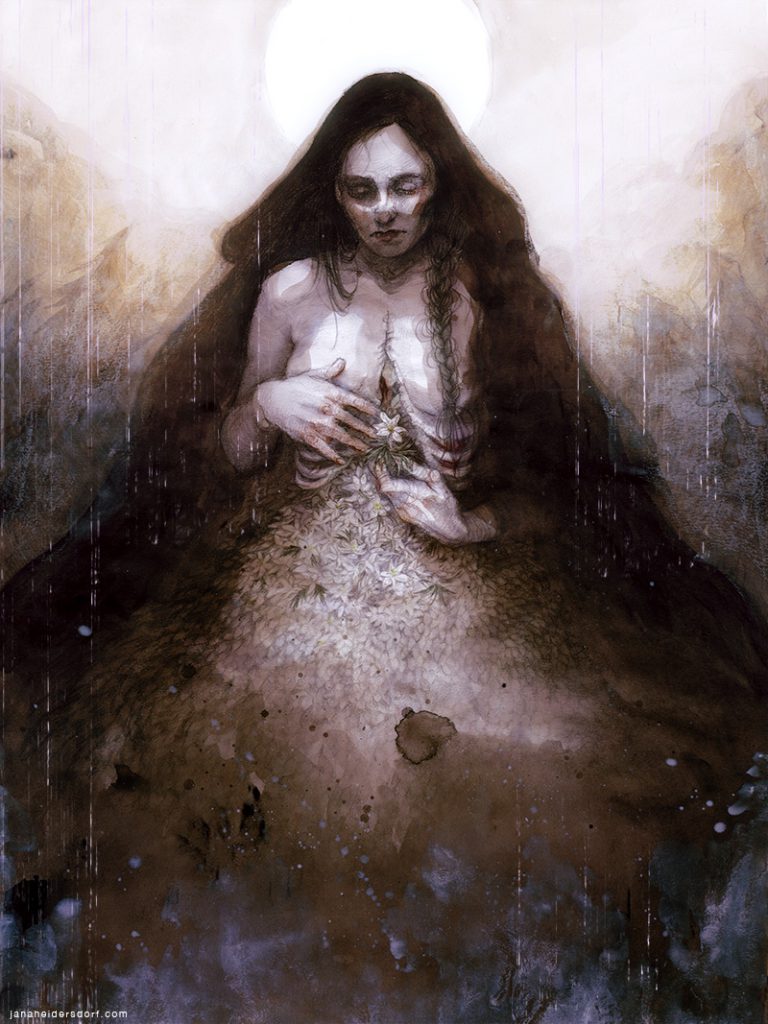 Did you go to an art school? How important do you think they are?
I did study illustration at a small art school in Germany.
It was important for me at the time, because it brought me into contact with other creative minded people, which helped to broaden my artistic horizon and ignite that competitive spark in me. I also had a lot of luck with my classmates, who were not only lovely people but also in part incredibly skilled (While I was perfectly mediocre. We were maybe ten people starting out and I was maybe 5th best. Yes, I was mentally ranking us.), so the bar was set very high.
I also had some great teachers and learned a process of ideation and presenting sketches and layouts to clients I'm still using today. Honestly, most of my clients are not half as critical as my art teachers were.
For others in my class art school was definitely a waste of time and money, though. Art school is very much what you make of it and also a place where way too many people go to figure out they don't want to be illustrators after all.
[optin-cat id=2063]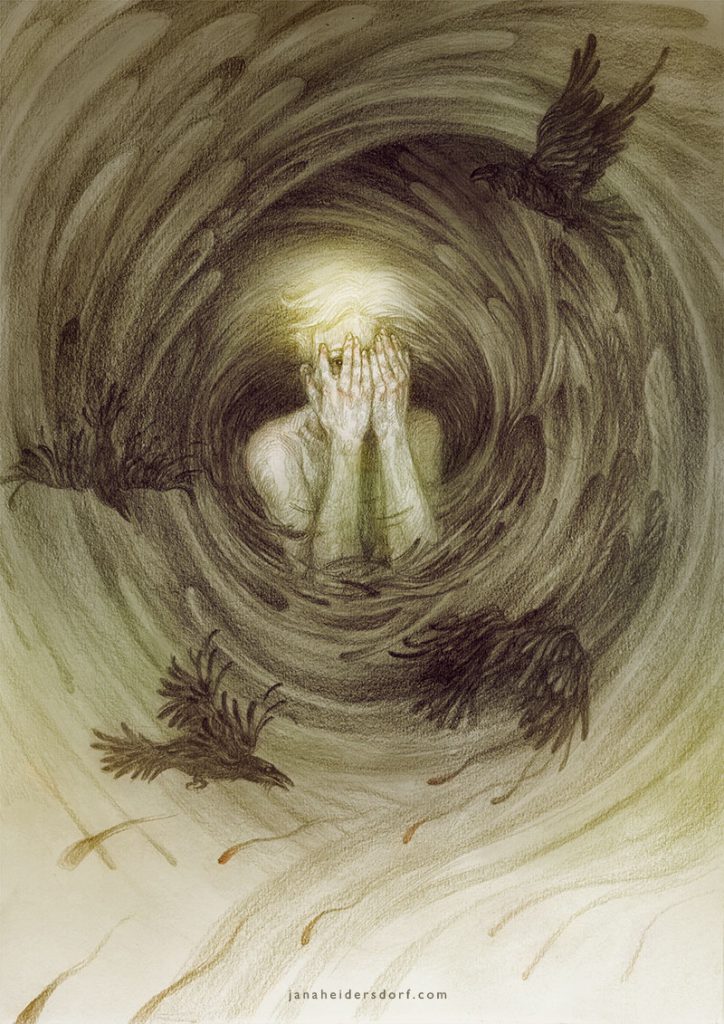 Do you keep learning art? If so, what are the sources you use the most?
I do, I do! I'm terrified of looking back at my work and realizing I haven't made any progress in years. What has been an invaluable resource to me during art school and continues to be so is the Muddy Colors blog and lately their Patreon. They do monthly demos by different artists and it's super inspiring.
I've found building a habit of doing 30-minute studies based on a theme (e.g. hands or colour) every day just before diving into personal or client work super helpful, too. Each theme spans about a quarter year, so that little bit of time spent every day eventually adds up.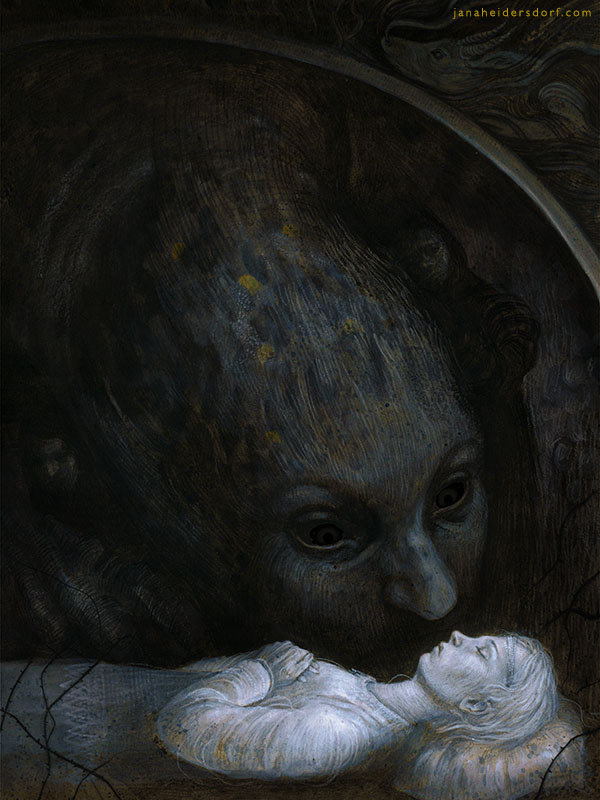 You have a very mysterious style, Jana! How did you go about finding it? Was it a conscious effort or did it just evolve passively through time?
While I think style is nothing you can force, it was a bit of a conscious effort in my case. Halfway through my time in art school (we're talking 1,5 years. Which is nothing in art learning time.) I had experimented with a lot of media and most of my work looked different from each other and I found myself slowly sinking into despair.
The majority of my personal work showed consistency in themes and mood, though, and I decided to bring more of that into my assignments, too. I also decided to limit the media I worked in so I could build a more consistent body of work. I'm a much better draftsperson than a painter so I began focusing on the pencil again. My mixed media technique developed later, but is still heavily drawing based. I pretty much evaluated what I liked most and what I was best at and stuck to that.
Another thing I did was to put a folder of artworks by other artists together. It was only about ten pieces and they were chosen because they looked like something I wished I had done. They were not my favorite artists, not works I admired purely for skill, but single works that had everything I could ever want to achieve in my art. I analyzed why exactly they appealed to me and how to create the same effects in my own art. I don't mean 'they painted trees, so I will do the same', but 'Why do I like their trees so much? Can I bring this into my own work?'. It was about finding the similarities, the underlying rules and applying them.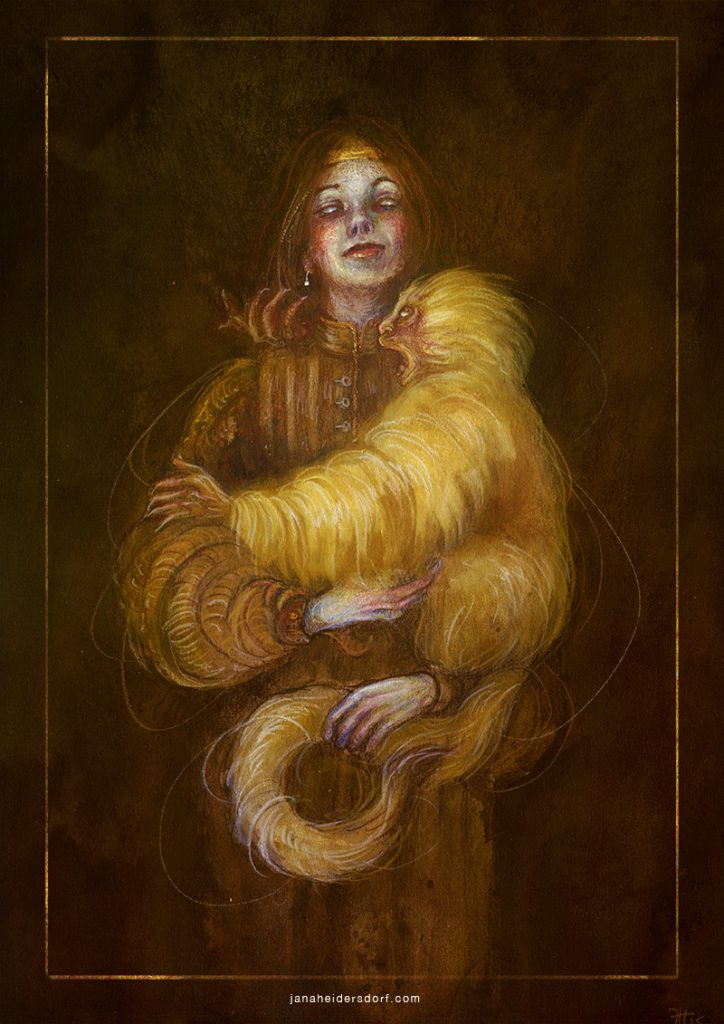 What do you want people to feel or think of when they look at your art?
I'm honestly more concerned with what I feel or think when I look at my work. I know a lot of folks think my art is creepy, which is great, but I don't sit down trying to come up with methods of causing distress to people.
I want to create art that intrigues me or is simply beautiful or interesting. When it's personal work I might be trying to express my own emotions and hope somebody else can identify. When it's client work I'm doing my very best to fulfill the task I'm given.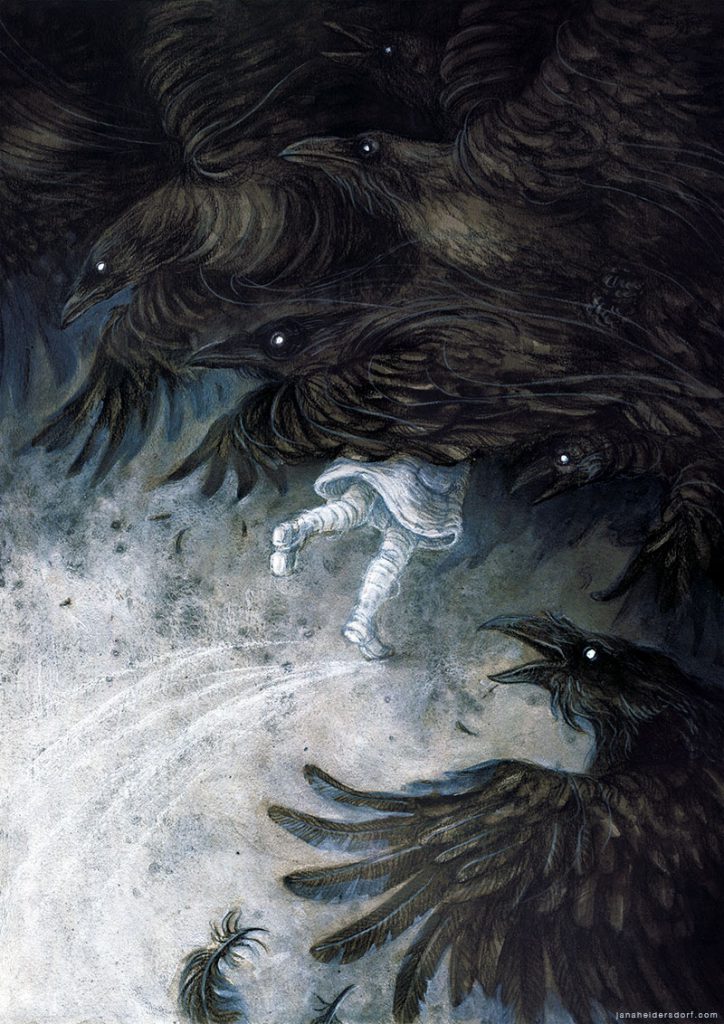 If you had to recommend 1 book to a beginner artist – what would it be? 🙂
I'm not sure. When I started drawing I didn't really use any books to learn besides some comics I copied. Most of my educational books about art have found their way into my home during or after art school, so I can't say which would have helped best earlier on.
I like Creative Illustration by Andrew Loomis and Picture This by Molly Bang for composition, though. I have a Drawing Dynamic Hands book by Burne Hogarth, which definitely helped with learning how to draw hands.
Most important, though, I think it is to have a book that reminds you why you want to draw. Anything that inspires you to continue every time you pick it up. For me, that would be the Brian Froud & Alan Lee Faeries book or Dave McKean's & Neil Gaiman's Mr. Punch. It might be very different for you.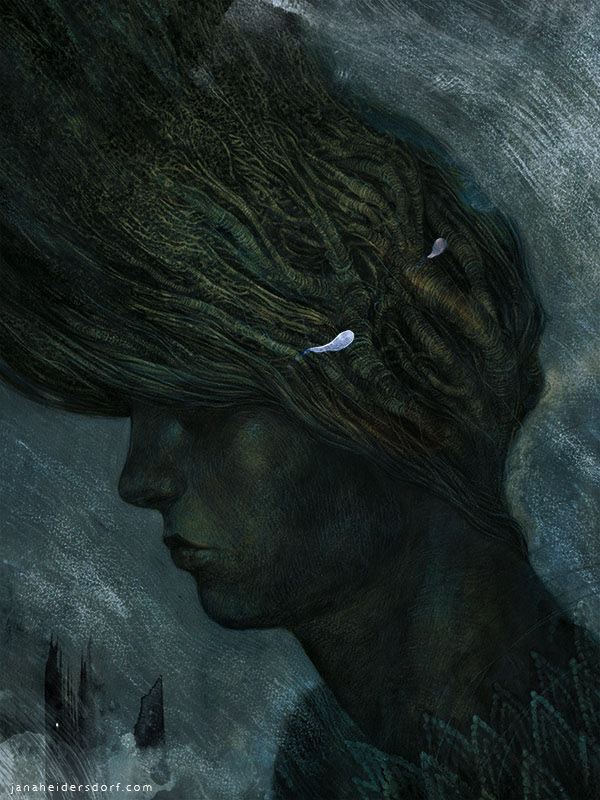 What do you believe is a key element in creating a good artwork?
Composition.
Whether it is simple and straight forward or never-seen-before-awe-inducing — It makes or breaks your work.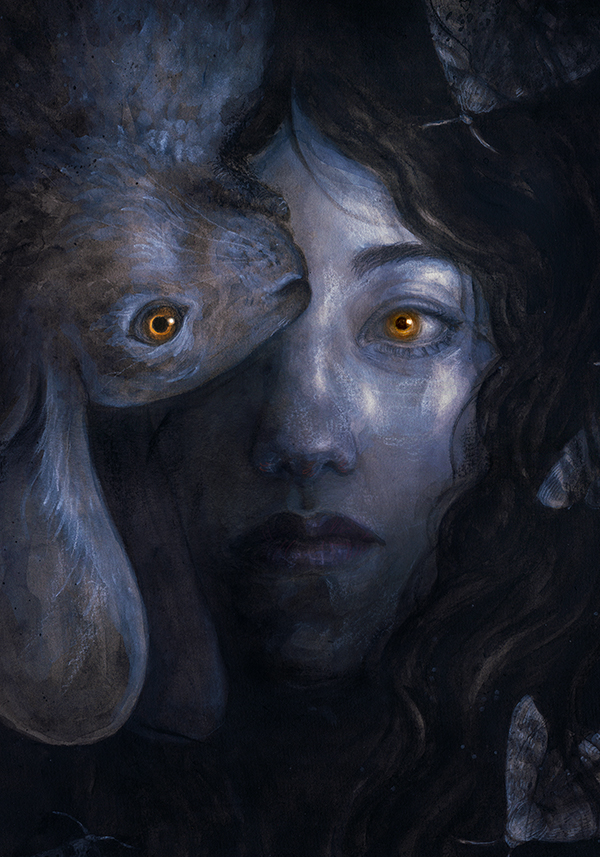 It was my pleasure interviewing you, Jana 🙂 And for the last question, I would love to ask you – What is your Big Artistic Goal/Dream?
There's nothing specific, really.
When I die I want to be able to look back and see my art and it's influence everywhere — books, comics, movies. I want to be one of the people I look up to now to a new generation of artists.
So staying humble. No pressure. Just world domination.
Maybe one or two cults that worships me.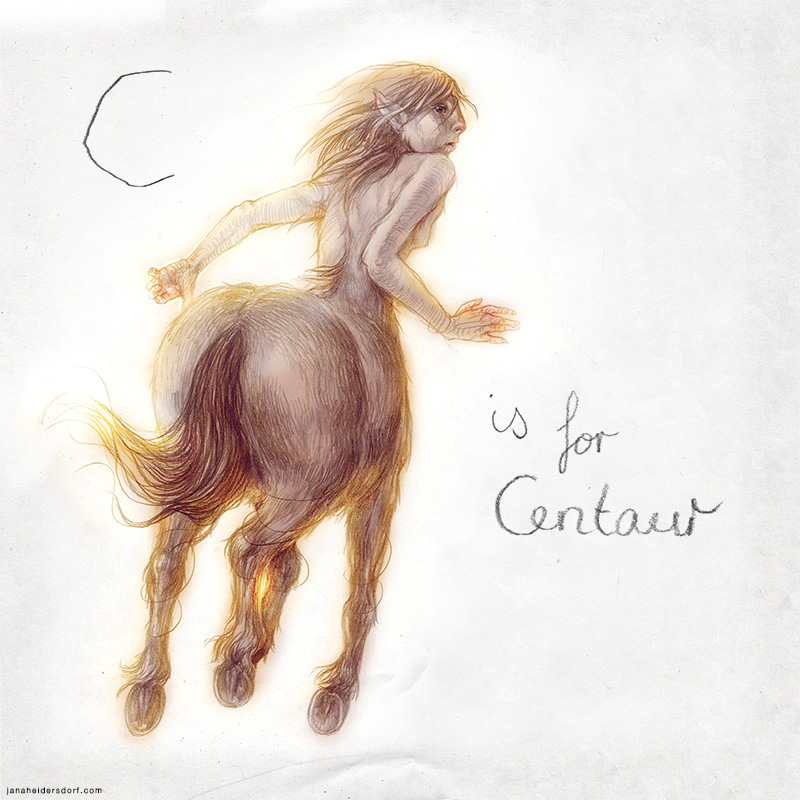 Call To Action
Did you enjoy this interview as much as I did?
I love Jana's story of how she found her style! Also, her goals are totally inspiring (and made me giggle a bit- which is AWESOME)!
And so you can also learn how to become a professional artist with the right tools in hand!
One of the sources used by many artists is Skillshare! And even though it's a paid platform, you can follow my link to grab your first two months for free. 
Because everyone has the right to learn!
OTHER HELPFUL RESOURCES:
Proko – is a website full of tutorials you can choose from!
Figure Drawing Books!

I have a list of Top 14 Figure Drawing Books, that will help you understand human anatomy forms better.

CreativeLive – A platform with 1,500+ creative classes in all artsy fields!

I recommend the first class to take on "Drawing and Illustration" topic – "Color Fundamentals"

PluralSight – a learning platform where they offer you a FREE trial! Which is how you can start learning awesome content for free right away.

They offer courses in these fields: Software Development, IT Ops, Creative Professional, Data Professional, Architecture & Construction, Manufacturing & Design, Business Professional, Information & Cyber Security;
One course's average is about 20 hours!
Becoming a master at art takes time, practice and guidance. And if you don't start today – tomorrow you will wish you started yesterday!
Also, comment down below what's your favorite art piece by Jana Heidersdorf?
Don't forget to subscribe to our email list and follow us on social media:
Facebook, Twitter, Pinterest, Instagram.
And, don't forget to check out these other amazing inspirational interviews!
* " Giada Gatti | Illustrator from Italy who is still waiting for her Hogwarts Letter (Interview #22) "
* " Freelance Illustrator And College Instructor Samantha Mash (Interview #21) "
* " French Digital and Traditional Artist Ladislas Chachignot (Interview #20) "
* " Illustration Student in New York Xiao Hua Yang (Interview #19) "
* " Illustrator and Storyteller Anja Sušanj (Interview #18) "