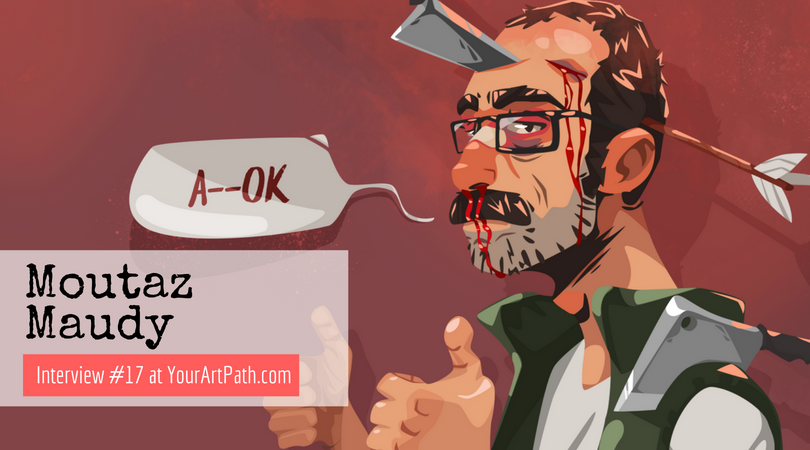 Welcome to YourArtPath.com Artist Interview series!
Today I get the chance to ask Moutaz Maudy all sorts of art related questions 🙂
Enjoy 😉
Anna: Welcome to YourArtPath.com, Moutaz! Tell our readers a bit about yourself 🙂
Moutaz: Hello from Cairo and Thanks for Having me! Truly honored to be interviewed amongst some beastly designers and illustrators, so much passion and inspirations on here!
I'm Moutaz Maudy, Egyptian Workaholic Illustrator currently working as a freelancer in the mobile gaming field as a Game Artist/UI Designer.
Besides the constant studying and sketching, I enjoy reading comics, indie video games and lots of Anime 😀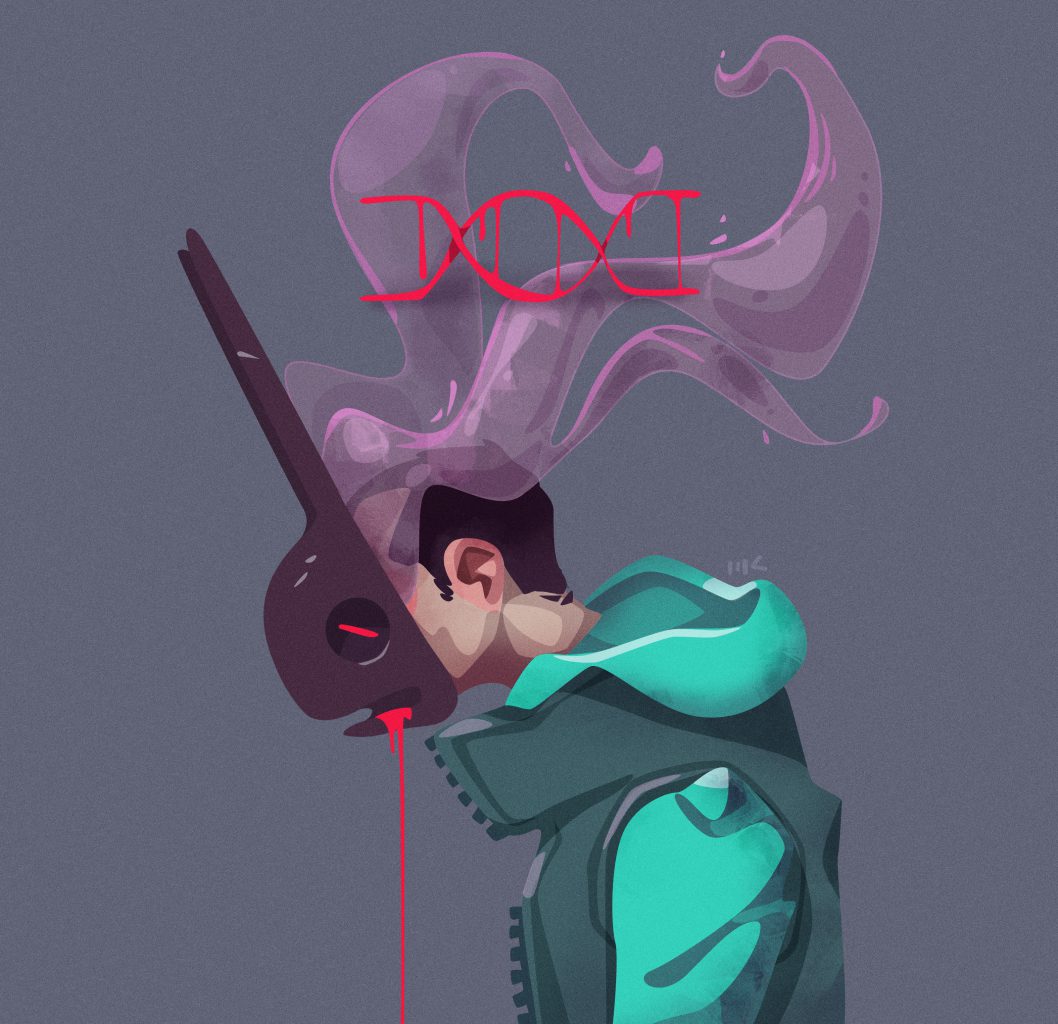 A: Have you finished any art schools? How important do you think they are?
M: Sadly I didn't go to an art school.
I have a Bachelor Degree in Information Technology and Software Engineering; Which I've completed just recently this Past September after suffering from Lots of Math, Programming and Scientific Stuff for almost 8 years.
Although I drew a lot when I was young, Art was just a hobby to me until my Junior Year of college where I had a crisis about my study field and decided to shift and commit fully to Art.
I think Art School is important and will shine a light on lots of methods, rules and basics that'll maybe make creating art a bit easier. Having said that it still depends on the individual really whether he/she needs it or not.
I'm a self-taught Artist and until today I'm still figuring out lots of fundamental art tips that maybe I could've saved a lot of time learning them if I got into art school.
However,  I really enjoy the process of self-learning bit by bit with what I need at each phase and see what it unfolds to next.
Side Note: If you are like Moutaz and are currently trying to learn on your own – there are a lot of amazing art courses out there! My two most recommended would be Proko (free resources and courses available for purchase) and Skillshare (which I'm giving you a free trial version for 2 months!)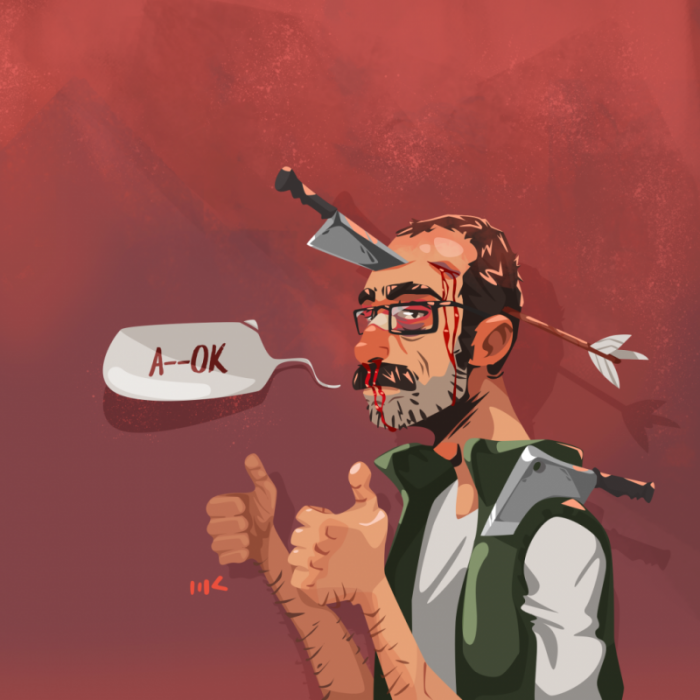 A: I see you have some experience working for companies Appsinnovate and Gimzat as a Game Artist. Now, can you share your personal experience of how you applied and got in for these jobs? Or maybe did the companies themselves contacted you?
M: Before the Gaming field I started in 2011 working as a Freelancer in Corporate Branding, Wireframing and UI for websites along with some Children's Books and posters every now and then;
Only recently [starting 2015] have I discovered my passion for games and the super creative process of making them.
I started with a fun small team who contacted me through my Behance to work on a mini puzzle mobile game called: Dabdob.
The project took a lot of time for me to learn and master the tools I needed for UI and Game Elements. Which in turn made my name pop more often Locally after releasing the game.
I got discovered later on in Annual Global Game Jam Conventions. Which lead to Companies starting to contact me and the rest is History 😀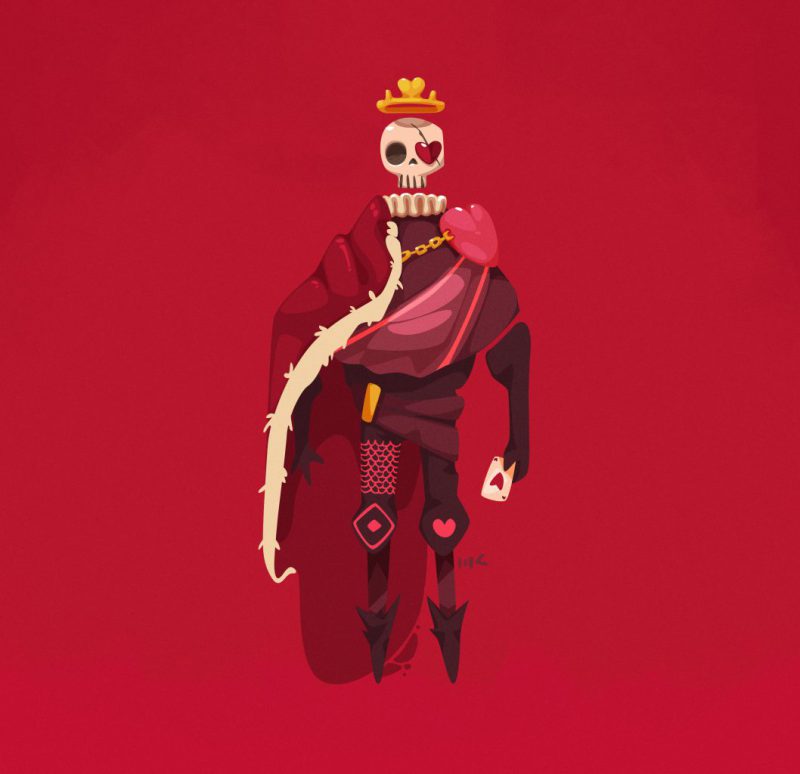 A: What were the two most important things you learned from working for these companies?
M: Hmmmmm… I learned a lot and I'm still learning a lot about the workflow of making games from concepts to final polished and tested products.
Whether it was for a client or for our fun as a team, being close and part of the creative process that goes into each phase is super fun to be a part of and experience.
For me personally, I got to know AWESOME People who started as work colleagues and ended up being my best buds.
The community itself is always expanding leading to more awesome projects and cool people to work with, so I'd have to say the two most important things I got so far are :
1.The Creative Process Workflow of making a game.
2.Teams Environments.
It has been around 3 years in the Gaming business so far; I still have a whole lot more to learn 😀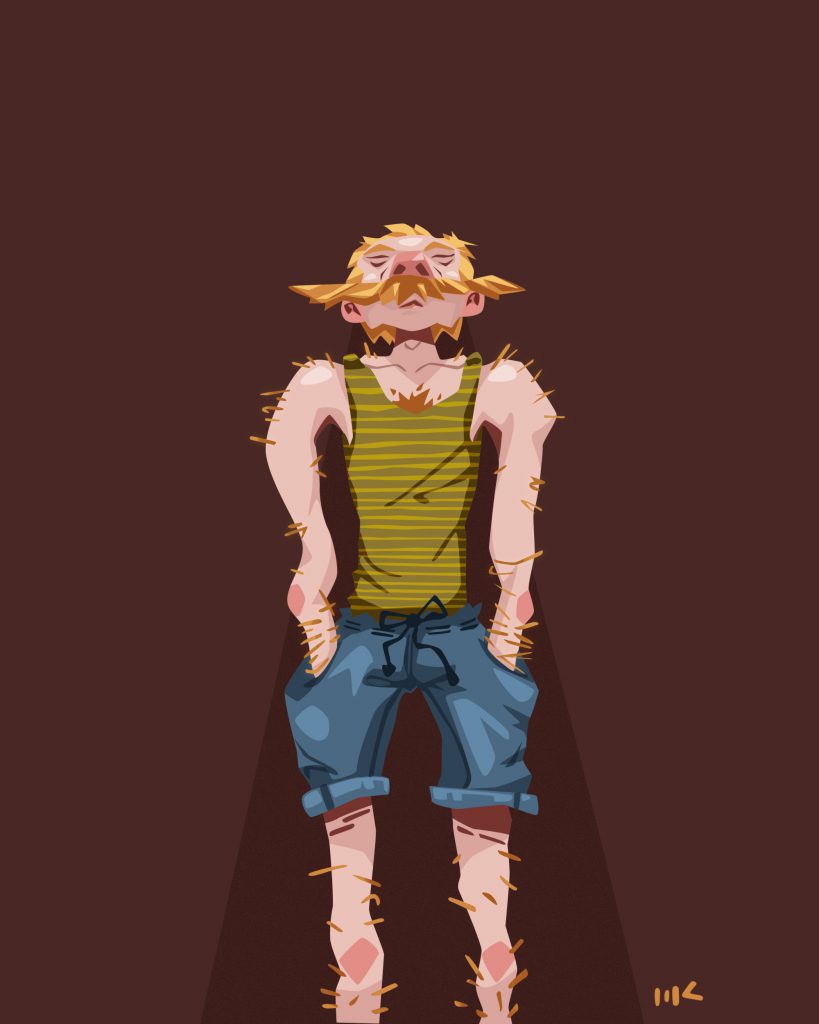 A: If an artist asked you for their advice on how to get a job as a Game Artist, what tips would you give them? Maybe something they should focus on while building their portfolio?
Depending on the genre of the games you're interested in [having it be in First person shooters, 2D platformers, Puzzles or even Actions Based etc..],
I'd say try to produce as much as you can in your own personal projects with your ideas and style throughout your portfolio;
Search and play a lot of games and try to analyze the components of the feel and theme of the game;
Invest in your time and always get feedback either from your buddies or show up with your craft at conventions.
A: One of my favorite pieces by you is the Schrödinger'ed I love the colors, the mood and the character design! Where did the idea for this piece come from?
M: Oh Yeah! It is one of my highlights as well in 2017, I like to take scientific Theories sometimes whether from my Nerdy interests or my IT Engineering days and mix it with Art.
For example, my "Orthogonal" Piece was inspired by a concept of an algorithm in Wireless Networking that encodes Signals to be sent through the wireless mediums, usually it consists of a multiple of 4-bit codes of zeroes and ones having the final bit always in the inverse of the rest.
Schrödinger'ed was created based on the mind-boggling Theory of Erwin Schrˆdinger "Schrˆdinger's cat" which lead to the whole "we're living in a simulation" Theory;
Suggesting that maybe, at the time you cut yourself the blood and meat will be simulated to show up, otherwise, it's a very low chance it might just be zeros and ones like a glitch of some sorts 😀
The aesthetics of this particular piece was heavily inspired by my favorite artist of all time: Sachin Teng.
His style and shapes are so expressive, dynamic and such a pleasure to uphold and watch.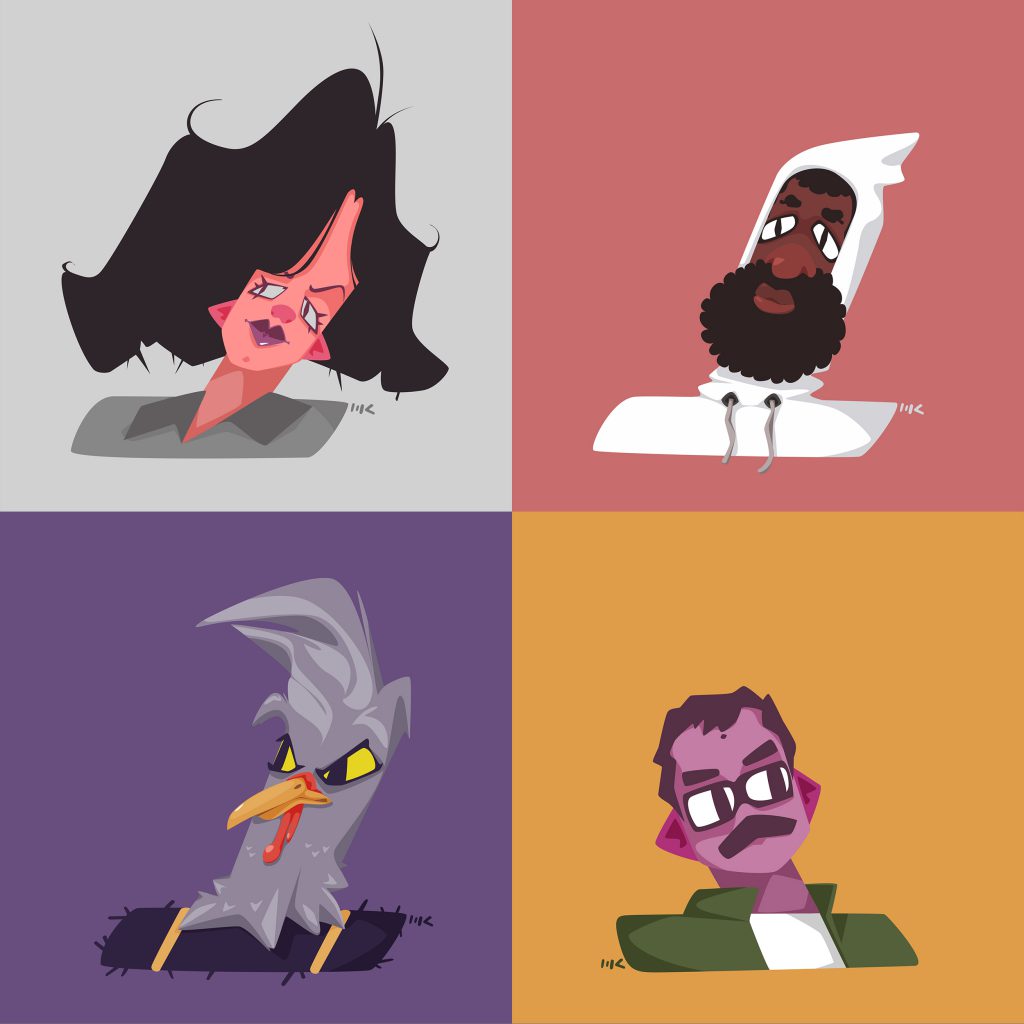 A: How did you go about figuring out your style? Did you intentionally work for it or did it just formed throughout time?
M: I believe there is always originality in each and every one of us stylistically speaking, by nurturing and practicing it constantly,
even sometimes mixing it with what you have in your creative bank leads to lots of unique results.
Since I didn't go to an art school, I used to copy a lot of artists' styles in my early days to understand their process of creating, state of mind, and sometimes even the color harmonies;
And then applying those styles to my vision and coloring moods.
However, I think my special trait to my style has to be about how I approach the vector style itself, I work with lots and lots of layers per each piece using masks and sometimes digital brushes to reach that polish and rendering style.
Also not using linework in the final product taught me a lot about colors and their Harmony in design and how to produce interesting shape dynamics.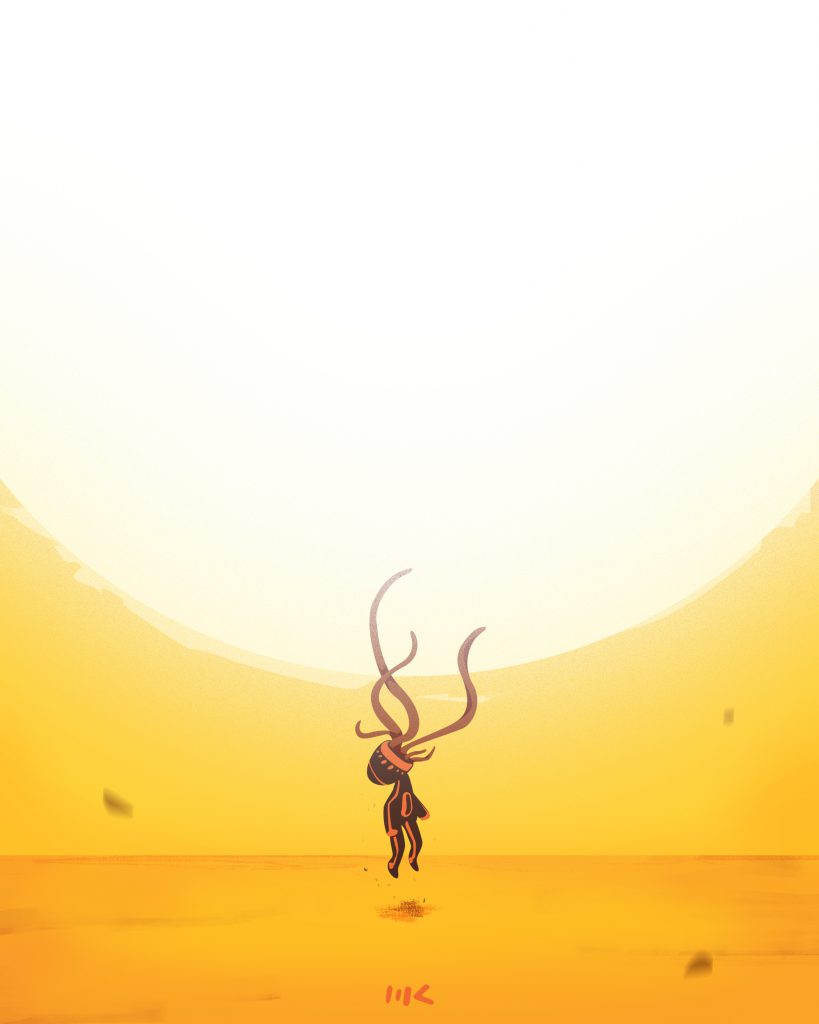 A: What is your favorite book you would recommend for every beginner artist out there?
M: I don't read lots of books, unfortunately, which is something I'm working on as I progress through with learning the basics of Anatomy, Shapes and Perspectives.
However, there are lots of inspirational "Art of " Books of Disney and Pixar movies that used to get my creative juice flowing just by browsing through them;
My favorites are: "Art of Zootopia" , "Art of Pixar", "Art of Inside Out" and "Art of Big Hero 6".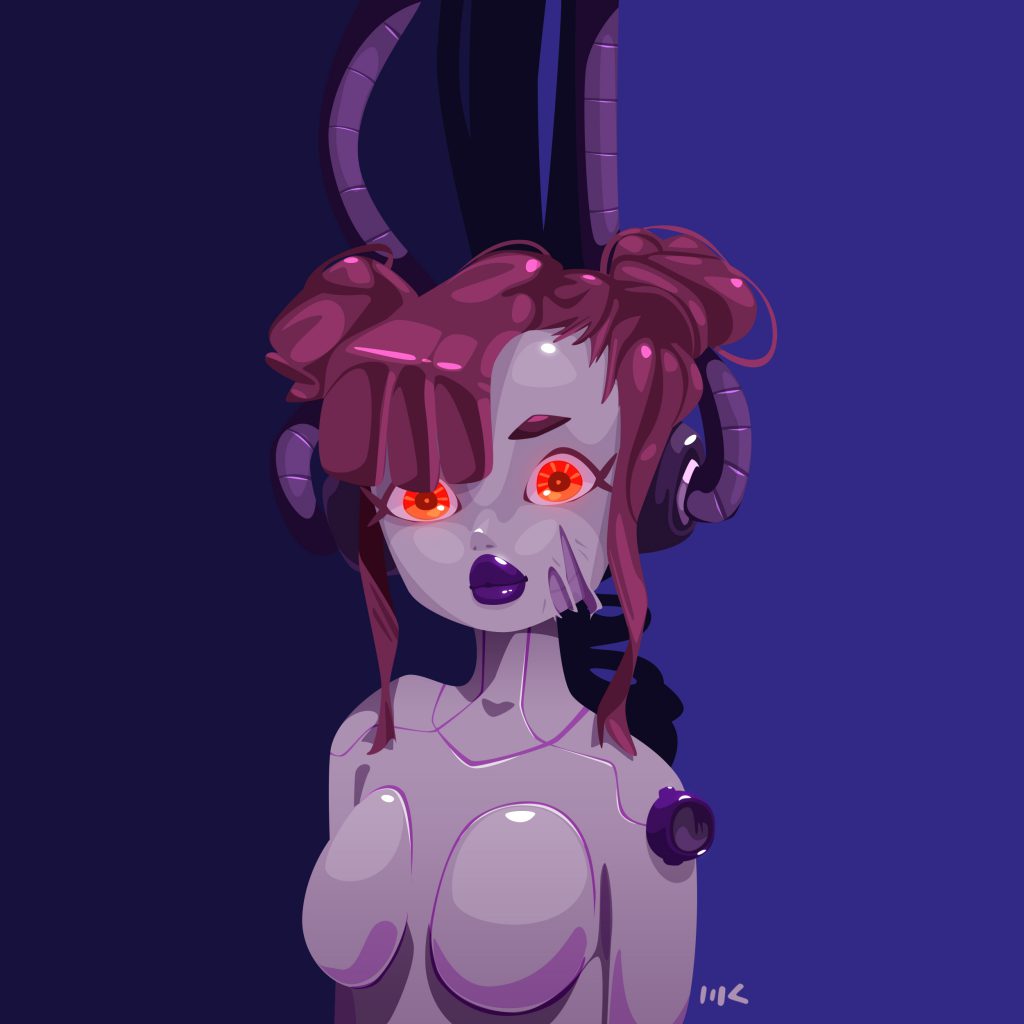 A: Thank you for the answers! And my last question: What is the biggest goal you work towards in your art career?
M: My biggest goal is really simple since I'm a HUGE fan of Japanese Animations, I hope one day I get to live in a room somewhere in Osaka or Tokyo and work in an Animation studio there.
I just love the Japanese Culture, their current approach to Animation and the astonishing history of it.
The road I believe is very long and filled with challenges but I'm enjoying each and every step I'm taking towards that goal.
Did you guys enjoy the interview? Comment down below what's your favorite art piece by Moutaz Maudy!
Don't forget to subscribe to our email list and follow us and Moutaz on social media:
Facebook, Twitter, Pinterest, Instagram.
And, don't forget to check out these other amazing inspirational interviews!
* " Taiwanese-American Illustrator Maggie Chiang (Interview #16) "
* " Artist Interview #15 – Kenneth Anderson "
* " Artist Interview #14 – Martina Naldi " 
* " Artist Interview #13 – Egle Plytnikaite "
* " Artist Interview #12 – Cynthia Xing "
* " Artist Interview #11 – George Varodi "
* " Artist Interview #10 – Charringo "