What are Paint By Number kits?
They are a system where the surface (in that case it's most often a canvas or a wooden board) is divided into shapes, and each separate shape is marked with a number, that corresponds to a certain number of paint inside the kit.
The size and quantity of shapes usually defines the difficulty level: the simplest ones are for kids, and the difficult ones, with lots of tiny details, are for adults. Today we'll be focusing specifically on adult ones.
Painting kits are always associated with some childish and simple activity, and are wrongly accused of being uncreative and boring, limiting your artistic possibilities, wasting your time and not helping you with improving your skills whatsoever.
But the real question is: what makes these kits so good and why are they actually great for you?
Benefits of Paint by Numbers Kit:
It's helpful for you to understand the concepts of color scheming and toning, learn to analyze the drawing area and figure out what colors are the best in certain situation and why;
It can help you focus not on how the complete painting would look like, but more in what color should be applied to particular smaller areas;
Another things these kits can help you with are developing your creative skills by helping you try out various styles, and also develop your motor control for brush strokes, making your hand steady and used to this kind of work;
The sets are complete and you won't need to buy any additional materials or supplies, which can be a tricky task for beginners;
They are ready to use, which means you won't have to prime and stretch your canvas yourself, and that saves you a lot of time and nerve.
They are great for both beginners and skilled artists. Beginners can get an easy kickstart into the drawing process, skipping the preparations, and get a taste of what it feels like to draw a complete huge painting, while being softly guided on their way. More skilled artists can use the kits as reference and paint it in their own unique style, unleashing their potential;
Painting by numbers is a very meditative activity that will reduce your stress level and help you concentrate on your own thoughts and stay in harmony with yourself.
Paint By Numbers: Mixing VS No Mixing Kits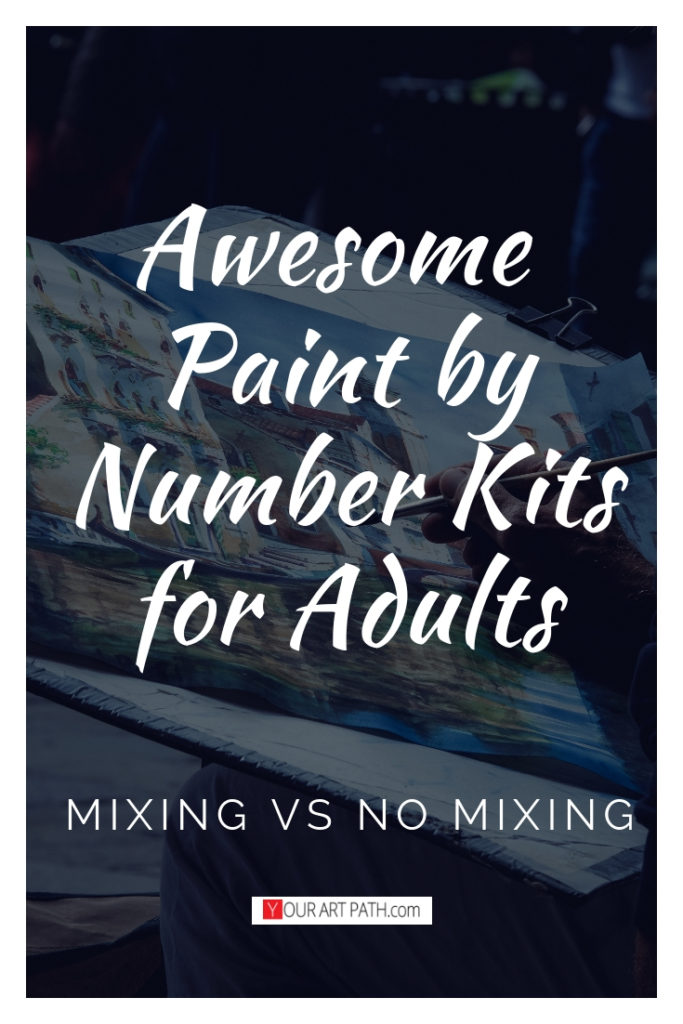 These kits fir adults can be of two kinds: the ones that don't require color mixing and the ones that do.
No mixing kits are the most easily maintained, that will give you a lot of fun in the simplest way.
They are great because all you have to do is open small containers with pre-mixed paint – and that's it, you're ready to go!
You can be sure that you cannot fail and you'll get the exact result that you want – the one that is shown on the box.
It's simple, saves a lot of time, and you won't have to stress about getting the wrong tone. The paint won't dry on the palette if you accidentally mix too much of it or get distracted for a longer amount of time that you'd expect, because all of it stays inside the container and you can simply close the lid to protect it from drying.
But mixing kits also have their benefits. They will give you more control over the final look of your painting, in case you don't like to be controlled too much by someone else and want something more of your own style. You will also gain more skills in mixing the colors you need.
There are some tips for mixed colors: paint them last, after all "clean" colors are already done; mix the colors on the palette, not on the canvas itself, otherwise they won't mix properly; don't dip your brush straight from one container to another, because it needs to be cleaned first in order to keep the colors clean.
The last tip is also suitable for clean colors: please don't forget to clean your brush regularly!
Awesome Paint By Numbers Kits for Adults: No-Mixing
This kit features a printed art canvas with wooden inner frame (enlarged in comparison to older versions of this item, which gives it more durability, thickness and stability), together with high-quality professional acrylic paints and several good brushes.
It's suitable for every skill level, from absolute beginners to experienced professional acrylic painters, and will allow everyone to create their own masterpieces.
The packing box also includes instructions that are extremely easy to understand and follow, but you won't need them soon, because you'll get used to painting very quickly – that's how easy it is.
Although you can still decide for yourself in what order will you put the colors on the canvas, and no one will stop your creativity and limit your comfort. The paints don't need to be mixed with water, which gives you even more convenience.
They are acrylic and will dry very quickly on the canvas, saving your time and letting you move on to close areas of the painting without waiting too long for it to dry.
The kit is a wonderful gift idea, it uses eco-friendly materials, is easy to mount on any wall, and the final result – a nice relaxing sea landscape – would look great in your interior.
Buy on Amazon
Despite being a very detailed painting with lots of colors, that might seem very complicated, this kit is actually perfectly suitable for anyone.
And the fact that it doesn't require any color mixing makes it even easier.
Clear instructions and print on the canvas will guide you on your journey to a completed masterpiece, resistant to fading and ready to frame and display.
So even if you aren't a trained artist with a lot of experience, don't hesitate to try this kit out. It will bring you a lot of fun, it's very relaxing to paint, and the pleasure of having a complete artwork, painted with your own bare hands (actually, you'll use brushes, not bare hands) is absolutely worth spending your time on.
Besides, the greatest part of it is the process itself.
All the materials and supplies that you'll need are already in the kit, so all you have to do is unpack it and enjoy.
Buy on Amazon
This amazing kit (with a wooden frame included) does not only have artistic value, but can also bring a lot of pleasure to people who are Avengers fans.
It would be suoer fun to paint and look at the complete painting later!
The carefully pre-mixed paints in this set are high-quality and safe to work with, dry on the canvas quickly and have pleasant vivid colors.
You can paint it no matter your skill level: it's easy and the canvas with painting would look good in the end anyways, making you feel like a true superhero.
The kit also includes several high-quality brushes, suitable for any occasion from the big pieces to tiniest details. Painting directions are printed on the canvas in high quality so you'll understand the instructions easily, and it's absolutely impossible to mess up.
Besides, acrylic paints can also help you correct any possible mistake very easily with no worries: just let it dry and paint another layer over the wrong one.
The complete painting has the size of 16 x 20 inches and will be a wonderful bright spot in any interior design.
Buy on Amazon
Pros of buying kits like these:
They are easy to paint, come together with all the necessary supplies and clear instructions;
You don't have to mix paints, therefore there's less of a possibility that your paints will dry too quickly, different portions of the same color won't match, and you absolutely don't need a palette;
The process is extremely relaxing, helps you concentrate, develop your hand motor skills and your creativity;
You'll have a beautiful finished result and a feeling of completing a real artistic achievement ready to hang on a wall.
Cons of buying kits like these:
The brushes that come together with these kits are sometimes of poor quality and will either slow down your painting process and make it harder or be impossible to use at all, so you'll have to buy separate suitable brushes;
The amount of some paints inside the small containers might not be enough if not used carefuly;
In some cases people complain about the fact that the final drawing doesn't completely look like the painting on the box because of the wrong colors in the kit, but that doesn't happen too often.
Note: If you would like to check out some great quality brushes for your Paint By Numbers Kit, take a look at "10 Best Affordable Watercolor Brushes in 2018"
In case you are eager to mix colors, here are a few kits we chose for you that
involve mixing

:
Beautiful and cute, this set will give you an outcome of a complete painting the size of 14 x 20 inches.
High-quality acrylic paints are very easy to mix and to work with, and the kit will provide clear instructions on what to do.
It includes one versatile thin round brush, that is perfectly suitable for all the small details.
Finishing it might take you a longer amount of time if you're a beginner and don't have a lot of experience.
But you will be able to do it perfectly anyway, no matter what your skills are, and have a lot of fun on the way.
Buy on Amazon
This kit contains perfectly detailed canvas, that will guide you to a beautiful painting of a lake landscape.
All the other things you will require: a paintbrush, containers with paints and instructions in three languages are also included.
Even the mixing part, which might seem too complicated if you aren't an experienced artist and could scare you off from that kit, is as easy as it can be and very fun.
You just have to take equal amounts of the paints marked with necessary numbers, mix them up on some palette – real or improvised – and you're done!
Don't worry about doing anything wrong.
First of all, it's very hard to mess anything up with this kit, and second – these paints allow you ti fix mistakes easily.
Buy on Amazon
Even though it's considered a beginner kit, it actually can fit the needs of professional artists as well.
Because of its quality, amount of colors it uses and the number and size of details used on the printed canvas for you to color.
The final artwork will be a beautiful and eye-catching masterpiece made with your own hands, and will make you happier every time you look at it.
You'll have to mix a few colors along the way, but it's very easy with this kit and adds some "professional artist's vibe" to your working process. No obstacles, no complications – just pure painting process, relaxing and satisfying.
Buy on Amazon
Final Thoughts:
You absolutely won't regret buying yourself (or someone else) a good paint by numbers kit with the final painting that fits your (or their) tastes.
It's an incredibly fun thing that will train your hand, your sense of color, help you concentrate on the process and unleash your wildly creative inner artist, no matter how experienced you are.
My personal choice from this list that I'll definitely buy is [WOODEN FRAME] DoMyArt Diy Oil Painting, Paint By Number Kit - Avengers 16X20 Inch , because I'm a big fan of acrylic paints, the Avengers' characters, and I don't really like mixing.
But your personal preferences are yours, and you can choose anything you want, no matter what size and material it is and whether it involves mixing or not.
Paint by numbers kits will grant you hours of inspiring work and a wonderful result, and it doesn't matter if you are a beginner or a pro.
---
---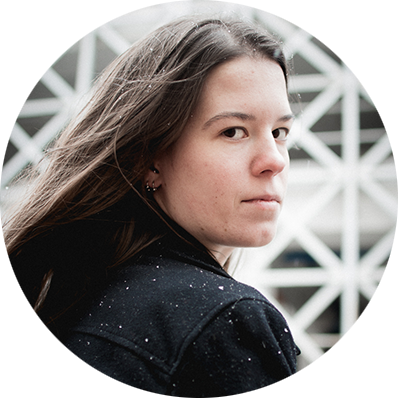 Author: Hanna Martsynkevich
Hanna is an artist, poet and musician who lives in Minsk, Belarus. She loves food, cats, gigs and esoteric stuff. She posts the things she does on Instagram and sometimes appears on FB.
---
---