What is Plein Air Painting
In a nutshell, plein air painting is an act of painting outdoors to capture the true colors and atmosphere of a place.
Plein Air Oil Painting Supplies You Need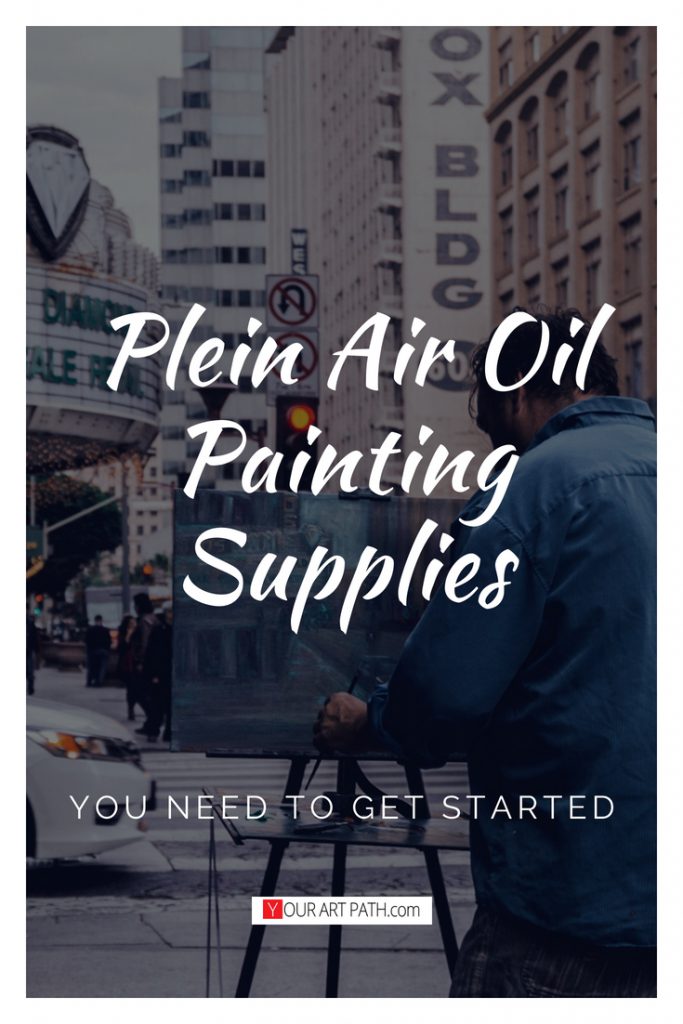 I've actually covered the 13 oil painting supplies everyone needs to get started, and so I recommend checking it out first if you are just at the beginning of your oil painting experience.
However, if you have painted with oil paints before, and are just looking for some oil painting supplies specifically for plein air painting, then here goes:
Note: if you are a beginner at oil painting, I recommend checking out "Top Oil Painting Tutorials on YouTube or 8 Steps to Learning How To Paint in Oils"
Also, there are also some videos at the end of this post on Plein Air Oil Painting, so you might want to take a look!
Now, onto the supplies you need:
I recommend getting this kit for those who are just starting out on their plein air painting experience.
(If you are a professional, you probably already have most of these items, and so it wouldn't make much sense to get the kit.)
The reason is, that it combines a lot of tools. Let's take a look:
– 8 by 10 Cigar Box
Any artist who has experienced painting outside knows that having a box is essential.
If a box is made specifically for outdoor trips, like this one, its design will allow you to include all of your essential supplies within the box. Just put everything in, take the box and go. No more carrying around of multiple uncomfortable bags.
The lid of it locks in any position through a 180° arc. which is great for tilting a canvas to your preference and position.
And it's also half an inch deep, which means you can carry two 8×10 canvases inside.
Another cool feature is that it has a universal tripod mount at the bottom, so if you prefer working in a standing position, you can use any tripod with it.
And it weighs only 2lbs.
– 8×10 Bag
This tote bag is specifically designed for the Guerrilla Cigar Box and has many pockets to carry other tools you couldn't fit inside the box.
It also conveniently has a carrying handle and a shoulder strap.
– Wide Mouth Single Palette Cup
Do you use medium, linseed oil, turpentine, etc?
If so, you don't want to carry around a whole big bottle of it – that's just extra weight!
That's why this kit also includes a single palette cup that has a bottom clip which slides over the edge of your palette.
Problem solved.
– Brush Washer
If you are anything like me and always try to clean your brushes and keep them for a long time – then you will find a good use for this tool. You won't need to carry a whole separate brush-cleaning bag of tools with you because you will have this little guy.
It's the smallest brush washer on the market currently and was designed specifically for outdoor painting.
– Composition Finder
As I covered previously at the bottom of Plein Air article (in the 10 tips section), it's really important to figure out your composition right of the bet, as there is so much beautiful but distracting information around you while painting outside.
And this handy tool has got it all – all sizes, color compliments, value guide, Golden Section and Fibonacci Spiral, and it easily fits inside your pocket with a compact size of 3.5″ x5″.
– Gessoed Panel
One 8×10 Plein Air Gessoed Panel that fits perfectly in the box, so you can get started right away!
– Set of 4 Medium Handle Brushes
It's a 4-piece flat brush set that is made to fit nicely inside the box. The brushes are a mixture of natural hog bristle and synthetic fibers and come in sizes 2,4,6 & 8.
– A Guerrilla Painter's Notebook© Vol 3 & 4
This kit doesn't just end with tools.
You are also provided with 2 volumes of Guerrilla Painter's Notebook that has Carl Judson's essays on the ups and downs of Guerrilla Painting.
Specifically, Volume 3 is 29 pages long and continues Carl Judson's adventures, experiments and observations. Includes over 60 images of paintings and essays on a range of topics.
Volume 4 is also 29-pages and has Carl Judson's essays on plein air painting. It's funny, it's inspiring, it's educational and even philosophical at times. + consists of over 95 full-color images of paintings
You can check out close-up pictures of every item on the list here
So, as you can probably tell by now, this kit includes almost everything to get you started with plein air oil painting!
We are just missing some oil paints, so let's take a look at those now.
Note: these kits also come in different sizes and styles:
Plein Air Oil Painting Supplies: Paints
There are three essential things you need to get started with painting outdoors: canvas, brushes, easel or a box and PAINTS.
If you are not very familiar with oil paints, I have a list of 10 paint colors you should have.
But, if you don't feel like buying them separately, here are some kits that I think are great:
When selecting a set pay attention to these specifications:
Is it water-mixable oil or no?
How many tubes are in a set?
How many ml in each tube?
What color is each tube?
Personally, I use Winsor & Newton oil paints, but depending on your experience and preferences a different brand might work better. (The thing about W & N is that they can get pretty expensive)
Brushes
If you go with the art kit we discussed above or the oil paint set you purchase includes brushes – then you don't really have to get them separately. But it's always nice to experiment with different size brushes, different style and different hairs.
I have a post called "10 Best Affordable Watercolor Brushes in 2018" and even though it was geared towards watercolor, brushes are brushes, and you might find something you like out of them.
Otherwise, here are some of the brush sets I think are worth checking out:
When selecting brushes try to think about the following:
Size. Do you like to work big or small? Are you planning to add little details to your piece outdoors?
Style. Flat, round, filbert, etc. Do you have a preference or would you like to experiment with all?
Hair. Synthetic or natural bristles.
Easel and Easel Accessories
I won't go into too much detail here about what easel feature you should pay attention to, or what easel accessories you need and why because I am currently working on an article that covers all of them in depth.
So if you would like to get an email when the article is posted, then you can always subscribe to my email list.
But if you have no time to read the post, here are my best picks:
On the other hand, the post covers a lot more available accessories that you might want, as well as their in-depth overview. So I suggest taking a look.
Umbrellas
I can't tell you how important having an umbrella is, some say it's even more important that you painter's box!
If you would like to know more about why you ABSOLUTELY need an umbrella when painting en plein air, then take a look at this article "3 Best Plein Air Umbrella Reviews"
It also covers a thorough review with pros and cons of my top 3 umbrella picks:
Canvas
As I mentioned before, this is obviously an essential tool for painting in general.
Here are my 3 picks:
While selecting canvas, ask yourself these questions:
Is it easy to carry around?
Do I prefer canvas stretched on a board, stretched on a panel (easier to carry outdoors) or not stretched?
If not stretched, then what will I tape it on while painting, and do I want to stretch it afterward?
Pallete and Pallete Knife
You will also need a palette. The good thing is – if you have an art box then most probably it includes a palette in itself, but if not then you can either purchase it as an accessory to your easel or buy one separately.
For outdoor painting, I prefer having it come with a box since then I don't need to hold it in my hands (it's already stressful enough to paint outdoors).
As for the palette knife, you will use it for mixing your paint (this way your brushes last longer and you don't waste paint) or for painting with.
And here are my picks:
Note: I have an article dedicated just to easels and easel accessories for Plein Air Painting, that you might want to check out "Best Plein Air Easel Accessories"
Other good stuff
There are so many available supplies out there for plein air painting – it's crazy!
I have a full list of supplies here.
Also, I cover rags, paper towels, medium, gesso, painting clothes, mineral spirits, jars for cleaning brushes in this article.
Just remember not to overdo it, or it can get pretty expensive!
That's about all for the list, and to finish off this article, I've collected some videos for you to check out that I found very inspiring and useful.
Good luck with your art, and stay inspired! 🙂
Best Plein Air Oil Painting Videos on Youtube:
That will be all for today!
Comment down below if you are using any other supplies, or have some tips/tricks to share with people starting with plein air painting!
Or just to say hi 🙂
Also, here are some other related articles on Plein Air:
I wish you luck with your plein air painting journey!
Signing off,
– Anna.