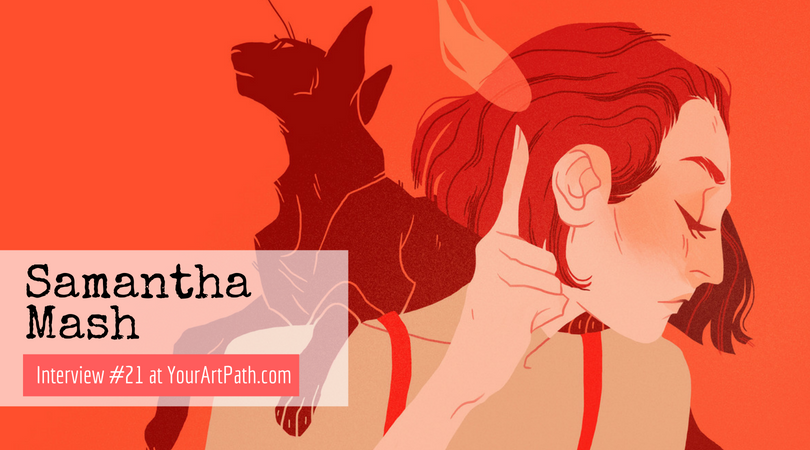 Welcome back to YourArtPath.com Artist Interview series!
Today, it's my pleasure to interview an amazing illustrator and a college instructor – Samantha Mash!
Be sure to check out the artist's website for more art, as well as her Etsy page to take a look at some awesome merch!
Now, let's get to it! 🙂
Welcome, Samantha! Can you tell our readers a little bit about yourself?
Hi there, I am an illustrator and educator currently living in Portland, Oregon.
I was born in Palo Alto, California and raised there for my whole childhood and teenage years. It is a small city in the Bay Area near a saltwater marsh, which has constantly been in the back of my mind while I create. I have a love/hate relationship with my hometown.
I moved to Portland in 2009 and have lived here ever since among forests and rivers. I work as a full-time freelance illustrator and a part-time college instructor at the Pacific Northwest College of Art.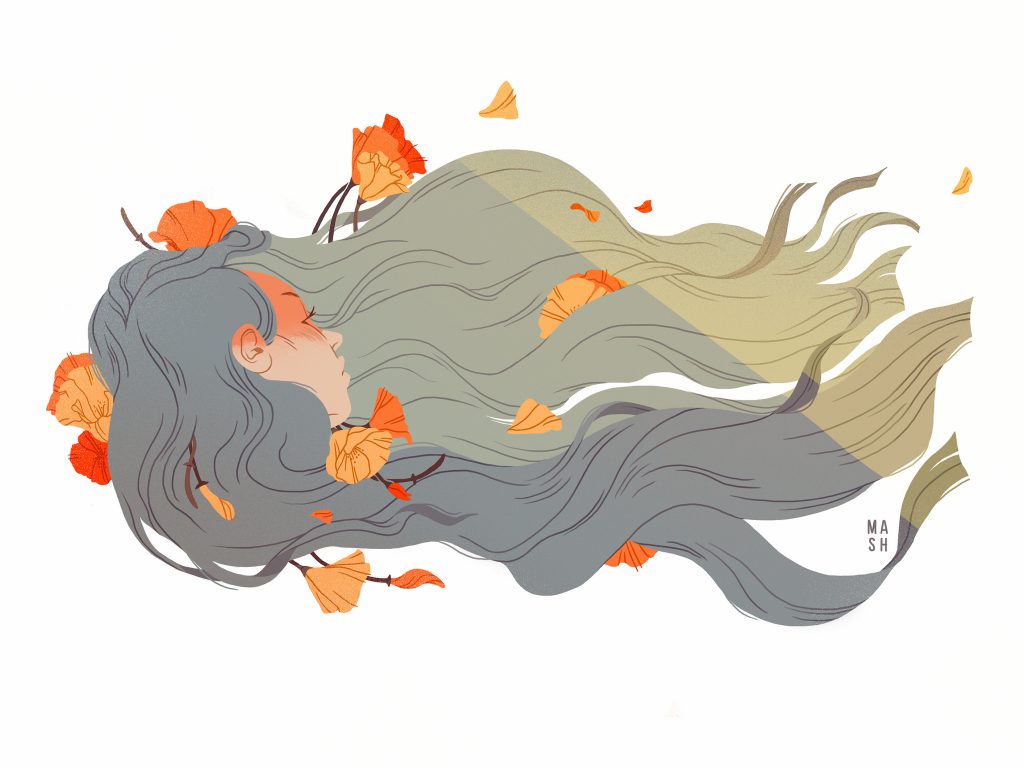 I absolutely adore your style! How did you come up with it? Was it a conscious effort or did it evolve on its own over time?
Thank you, it has been an evolving labor of love.
My style has been a very active combination of conscious effort and my own natural tendencies that I simply have as a creator.
I felt very stuck on a path with my work in college and right after, with high expectations to continue with the style I crafted there. A few years after I shifted how I created to find something that felt more true to me and that is the style that you see now.
My work has always inherently had my hand in it, but I shifted towards a more stylized, shape and line based style. I am happy with it, it feels very aligned with how I see myself as a person and an artist.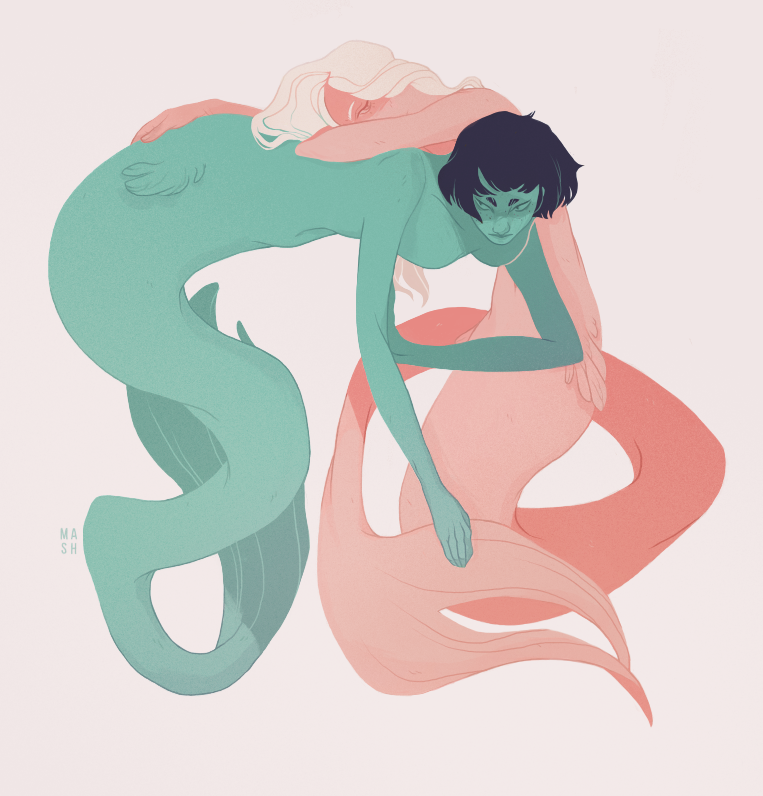 Your artworks are full of interesting concepts that draw viewers in – how do you come up with ideas for your work?
Normally I come up with ideas and concepts that I find interesting.
I think that when you draw something you are passionate about, others will also be passionate about it – they can feel how much you care about your piece and it appeals to them.
The core thought of my aesthetic is generally based on empowerment and vulnerability through the lens of otherworldly imagery. I feel that often makes my work more relatable than if there was anything too solid of concrete weighing it down.
It is almost like laying out a play's stage, you are limited with the environment you can make and have to be very creative with problem-solving, but in a way, it helps the actors shine through more. My work lays out a simplified aesthetic view to let the concept shine through better.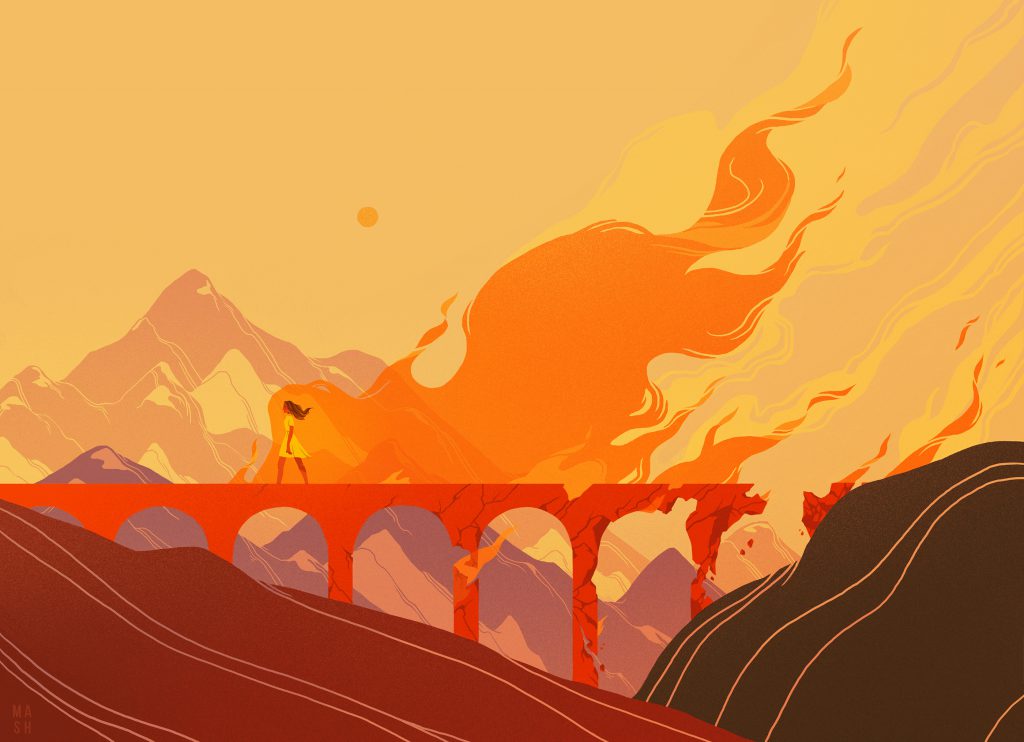 What does your process to create an artwork look like? How long does it take for you to complete one piece?
My process is pretty straightforward, I sketch out the idea on paper, scan that into a computer, and render the image with my tablet and Photoshop. A piece can take anywhere from 6-20+ hours depending on how complicated the piece is.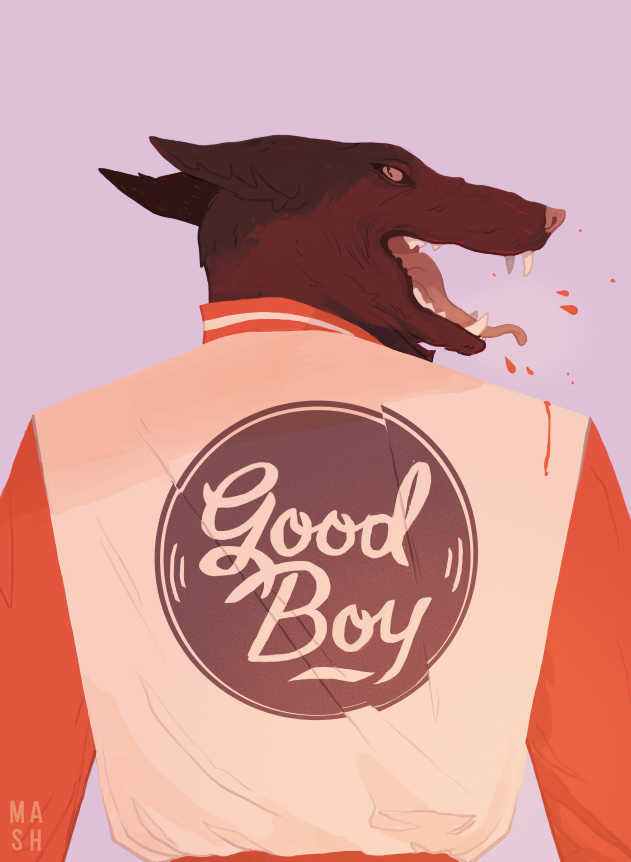 How long have you been drawing for? Was being an artist always your dream job?
I've been drawing for as long as I developed the motor skills to do so!
That is sort of the artist standard isn't it, the "since I was old enough to hold a pencil" but it is true. I spent long parts of my days drawing, making up stories, and trying to form books (a lot of pieces of paper stapled together, so maybe like a kid's version of a zine). I think it was an early dream alongside a lot of other childhood dream careers like being a paleontologist or a biologist.
A lot of people sort of played down that being an artist could actually be a career so it left my mind for a long time.
In middle school, I wanted to be a fashion designer, and then in high school considered being a graphic designer, but eventually, I realized what I wanted to do was draw pictures that tell stories and express feelings…and that led me straight to being an illustrator.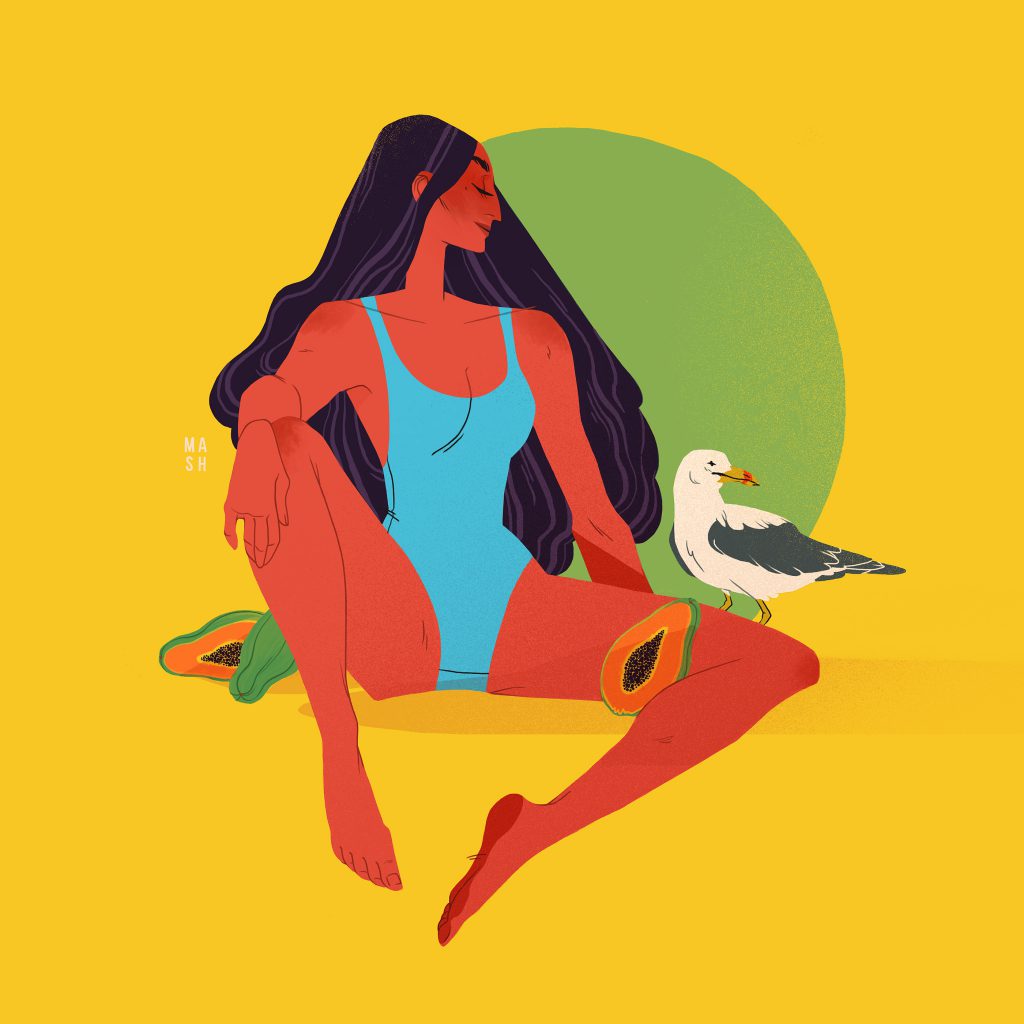 Did you go to an art school? How important do you think they are?
I did go to art school, I actually attended the school I now teach at; the Pacific Northwest College of Art. I was an illustration major.
I think going to an art school is as important as the goals you put on it. If you attend for your full four years and spend the time not taking in the full experience to experiment, to fail, to play, to ask questions, to get invested in what you do and how you do it–then essentially I don't think you get much out of it.
You have to put in work to get what you want out of your education. An art school is not a guarantee of success, it is set up to give you the lessons and skills you'll need to be a part of the art world–but you have to be present and active for those skills to become fully formed.
Being an artist involves a lot of work, and you can do that whether you went to school or not–it comes down to really pushing yourself and your ideas and no school is going to perfect that for you, it requires you and your own ambitions.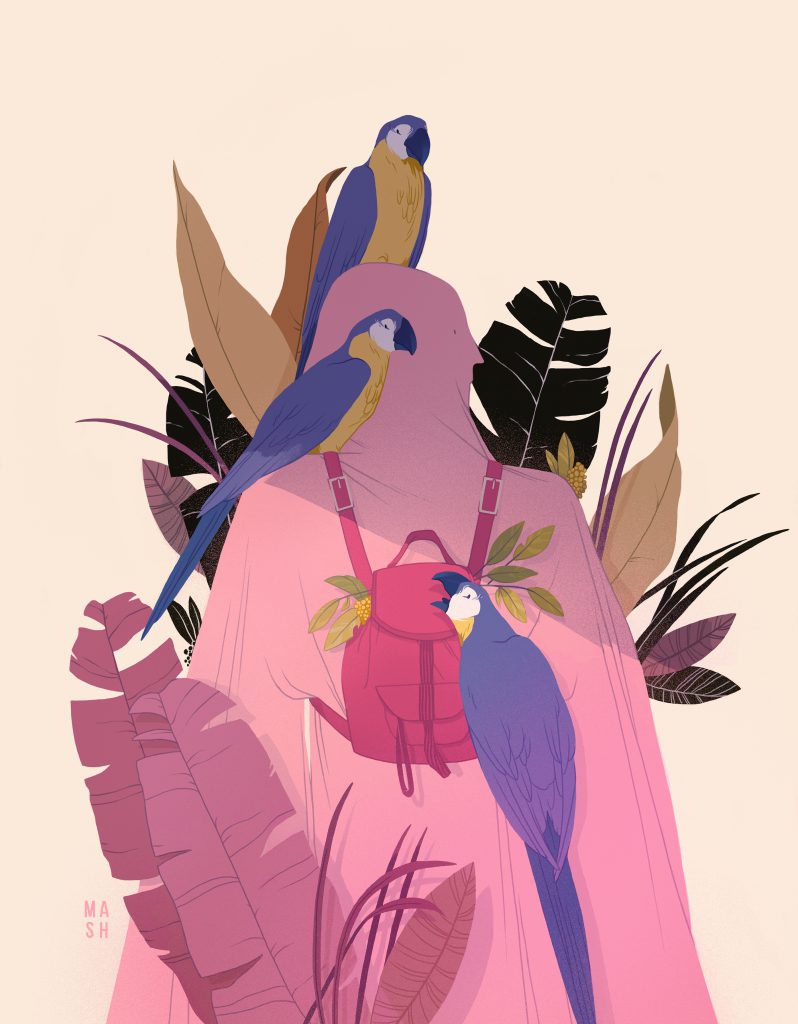 Do you think it's important for an artist to constantly improve their skills? If so, what are the sources you use the most? (platforms, books, websites, courses etc.)
I do think it is important, otherwise, your work becomes stagnant.
I always advise others to experiment, practice your skills, and keep up with creating in new and interesting ways. I don't have any particular places or things I use to improve my own skills, I mostly think about it in a way where I just want my mind to be active so I draw a lot and I play with how I draw.
If you want to keep up anatomy skills, feel free to go to a live drawing session, if you want to improve your linework, play with different materials and keep up with it, etc.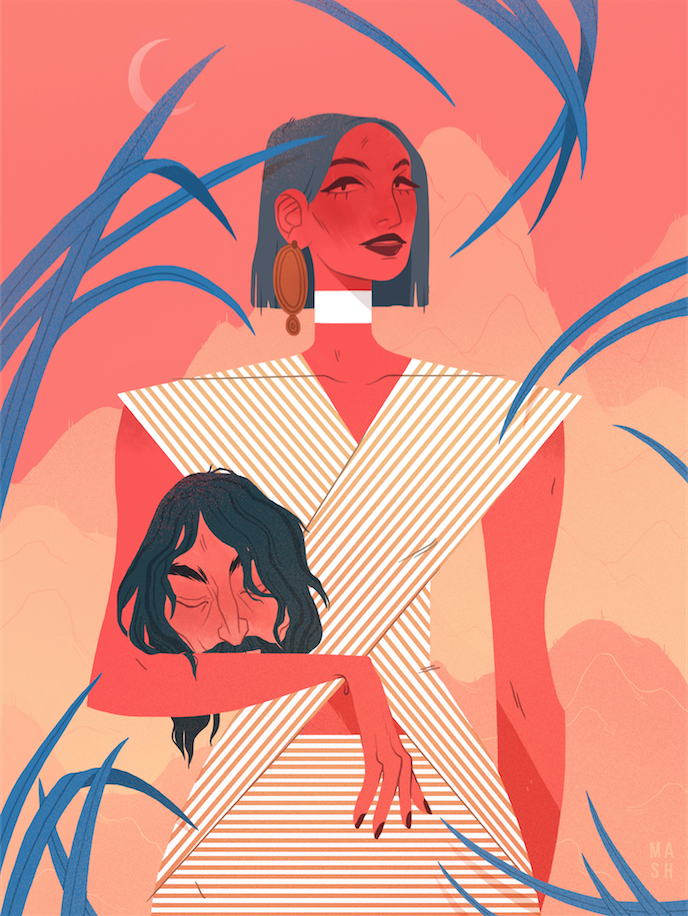 You've got a beautiful Etsy page! What advice would you give to artists who also want to start selling merchandise online?
Thank you!
My biggest advice is to make sure you have a nice presentation. Bright, clear, large pictures of your merch is important. People are inherently drawn to things that are aesthetically pleasing whether they are trained in art or not.
Be clear about what you are selling, your rules, and make sure you are transparent about your shipping process.
Treat your customers well and work with them if there are problems, everyone tends to be understanding if issues pop up so long as you are kind.
Also, learn about advertising and how to get your merch out to a wide audience. Learn your market, learn about SEO, be your own best salesperson. It really pays off down the road as your shop grows.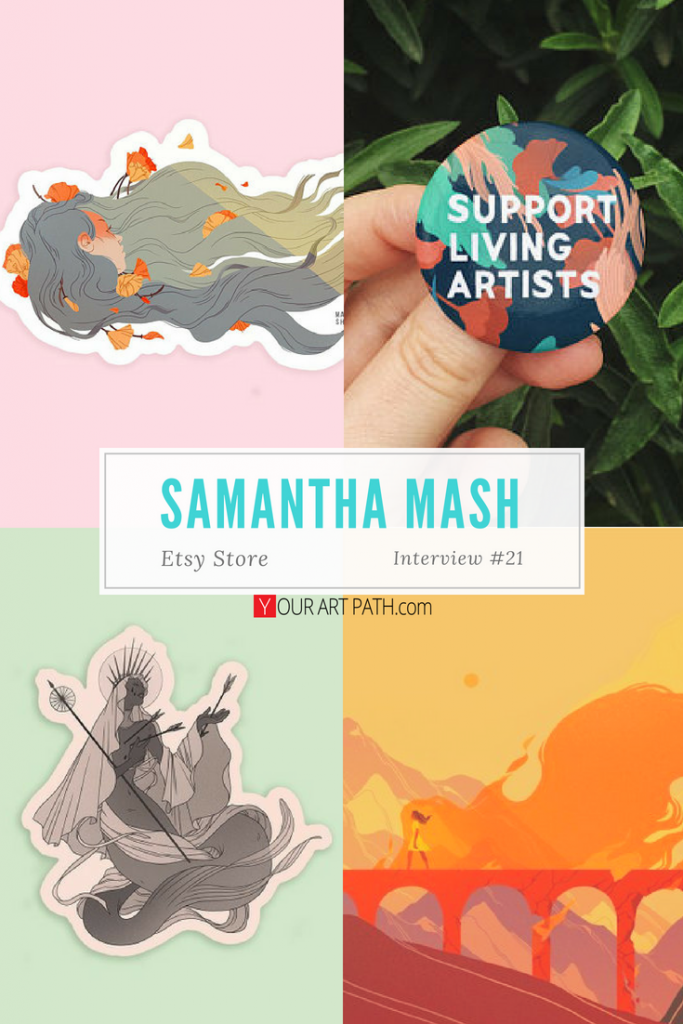 What do you wish you knew about a life of an artist before you got started?
I wish that I had been told more about how to keep yourself from burning out.
Lots of friends have quit making art because of burnout, working themselves too hard or pushing themselves in directions they thought others wanted them to go in (but not pursuing what they wanted). It really makes people start to hate art and that is the worst thing that can happen to someone who used to love making art.
I almost fell into that pit, and I think a huge part of my life would have been unrealized had I let burnout take over my art. I think that it would have been really helpful for others to let me know how you avoid burning out and how to keep your art something that you want to keep actively doing!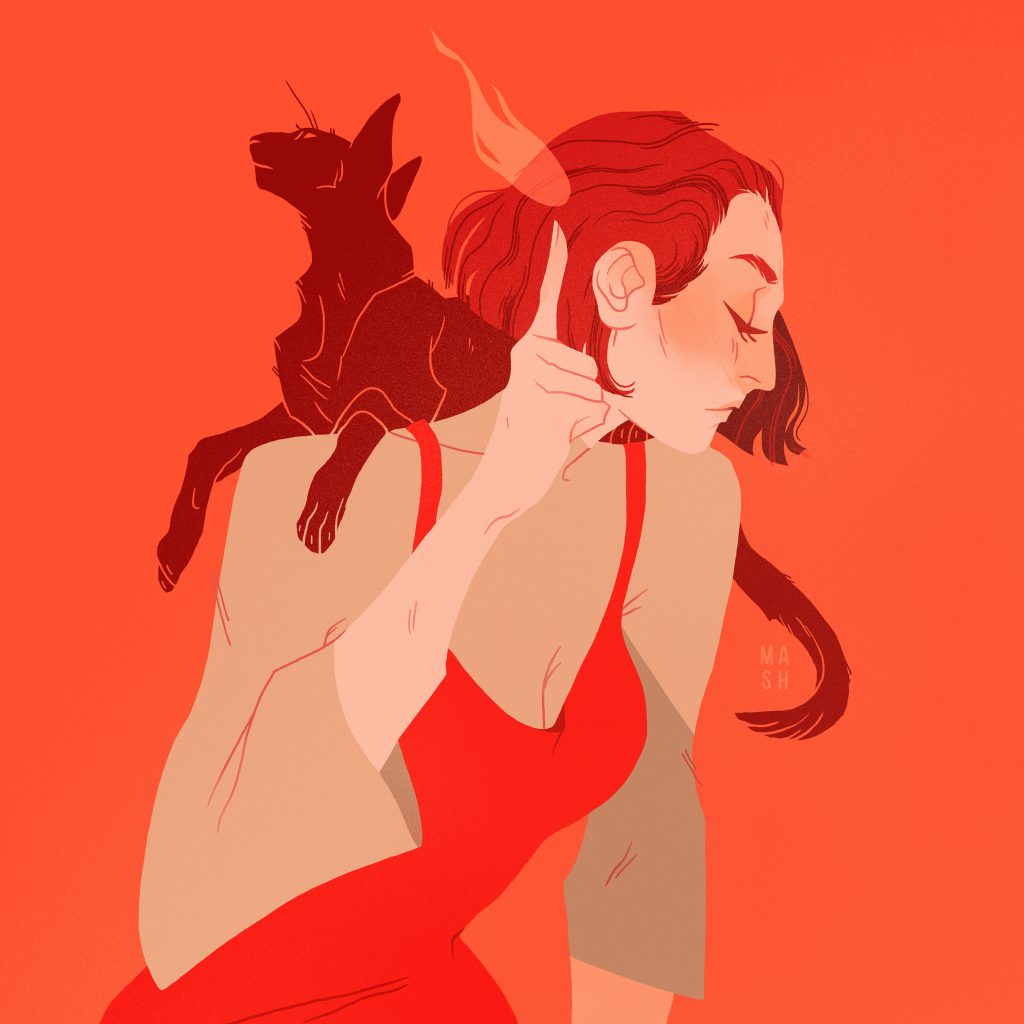 It was my pleasure interviewing you, Samantha! I just have one last question for you – What is your Big Art Goal/Dream?
At the moment, I'd love to get time to make a comic I have been planning for some years–it has been my big art dream for a while now!
Well, we do hope you create your comic soon Samantha, I would love to read it! And if you ever do – let me know and I will update this post so the readers can easily find it as well! 🙂
Call To Action
Did you enjoy this interview as much as I did?
I love how Samantha expresses her own personality an view of the world through her art!
And you can also learn how to become a professional artist with the right tools in hand!
One of the sources used by many artists is Skillshare! And even though it's a paid platform, you can follow my link to grab your first two months for free. 
Because everyone has the right to learn!
OTHER HELPFUL RESOURCES:
Proko – is a website full of tutorials you can choose from!
Figure Drawing Books!

I have a list of Top 14 Figure Drawing Books, that will help you understand human anatomy forms better.

CreativeLive – A platform with 1,500+ creative classes in all artsy fields!

I recommend the first class to take on "Drawing and Illustration" topic – "Color Fundamentals"

PluralSight – a learning platform where they offer you a FREE trial! Which is how you can start learning awesome content for free right away.

They offer courses in these fields: Software Development, IT Ops, Creative Professional, Data Professional, Architecture & Construction, Manufacturing & Design, Business Professional, Information & Cyber Security;
One course's average is about 20 hours!
Becoming a master at art takes time, practice and guidance. And if you don't start today – tomorrow you will wish you started yesterday!
Also, comment down below what's your favorite art piece by Samantha Mash?
Don't forget to subscribe to our email list and follow us on social media:
Facebook, Twitter, Pinterest, Instagram.
And, don't forget to check out these other amazing inspirational interviews!
* " French Digital and Traditional Artist Ladislas Chachignot (Interview #20) "
* " Illustration Student in New York Xiao Hua Yang (Interview #19) "
* " Illustrator and Storyteller Anja Sušanj (Interview #18) "
* " Game Artist and Illustrator Moutaz Maudy (Interview #17) "
* " Taiwanese-American Illustrator Maggie Chiang (Interview #16) "
* View The Full List Of Participating Artists Here.