Written by Allegra Ashley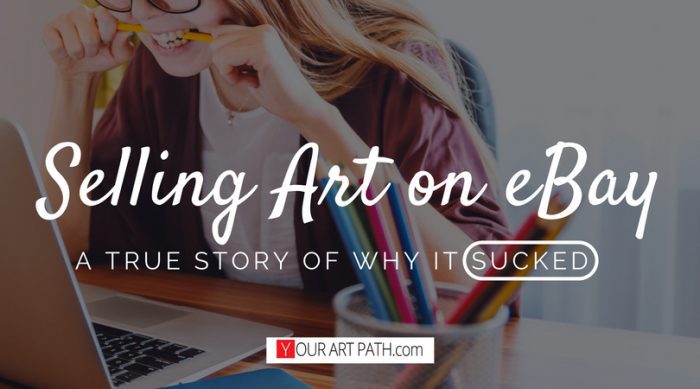 Side Note From Anna:
I simply LOVE receiving emails from YourArtPath readers! And yesterday I received one that made me tear up.
It was a real story from Allegra Ashley, an awesome person who is trying to spend more time with her daughter as a stay-at-home mom while making income with her Art Passion.
I enjoyed reading Allegra's story and asked her to share it with all of you artists out there who are trying to make it. And she was so kind and courageous to write this post for you.
Thank you again, Allegra!
* Are you an artist who has a story/knowledge to share? Become my next guest writer!
Have you ever wondered what selling art on eBay is like?
In theory, it should work.
eBay has millions of worldwide users, and in the "Self Representing Artists" category, thousands of pieces sell each month.
What could possibly go wrong?
Stop.
I implore you to step back. You don't want any of that.
Sit back and I'll tell you about my nightmare and why selling art on eBay doesn't work. At least not if you want to make money and keep your dignity.
(By the way, if you're looking for ideas on places to sell your art, check out the rest of Yourartpath. I surfed in a couple of months ago looking for alternative ways to sell art and wish I'd found this blog sooner.)
How I started Selling Art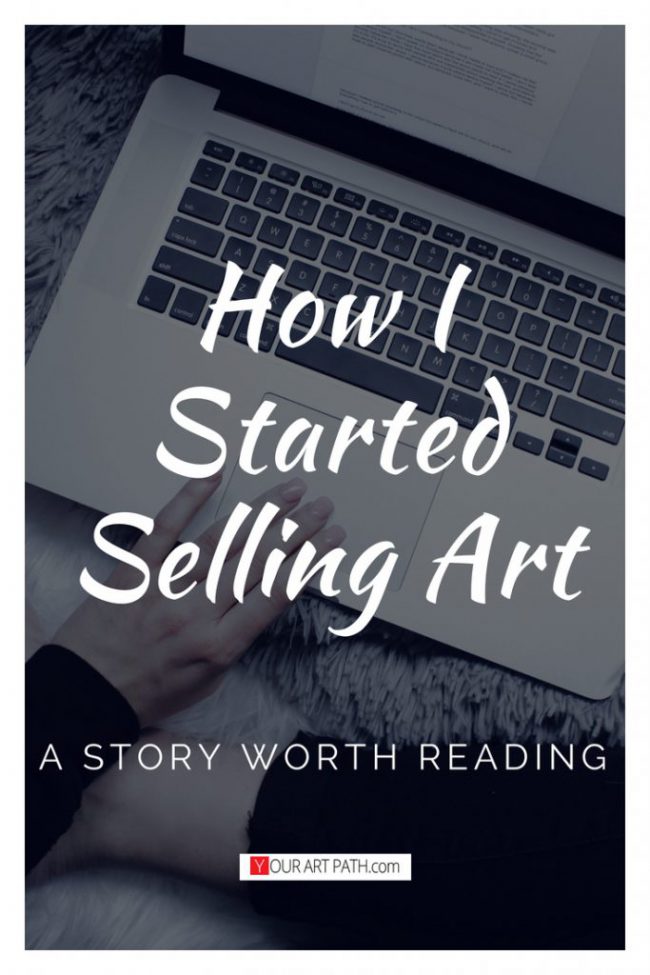 My name is Allegra and I'm an independent artist, single mom, and crazy cat lady.
I've always preferred to make money selling things I've made by hand.
This started when I was a 14 year old in foster care and would sell my handpainted t-shirts and jewelry to the volunteers, visitors and houseparents.
Making $180 at Christmas was my first taste of making money with my art.
As an adult, I made a beeline for art school because when you're young, everyone tells you that college is the only path for every career.
In retrospect, I could've saved myself the student loan debt by taking art lessons. This is one of my major life regrets and I'm still paying on those loans.
In 2001, I had a 3-year old that I wanted to stay home with, but I needed an income.
So I went from being an eBay shopper to selling weird yard sale finds on eBay.
A friend saw some of my art around my apartment and said: "You should sell that on eBay." So I tried it and my art started selling- $20 or $30 per 5×7 drawing, which adds up.
I was pretty stoked.
Selling Art On eBay – And How Everything Went Wrong
In the early 2000s, eBay was friendly, fun and a buyer's market. Auctions that ended earliest were displayed first in searches, which put items in front of millions of people. I had a good run for several years until Hurricane Wilma hit.
The storm knocked out the power for millions of Floridians for weeks. That month felt like an episode of The Walking Dead.
My neighborhood was in darkness and you would just see packs of teens wandering around at night.
When power was restored, I got back online to find my feedback reputation trashed, my account suspended and a bunch of chargebacks waiting in my Paypal account. Since buyers couldn't reach me for 3weeks, they assumed the worst.
To eBay's credit, after Hurricane Irma last year, they protected the accounts of sellers in affected areas, which I could've used during Wilma.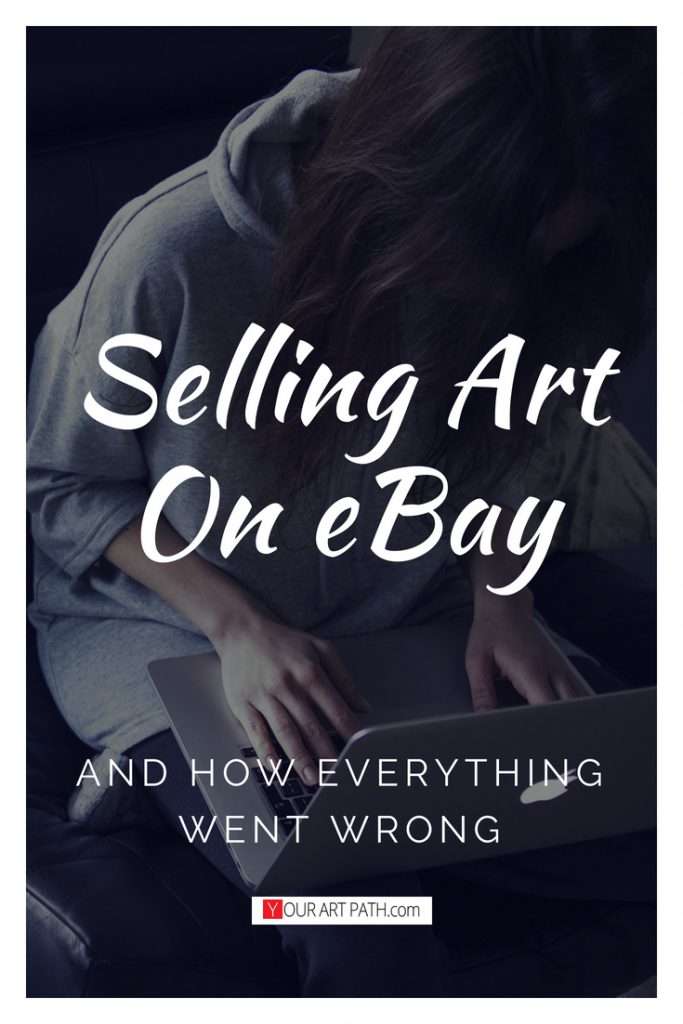 I left online selling art on eBay for a few years, worked a series of conventional jobs and, from time to time, thought about selling my art again.
Flash forward to 2016, my 17-year relationship ended and I moved with my daughter back to downtown Miami where I used to live as a young art student. Since my daughter and I were trying to start a new life, I decided to try selling art on eBay again. By this point, I had my eBay account back because I reached someone who understood my situation with the natural disaster.
When I started creating listings, I realized that eBay had made some changes. Instead of items ending soonest being displayed first, eBay started using an algorithm that used a variety of factors to determine search placement including your recent sales history, how many views your item gets and whether you offer free shipping.
In the art category, this ensured that I always lost money on free shipping, and had to offer a low starting bid to show up in searches.
I would have 10 people watching a drawing with a starting bid of $4.99 and once someone bid $4.99 the other 9 people would drop out because they all hoped to get it at the starting bid and not a penny more.
eBay got 75 cents in fees, the post office got 60 cents and Paypal took a transaction fee leaving me with $3 for a piece that took me 90 minutes to create.
"This is only temporary", I thought.
"I'll grow an audience of repeat customers and they'll bid more."
The buyers would leave feedback like "This is gorgeous. I love it. What a steal. So affordable." I think even they kind of knew I was getting the bad end of the deal.
I would look at my monthly sales, see that I made $500 for 130 items and think "I am killing myself with work for less than half of minimum wage, but maybe if I try harder, I can break that $500 ceiling."
No.
I should've been furious about only making $500 a month for 130 small paintings, but I was grateful to be working from home, working as an artist and not being yelled at by a horrible boss.
A month ago, I came to realize that some of my customers are the horrible bosses.
I got an angry message from a buyer saying that a $3 drawing she bought was late and that she had planned to blow it up to poster size for a gift. So she was planning to pay a print shop $30 to blow up my drawing.
I remember thinking "Lady, my power is off. You could've just offered me the $30 to make you a bigger drawing."
Another customer was really proud to let me know that she glues beads and sparkles to my art and makes magnets out of it. The demographic that buys low priced art on eBay thinks it's okay to do whatever they want with the original because they own it.
Selling Art On eBay: I tried, But it's time to move on
I love my daughter and my cats. I want them to always have a home with water, food and electricity.
My daughter also wants to be an artist and I support that, as long as she learns from my mistakes. "I have to make more money for her." I thought.
Bills at home were reaching critical mass so I tried gently letting my customers know that I was raising my prices because the low prices were affecting my real life.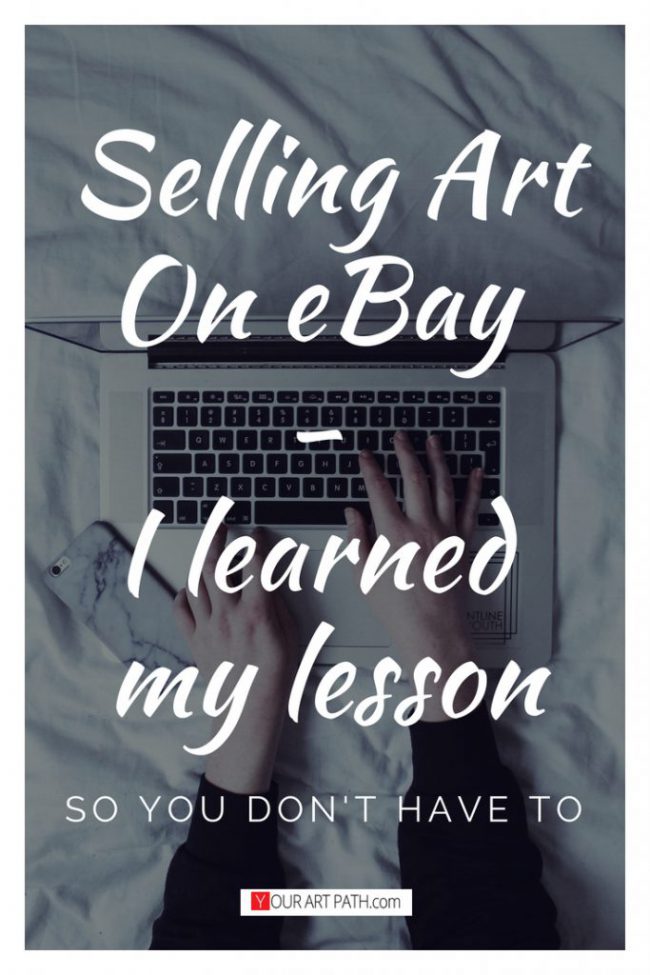 Then, I raised my prices to $7 and $8 starting bids, so that I could make minimum wage. And… the bidders left.
No sales for a month, and now I've received a 3-day eviction notice.
I feel like I took a stand and got slapped for it. I'm being punished for wanting the people who called my art "gorgeous" to pay for my time and work.
A few online friends suggested that I open a Redbubble print on demand store so that I can make some income from my archived work of the last 2 years.
It's a cool site but it takes months of hard work promoting for artists to see consistent sales there. So I'll definitely need to find a flexible outside job.
However, I'm proud of how my Redbubble looks now.
But there's the problem of the 3-day eviction notice.
Trying to find a solution, I found that many artists are fan supported on sites like Patreon and Ko-Fi. Ko-Fi is a virtual tip jar where fans can tip creators small amounts via Paypal without a subscription or commitment.
My Ko-Fi goal is to stop the eviction. Yours can be art supplies or whatever you need to create.
Lesson Learned
What I've learned from this experience is that there are alternatives to the old standby selling sites, new ways to promote and new ways to fund what you do.
It's actually a good time for people starting out. Many working artists on Instagram don't need an agent or a gallery. I'm over 40 so it took me longer to get with the times.
I've never wanted to be rich. I just want to be a blue-collar artist.
But there's a limit and I'm tired of other people's bargains coming at the expense of my housing and survival.
Artists exploit themselves because we desperately want to do what we love, so we'll tolerate almost anything.
My goal from now on is to be kinder to myself and to treat my own work with respect.
Good luck to you all,
– Allegra Ashley