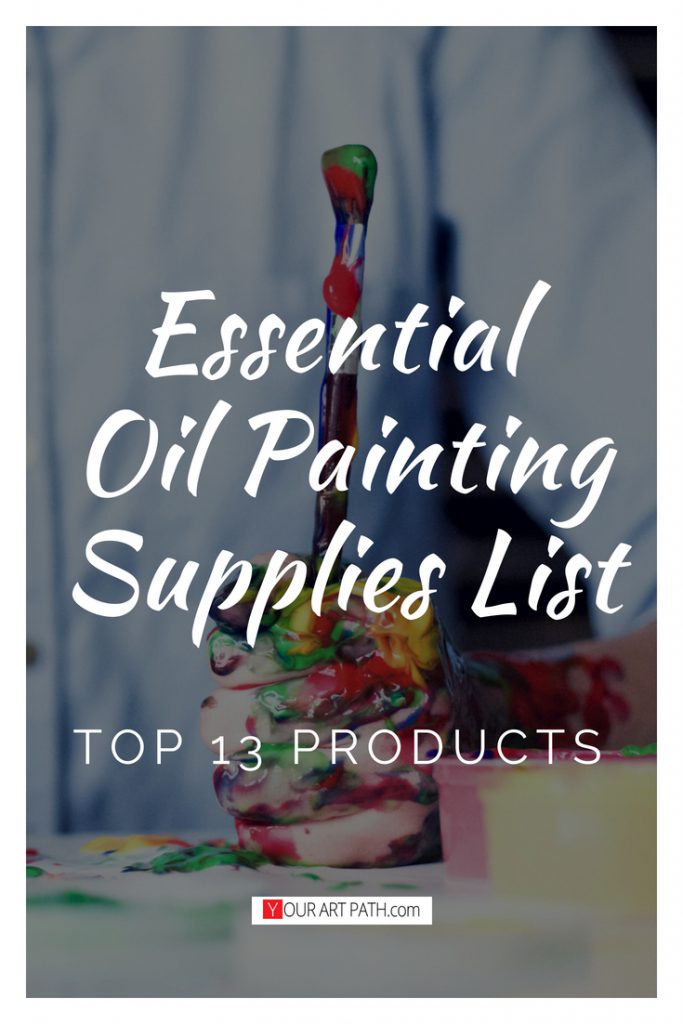 Looking for essential oil painting supplies list?
You found it!
It would suck to sit down, and in the middle of your painting process realize that you are missing supplies!
For that not to happen, I welcome you to scroll down this post for the list of top 13 oil painting supplies you will need:
13 Essential Oil Painting Supplies List
1. Best Oil Paints
There are so many different oil paint brands and so many colors! How do you know which ones you need?
I have been painting in oils a lot in my art school, so I will tell you which brand I was taught to use, and which colors are necessary!
First of all, the preferred colors are :
All of the color tubes I picked out for you above are 37ml. The reason for that is that I believe you should try them out first before getting a larger size (they can get pretty expensive).
However, on that note, I think you will really benefit from a 200ml white, because it tends to run out the faster (at least it does for me as I use it to dilute colors).
Also, if you would prefer to try out oil painting with a set instead of selecting them one by one, I also got you covered.
It's one of the best ones out there (to my knowledge), however, it doesn't include all the necessary colors.
And while as that isn't a problem for some, many of you will want the best results possible and so you can just buy the extra colors that are not in the set separately.
2. Best Brushes for Oil-Based Paint
There are so many different brush types! Eventually, you will figure out which ones you prefer, but it's great to experiment in the beginning!
Brushes vary in size, what material they are made from, their structure, as well as the length of the handle.
Brush types:
Round.
Usually used for adding small details, however many painters manage to make the whole piece with one round brush.
Flat.
Super versatile, great for blending and my favorite brush. I usually use flats for the whole piece.
Fan.
Great for making rough marks, as well as adding texture to your piece.
Filbert.
My second to favorite brush. It's very similar to Flats, but has rounded edges.
Bright.
Similar to flat, but with shorter bristles. It's great for applying paint as well as taking it back – perfect if you want your brushstrokes to be shown.    
You can purchase all of them separately, or get a kit like this one:
3. Best Palette For Oil Painting
Pallets are 100% needed, super useful and very good looking!! Or is it just me? :)))
There is a range of different pallets, pick which one you like best! (I use the wooden oval one – and it only costs like 1 Starbucks drink!!).
4. Palette Knife Set
These bad boys are great for applying paint onto your canvas, as well as mixing the paints on your palette.
Oil is a pretty sticky substance, and so if you mix it with your brush – a lot of the oil will stick in between the bristles and this way your paint mixture isn't consistent + you waste a lot of paint + the brush gets ruined faster!
Also, you can paint by applying oil paint with any of the knives instead of brushes – and the results are awesome!
That's why I recommend getting a palette knife set.
5. Rag or Paper Towel
And so the oil painting supplies list continues.
Now as you start painting, there will be a lot of times when there is extra paint on your brush ( and you don't want to go wash it after each time!), so it's a great idea to have a paper towel or a rag close by.
AmazonBasics Microfiber Cleaning Cloth is great for it since it washes out way better than a regular one (because of microfibers).
I actually use these for everything – washing floor from something greasy, while painting and even for dusting 🙂
6. Oil Painting Canvas Types
Now, what should we paint on?
Because it's oil painting we are talking about, we have to get canvas!
They vary in size, material and if they are stretched onto a board, stretched onto a panel or not stretched.
For quick studies, I suggest Canvas paper pack by Strathmore. Because you most probably won't be selling your studies, this option is more affordable. However, in case you decide to sell it afterward, you can always stretch it yourself.
If you are looking to then put up your painting nicely on the wall (and don't feel like stretching anything yourself), then canvas stretched on wood or panel will work the best 🙂
7. Medium For Oil Painting
It's a supply that thins down your oil ( like water for acrylics ) while keeping it in a great consistency.
It also makes the paint more glossy, and artists often use it for fine details 🙂
You can totally create beautiful paintings without this supply, however, it is nice to know about it and experiment!
My favorite:
8. Easel
It's soooooooo hard to paint in oils at your table!
It gets messy (and oil doesn't wash out that easy), you can't use the movements of your shoulder for more expressive brushstrokes, and sometimes when you are done and put it in standing positions – the proportions look very different from what you originally saw.
So, it's a great idea to get an easel! There are so many different ones!
But the main thing you need to decide for yourself is if you want to be able to put it on your desk or have it standing by itself.
My reccomendations:
9. Gesso
Your canvas comes pre-primed, and gesso is pretty much the same as a primer. Why do it again?
To fully prepare your canvas and save your paint in the long run.
Gesso will make the surface a little bit textured, stiff and ready to accept paint. If you don't use gesso on your blank canvas, you will have to apply way more of oil paint, because the paint will soak in.
My preferred gesso is:
Yes, Winsor again :)) But after using it for more than 3 years I can't make myself try other companies!
You all are welcome to explore! I'm just giving you tips from personal experience 🙂
10. Painting Clothes
Next on the oil painting supplies list is clothing!
It can be any clothes that you are not planning to go out in anymore 🙂
Just have a set of clothing you are not afraid to "make more colorful and unique" by sometimes accidentally coloring it in oil paint!
I remember when I got a cute black hoodie and started painting in oils.
Guess what? My elbow went straight into Titanium White Oil Paint (which I only noticed 2-3 hours later) and till this day the black hoodie with a white elbow is my favorite winter clothing for painting 🙂
Or you can always get an apron for cooking or art specifically (which I also have in black and I think they are pretty much the same thing) 🙂
I really like these two:
11. Mineral Spirits
Mineral Spirits are very similar to paint thinners, except the last one is smellier (due to it containing other forms of solvents).
They are great for cleaning your brushes! Oil paint can't be properly cleaned with just water, so using mineral spirits will help you keep your brushes for a long time! 🙂
Here is an example of one: 
12. A Jar for Cleaning Brushes
People give great reviews about cleaning jars as they help protect your brushes, work effectively and are very easy to use!
Here is an example of such jar:
13. Plastic Wrap
Last but not least – what do you do with your paint when you have a lot left and you plan to continue painting tomorrow?
Wrap your paint with a plastic wrap and put it in your fridge! It will stay in great condition for up to one week!!!
So there is my oil painting supplies list! I hope you got something useful out of it for yourself 🙂
Let me know if you have any questions in the comments down below, and please share this article if you found it helpful or interesting 🙂
Also, don't forget to check out all of our other awesome stuff and subscribe to our newsletter ?
Here are some other helpful articles you might wanna check out:
*  " 14 Best Figure Drawing Books for Beginners "
*  " How To Draw Portraits Step by Step "
or any of our Interviews with awesome artists from all around the world!
Thank you for stopping by and as always good luck on Your Art Path,
– Your Art Bud 😉