For this week's featured artist we have invited a super talented illustrator QU Lan! 
QU Lan is an illustrator and graphic designer. Born and educated in China, QU Lan has been living in France since 2002. She has worked in design agencies before starting a freelance career. Now, Qu Lan collaborates with some of the greatest publishing houses, magazines, and design agencies both in Europe and in China, as well as participates in a variety of exhibitions.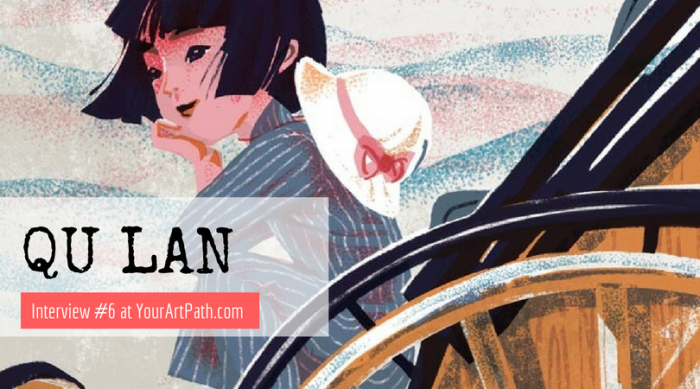 Anna (known here as Your Art Bud): Thank you so much for sharing you art story with us We are so happy to have you here! At what age have you started making art and did you finish any art schools? 
QU Lan: Hello, it's a pleasure to be here with you.
I began to draw as early as I could hold a pencil, like lots of children do. During my elementary and secondary schools, I was focusing on Chinese ink painting. At 15, I left my hometown and entered the Academy of Art of China in Hangzhou, spending 8 years altogether (high school + Academy). I studied in oil painting department. After graduation, there was an offer, a design job from France. It's completely crazy since I hardly touched a computer before (in 2001), and I hardly speak French. I taught myself all the necessary – and here you go. After four years in the agency, I fell in love with the illustration world, which is an intersection of painting and design – a perfect profession for me.

A: Do you think in order to become an artist you need to go to an art school? 
Q: There are a lot of artists who never attended any art schools. I think that art school can help some but not indispensable. If you are motivated, you can always find ways to learn. During my art school period, I studied neither illustration nor design, but I'm here now, a professional illustrator and designer. That's not so bad to learn by yourself, especially in the present era, with all the information easily accessible. In my case, it's even more efficient.
"If you are motivated, you can always find ways to learn" – QU Lan.
A: What are the biggest influences on the style and the topics of your art pieces? 
Q: I love the woodcut, the screen printing, and the ink wash painting. I browse frequently graphic design trend, photography, movies, and all other visual mediums.
I'm good at figure painting, thanks to the training of art school. Most of my picture books are about human and their feelings or their experience. But my interest doesn't stop there. I'd like to develop others topics.
* Here is a short video overview of:"Corbeau Noir, Cygne blanc / Black raven, white swan" by Isabelle Genlis (Author), QU Lan (Illustrator).
[optin-cat id=2063]
A: Your works are often connected to your home country – China (The Lucky Cat, Watercolour of China, Scenery of Ancient China etc.). Is that because you miss living there? 
Q: I lived in several cities in China, in France and in Belgium. I'm not kind of nostalgic person. Wherever I live, I always make myself at ease. In my portfolio there are more Asian scenes because I'm Asian illustrator living in Europe, my European clients tend to entrust me with Asian stories. Actually, I illustrated also Caucasian, African or animal histories.
A: What are your favorite tools that you use when making art? 
Q: Photoshop for now.
A: How long does it take for you to finish one art piece? 
Q: It depends. When it's about to create characters or new styles, it takes several days, maybe longer. Once the roughs are done, I can make one complex illustration per day. I don't like leaving a piece of work for the next day. If it engages a sleepless night, be it.
"I don't like leaving a piece of work for the next day. If it engages a sleepless night, be it." – QU Lan.
A: Do you think it is important for artists to work in agencies first and then become freelancers?
Q: We can have different professional paths. All roads lead to Rome. In my case, it was necessary and valuable working in design agencies. I learned how to work efficiently and precisely, how to respond to clients' demands, and how to collaborate with others. I appreciate this experience.
A: Who are your top favorite artists? 
Q: French illustrator Rebecca Dautremer. When I first saw her illustrations, I told myself that Illustrator is a career worth a try. She is the forerunner for me to follow.
A: What is your big art dream? 
I want to make more wonderful illustrations and books with fresh concepts, and try other funny things, such as animation movies, pop-up books or comic albums… There are so many exciting things to learn and to create!
Thank you, QU Lan, for such short but valuable interview! 
I love getting into people's heads – especially if they are as talented as our featured artists!
What was your favorite part about her story? How about which illustration speaks to you?
Good luck on Your Art Path,
– Your Art Bud 😉