Change Your Mindset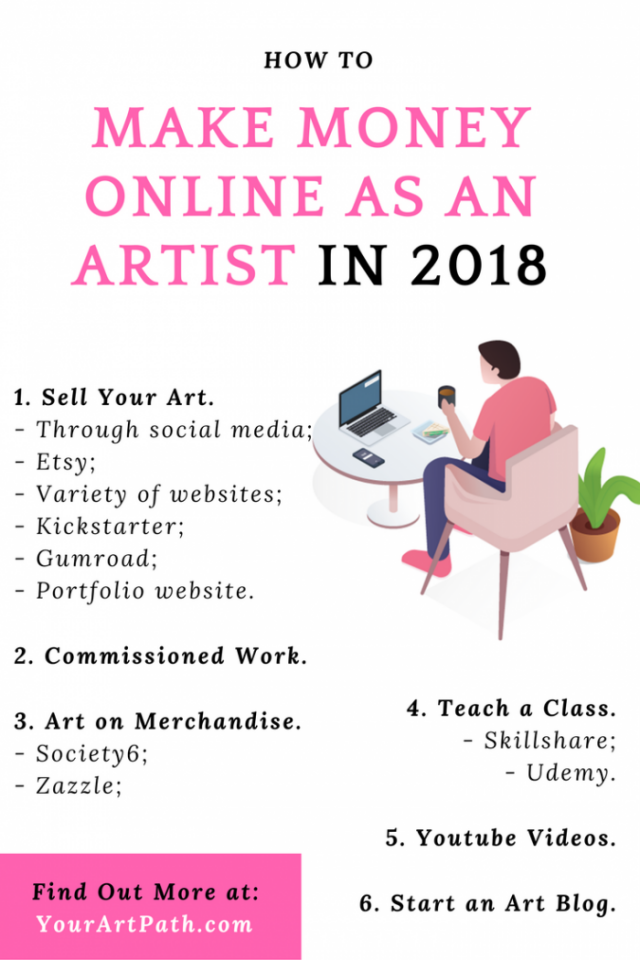 So you enjoy creating art pieces for yourself (maybe your social media followers) and consider it a hobby or a lifestyle?
You've probably been told by many that artists don't make a lot of money, and it's hard to make it a career?
Maybe you try balancing a job, your family, and your art hobby LIFESTYLE and it SUCKS because you wish you could just create art full-time?
After listening to all the negativity you probably have thought like, "Why would someone want to buy my art?..", "It's just a silly hobby…", "I will never make it as an artist…", "I just don't have enough luck…", "I will starve…".
Is this the right mindset for a winner?
Do you think successful artists had those thoughts when they started?
As a matter of fact, THEY DID! But they didn't let those thoughts stop them from trying and achieving their goals! Famous artists had a bumpy ride, but they got to greatness and happiness because they could do what they love and get paid for it!
Guess what? We live in a wonderful time full of opportunities! Artists all around the world are lucky enough to be able to create art and reach their potential customers via social media, website portfolios and a variety of sites created to sell original art/art prints and art on merchandise!
All you have to do is to change your mindset about getting commissioned to paint a portrait to make money… 21st century is full of awesome opportunities for all beginner and professional artists to make money in all sorts of different new age ways!
I'm not telling you not to get commissioned, all I'm saying is that you can have multiple ways of getting income. And believe it or not, some of it will be my favorite – passive income.
Ready to give it a shot?
Variety of Income Sources for Artists
First things first, I will walk you through all of these steps one-by-one below, but I just want to give you a quick overview of what your options are.
Remember, don't just pick one source. Diversification is the key!
I would start with two or three ways, and then add more one by one! (you can also save any of the images here to your Pinterest boards for future references.)
Let me first quickly explain what I mean by "diversification is the key".
If you only rely on one source of income online or are active on only one platform – there is a high chance that you will fail.
So what that your Etsy store has thousands of sales? So what that you have a million followers on Instagram?
I mean, it's awesome an all.
But what happens when these platforms shut down? What will you do?
One second you are a trending famous artist – and the next you have nothing to show and no way to make money!
That's why you need to make sure you are active on many platforms, that you have a portfolio website, a few online stores and a few social media accounts.
Sounds like a lot of work?
Well, it is.
But at the end of the day, you receive financial freedom and the ability to make a living with your passion.
So it's definitely worth taking a shot!
Now, here is a brief table of content on the topics I will cover in depth below: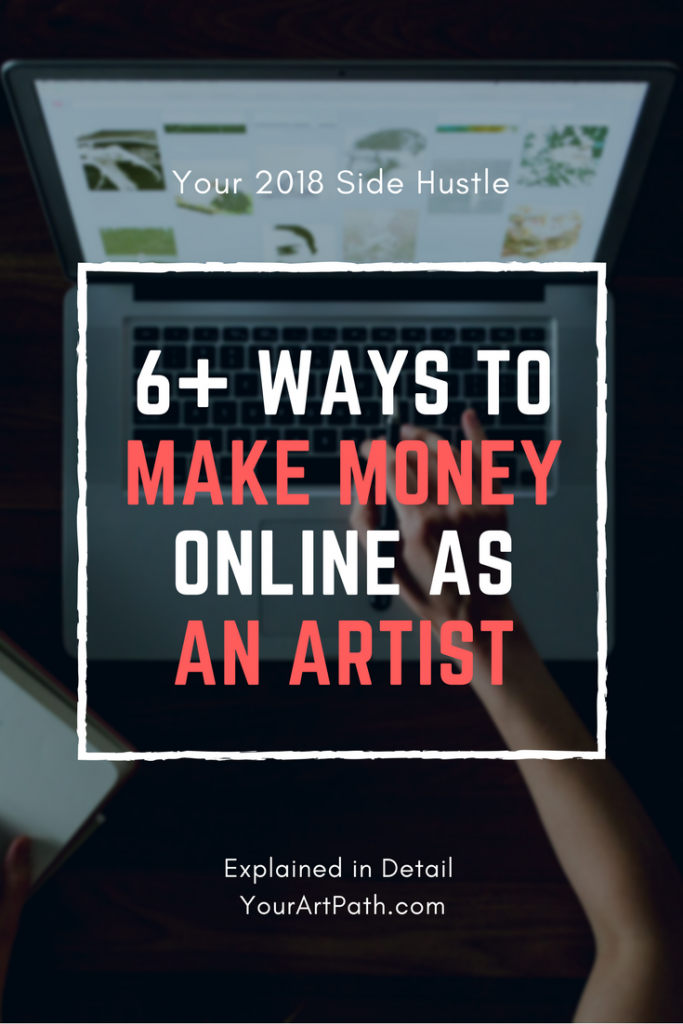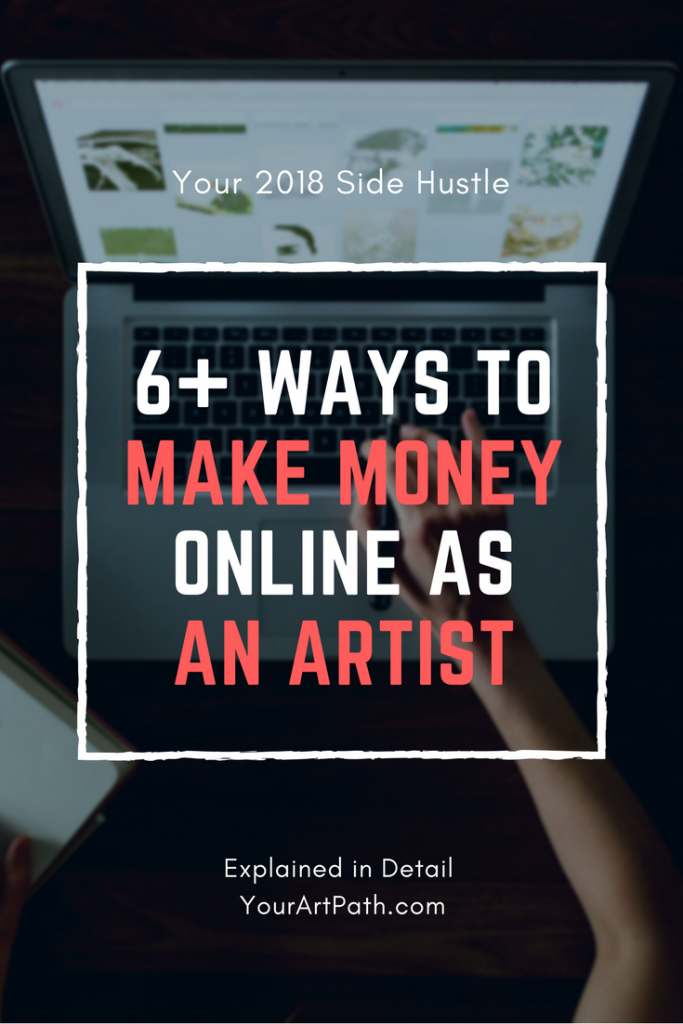 1. Sell Your Art.
Through social media;
Etsy;
Variety of websites;
2. Commissioned Work.
3. Art on Merchandise.
4. Teach a Class.
5. Youtube Videos.
6. Start an Art Blog.
1. Sell Your Art Online
Okay, so this one is pretty simple – you let people know about your existence-> they like your art->they buy from you. Easy right?
Not so fast!
You first need to put yourself out there and build a following of people!
Where do you start?
Social Media!
We are looking for a platform that has a lot of people who enjoy art – potential buyers. The best social platforms for that are Facebook, Twitter, Pinterest, Instagram.
My personal favorites are Instagram and Pinterest as there are so many wonderful artists in there!
Then, you need to build a social following (and that's an entire blog post of its own). Pretty much, don't hope to post 3 artworks and get a lot of people asking you for prints. Rather you need to post great quality content regularly, engage and be honest.
Then you can post about selling your artworks, or opening commissions or leading them to your own website where you will offer them pieces to sell.
Helpful Resources:
If you would like to learn how to sell your art online in a long step-by-step course, then I recommend checking out "Turn Your Hobby Into a Business" course. Where they cover everything from setting up your own prices to social media and promotions. 
Websites where you can sell your art:
My absolute favorite is of course Etsy. It gives you a lot of freedom, many people trust it and already have accounts with Etsy (which means they will trust to buy from this site).
All you have to do is set up an account, set up your own prices and publish items for sale. Then get your social followers to the website. And if Etsy thinks your stuff is awesome – they will bump it up in their search and you will get organic free traffic to your products! 🙂

Other websites where you can sell your art include:
And a couple of others, but these are the most popular in my opinion.
Kickstarter
If you have a large social media following and enough works, you can create a Kickstarter campaign where you can promise people to create any sorts of product – a book full of sketches/paintings/tutorials or other art products. Then you let your following know about your project and ask them to 'back you up' (pay upfront). This way you have enough capital to create your product, then deliver it to your 'backers' and make some extra income on the way! Truly awesome stuff 🙂
Sidenote: I use Kickstarter all the time for all sorts of project, and recently backed up Loish in her The Sketchbook of Loish: Art in Progress Kickstarter project! (not an affiliate link, I just truly love her art and enjoy supporting her.)
Gumroad
Gumroad is a platform that enables creators to sell products directly to consumers. (from Wikipedia.)
A lot of popular Instagram artists sell bundles of their works on this platform for 1$-5$. You might ask what's the point for such little price?
Well, let's do some math – let's say you have 10 thousand followers on Instagram. Every month you make a bundle of your sketches (that you don't post on any social media) for 3$. 10% of your followers (1 thousand) see the post, and only 20% of them (200) check it out. Then the 10% (100) buy it.
100 people x 3$ = 300$ in your pocket from simply putting all of your sketches (that you create anyway to improve!) and selling them on Gumroad. Pretty cool, right?
Of course for that, you will need to have your social media skills on point! And I recommend the "Instagram Marketing 2018: A Step-By-Step to 10,000 Followers" Udemy course 🙂
Portfolio Website
This last one is pretty simple as well, you NEED to have a portfolio! With a simple portfolio website, you attract new buyers as well as you can get commissioned to do work.
If you are just starting out and want to try the waters without big investments of paying over 500$ for a "professional" website and its' hosting + safety, I strongly recommend starting simple with BlueHost.
The beauty of a website is that the earlier you start – the better. With time your website will get more authority in Google's eyes, and you will see some organic free traffic! You just have to stick to it 🙂 Also, if you don't like the idea of having your own portfolio (which I doubt) you can always cancel, and BlueHost offers a 30-day money back guarantee period.
AND it's only 3.95$/month! That's the price of your coffee cup! Can you sacrifice one coffee for a beautiful website to show off to your family, friends, following and potential customers? I thought so.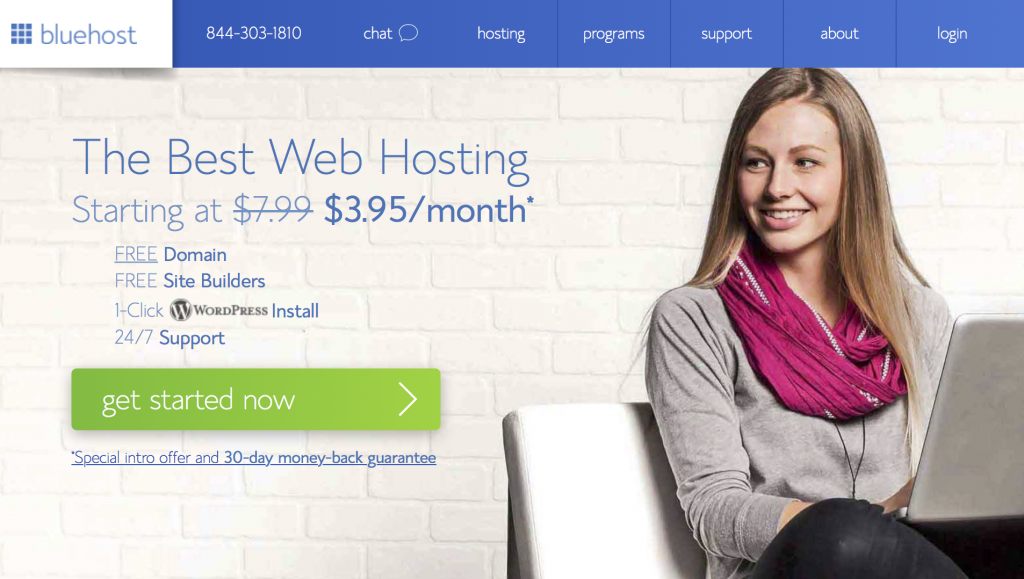 On the other hand, if you are not tech-savy (just like me) and you want to start with the easiest platform to buil your portfolio site professionaly – then I definitely recommend getting started with Wix.
You've probably seen their advertisements all over the web (especially YouTube) and have a basic idea of how simple and responsive their interface is.
They are a litle more pricy, but in return you get a platform with which you can build an awesome-looking portfolio site in an hour or so!
2. Commissioned Work
When you work as an artist in a big firm – who do you work for and who gets the cut of your pay?
Guess what, your supervisor, art director, art director's assistant and the owner of the firm – they all get a cut out of what YOU are creating for the customer!
As a result – you get a salary. And a lot of headaches from the people "above you".
Don't get me wrong, working for a big firm is awesome because you always have work and stability.
But sometimes you have to take the risk and try working for yourself – freelancing!
Going back to social media – if you want to earn money working from home you need to be seen! That's what social media is for 🙂 People will love your stuff – and they will offer you a job.
Sometimes you might get messages saying something like " Hey, can you paint me this awesome family portrait of 99 people that you will spend  1 billion hours working on and I will pay you 10$ "
Well, then you tell them to go and… VISIT YOUR WEBSITE as it has ALL the pricing ready for them to choose from and then they can either pay you what you deserve or go look for someone else who doesn't have a website with all the rules and pricing!
Now, how you price your commission work is an absolutely different topic.
I would suggest finding people who are around your skill level and see what they charge. Or taking the average hourly rate you would receive at any other part-time job, multiply it by the number of hours it will take you to complete it + add the approximate price you spent on the materials used. Also, original work tends to sell for way higher than prints, so keep that in mind when explaining to your customers.
3. Art On Merchandise
There are a lot of websites out there that let you upload your art on their website, and decide which mock-ups to put it on (clothing, mugs, pillows, pencil cases etc.) Then you lead your own customers there, or your merch an be found organically through the search.
When someone purchases your product, those websites handle the making of it, the financial side, deliveries and returns.
Oh, and you get to set your own prices too!
So, pretty much nothing is required of you except making your awesome art!
Even though the cut you get out of the sale is not huge, it's still passive income.
So, here are my two favorites (and the most famous) websites:
Society6 is home to hundreds of thousands of artists from around the globe, uploading and selling their original works as 30+ premium consumer goods from Art Prints to Throw Blankets. They create, we produce and fulfill, and every purchase pays an artist. ( As described at https://society6.com/about )
Zazzle is an American online marketplace that allows designers and customers to create their own products with independent manufacturers, as well as use images from participating companies. ( from Wikipedia )
For example, you can add a painting for sale like this one below! Zazzle makes it really simple 🙂
4. Teach A Class
Now, don't be alarmed! You are awesome and have a lot of valuable info you can share without even realizing it!
I was just like you at one point… so scared. Can I teach? I am no master at anything!
I still decided to try, and rewards were awesome! In my first month of teaching a simple "Make an animated Gif in Photoshop" lesson I earned almost 100$!
It might seem like nothing, but I spent 10 hours creating it, and the video brings me a bit of passive income every day!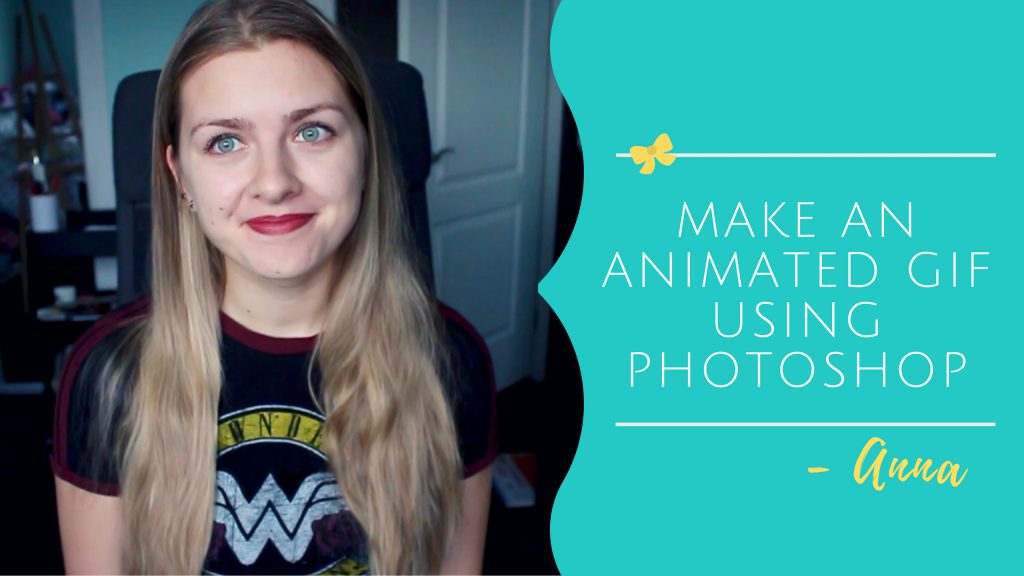 With Skillshare, the sign-up is free and then you can watch tutorials that people 'tag' as free. You can also look for coupons online to watch videos for free that are for paid members only.
Or you can get a paid membership monthly for 16$/month or yearly for 11$/month and enjoy ALL the courses available all the time.
Skillshare is my absolute favorite! Maybe it's because I started on Skillshare as a learner myself. I learned a great deal about painting, drawing, and blogging from this platform, and you can too!
Here is my link that will give you 2 months of Skillshare for fre! 
As soon as you sign up, you can start learning AND teaching.
Side note: you can send me a link to your class later to my email: anna@yourartpath.com and I promise to check it out! 🙂
On Skillshare, your paycheck depends on how many minutes a person watches your course.
Making a class is a whole new blog post, so I will just say that you have to do some research, prepare your video and publish it! You will see a bit of income rolling in every day 🙂
Udemy is also a learning platform that has a variety of lessons from how to draw pin-up girls to how to master social media.
With Udemy the sign-up is free, and then you have to purchase each course individually.
When you make a course, you get paid a cut when someone buys it.
5. YouTube
We all watch YouTube all the time and then hate on the ads that pop-up.
Well, once you get into YouTube you will realize that those ads help artists and all the video creators to make money online.
Once you publish a video, you have to reach a certain threshold before YouTube will start giving you a cut from advertisers. The longer ads people will watch and the more they click on it – the more money you will make.
It takes time to get out there and actually start earning income, but the good thing is that once you build a following on YouTube, you can start sending traffic from there to your website (again, I recommend building your portfolio with BlueHost). Then, all that traffic that comes from YouTube to your website will check out your site and products you offer. And I'm sure some will want to order your stuff/commission you to do work!
What to make videos about?
Simple, just record your process of making an art piece and share it with the world just like we do! You can even make a tutorial from it like in the video below.
6. Start an Art Blog.
As you guys know (hopefully) you are at an Art Blog right now ha-ha 🙂
There is a difference between an "Art Blog" and an "Art Portfolio". (They could be merged into one if you wanted to.)
Art Portfolio is a place for you to feature your art pieces, talk about yourself, constantly update with only your art and provide people with the options they have of commissioning you or buying your products.
Art Blog is a blog about art. No way, right? Well, the biggest differences are that you don't focus on yourself, but rather on all the people out there that want to know more about art. For example, you can interview artists, review art products or create tutorials. You can talk about anything at all in the art field for people to read!
Therefore, for those two I recommend different platforms where you should start.
As I mentioned already, for your portfolio you might want to go with the more affordable choice – BlueHost.
However, for your Art Blog, you need to learn so many things! You need to learn all about SEO, Affiliate Marketing, Keyword Research and many others… This will take you years if you were to just go and google everything!
Luckily, there is a website called Wealthy Affiliates where you have all that information available right at your fingertips! They give you 25 free websites to work with, 24/7 Support, Weekly video courses + 2 courses that walk you from A-Z in your blogging career and many other perks!
I myself have updated to a yearly membership at WA(Wealthy Affiliate) but there is also a free version of it! So you get to decide for yourself 🙂
They always have a huge discount for your first month of Premium so you should at least give it a shot 🙂
I created this blog post that I update monthly to let people know about my blogging success and failure on this website, so if you are curious feel free to check it out!

How is an Art Blog helpful to you for making money online?
Well, you get to stay at home, make art, blog about it and earn income! Sounds awesome, right?
Moreover, you get to build a large following of people who trust you and your great quality content, and when you make a product ready to sell – your readers will become your buyers.
Not a writer? No problem. I'm not either.
But if you think about blogging as writing an email to your best friend – you will do just fine!
At least it helps me out 🙂
Next Steps
1. Pick one or two out of these:
 Selling Your Art;

Commissioned Work;

Art on Merchandise;

Teach a Class;

Youtube Videos;

Start an Art Blog;
2. Go back to the section where I talk about them and figure out your first steps;
3. Get your Social Media game ON;
4. Create an Art Blog with WA or a Portfolio Website with BlueHost right now to get authority in the eyes of search engines;
5. Get to work!
6. Come back and pick one more from the list!
Good Luck!!!!!
Thank you so much for reading this post, I hope it was helpful!
Let me know in the comments below how you are making money online with your passion right now, or which one of these will you get started with today <3
Don't forget to subscribe to our email list and follow us on social media!
Facebook, Twitter, Pinterest, Instagram.
Good luck on Your Art Path,
– Anna, Your Art Bud ?