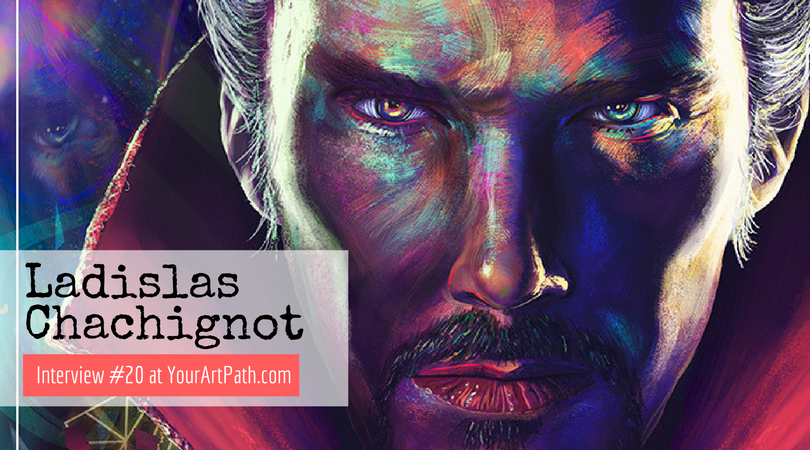 Welcome back to YourArtPath.com Artist Interview series!
Today, it's my pleasure to interview an amazing digital and traditional artist from Barcelona – Ladislas Chachignot.
I met Ladislas when I was researching the best "Stranger Things" fan art – and I totally love his take on it!
You can check out the final blog post "Stranger Things Gorgeous Fan Art From 21 Artists"
You can also check out some more of his art here.
Now, let's get to it! 🙂
Welcome back, Ladislas! Can you tell our readers a little bit about yourself?
L:  I'm a French Digital and Traditional Artist working freelance and currently based in Barcelona. I have been passionate about images since my childhood.
I studied graphic design but after a few years, I felt the urge to redirect myself and learn digital painting ( I always wanted to paint and draw well but never dedicated the time to do it properly.). And so I began to do graphic tributes to my "favorite movies": Alternative Movie posters all illustrated. That was a way to learn to draw and paint and at the same time create Artworks in which I mix things I really love – like Portraits and movies.
Now, I'm working as an Illustrator and a Poster Artist, but at the same time, I know that the contemporary Art world is still also very attractive to me.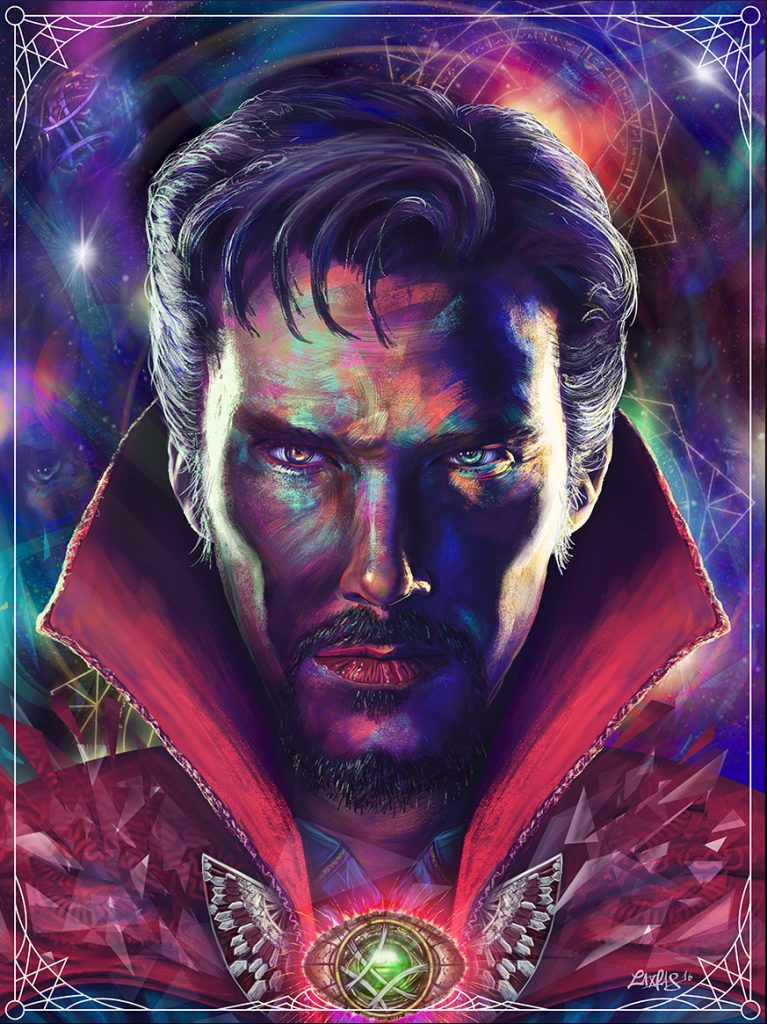 What is the most challenging part of being a digital media artist?
L: I think the most challenging part of this job is that as you're working on the internet you have access to the whole world of customers and client, this is absolutely great for Artist!
The thing is though, that this also means your competitors can be anywhere in the world, you create and share your Art there but the "competition" ( which is not really a competition in the end) is worldwide. Clients will seek the best talents in the world no matter where they are.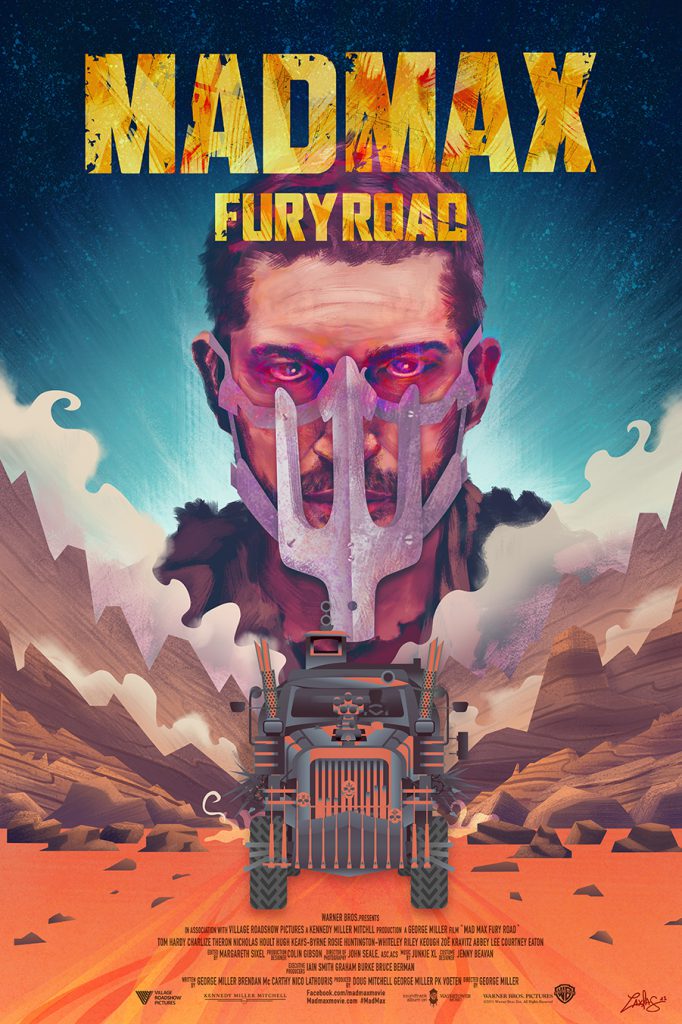 Did you go to an art school? How important do you think they are?
L: I studied in high school a general course of "literature" with  "History of the Arts" option. I have always been attracted by this Art thing but in the beginning, I wasn't confident and didn't think I would be ready to earn my life with Art. (I started with a year of economics and well this was definitely not the place where I belong :D).
After high school, I continued with 3 years of graphic design studies, and there I discovered the creative world and all the possibilities in it. After that, I started directly as a Freelancer ( with all the struggle and mistakes that goes with this decision 😉 ). Then finally I studied illustration … at home on youtube and on websites like pencilkings.com or skillshare.com.
And that's about it, I'm kind of self-taught in this discipline, I never took any drawing lessons in school or other places.
So for me, it depends on your motivation and seriousness on achieving your goals. School can teach you the basics and introduce you to the career. But the only way to get pro is to learn a lot by yourself, if you're passionate about this, you'll make it. Passion is coming with perseverance also ;).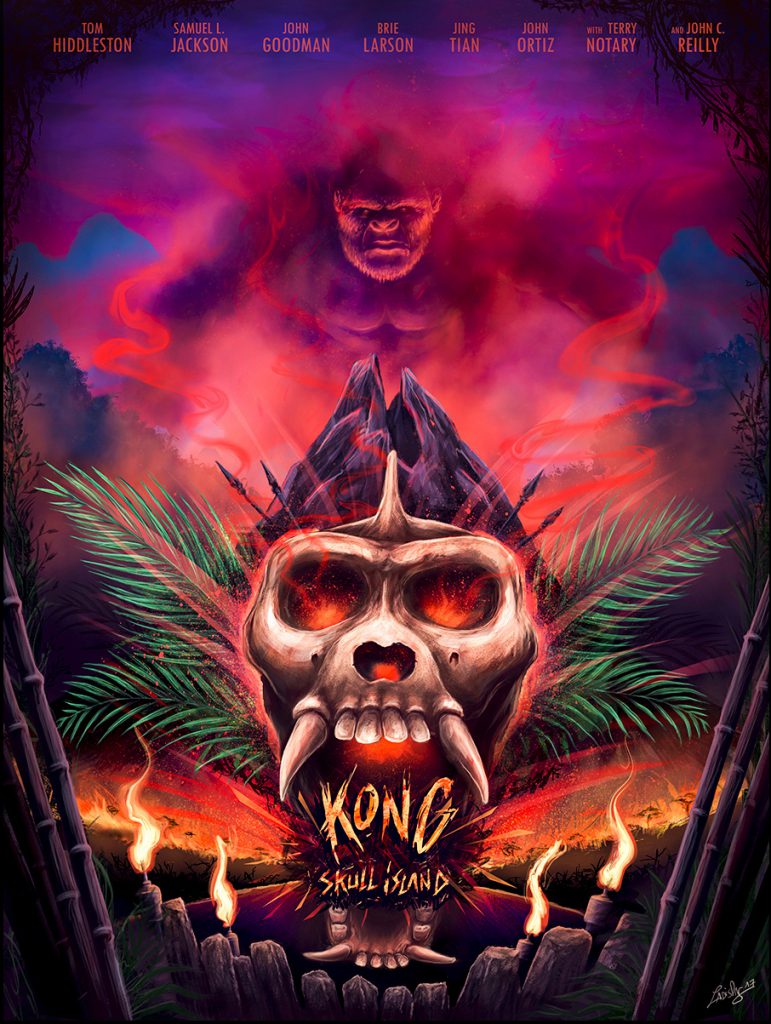 In your body of work, you have a lot of posters! Is it because of your love for movies? Also, what is the process you go through when creating these pieces?
L: Yeah, my passion for illustrated posters was the changing point in my Life. I've done a lot of them in between clients commissions. That's what really allowed me to experiment and learn the process of drawing portraits and movie posters.
In the beginning, I was doing this for fun really. I wanted to be able to paint realistic portraits and images,  I was amazed by some Posters like the Star Wars ones for example. So I combined the things I love – portraits and movies and started to paint posters like that.
The process is not simple to explain, but to sum up when I'm starting a poster I'm watching the trailer to see the global mood of the movie, I'm saving images from the movies doing some screenshot and then I'm starting from there. I'm always doing a sketch version and then I paint the shape, then refine and refine and refine until the final result is there. ( I've got a lot of process pics available on my Behance profile.
[optin-cat id=2063]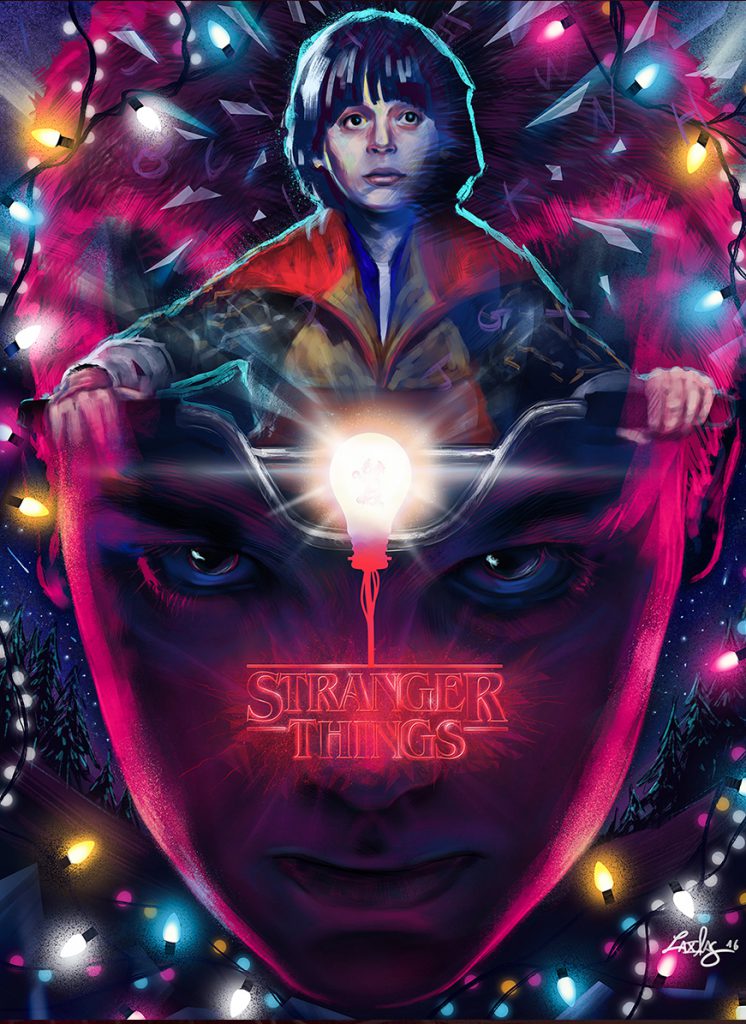 You have a very colorful and distinct style, Ladislas! Almost a mixture of tradigital and street art 🙂
How did you go about finding it? Was it a conscious effort or did it just evolve passively through time?
L: Thank you, I'm really happy to read this compliment as it's really where I want to go. I think it's because it's part of the things that inspire me the most.
But at the beginning I was scared of working with colors, I didn't know anything about the rules, how you can combine them, it seemed too complex so I stuck with lines. But then I started to do these portrait and that was the starting point where I needed to add colors to be "realistic". Progressively I started to experiment a bit more and started to play more with colors. I never knew where I would end up ( and I'm still not there yet haha), I was scared of not being able to find my "Style", it's very stressful because it seems everyone has one and you don't.
But well, the reality in this is that it will come to you if you keep creating and enjoying the things you're working on. You won't have to look for it and stress yourself, it will come to you with time and dedication ( and having fun is also important 😉 ).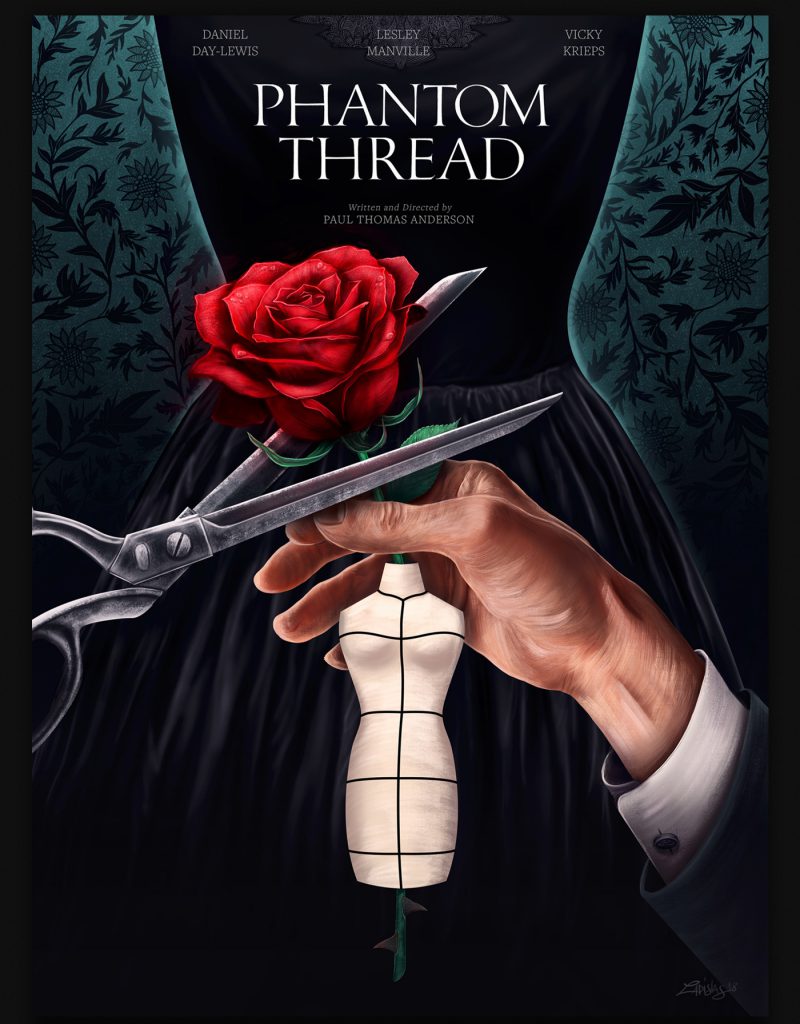 What do you want people to feel or think of when they look at your art?
L:  I want people to feel energy, positivity, and imagination.
It depends on the Artwork I'm creating which emotions I want them to feel, but that's my goal, making them feel something.
The worst thing is if someone is saying that my Art doesn't make them feel anything, it's just flat and random. I think I would prefer someone to tell me he doesn't like my Art instead because I know you can't be loved by everyone but at least you have some feelings about it.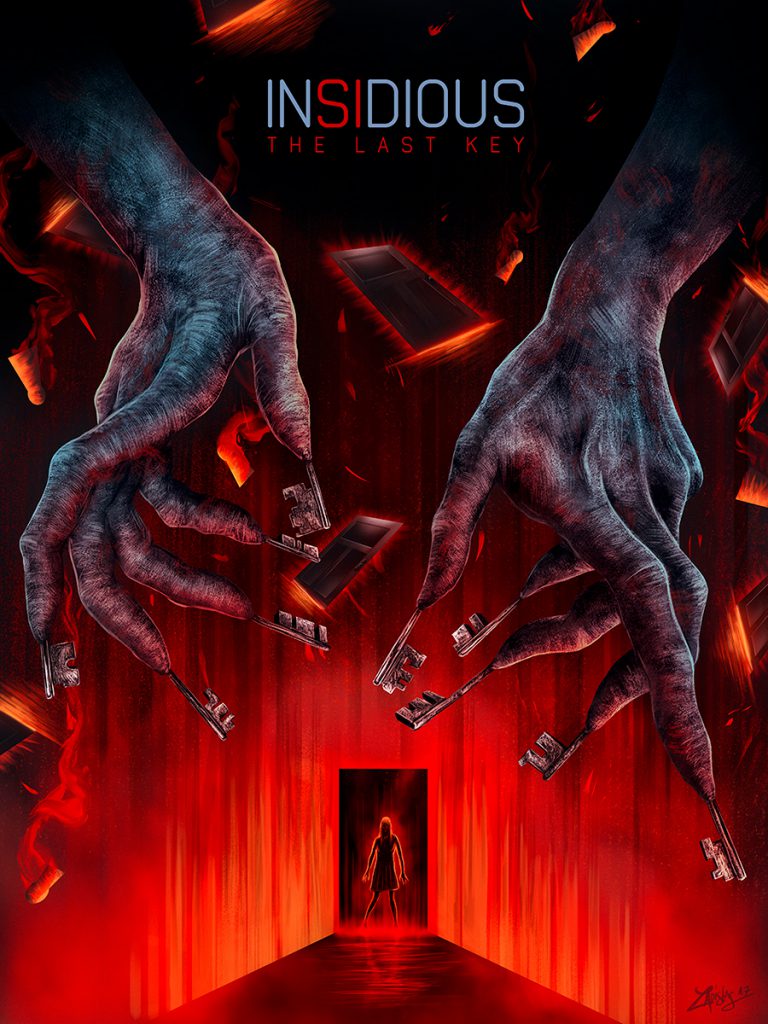 If you had to recommend 1 book and 1 movie to a friend – what would they be? 🙂
L: One book: "The Alchemist" by Paulo Coelho.
One movie ( that's hard):: The Secret Life Of Walter Mitty.
How long does it usually take you to create 1 artwork?
L: It depends but most parts of my Artworks are taking me between 10 and 20 hours of work I would say.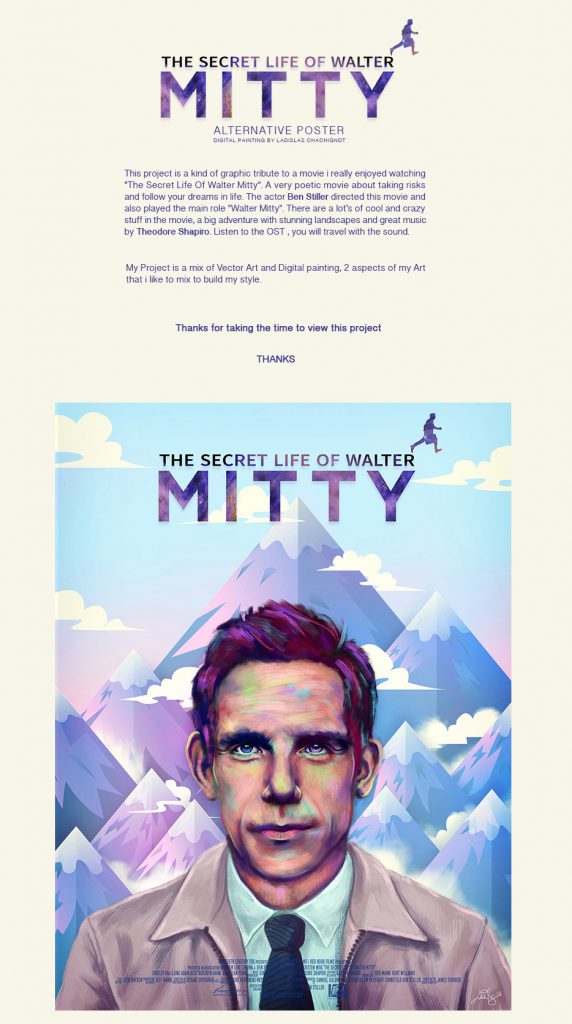 What tip or advice you would like to give to a beginner artist?
L: My advice is to follow your heart and be patient with yourself, it takes a lot of time to create your way in Art ( as a professional I mean).
You'll have ups and downs, but if you stay focus and allow yourself mistakes, if you bounce back on track every time you fall, after some time you'll see the path.
Art has this special advantage: "It Gets Better With Age" the more you stick to it, the best you will feel and the more proud you'll be in the end.
This is not for everyone but the gift, in the end, is great, you'll be proud you achieved what you wanted and built something out of nothing.
There is no talent, in the beginning, every great Artist was a total beginner at some point, those who made it were the ones who have passion in what they created ( they discovered it progressively I think) and a true commitment to fulfill their goal.
Another thing: DO the things, show them to people, if you hide them and not accept critique you won't grow.
Last thing: find the support of friends or family, a community, someone to help to keep you motivated, it's crucial.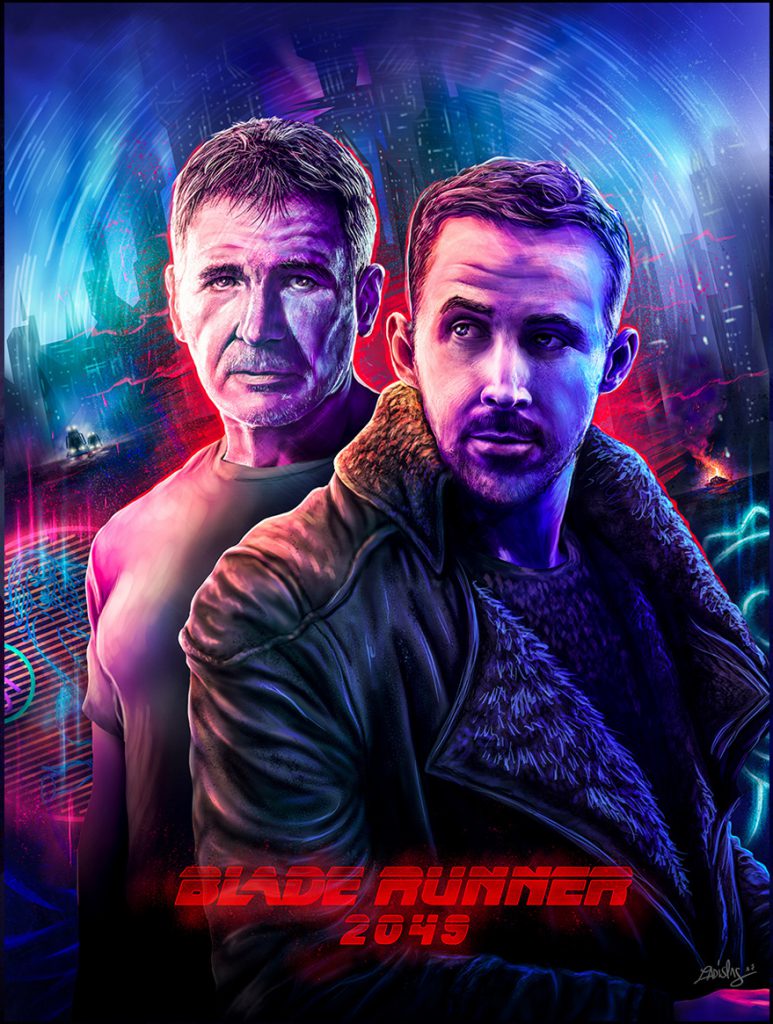 If everything goes the way you plan it, what is the best possible life you are dreaming of 10 years from now?
L:  In ten years from now: I want to be the Artist I'm dreaming to be: creating Art to help to raise awareness about wildlife protection as well as nature protection. I want to achieve this mission with my Art, communicating about these subjects through my images.
I want to paint murals and be able to decorate cities and places all around the world.
Being able to travel and create Art I'm proud of and hope to be able to contribute to help to protect the world because I think this is the most inspiring thing we have since the beginning, but we lost our interest in watching and respecting it.
My dream is to be able to achieve my Art career and to be able to put my Art at the service of this cause. This is honestly my "dream goal" in my Life.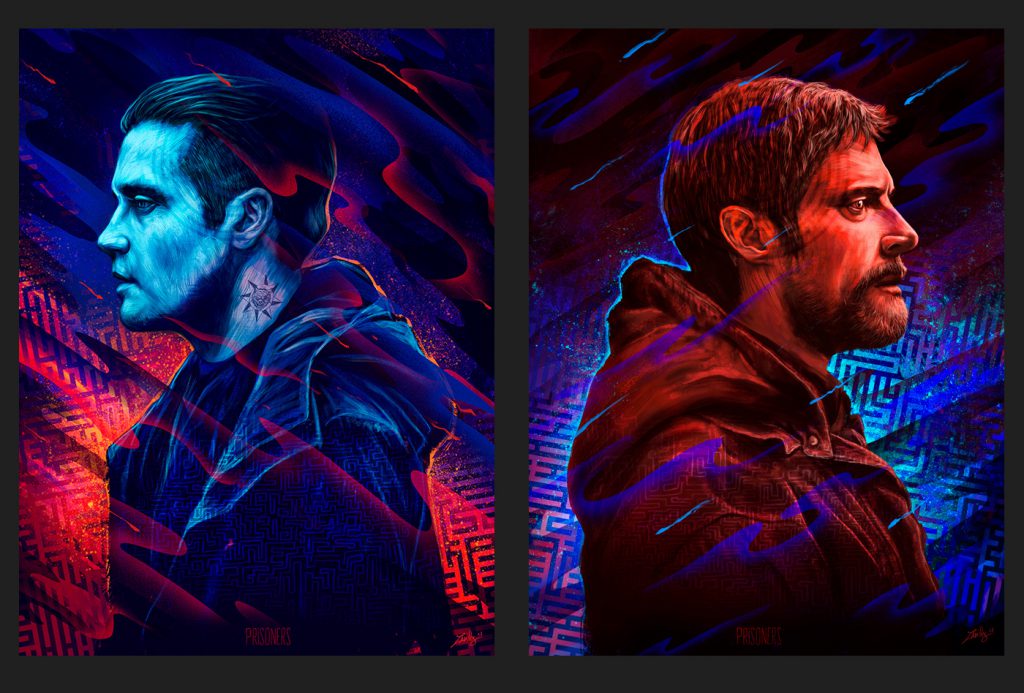 Call To Action
Did you enjoy this interview as much as I did?
I love how Ladislas is a self-taught artist, that creates work by combining two of the things he enjoys the most and has a dream to live a life of a traveling artist who raises awareness about nature!
And you can also learn how to become a professional artist with the right tools in hand!
As Ladislas mentioned, one of the sources he was learning from is Skillshare! And even though it's a paid platform, you can follow my link to grab your first two months for free. 
Because everyone has the right to learn!
Other helpful resources:
Proko – is a website full of tutorials you can choose from!
Figure Drawing Books!

I have a list of Top 14 Figure Drawing Books, that will help you understand human anatomy forms better.

CreativeLive – A platform with 1,500+ creative classes in all artsy fields!

I recommend the first class to take on "Drawing and Illustration" topic – "Color Fundamentals"
Becoming a master at art takes time, practice and guidance. And if you don't start today – tomorrow you will wish you started yesterday!
Also, comment down below what's your favorite art piece by Ladislas Chachignot?
Don't forget to subscribe to our email list and follow us on social media:
Facebook, Twitter, Pinterest, Instagram.
And, don't forget to check out these other amazing inspirational interviews!
* " Illustration Student in New York Xiao Hua Yang (Interview #19) "
* " Illustrator and Storyteller Anja Sušanj (Interview #18) "
* " Game Artist and Illustrator Moutaz Maudy (Interview #17) "
* " Taiwanese-American Illustrator Maggie Chiang (Interview #16) "
* " Artist Interview #15 – Kenneth Anderson "
* " Artist Interview #14 – Martina Naldi " 
* " Artist Interview #13 – Egle Plytnikaite "
* " Artist Interview #12 – Cynthia Xing "
* " Artist Interview #11 – George Varodi "
* " Artist Interview #10 – Charringo "
* View The Full List Of Participating Artists Here.