Drawing people is a LOT of fun, but it is also pretty difficult since we are such complex creatures! When drawing a human one must have a simple understanding of anatomy, forms and a few basic tricks to make everything work 🙂
( if you are just starting out with human anatomy, or want to improve it – check out this blog post on how to get started with figure drawings )
In today's tutorial, I will show you step-by-step process screenshots, speed-up video of the actual making of this piece (at the end of the blog) and explain what I'm doing along the way.
By the completion of this lesson, you will have a basic understanding of what my personal process is for painting people in a stylized way, as well as maybe some tricks you will pick up 🙂 If not, at least you will get inspired to go and create for sure 😉
Feel free to share it with your friends on social media, or Pin the images to your Pinterest boards in order to never loose them! 🙂
So, let's begin!
Step 1: Reference image + Basic Sketch
At first, you should go ahead and find an image of a relative, friend or someone you want to draw. Keep in mind that if you are planning to sell this image afterward – you have to have the permission from the person who owns this image, or if you are posting it somewhere you have to tag them on it 100%!
If you are looking for FREE IMAGES that don't need any attribution and you are overall just starting out with drawing, it will be good for you to check out this blog post first "How To Art – 7 Beginner Steps to Improve Your Drawings" ( where you will find all the tips a beginner needs to start drawing as well as some awesome resources with beautiful photographs for free).
In this particular lesson, I'll be using Photoshop and Wacom Intuos Pro Tablet – but you can use any materials you are comfortable with!
I like to begin with a very simple and rough sketch. You can do it in any color you like – I love using red or blue instead of black since it will help me later to be able to look at the rough sketch and go over it with more defining black lines later. ( if you are using Photoshop, make sure to doodle on a new layer instead of your background, since we will be deleting it after).
You can try to match the original as much as possible, or you can exaggerate things as you see fit in order to make it as stylized and appealing as possible – totally up to you. Since my tutorial is on a stylized way of drawing humans – I go ahead and make sure that the shoulder and hip line's angles are stronger and opposite to each other.
Helpful Resource:
If you would like to learn how to sketch amazing stuff from your head, then check out this book called "Beginner's Guide to Sketching: Characters, Creatures and Concepts" by 3dtotal Publishing.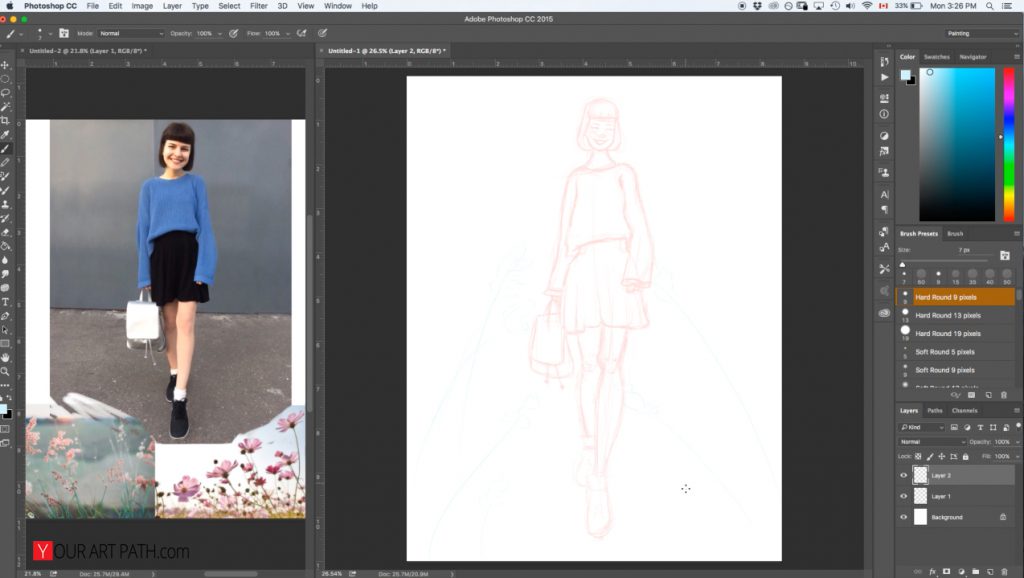 Step 2: Lineart
When I'm happy with the quick sketch and I like the proportions – I go ahead and lower the opacity on the sketch layer ( so I can still see it, but it won't mess with my line work).
Then I create a new layer in which I start going over my rough lines with a lot more definition fixing some things along the way.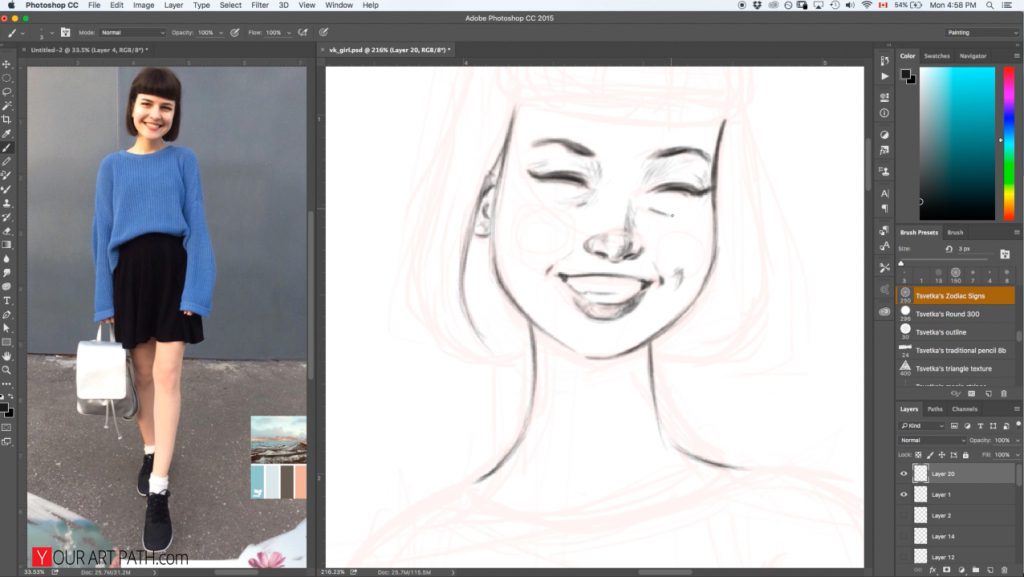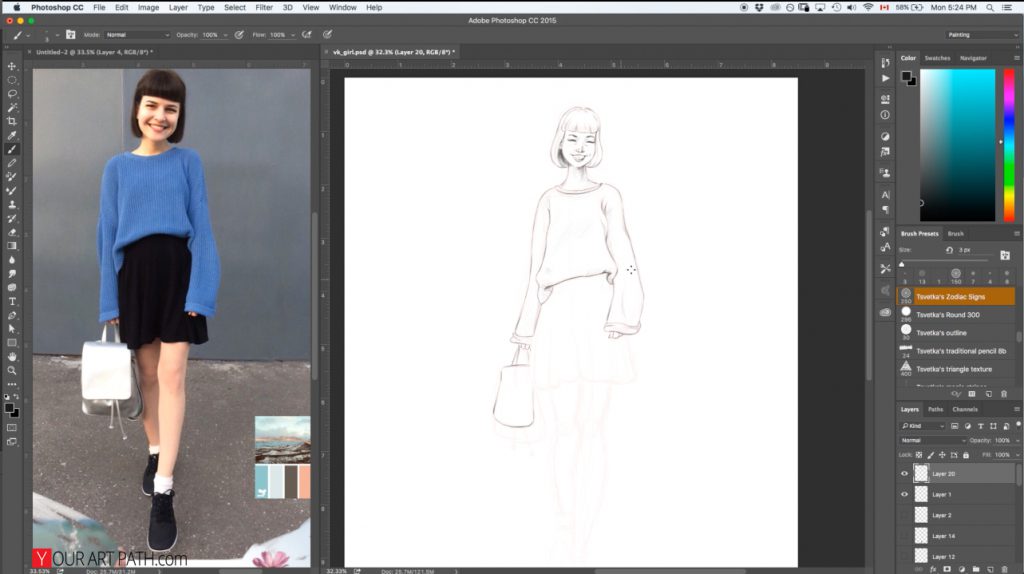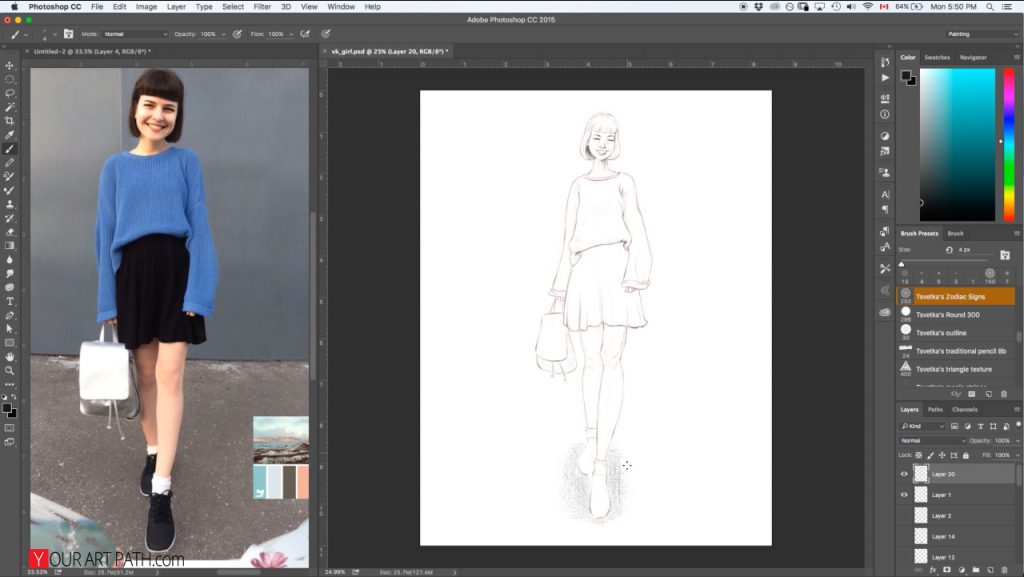 Step 3: Basic Colors
I think it's important to put down your basic color scheme in the earliest stage of coloring process because it will allow you to get the feel of the overall image right away, and fix some colors if they don't feel right!
I often get my inspiration from some pre-made schemes (like the ones on the left), and I have a whole board on Pinterest called "Artsy Color Palette" of a variety of colors saved up to a board that you can access by clicking here.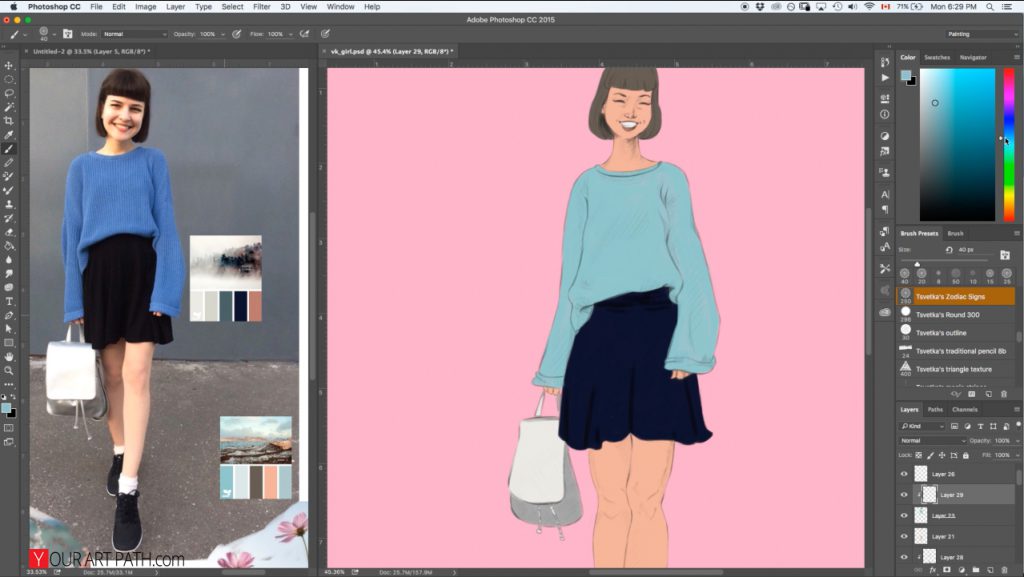 Step 4: Shadows
Add some dimension and life to your art by putting down blocks of shadows! Nothing too complex, just squint your eyes and see the basic big shapes 🙂 A lot of the times we paint shadows in the same color but darker, but in order to make your piece more interesting you can always switch hues a little bit too 😉
Also, don't forget that shadows also have reflections from the background! In my case, some of the shadows can also have a little bit of pink in them.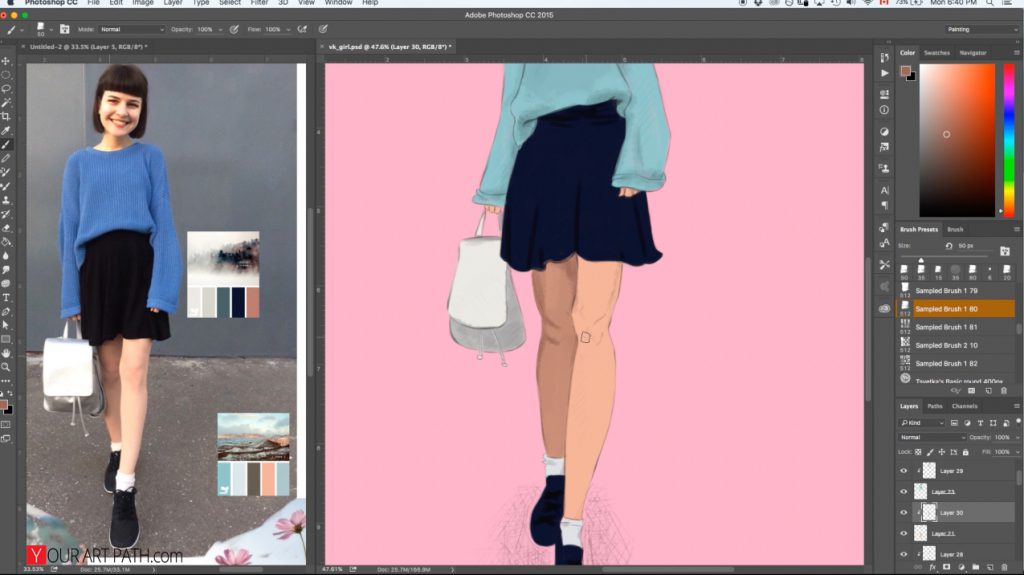 Step 5: Highlights
It's time for your art piece to get some shine 😉 Honestly, adding highlights is my favorite part, because it is when the art piece finally comes together and comes to life! You don't have to be too crazy with highlights, but a few here and there (usually in the focal point of your art piece) will definitely help a lot! I like to put highlights on the nose, lips, cheeks, chin, hair, and eyes (not in this particular artwork since they are closed lol)!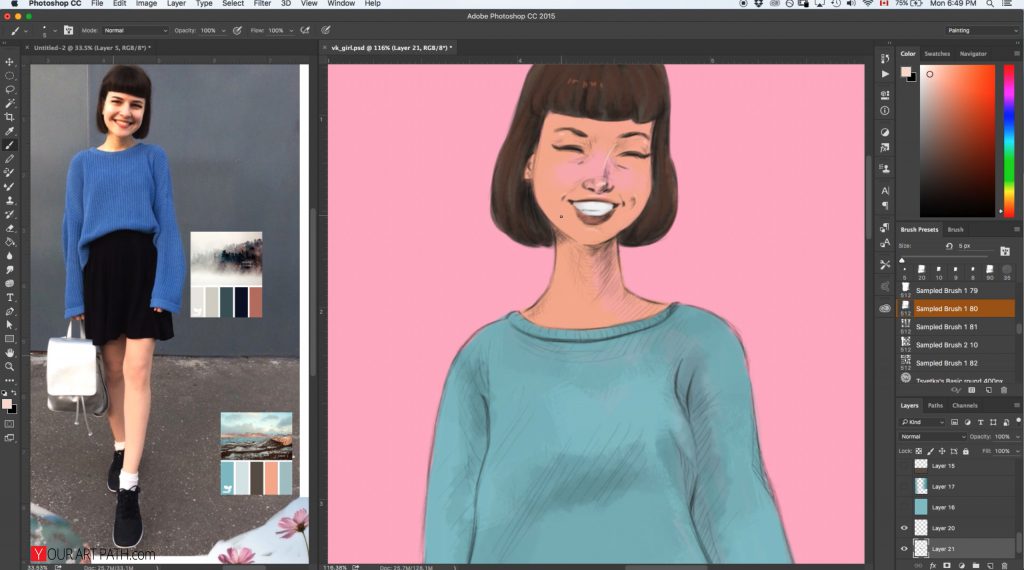 Step 6: Fixing Colors in "Camera Raw" Filter 
This last step is usually the finish line for my piece. After I sign the artwork I merge all of my working layers together and open up "Camera Raw" Filter where I go through many options and try my best to make my art piece pop! Sometimes after I click 'ok' I go in and add a few minor details, but I try to avoid doing that since I like making my painting a little bit grainy, and so adding stuff after really messes up the balance, to be honest…
Play around with everything, but don't over do it! Save up a few versions along the way and see which one you prefer 🙂 I also like copying the merged layer a few times and then filtering them in different styles, so I can always go back to the one I like more 🙂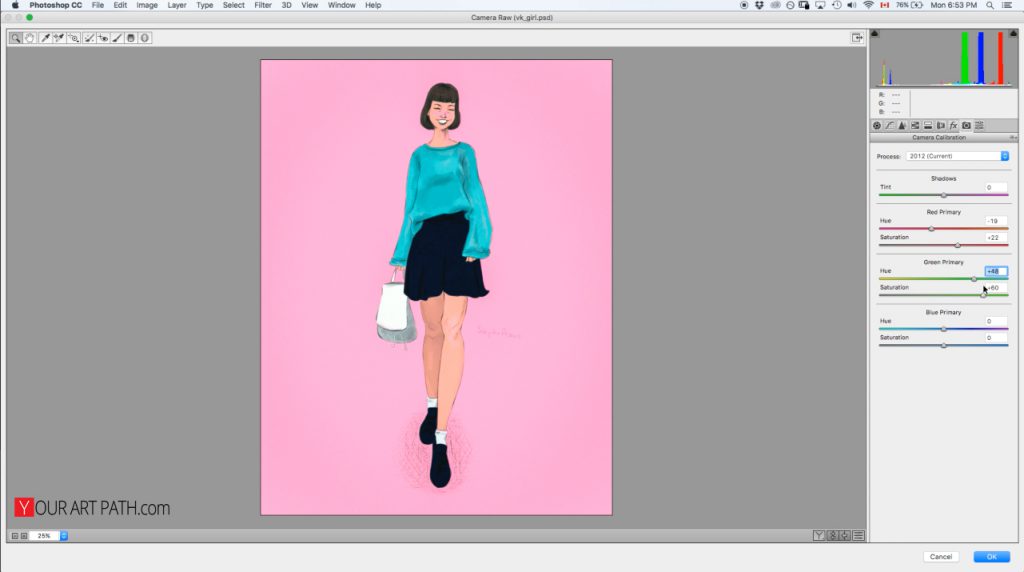 That's all!!!
Here is the finished piece! I Hope the tutorial wasn't too confusing, but if you have any questions – you can always comment down below and I'll be more than happy to answer, or even create a new tutorial based on the topic of your question 🙂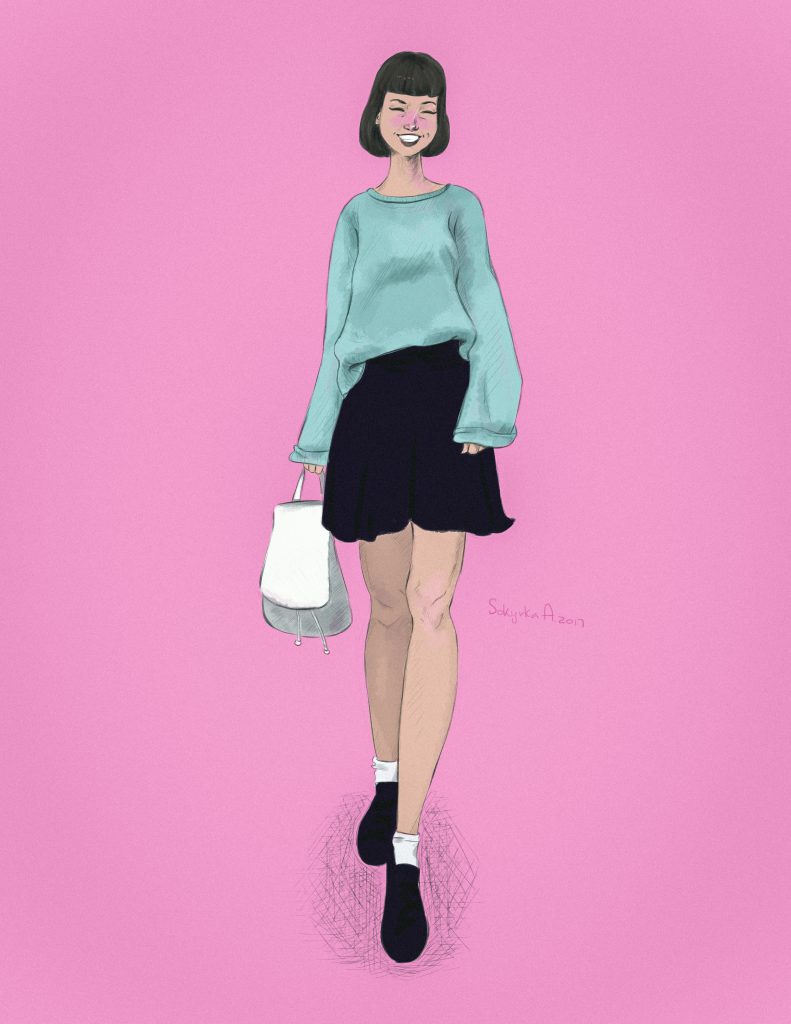 Also, here is a video process of everything shown in here, enjoy~ 🙂
Also, check out these posts for more Art Tips, Inspiration and Motivation:
*  " 14 Best Figure Drawing Books for Beginners " with a list of great resources!
*  " How to Art – 7 Beginner Steps to Improve Your Drawings " for some more tips on how to get started on Your Art Path!
*  " 15 Leonardo Da Vinci Quotes " to learn from the master's ideas!
*  " Art Inspiration Weekly #1 " to get inspired by awesome contemporary artworks published every Thursday!
*  " Top Oil Painting Tutorials on YouTube or 8 Steps to Learning How To Paint in Olis " to master oil painting in no time!
*  " Artist Interview #1 – Featuring Kevin Hong "   where he shares his art story, tips,  and inspirations with us 🙂
*  " Artist Interview #2 – Featuring B. Blue " for her story and colorful paintings!
*  " Artist Interview #3 – Featuring Agnieszka Nienartowicz " to get inspired by her art and tips.
*  " Artist Interview #4 – Daria Golab " for an amazing story <3 .
Good luck on Your Art Path,
– Your Art Bud!  😉