The purpose of this article is to explain to you what thumbnail sketches are, give you a couple of my personal examples when thumbnails sketches saved me a lot of time, and provide you with 3 easy template sheets so you can start practicing your craft right away 🙂
Sketching thumbnails should be a fun, a fast and an easy process.
Afterall, they are the base of any of your drawing projects!
Many people tend to skip this important step and end up revising their work as they go MANY times. It ends up being a waste of time, or in some cases, their concept could've been executed in a better way if they had only planned it!
Let's dive in!
Thumbnail Sketch Definition in Art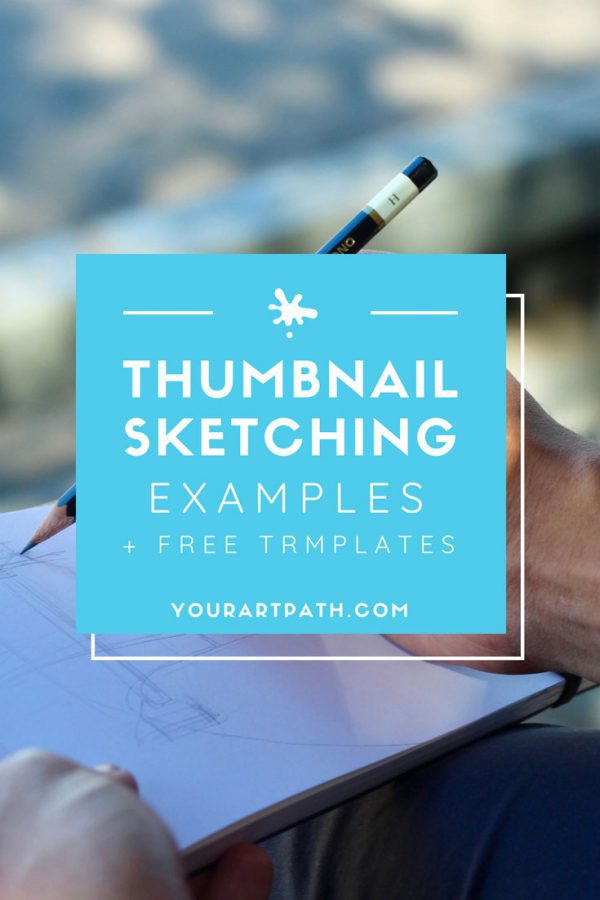 I like how Helen South defined them in her ThoughCo article:
"Thumbnail sketches are quick, abbreviated drawings, usually done very rapidly and with no corrections. You can use any medium, though pen or pencil is the most common. Thumbnail sketches usually are very small, often only an inch or two high."
Thumbnail sketches represent a planning process for your piece, and as artists, we tend to plan by visualizing! So, unless you have some other planning processes that work for you – thumbnails will quickly become your best friends/guides towards a better-executed art piece!
Thumbnails are also often used when working for a client. They give you a brief, and you come up with a couple of different executions of your concept. So while as they are rough, it is always good to keep in mind if you want someone else to understand what's going on in it, or if you are just doing it for yourself alone.
Thumbnail Sketch Examples
An important point I would like to make before we begin: DON'T PRESSURE YOURSELF!
It's a fun process that has nothing to do with perfection! Remember, you are just trying to figure your composition/design out 🙂
There are SO MANY different ways of creating thumbnail sketches – mostly it depends on your style!
I tend to use different ways for different projects I'm doing, or different supplies I have nearby. Let me show you exactly what I mean.
(My methods are just some of them, and definitely aren't something you are supposed to do! Feel free to experiment with them, try other ones and create your own – be artsy! 😉 )
Linear Thumbnail Sketches
These are the easiest for most artists, as we tend to scribble with pencils since we were just kids!
Overall, you just draw your ideas linearly in pencil/pen/marker, and then use them as a base for any style of execution (comic style, traditional painting, digital painting, etc.)
Here is an example of thumbnail sketches I was asked to do last year in my art university.
We were doing a project that required me to create a cover for the "New Yorker Magazine" that would convey a New York like mood (obviously, it was just a school project, and we didn't actually get to try out for the real publishing house).
And here are 4 thumbnails I submitted to my professor (using a pencil brush in Procreate):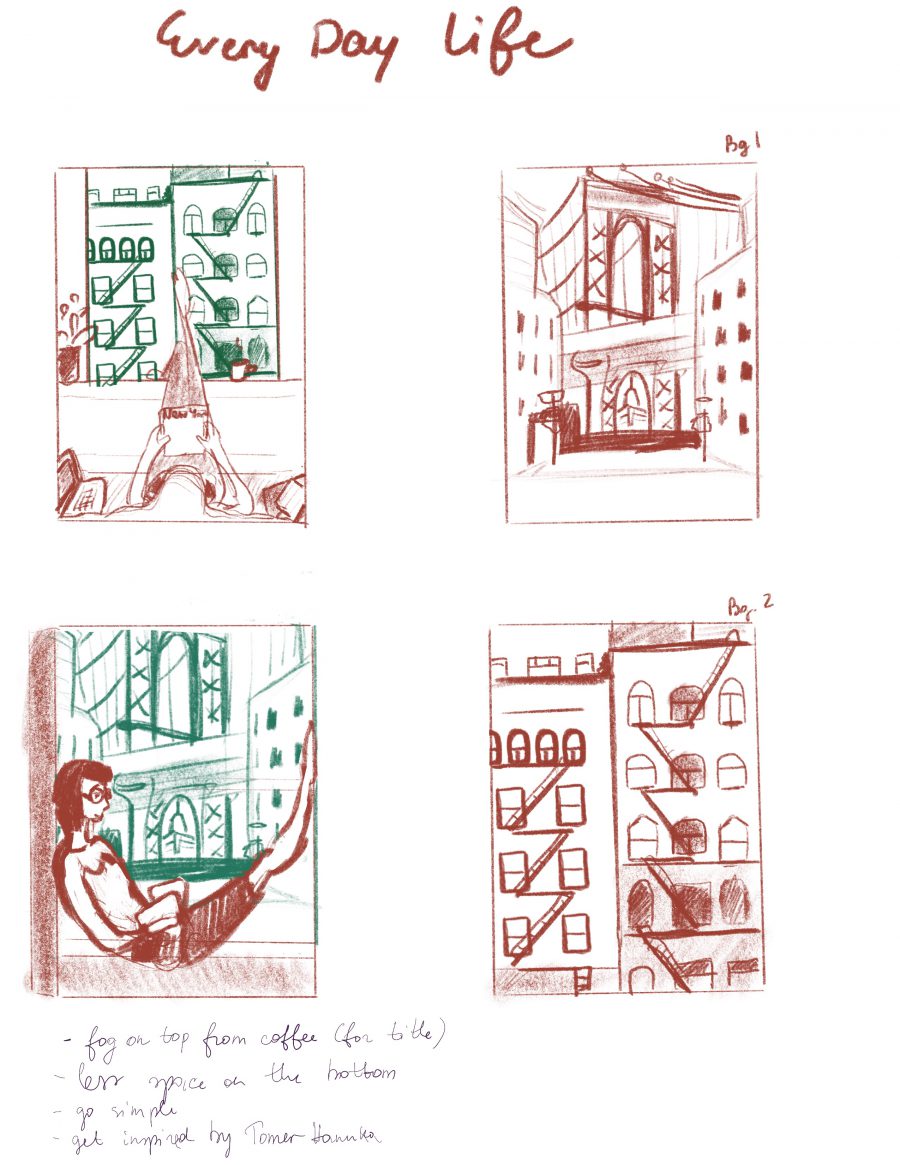 As you can see, they are pretty rough drawings! And very small too!
Well, that's exactly what thumbnails are, and what professors or employees will require of you at the beginning of a project.
You will quickly learn that you can't receive a project and just complete it from start to finish and then present your client with a final work (apart from some very unique cases). Often, they won't like the composition, or the concept, or the colors, or the characters or the background! And do you really want to start all over?
I didn't think so.
And that's where the thumbnails come in!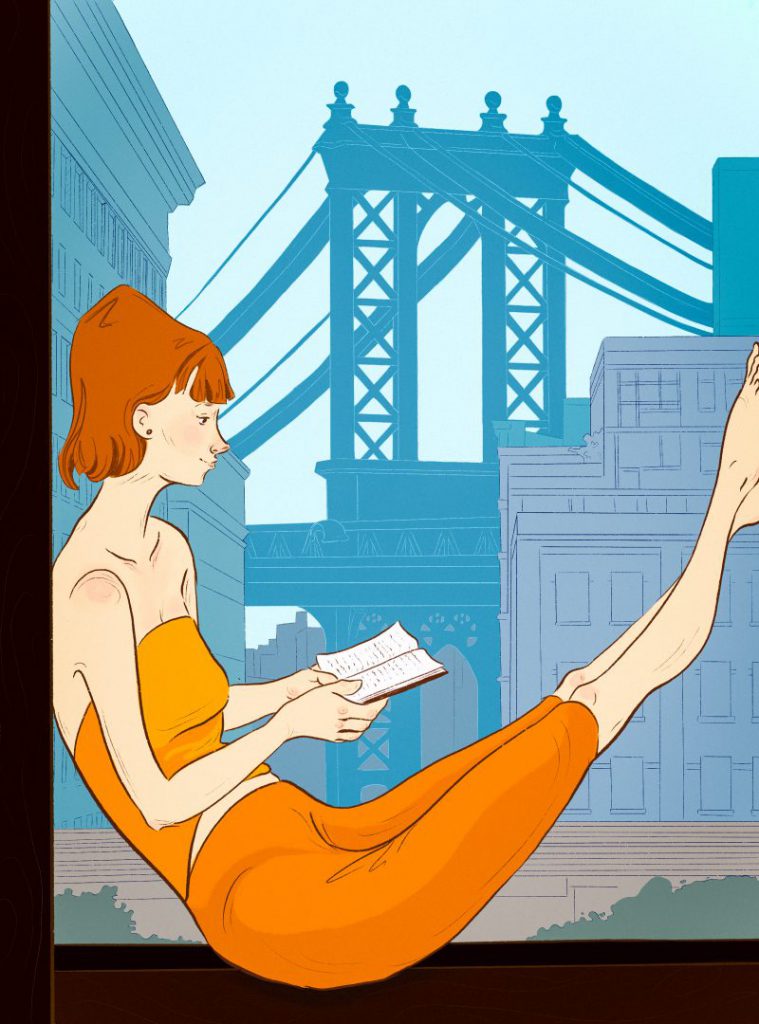 And here is the final piece. As you can see, my prof gave me a green light on the bottom left thumbnail, and after a couple of revisions I came out with this result!
Refined Thumbnail Sketches
My other professor was a little more picky with thumbnails! He didn't care how many we did, as long as the concept is there and he can clearly see what's going on in the work.
He asked us to do 20 (which should be easy since they only take a couple of minutes to complete) but then present him with only 3 that we think are more successful, and that are not just different compositions, but are also absolutely different concepts. For those 3 we had to refine the thumbnails more and clearly showcase what's going on in our head.
He would only give us one sentence and ask to create a piece on it. For this project, it was "Big Boys Don't Cry".
So I came up with these 3 concepts: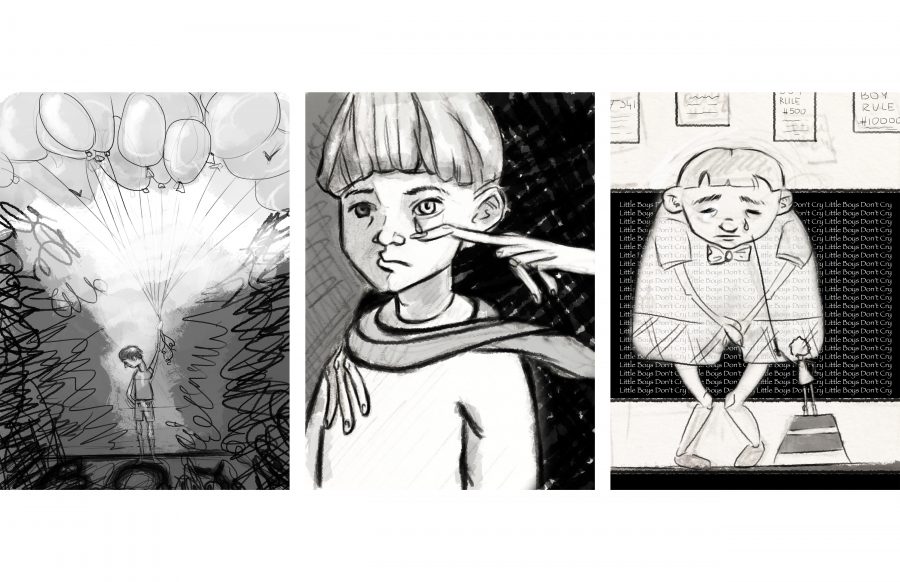 Comparing to the ones above, these are way more defined and clear.
While as I had an understanding of the concept all of these images stand for, my professor knew right away that the right one to go with is the one on the far right!
Did you know that not so long ago, teachers made kids write on the board or in their notebooks the same sentence all over again if those messed up?
It would be thousands and thousands of pages long, and it was supposed to teach kids a lesson.
For example, if you swore, you would have to write 20 pages of "I will never swear again". Pretty crazy right?
Well, that's where my concept came from. A big boy writing on a chalkboard  "Big Boys Don't Cry" many times. Professor loved it!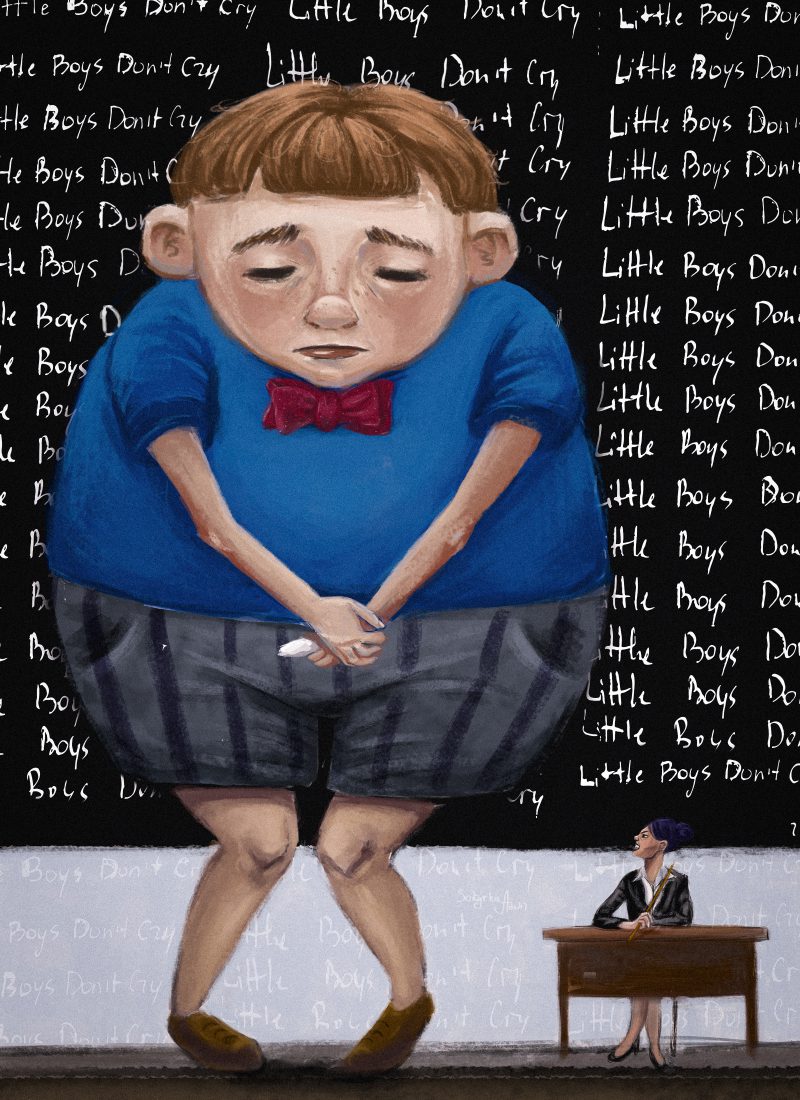 After a couple of revisions, this was the final piece. You can see I took away some unneeded things and positioned the teacher differently.
Trial and error my friends!
Shapes Thumbnail Sketches
This process of creating thumbnails is definitely my favorite!
I first learned about this process from Charlie Bowater in her "Character Concept Art: From Initial Sketch to Final Design".
In a nutshell, you use a bigger brush (than if you were creating linear thumbnails) and try to create characters/environments out of simple shapes. NO DETAILS!!
Let me show you what I mean by walking you through the process of how I was developing a character design of a "Renaissance Lady".
Step 1. Building up big shapes first.
A silhouette has to talk for itself without the need of any details. Also, don't worry about anatomy that much now, we will have the time to fix it later. The only thing you need to focus your attention on now is silhouettes that tell a story.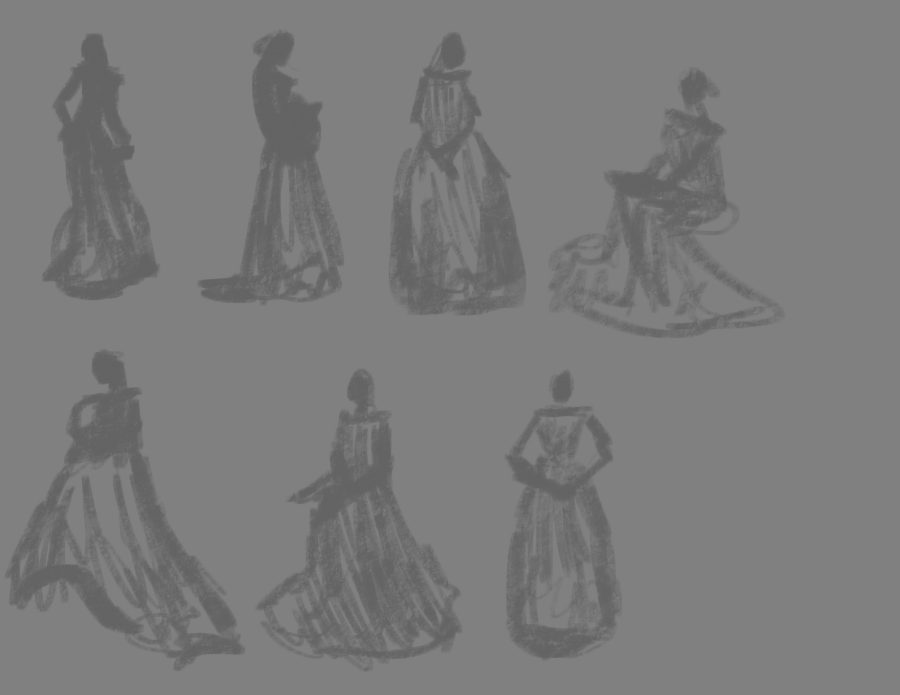 Step 2. Focus on what you like.
As you are working through the shapes from the first step, a couple of images will stand out to you more than the others right away!
Try to spend a little more time on them and develop them more.
We are still not focusing on detail, rather trying to add some darker shapes that define the drawing more!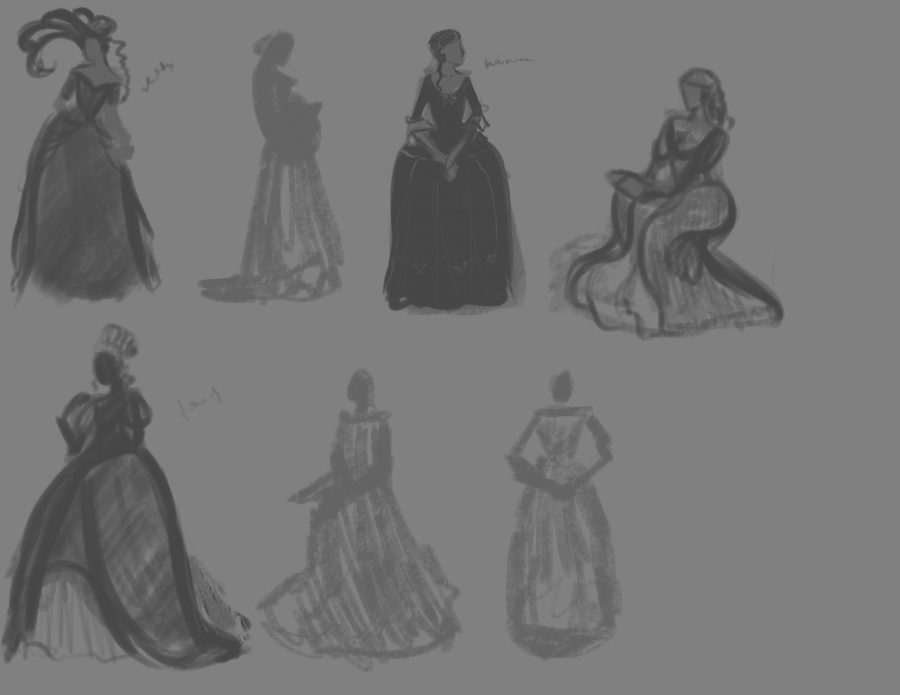 Step 3. Improve What You Like
Out of those 3, one will stand out more than the others again.
Take the design on a new page and try to change some things up until you are pretty satisfied with the basic idea! You might surprise yourself 🙂
If you have more than one that stands out, you can always repeat this process a couple of times.
I really like the design in the middle, but then I realized that these kinds of feathers on the lady's head don't represent Rennassaince, but rather Rococo period. So I had to let them go.
Step 4. Settle on Two and Figure Them Out.
I have decided upon two final sketches that I liked and began adding details to them.
Nothing crazy just yet, but enough to see where each one is heading.
You can tell from the image below that I quickly gave up the lady on the right. She has a more of a simple girl look, and I need a luxurious rich lady design, so I decided to go with the fancy hair on the left.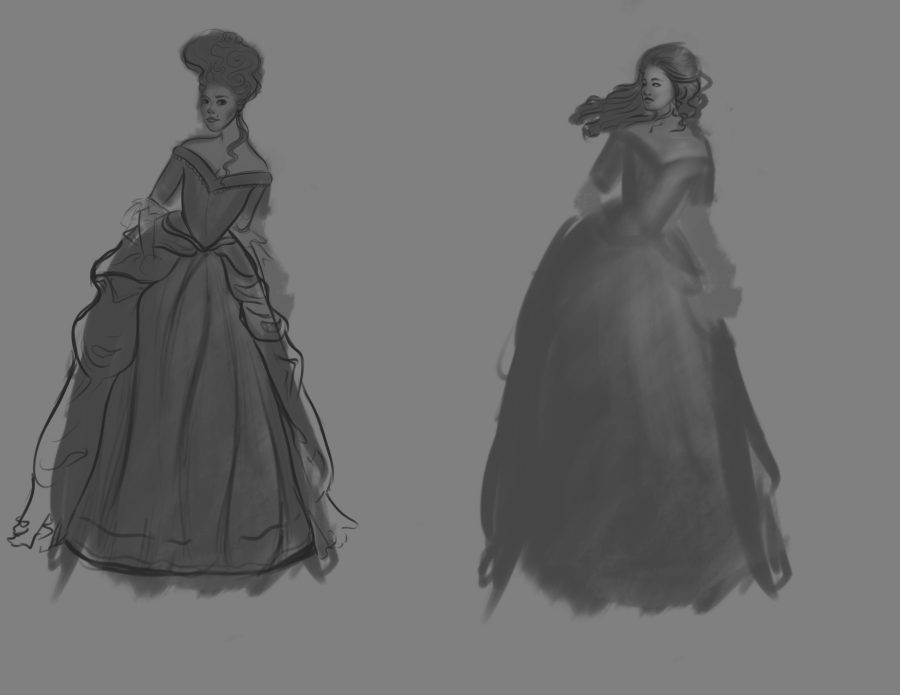 Step 5. Detail It Like There Is No Tomorrow
Again, this is just my process, and sometimes I get way too carried away with a drawing. For me, it's super fun to spend a lot of hours just constantly refining the details.
It might not be your process! You might love to work with simple shapes and focus on composition and colors above all, and that's awesome!
Point is, thumbnail sketches can really bring up your art game.
Why not give them a shot?
(and here is the final black and white character design)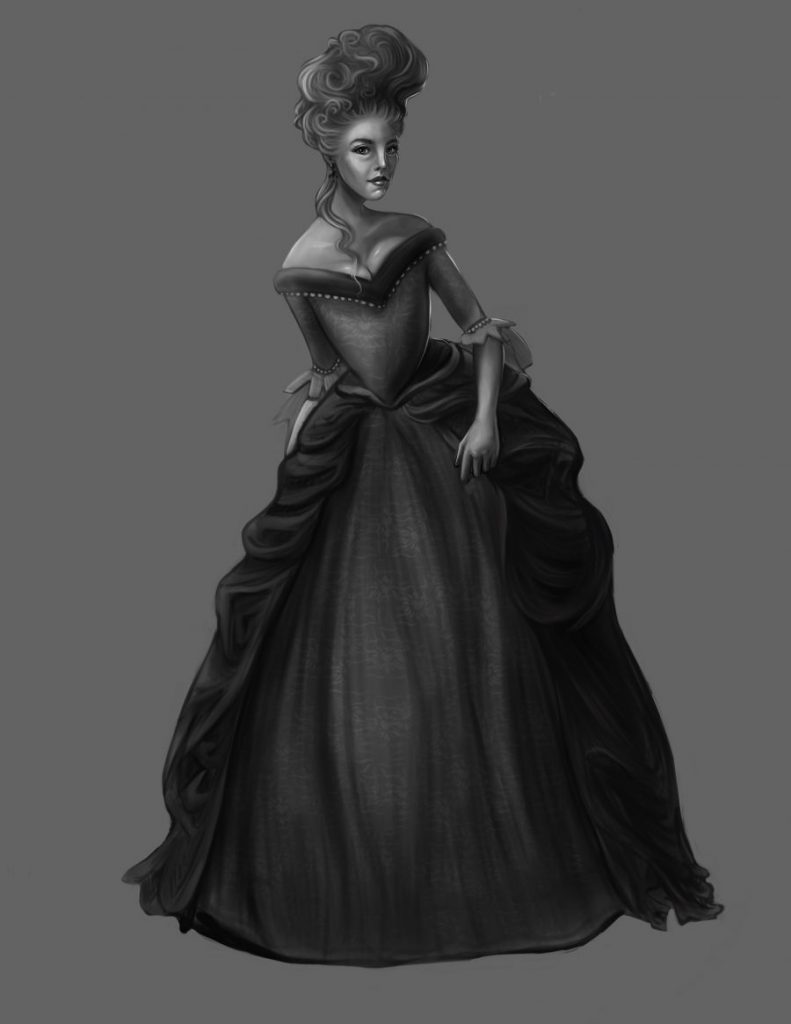 Is it a perfect design? Probably not.
But it's definitely better than the first thumbnail sketch I came up with in the Step 1 !!
Thumbnail Sketch Template
You don't need to have a template in order to create your thumbnail sketches!
As you can see from my previous examples, I either just create quick hand-drawn boxes that I fill in, or not use anything at all (like in the character design)!
However, I know that many people would appreciate having one ready for them at all times, and so I created a file that consists of 3 templates:
3 portrait-size thumbnail templates;
3 landscape-size templates;
3 square-size templates;
(each one has 3 sheets so you can decide on how many thumbnails to do on 1 page)
I hope you find them helpful!
As always, let me know in the comments if you enjoyed the post, if I missed on on anything important or if you have any suggestions from future posts!
I would love to hear from you 🙂