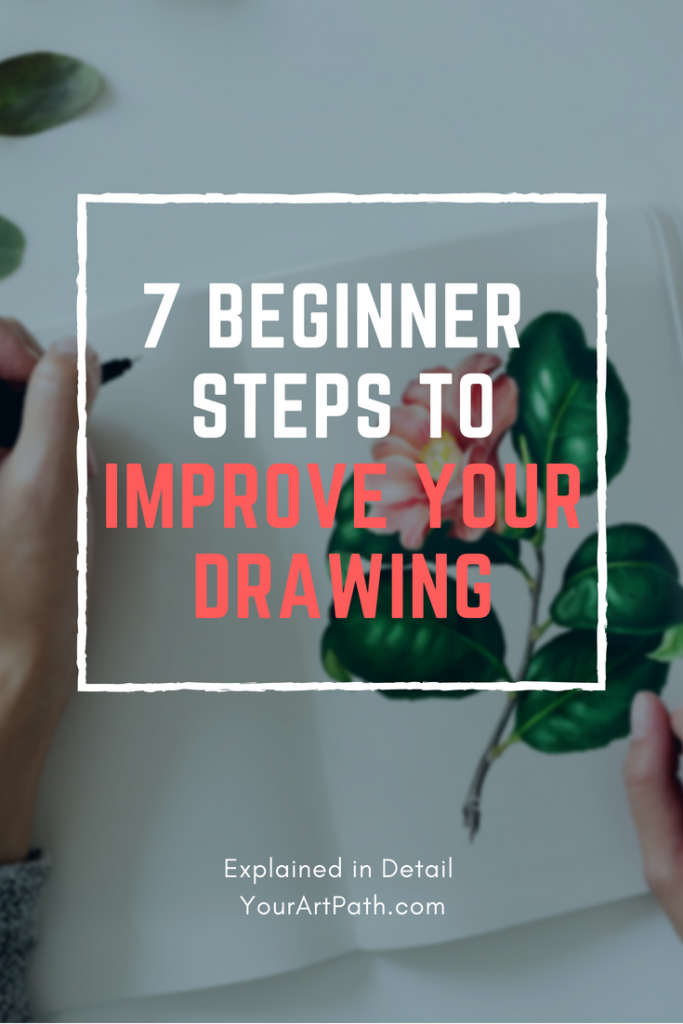 Have you ever wondered how to improve drawing skills for beginners fast?
Did you see an awesome drawing somewhere on the web or have a friend who is amazing at drawing and now you want to learn?
You are in the right spot!
When you implement the 7 steps on how to improve drawing skills for beginners  – you will see major improvements in no time!
Just picture being able to sit down and enjoy quality time with yourself while creating something beautiful that you can show off!
Sounds awesome?
That's what I thought!
How To Improve Drawing Skills: 7 Steps Any Beginner Needs To Take:
1. Get the right Supplies
First of all, you don't need anything fancy! A pencil, an eraser, and a sharpener will do (or a mechanical pencil). Also, if you want to go for it – get markers! They are comfortable and fun to use.
When I was starting out – I would first draw everything with a pencil (lot's of erasing, trust me), and then I would go over the lines with a pen or a marker! It's really fun and looks great at the end – I still do it! :))
2. Don't Treasure Paper, but Have Lot's Of It!
Don't buy expensive paper and cherish every sheet! All you need is A4 Printing paper that you can buy for cheap considering how many sheets there are!
If something doesn't work out just throw out the paper and start again. Being messy and chaotic is fun – and it also boosts creativity levels !)
[optin-cat id=2063]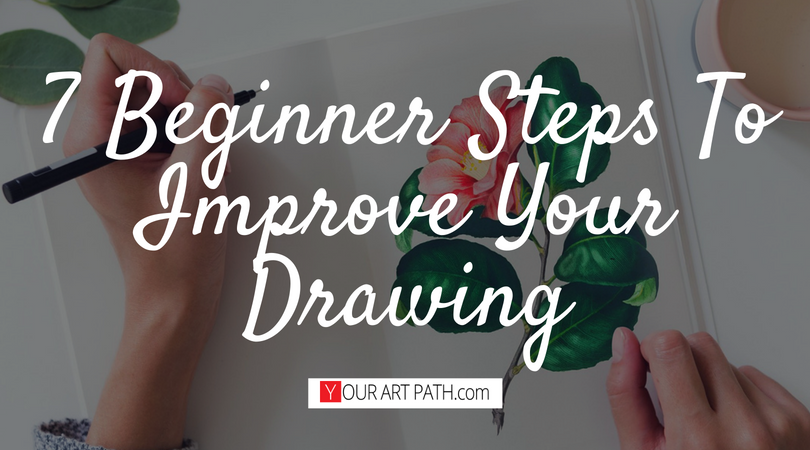 3. Find a Reference
You imagined something great in your head and want to put it down on paper… After a few hours, you realize that it doesn't look the way you expected it too, and you give up saying, "I don't have talent."
Oh, but you don't know that even experienced artists use reference images ALL THE TIME!
Before you learn how to draw from your head you need to pick it apart by studying. There are a lot of  FREE great websites that have stock images you can use! Just to name a few:
– Gratisography.com and many more!
Also, you can just grab a camera and take a few pictures yourself – then use them for learning 🙂
And if you are planning to sell your artworks after, you can also check out the DepositPhotos Website for a lot of great references!
4. Break Down the Image
You've got the supplies and the reference photo – what now? Where do you start?
The 1st thing you need to do is to break down the image to a few simple forms! It's easy – whatever shape you see – draw it. Squint your eyes if you need to – we are not here to look at all the curves, but just straight lines and right angles.
Then after you are sure with the proportions you can slightly erase the shapes and go over with more defined lines now looking at curves and some more details!
Here I've created a little image just for you to show you exactly what I mean by it: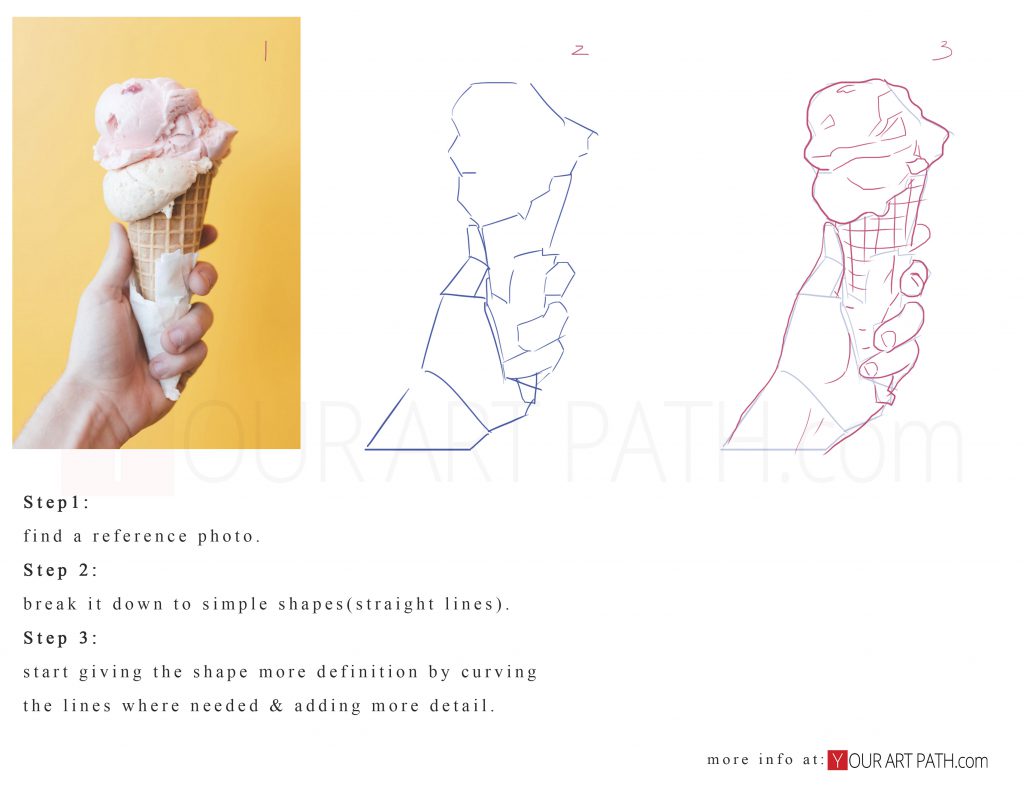 5. Learn Shading Techniques
Shading is important as it defines the volume, lighting, and texture of your art!
There are a lot of videos and articles about it, so I won't get into details, but instead, will embed a video that I think explains this subject very well:
6. Consistency is the key to success!
To become good at anything you have to do it consistently! Working out, cooking, singing etc.. Art is no different!
If you want to see results – put away 15 minutes a day and just draw. Every day. For 15 minutes.
Can you do that? If yes, then it's the beginning to your mastery in art <3
7. Don't be afraid and Have Fun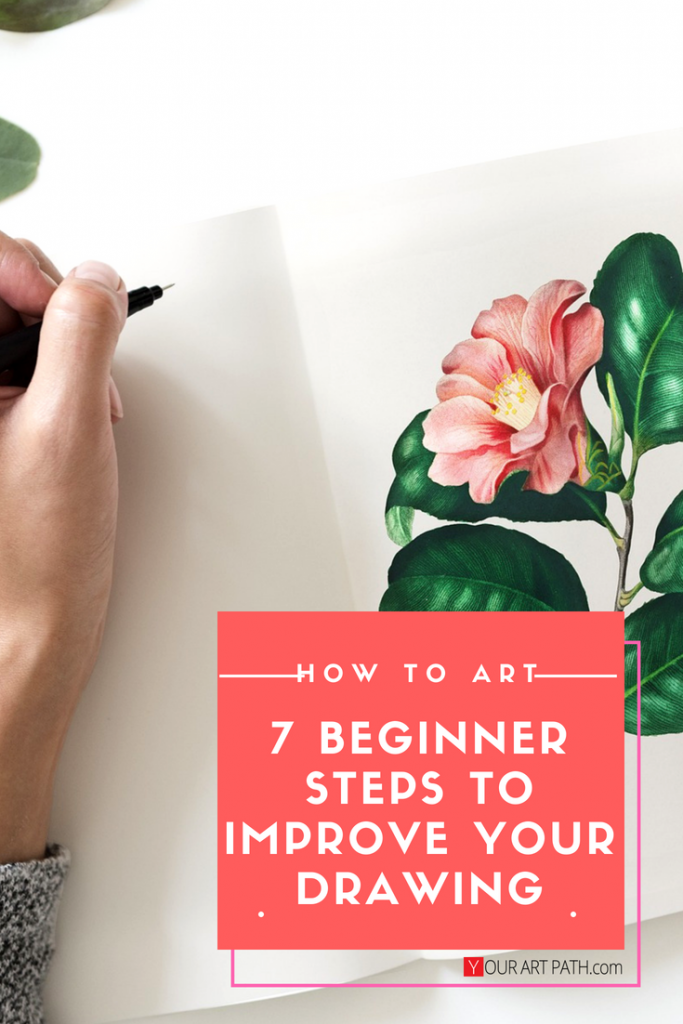 Even an amazing artist starts out as an amateur!
Don't compare yourself to your favorite artists, but compare your skills today with the ones you had yesterday – do that every day and you will see your improvements!
Keep in mind your artists as a goal that you can reach and then get even better than they are.
You are starting off on an amazing path! Good luck to you all 🙂
I hope you enjoyed these How To Improve Drawing Skills tips. Feel free to Pin these images to your Pinterest boards for future inspirations! 🙂
Good luck with your creations!
– Your Art Bud 😉
Blog Posts to check out next →  "What to Buy for an Artist as a Gift?"
and → "How To Draw A Parrot In Under 45 Minutes"