What is a plein air painting?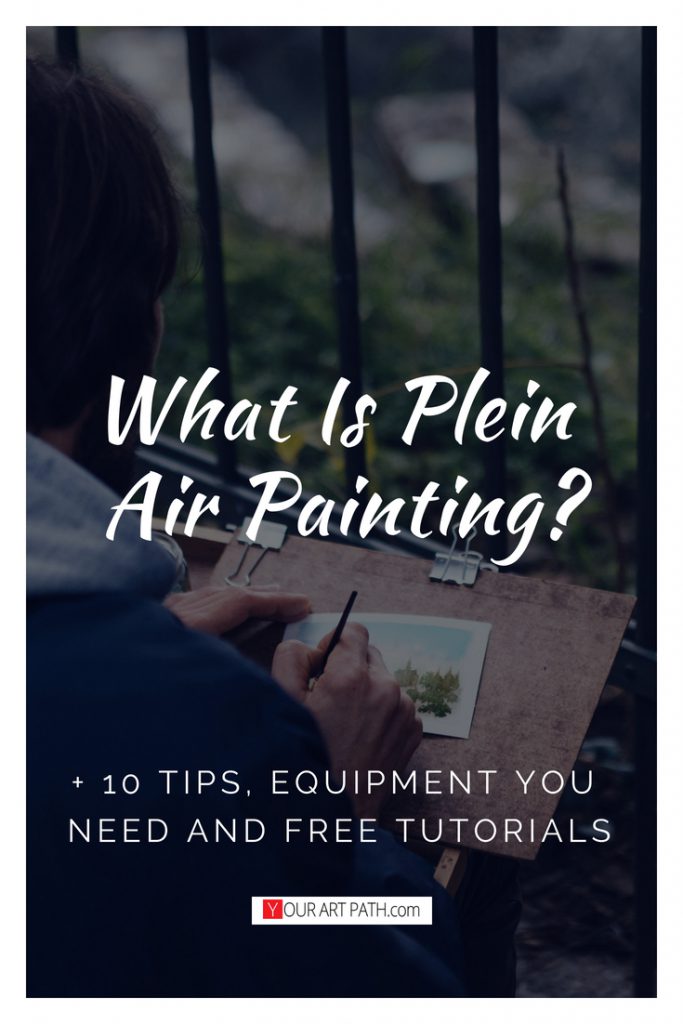 It translates from French to "open air" or "outside" and is referred to artists leaving their studios to go and paint outdoors.
You see, a while back artists didn't have the ability to take photographs of places they wanted to paint, and they couldn't "google" the images either. So, many may think that everyone was painting outside! However, that's not the case.
Believe it or not, there was a time where you couldn't simply order a box of paints from Amazon, get it delivered to your home and then go outside with an easel, a chair, an umbrella and enjoy the painting activity.
In older times artists had to mix pigments and oils together by themselves in order to produce the paint they needed.
Therefore, it required them to stay in and paint indoors.
Artists would go outside and stare at a landscape for a long while, jot down some notes, make some sketches, but still simply try and memorize every detail – take it all in! Then, go back to their studio, mix some paints and start painting from memory.
On the next day, they would go back to the same location and refresh their memory so they could go back to their studio and keep painting.
It all had changed in the mid-1800s with the introduction of paint tubes, and many artists began experimenting with completely finishing a piece outdoors.
One of the most prominent artists of the time is Claude Monet, who inspired by his mentor, Eugène Boudin, began capturing the light and color in the fresh air with loose brushwork.
And so, with the emergence of Impressionism in the mid-to-late nineteenth century, the plein air painting practice boomed.
And it continues to be one of the best experiences and exercises for improving painting skills to many artists of our time.
What does it mean to paint en plein air nowadays?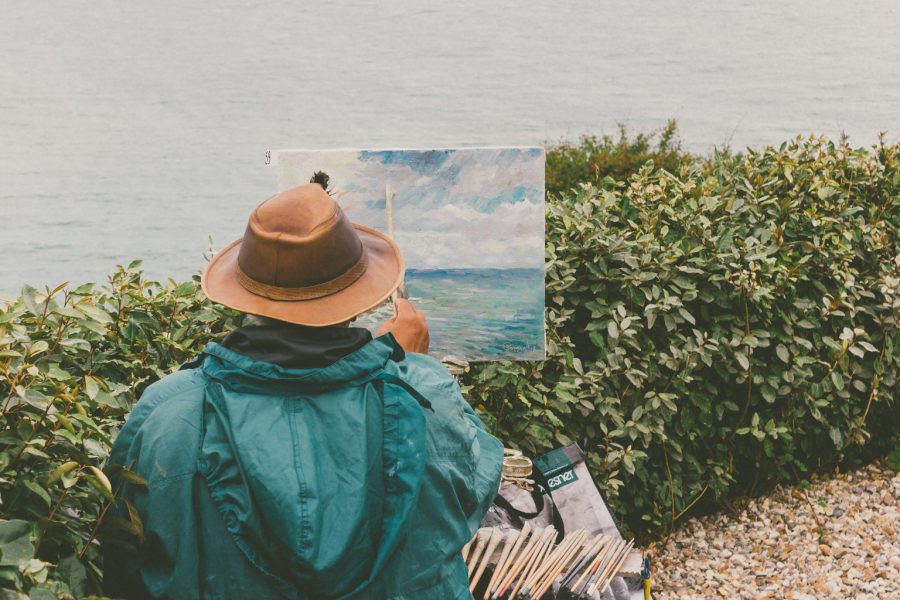 We, artists, are very lucky to be able to order any kind of supplies/tools with a click of a button. And the big change began in 1841 when paint tubes and industrially created pigments where invented – this was a game changer!
Now, artists from all around the world, on their own or in groups, leave their studios to experience this challenging but satisfying activity of painting outdoors.
There are so many tools and supplies (that I will cover later in this article) that make this artistic journey way more enjoyable and easier. But the impact it has on our skill keeps the same value.
You see, constantly painting from photographs helps improve our skills, but not to the same degree as plein air painting.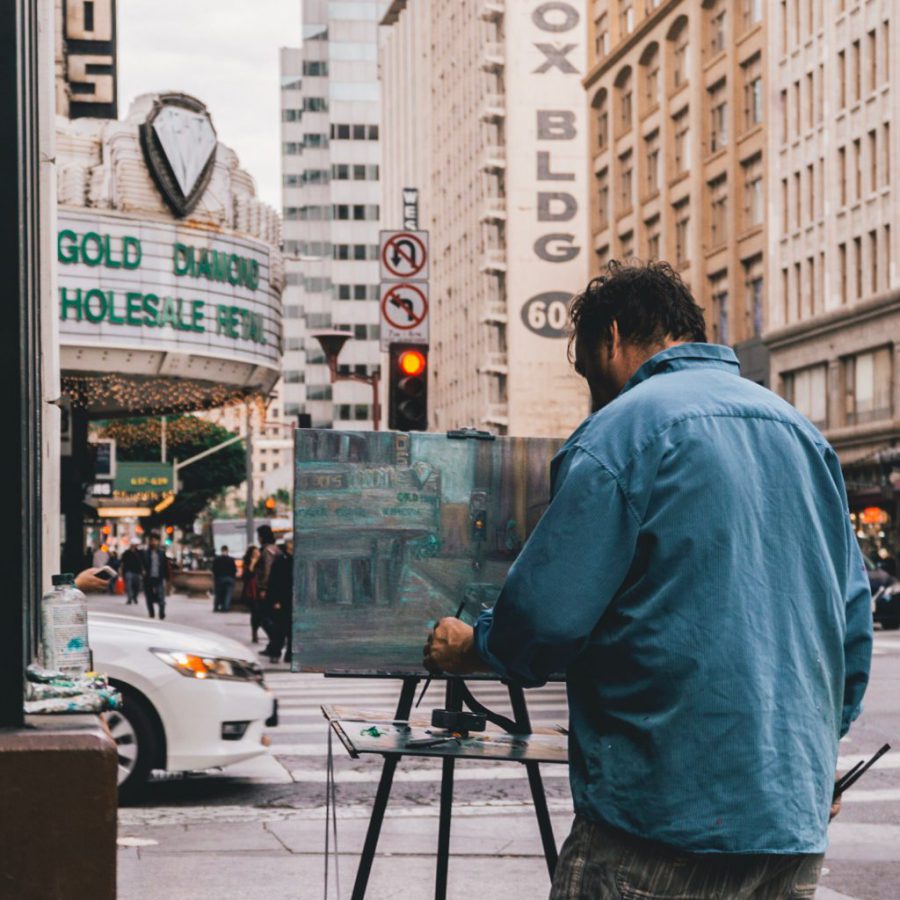 Photographs already did most of the job for us (representing 3D space in a 2D form), but they also translated colors in a different way.
Have you ever noticed that the grass at night has a blue tone to it in some spots? Or that your house catches beautiful colors that surround it, like green from the grass at the bottom, but a bluish color on the roof reflecting the sky and a little spot of red here and there from nearby growing flowers?
But then, you take a photo of it to capture that beauty and all of the vibrant variations are either gone or are reduced down and don't look as amazing as you saw them.
I often take photographs, and sometimes, when I check them out later they look plain and uninspiring, while as my eyes see something way different and more beautiful.
That is precisely why it is so valuable to paint outdoors – your eyes are absolutely amazing, and see way more than a camera lens – and so if you use them instead of a photograph while painting you will bring all that life into your work.
And damn, it will look stunning!
Plein air equipment You Need:
First things first, you need to pick a medium! The fun part is that almost anything will work 🙂
All of the items on this list except the medium will be needed no matter what you initially choose. Let's get creative!
Plein Air Painting Boxes
Let's begin with the basics – a painting box.
It's a special tool that gets super useful when painting outside because:
a) you can fit all of your supplies in one place
b) easy to carry
c) transforms into an easel
And if I only had to pick one, it would be this bad boy: Guerrilla Painter Plein Air Kit
Not only is it an awesome painting box, but it is also a whole kit to get you started!
Let's look at some of the things it includes:
8 by 10 Cigar Box (fits all of your essential supplies and two 8×10 canvases inside. Weights only 2lbs.)
8×10 Bag (specifically designed for the box. Has a carrying handle and a shoulder strap.)
Wide Mouth Single Palette Cup (to carry medium, linseed oil, turpentine, etc.)
Brush Washer
Composition Finder
One Gessoed Panel To Get You Started
Set of 4 Medium Handle Brushes
A Guerrilla Painter's Notebook© Vol 3 & 4
It's a superb kit for beginners. But if you are an experienced painter who already has everything in the kit, then they also sell these boxes separately 🙂
These kits also come in different sizes and styles:
Plein Air Oil Paints
Note: Check out "Plein Air Oil Painting Supplies You Need To Get Started" article that covers 7+ useful supplies to get you started and their reviews 🙂
So, here are the top 3 oil paint kits I'm in love with:
Also, I have another article "Essential Oil Painting Supplies List: Top 13 Products" that features 13 oil painting supplies any beginner should know about, as well as the 10 colors you need for the best oil painting experience.
Related Article: "Top Oil Painting Tutorials on YouTube or 8 Steps to Learning How To Paint in Oils"
Plein Air Watercolor Paints
I feel like almost any watercolor paint box will do, but there are some things to consider while selecting them:
I've got a few personal favorites that you might want to check out:
Note: Are you new to watercolor painting? Check out my article "Learn How To Paint With Watercolors 101" to get started!
Also, if you are looking for some cheap but good quality brushes, here is another resource for you "10 Best Affordable Watercolor Brushes".
Plein Air Umbrellas
Some artists say that having a special umbrella for plein air painting is even more important than having a painting box.
And here is why:
Sun screws with your perception of colors
Sunlight reflects off your canvas
Objects around you reflect their colors onto your canvas
What that results in is a painting that looks amazing while you paint it, but not-so-great when you look at it indoors.
Imagine how much of a surprise that is! And how much it SUCKS to spend all this time outdoors for a piece of work you don't even want to show to your best friend!
That's why you will need an umbrella that reflects the light and keeps the colors you are working with true.
Here are my top 3 picks:
Note: Check out "Plein Air Umbrella Reviews" Article that covers these 3 umbrellas in depth. 
Plein Air Easels
Easels are awesome! And you definitely need one while painting outside unless you prefer holding your painting box on your lap the whole time!
So, because we are talking about easels for painting outdoors, the most important factors of peeking the perfect one are:
Portability. You will be carrying it around, so it needs to fold! The three I picked out for you below are all portable, so let's just take a look at their folded size.
Canvas Size Support. This one depends on how big of a surface you like to work on.
Weight.
Max. Height – so it can fit your height comfortably.
And the price point.
The last 2 on this list are painter's boxes that are made specifically for you to attach any tripod to. And I find that to be super useful for many different occasions. Especially, because tripod's height is adjustable, and they are overall very compact.
Here are my three picks and their features:
Plein Air Easels Accessories
Now, as you have your easel and/or your painter's box you might want to modify them. Add some features of your own and fill in the blanks.
I have an article dedicated just to easels and easel accessories for Plein Air Painting "Best Plein Air Easel Accessories", so check it out for a more thorough review and more options if you want.
But for now, here are some of the accessories I find useful:
Plein Air Painting Chairs
You could always just sit on a bench or a rock, however, that might not always be comfortable + they are not available everywhere where the most gorgeous scenery is.
That's why you will need some good chairs. Nothing fancy, just something easy to carry and comfy to sit on.
Here are the top 2 out there:
When selecting a chair, try to think about its portability, weight, sturdiness, room for extra storage and comfort!
Here is an article that covers all of them in depth as well "Best Plein Air Painting Chairs Reviews"
Plein Air Backpack
In a perfect world, you will have a whole kit (like the one I mentioned at the beginning of the list) and it will include a bag were everything fits.
But if you don't – no biggie!
I've got a list of top-noch backpacks for you to check out:
10 Plein Air Painting Tips
Whether you are a beginner at plein air painting, or someone who has tried it and found it harder than you thought – I hope that this list of tips will help you out on your next trip!
1. Pick a location
You can pick out a location that you've always wanted to paint, or just go exploring for something new. Either way, you need to decide on one important factor – the business of the place.
If you pick a place that is a tourist attraction you need to make sure you are ready to be watched, ready for the noise, and the constant movement around you (and maybe even being bumped into).
For some people it's not a big deal, while as for others it's a deal breaker – so just make sure you plan ahead!
2. Prepare yourself for being watched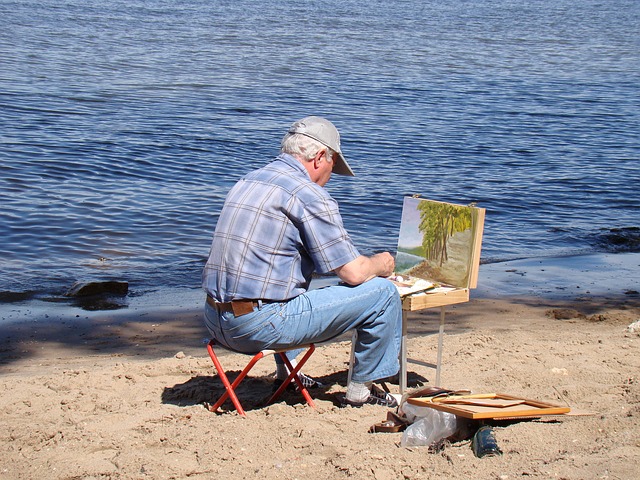 I hate to break it to you, but even if you choose not to go for a busy street, but for a quiet spot in the park, chances are – people will still be passing by. And if you ever painted outside you know that often passengers stop and check out your process with curiosity.
I remember when I first began drawing outside, I could just feel the stares from other people on me. It's pretty weird how we can feel such a contact, but nevertheless, it made me feel very uncomfortable.
It wasn't until a man came up to me and gave me thumbs up smiling, then asked me to draw him too that I realized, most people are just curious in a kind way! And not to make fun of you, or make you feel uncomfortable.
Either way, just a simple readiness for this to happen should make this process easier for you.
People will stare.
And that's okay.
3. Use an umbrella
We mix colors based on what we see, so what happens if we see "wrong"?
Sun has this quality of screwing with our perception! And so we think we mix the right color, and we think everything looks amazing…
Until we get home.
Our amazing painting looks NOTHING like it was before! The hues, values, colors – everything looks worse than we remember. What happened?
Easy answer: the sun was hitting our canvas and the objects around us reflected on it too. That's why the colors looked way off, and only now we see everything for what it is.
Easy fix: get an umbrella to protect you from making huge mistakes.
4. Set a time
In a perfect world, we would all be able to spend every day outside just painting away.
However, that might not always be the case with the busy schedules people have nowadays.
That's why you need to set a time amount for yourself for how long you are planning this session to be. Whether it's a 30-minutes session or a 10-hours long session, the approach will be very different!
So, depending on the time you give yourself, think about the goals you want to achieve – a complete painting? A compositional sketch? A color study?
5. Plan a composition right off the bet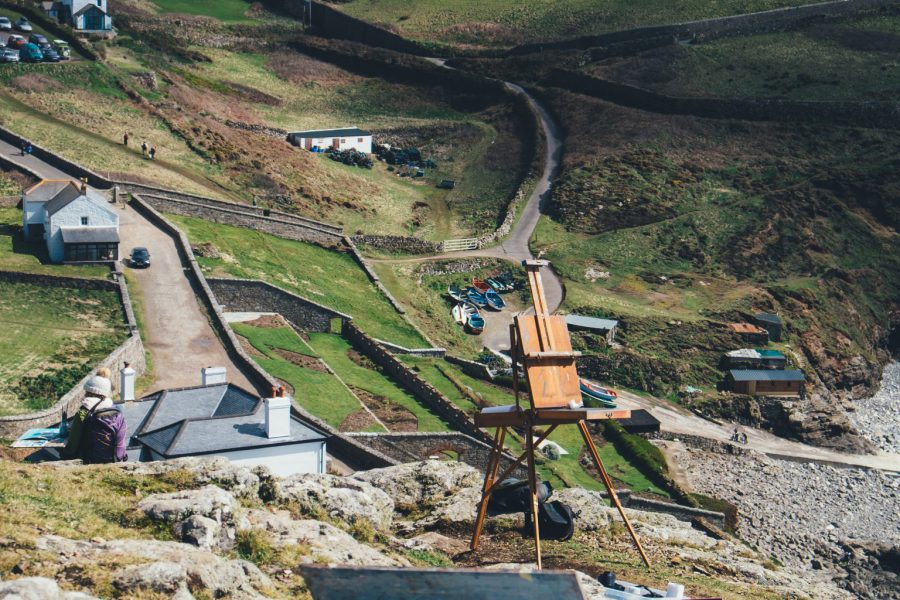 When painting from a photograph, there is only so much information you can get from it. Usually, we end up either having the same composition as in the photo or cropping it down.
Unlike painting from photos, while we paint outside there is SO MUCH INFORMATION to choose from!
You can turn around 360 degrees, look up and down and change angles constantly! There is a limitless amount of compositions available for you.
So, to avoid later confusion, and constant changes of what you are painting – try and focus on something specific.
Something I like to do is putting my hands far in front of me and forming a rectangle with them. What's inside the rectangle is my composition, and what's outside it is also outside the canvas.
Then, I just move my hands around and try to find the perfect balance of design and beauty, while keeping in mind "Rule of Thirds" and "The Golden Ratio".
(I apologize if the explanation was a bit confusing)
6. Prepare yourself for light changes
Unlike working from a photo, where what you see is unchangeable, the real world is influenced by light sources that are in a constant movement.
Therefore, if you have a longer painting session, what you see will change too!
So, will you keep constantly changing what's on your canvas to make it look exactly as what you see right now?
Of course not! You would just have to keep painting forever!
That's why I always say – " like something? Block it in right away, and work from there ".
7. Work on toned canvas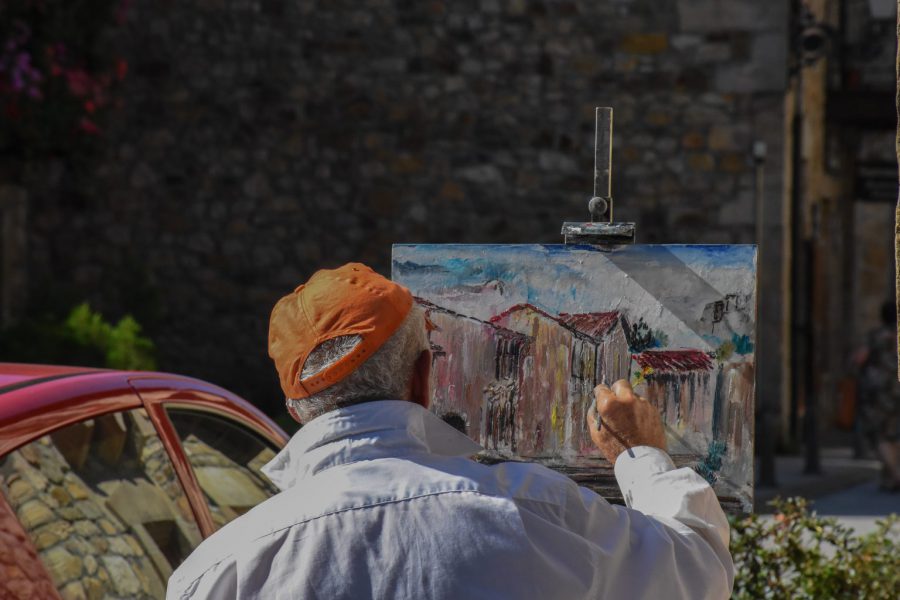 I recommend working on a toned canvas always, but this rule is especially true when working outside!
I remember when I was just learning to paint in art school, my professors would always criticize the little white spots that shine through my painting. What they were referring to is the parts of my canvas that didn't have enough paint on top and were, therefore, shining through the thin layers of paint.
Trust me, that doesn't look good!
And so I began putting on a thin layer of Burnt Sienna before beginning any painting.
Later on, I figured that any color will do and in some cases even create a more interesting result! So if I want some bright yellow to shine through – then that's the color I'll be putting on.
But if you want to keep it safe, then something more neutral and less vibrant will work better.
8. Big blocks of shapes first!
With our eyes we can see such small details – it's crazy!
But any skilled artist will tell you that focusing on small details right away almost guarantees a not-so-great result.
Don't get me wrong, details are usually my favorite part of the piece and I love to spend an absurd amount of time on them.
However, if you truly want a piece to be successful – block in the big shapes of composition and colors first. That will save you from making huge mistakes later on.
That especially applies to the outdoor painting, as you never know if something will come up and you will have to leave the place. What would you rather have, a finished composition that you can still work on in your studio? Or one very tiny but detailed leaf on a tree?
9. Don't assume – look!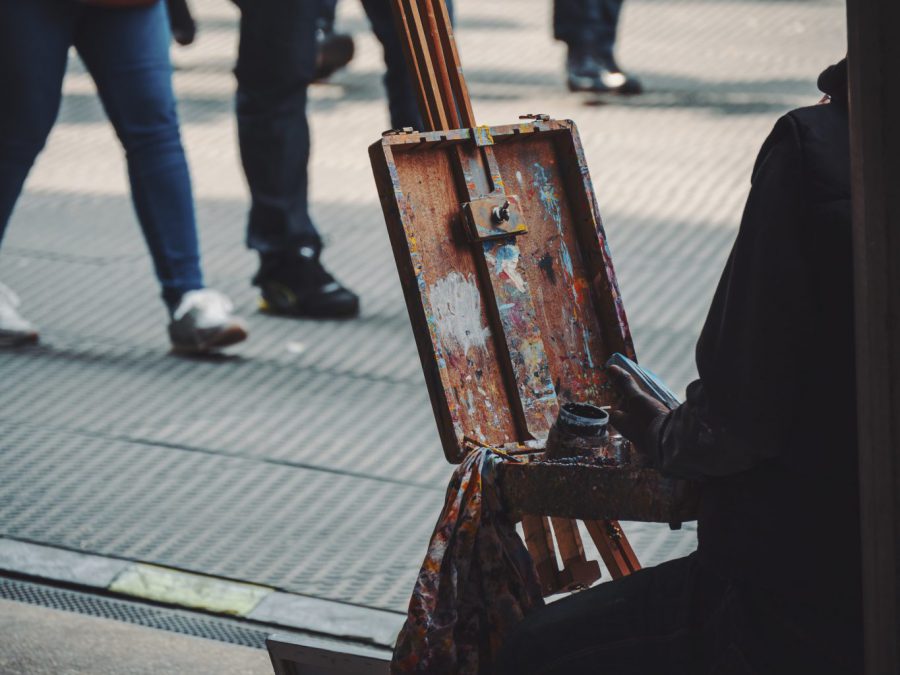 This is a BIG one!
Let me ask you a question, what color is the sky?
Most of you will say it's blue. And you will be right. Most of the time.
The purpose and the beauty of outdoor painting are in the idea of truly absorbing all the light, the colors and the atmosphere around you.
Painting a sunset, for example, is a very challenging task as you only have a couple of minutes to do it. Will you waste your time first painting the sky blue? Or will you take a good long look and then apply all the pinks, purples, reds, yellows and oranges in vivid colors on your canvas?
I think the last would be a better choice.
That's why I ask you to truly look. And not simply assume.
10. Taking your canvas home
That's also an important one to consider. You don't want to finish an oil painting, and while it's wet realize that you have no idea how to take it home!
That's why we need to plan ahead. If working with a fast-drying medium (watercolor, acrylics, gouache) than there isn't a problem. Simply wait a couple of minutes, then cover it with something clean (I like using 2 unused clean sheets of paper on both sides).
But, if working in oils than you will need to get creative!
If it's a pretty small piece, you can grab a cardboard box (like a never used pizza box) and then put some double-sided tape on the back of your painting and stick it inside the box.
If you don't tape it down it WILL touch the top part of the box and smudge your painting! But if you do, it will stick to the bottom of the box and get home safely.
Or if you don't want to do anything like that, you can always lay down your painting on the back seat of your car and hope for the best (remember to drive carefully).
Further reading/inspiration:
"Plein Air" magazine
"Plein Air" magazine was first published in 2014, and after a brief pause in their publications, it is now being published bi-monthly in print and digital formats.
It covers current plein air movement amongst thousands of artists all around the world and focuses on their stories, tips, techniques and work, as well as the artists who came before them.
This magazine is a very inspiring read for those who are looking to get inspired, learn new ways of approaching their painting process and overall learning of what's going on in the industry today.
Books On Plein Air
There are a variety of books out there written by talented artists who practice this activity.
I picked out 3 books that I think you will find the most useful if you are a beginner at plein air, or if you have practiced it a couple of times but feel like you are still missing something.
Here are my top 3 picks:
Plein Air Painting: YouTube
I love watching people paint without being that random creepy person who passes by staring…
Luckily for me, here is where YouTube comes into play!
There are so many amazing, inspiring and talented artists out there who share their time-lapse video processes of plein air painting!
And I would love to share with you the ones I found the most inspiring or educational for me personally.
But, because I don't want this article to consist of thousands of awesome videos, I had to cut them down by categories.
Feel free to explore more though!
Enjoy 🙂
It's so well done and really interesting to watch how Andrew Tischler creates a couple of awesome paintings while giving himself a time-limit of 1.3-2 hours. You can really see the improvement from the first to the last piece!
Plein Air Watercolor Painting:
I enjoy a lot the upbeat mood of this Marco Bucci's video. And the result is simply stunning 🙂
Plein Air Gouache Painting:
I absolutely love Aaron Blaise's animations and character designs! He works a lot in digital media, and yet, his traditional art is absolutely gorgeous. Check out the result of his plein art painting session below.
That will be all for today on plein air painting!
Let me know in the comments if you have practiced plein air before?
Maybe you have some tips to share or feel like I missed out on something?
I would love to hear from you!!
Signing off,
– Anna.